AN unconventional judge who wields the sword and is not afraid to speak his mind–this, in a nutshell, describes Justice Tirath Singh Thakur, who will soon take over as the 42nd Chief Justice of India, replacing Chief Justice HL Dattu on December 2, 2015.
Better known as the Supreme Court Judge who heard the Sahara investors refund case against Subrata Roy in the apex court after Justice JS Khehar recused himself from the hearing, Justice Thakur is known to be a thinking judge who does not hesitate to call a spade a spade.
Born on January 4, 1952, and enrolled as an advocate on April 5, 1974, Justice Thakur started practice in the Jammu and Kashmir High Court before being appointed Additional Judge there. He was soon transferred to the Karnataka High Court and later to the Delhi High Court, where he was the senior-most judge. He was then appointed the Chief Justice of Punjab and Haryana High Court following a vacancy created by the retirement of Justice Vijender Jain. He was then elevated as Judge of the Supreme Court and assumed charge on November 17, 2009. He is due to retire on January 4, 2017.
He is the son of the late DD Thakur, the lawyer-turned-finance minister of Jammu and Kashmir, who defended Sheikh Abdullah when he was arrested for alleged anti-national activities during the Nehru era. His brother, Justice Dhiraj Singh Thakur, is a sitting judge in J&K High Court.
Known as a disciplinarian, Thakur strongly believes in the independence of the judiciary from the influence of the executive. It is evident from his observation, made soon after Parliament passed the National Judicial Appointments Commission (NJAC) Bill on August 14, 2014. During the hearing of a lawsuit relating to backlog of cases in courts and for setting up an arrears' review committee, Justice Thakur commented, "Some issues that ought to be on the back burner are being put out on the front burner." He heads a committee, formed to suggest viable measures to solve the problem of mounting arrears, both in the apex court and High Courts.
Those who watch developments in the Supreme Court from close quarters opine that Justice Thakur belongs to the moderate school of thought. He is neither a strict status quo-ist nor an adventurist. He is an ardent follower of the Preamble of the Constitution and its avowed faith in the secular character of the country which is known for unity in diversity of culture and religion. He believes "inclusiveness is part of our culture" and compares the communal tussle over "masjid or mandir" to a "fight between brothers".
"I have seen, as lawyers often do, that when a fight takes place between two brothers over property, it is the most vicious kind of fight. They go all-out. But does that mean they are not brothers? When it comes to a third party, the brothers will come together to fight," Justice Thakur summed up while narrating the lessons he had learnt during his 43-year legal journey.
One of India's sharpest minds
by KTS TULSI
FOR Justice Thakur, justice is the right of the weakest. He is one of those judges who will not even condemn the devil wrongfully. He presumes everyone to be innocent. The best things about Justice Thakur is that he is one of the most amiable judges who, rarely, if ever, has raised his voice in court. The pleasant demeanour is always accompanied by a smile, even in the most trying circumstances. To him, dispensing justice is a spiritual activity and he admits that, to him, the inspiration for justice is also accompanied by the fear of injustice.
If a judgment reveals the extent of the mind's illumination, then Justice Thakur must be possessed of one of the sharpest minds for, one after another, he has authored brilliant judgments which are equally humane. His judgments are perfectly balanced; neither leaning towards the left nor towards the right. The most complex of issues are presented in his judgments in a simple, straightforward manner. The courage of his conviction has been demonstrated time and again in each of the judgments pronounced by him, including the case against Sahara and also BCCI and Uphaar. He is as stern as he is magnanimous. The examples of his sternness are in the Sahara and BCCI cases and magnanimity are the Urmila Devi vs Yudhvir Singh and Uphaar cases.
Every man is entitled to be valued by his best moment and his best moment has almost arrived. He is going to be merciless with regard to any smell of corruption in the judiciary. He is going to be vigilant and will guard the image of the judiciary by ensuring that the cheese of justice is not gnawed by mice. I wish him all the luck in his future endeavours.
(KTS Tulsi is Senior Counsel, Supreme
Court of India, and Rajya Sabha MP)
The no-nonsense attitude of Justice Thakur also came to the fore on the issue of cleaning the Ganga, for which Prime Minister Narendra Modi has created a special ministry with massive budgetary allocation. Justice Thakur, who heads the bench hearing a PIL on the pathetic state of rivers and water bodies in the country, had slammed the government's senior solicitors: "Where is the urgency in dealing with this matter? The people are waiting. Your (BJP) election manifesto said that it (cleaning up of the Ganga) would be done on a war footing. Where is the urgency? No one is showing any urgency."
WHEN the Public Interest Litigation (PIL) was seen as a tool to deprive the executive of its power by the court, he said, "the judiciary is not too ambitious, nor did it want to take over governance. But, it would be expected to act in public interest if there is complete deficit in governance…when the darkness is all around." He further explained, "Our attention towards public interest jurisdiction is not because we want to take over governance, or because the judiciary is too ambitious and also not because we have a grudge against people who have the power and authority. It is only because of the necessity of the situation."
"Appearing before him, one is satisfied that he has heard you and understood you. That is all a lawyer expects from a judge. He is a wonderful judge with a good vision. I can say he is a wonderful person and a wonderful judge. We always remember him. He is always in our heart. The whole High Court remembers him. He was always floating new ideas. He never accepted anything as a problem and would say 'no problem, there is always a solution'. He is a positive man."
Advocate Amit Rana, Member, Bar Council of India, on Justice Thakur's tenure as Chief Justice of Punjab & Haryana High Court. He also had firsthand experience of appearing in Justice Thakur's court.
If he seems to be mellow on this issue, Justice Thakur showed his other side by being a signatory to the significant judgment that upholds the constitutional validity of Section 364A of the Indian Penal Code, which entails the death sentence for kidnapping for ransom. Section 364A was brought into the statute in 1993-94 following an amendment in the criminal law. It envisages that 'whoever kidnaps or abducts any person and hurts or kills that person with a demand for ransom, shall be punishable with death or imprisonment for life, and shall also be liable to fine'.
On a number of occasions, Justice Thakur has demonstrated a knack for upholding the right cause, even at the cost of ruffling a few feathers. He created a sensation when, as a Supreme Court judge and executive chairman of the National Legal Services Authority (NALSA), he claimed that over 40 per cent Indians were deprived of basic rights and opportunities. "Over 40 per cent of Indians are living below the poverty line. They also are surviving with lack of literacy, lack of basic opportunities and scopes besides economic deficiencies," Justice Thakur said while delivering a speech at a symposium. "Our target must be to support neglected people of our society. Injustice cannot be tolerated in our system," he said, adding, "There is a commitment to ensure that poor people have equal access to justice. We have been devising our own ways to reach out to them."
Judgment on live-in relationships
D Velusamy vs D Patchaiammal case
Supreme Court Bench: Justices Markandey Katju and TS Thakur
THE appellant, D Velusamy, a secondary teacher in Thevanga Higher Secondary School, Coimbatore, filed an appeal against the judgment of the Madras High Court. He alleged that he was married to Lakshmi according to the Hindu Customary Rites on June 25, 1980, and a male child, who was born out of wedlock, was now studying in an engineering college at Ooty.
The respondent, D Patchaiammal, had filed a petition before the Family Court at Coimbatore, alleging that she was married to Velusamy, who after living together in her father's house for two or three years, left her but continued to visit her occasionally. She alleged that as she did not have any livelihood, she was unable to maintain herself. Hence, she prayed for maintenance out of Velusamy's salary of Rs. 10,000 per month.
The Family Court Judge in his judgment held that the appellant was married to Patchaiammal and not to Lakshmi. This was upheld by the High Court.
The Supreme Court bench, comprising Justices Markandey Katju and TS Thakur, held that, "In our opinion, since Lakshmi was not made a party to the proceedings before the Family Court Judge or before the High Court and no notice was issued to her, hence any declaration about her marital status vis-a-vis the appellant is wholly null and void as it will be violative of the rules of natural justice. Without giving a hearing to Lakshmi, no such declaration could have validly been given by the courts below that she had not married the appellant herein since such a finding would seriously affect her rights. And, if no such declaration could have been given, obviously no declaration could validly have been given that the appellant was validly married to the respondent. Because, if Lakshmi was the wife of the appellant then without divorcing her, the appellant could not have validly married the respondent.
The apex court further observed that Section 125 CrPC provides for giving maintenance to the wife and some other relatives. The word 'wife' "includes a woman who has been divorced by, or has obtained a divorce from, her husband and has not remarried."
"When a wife is deserted, in most countries the law provides for maintenance to her by her husband,which is called alimony. However, earlier there was no law providing for maintenance to a woman who was having a live-in relationship with a man without being married to him and was then deserted by him," the court added.
In our opinion a 'relationship in the nature of marriage' is akin to a common law marriage. Common law marriages require that although not being formally married: (a) The couple must hold themselves out to society as being akin to spouses; (b) They must be of legal age to marry; (c) They must be otherwise qualified to enter into a legal marriage, including being unmarried; and (d) They must have voluntarily cohabited and held themselves out to the world as being akin to spouses for a significant period of time.
Hence, the Supreme Court bench set aside the impugned judgment of the High Court and Family Court, Coimbatore, and remanded the matter to the Family Court Judge to decide the matter afresh in accordance with the law.
Delivering another bold judgment, an apex court bench of Justice Thakur and Justice Kurian Joseph called for greater transparency and "objectivity" in the selection of law officers. "Normally, people picked (as law officers) are known" and there are instances when people engaged in other vocations, including politics, are appointed government counsel. Taking exception to such appointments made by state governments, Justice Thakur said: "Some people grace the office (they come to occupy) and (in other cases) office graces the person."Going a step further, the court observed that from the kind of appointment being made and the remuneration being paid, it appeared "it is some kind of pension. Lakhs of rupees are going down the drain just for doing nothing".
'One of the finest human beings I have met'
by JUSTICE VIJENDER JAIN
WHEN I was asked to write about Justice Tirath Singh Thakur as I knew him, I faced a dilemma. If I write in praise of him, it may be taken as if I am trying to do so because the incumbent is going to occupy the office of the Chief Justice of India. But then, my inner conscience came to my rescue—having held the office of the Chief Justice of any High Court is more than enough reason and as I have entered the 70th year of my innings, I must pen down my feelings about a man who is going to occupy the highest office of the judiciary in the country.
I had known the late DD Thakur, father of Justice Tirath Singh Thakur, for a considerable period of time. My intimacy with him grew when I was elevated to the Bench in 1992 and lived at Shahjahan Road, where he was my neighbour. My wife, Kumud, and DD Thakur used to walk together daily and then he would come to my home for a cup of morning tea. Over tea, we used to regularly talk about social, legal and political dimensions prevailing in the country. DD Thakur was a great statesman and a great lawyer. I was impressed by his court craft and ingenuity. During that period, somewhere in 1993, I met Tirath Singh Thakur when he was a lawyer. Later, in 1994, he was elevated as a Judge of the Jammu & Kashmir High Court and, on account of transfer policy, transferred to the Karnataka High Court.
Bangalore is a city which I visit often. Not on account of its climate or serenity, but because a very dear friend, Dr Shreeram, lives there. In 1996, during one such visit, I called Justice Tirath Singh Thakur on the phone. Instantly he said, "Brother, we must dine together." I insisted that he come to dine with me at Dr Shreeram's house, but he said that I must come to his house. I had the taste of the hospitality of Anitaji, wife of Justice Thakur, and a very gracious lady. I had a sumptuous meal at their house and, thereafter, my closeness to him grew.
Justice Thakur is an embodiment of humility and courtesy, and one of the finest persons I have met in my life. His sense of humour, interest in Urdu poetry and overall erudite knowledge of law made me very fond of him. Normally, people, after reaching higher offices, forget. But, recently at a dinner hosted by a judge of the Delhi High Court, Justice Thakur came and told me, "Bhai Sahib, how can I forget your care and affection when my father was hospitalised in PGI, Chandigarh." I was really surprised that he still remembered something which was my duty to do as I was at that time the Chief Justice of Punjab & Haryana High Court and DD Thakur was seriously sick and admitted in PGI, Chandigarh. The point I am making is that he is one of those people who remembers a small courtesy. This is a quality of a great personality.
He has a great sense of humour too. One day, he called me from Bangalore and said that I had visited Orange Country Resort in Coorg and had not paid the bill and some inquiry has started. I was surprised and told him that I had cleared all the bills. Thereafter he simply said that he was joking and then handed over the phone to Dr Shreeram. This sense of humour makes him an extraordinary human being.
His concern for social justice and rule of law for the economic development of the country are unparalleled. I had the privilege of presiding at a full bench in Delhi High Court with Justice Thakur. The aptness and dexterity with which he handled the lawyers was remarkable. I need not go into the landmark judgments which he has delivered during his tenure as Judge of the Supreme Court as everybody is aware of them. The Indian judiciary is safe to have Justice Thakur as the next Chief Justice of India.
The apex court bench also took the Punjab government to task for appointing 74 Additional Advocate Generals, five Senior Deputy Advocate Generals, 40 Deputy Advocate Generals, 55 Assistant Advocate Generals and two Advocates on record for 40 courts in Punjab. Even if there was one committed law officer for each court, that would have been sufficient, the court observed.
On yet another occasion, Justice Thakur created a stir when, as the Chief Justice of the Punjab and Haryana High Court, he lambasted the Punjab government for failing to implement the Juvenile Justice Act. Speaking at a seminar, he claimed that the Punjab government had not met several statutory requirements of the Act. "A basic body like the child welfare committee is missing from most districts, no inspection committee has been set up to monitor the working of children's homes and there is no shelter home in the state," he said. "The state had not bothered to set up a juvenile justice fund and the state has no advisory board either for the implementation of the Act," he added.
I think he will perform very well (as the Chief Justice of India). He listens with patience. He has good knowledge of law as well as a good temperament. He is a judge who does not subscribe to extreme views and follows traditional views. His appointment is as per a longstanding tradition of senior-most judges taking over as the Chief Justice. This is something that should be followed unless there is overwhelming reason not to do so. Appearing before him, one was satisfied that he has heard you and understood you. Ultimately, the judge has to say yes to one side and no to the other side, but both sides must be satisfied that they got a patient hearing. That is all a lawyer expects from a judge
Senior advocate Pravin Parekh, six-time President of the Supreme Court Bar Association
Pointing out the pendency of cases under the Juvenile Justice Act, he said, "I have been told that 776 cases are pending in Punjab where the juveniles have been in observation homes for over two years. In Haryana there are 4,000 cases where the juveniles have been in observation homes for more than four months." Justice Thakur added that the state governments should be careful in choosing members for juvenile justice boards.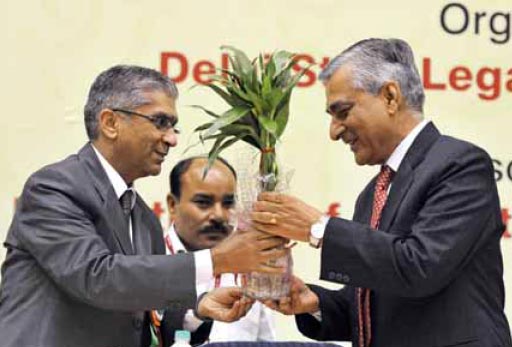 Some of the other landmark judgments delivered by him include the one against suspended Board of Control for Cricket in India (BCCI) president N Srinivasan and two IPL franchises, Chennai Super Kings and Rajasthan Royals, for their alleged involvement in match-fixing and betting in IPL VI. Srinivasan was stopped from participating in BCCI affairs because of the conflict of interest as he was BCCI president as well as stakeholder in Chennai Super Kings (CSK) at the same time.
"He is a very nice person. He was very good in his dealings when he was a judge of the Karnataka High Court. There was no allegation against him at any point of time. As a judge, he is very good in all subjects. His approach is very good. He is a calm judge. He hears the advocates patiently. He never gets angry like other judges. He is a relief-oriented judge. This does not mean that in every case he is granting relief, but where required, he gives relief.
Advocate YR Sadashiva Reddy, central government standing counsel and member of the Bar Council of India. He appeared before Justice Thakur in the Karnataka High Court in several cases.
HE, along with Justice Markandey Katju, pronounced a pathbreaking judgment on whether a woman can claim maintenance and other benefits if she is deserted by the man she was living with in a live-in relationship (see box). The landmark judgment recognised the rights of a woman, if the man and woman, though not formally married, were living like husband and wife. In other words, they are helping each other and are not living together merely for sexual purposes.
Delivering a judgment on a contempt petition against the government for not complying with its direction to implement OROP, as per a 2008 judgment, Justice Thakur reminded the government: "This was part of your manifesto for the Lok Sabha elections. You must keep your word."