by Renu Mittal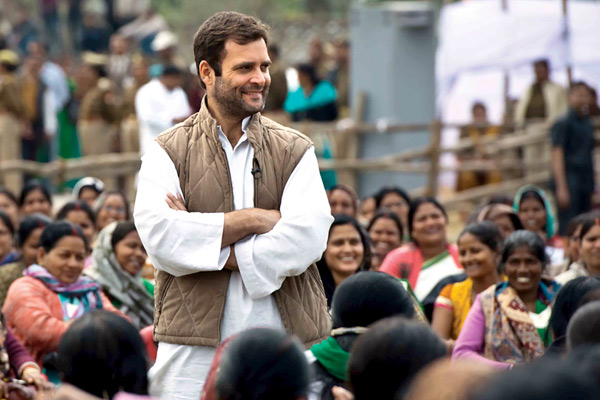 WITH great power comes great responsibility. The Gandhi surname in politics comes with fame, fortune, power and a huge sense of responsibility. For a long time it looked as though the young Rahul Gandhi, born with a silver spoon but also with the spectre of tragedy surrounding him, was one of the most reluctant entrants to the elite club of politics. He neither had it in him to make a success of his heritage and lineage nor did he display the correct amount of passion to succeed in politics.
The question which has been tossed around for a long time has been whether Rahul was really interested in the calling card of politics, or whether his mother pushed him into it to fulfill the sense of duty the Gandhi family had to run the Congress party and, of course, the country.



A senior Congress leader with a long association with the Gandhi family reveals: Sonia Gandhi was always focused on her son Rahuls political destiny, even though he had little or no interest in what awaited him. She was the driving force. She believed that she needed to keep the Congress safe and secure so that whenever Rahul was ready he would take over the responsibility and fulfill his destiny. So much so that she kept her daughter Priyanka away from the hurly-burly of politics, knowing well that of the two she was the more suited to steer, lead and take over the reins of the grand old party.
Since 2004, when he became an MP from the familys Lok Sabha seat of Amethi, Rahuls political graph has been one of speculation, questions, doubts, minimal interest in the job, big blunders, periodic disappearances, guest appearances, incoherent disconnect between his mind and his speeches, an embarrassing lack of focus, refusal to take responsibility particularly in the government, decision to confine himself to the periphery of the Congress politics focusing only on the Youth Congress and the NSUI, impatience with senior Congress leaders, abrupt and rude behaviour with partymen, and, most of all, his inability to effectively convey his message, suggestive of a confused mind lacking clarity of thought.
This is in a nutshell was Rahul from 2004 to 2017, 13 long years when he frittered away his advantage and became a non-serious player on the national stage. This condition was aggravated by a calculated campaign run by the Sangh Parivar where he was christened pappu and the social media was used to play up Rahuls inadequacies. The Congress neither had the time nor the interest in launching a counter narrative to safeguard the leaders image. As one party functionary put it: How would we counter the RSS and the Sangh Parivar when the inadequacies of Rahul were so transparently evident and he himself made no attempt to change his image or behave with a sense of responsibility.
Forty-four Lok Sabha seats in 2014 sounded the death knell for the morale of the Congress and its workers. The party continued to lose elections in State after State. Sonias health was a matter of concern and in a bid to gear up Rahul, who had been made the vice-president of the party, she began to withdraw and gave him more and more responsibilities in terms of running the party. But the two power centres worked at cross purposes, with the result that the drift in the Congress took on humongous proportions. Despite an alliance with the Samajwadi Party the Congress netted just seven assembly seats in Uttar Pradesh. It scored a duck in Delhi assembly. The list of its decline is long and paints a dismal picture of a party fallen on hard times, facing a huge resource crunch, reduced to just five State assemblies amidst continued infighting amongst State factional leaders. The image of a corrupt party continues to haunt the Congress. Its organisation is in a shambles with the party leadership never having focused at building block-level committees or strengthened the boothwise status of the party apparatus.



Decisions in appointments have been hugely delayed. General Secretaries have been continuing in the AICC for long years, having developed vested interests in the States they look after. The scramble for the loaves and fishes of office continues to remain the main priority of Congressmen rather than a desire to rebuild the party and make it a fighting fit force to take on the BJP, which has continued its march to gobble up more and more States.
On December, 18, 2017, when Rahul formally took charge as the President of the Congress after a long uncertain wait, punctured with many ifs and buts including a question mark on his own level of seriousness and commitment, it was more than evident that he had a more than daunting task ahead of him.
But interestingly, in the months ahead of his coronation, Rahul appears to be a changed man. His look, his image, his style and his content have received a transformation, making him appear more serious and committed and his speeches have also become more pointed and focused rather than vague and meandering.
The most obvious change was discernible during his trip to the USA when he addressed students at Berkely University. It looked like Rahul was ready to engage and become a more serious player on the world stage. This was also evident during Gujarat assembly elections when he showed staying power and continued to lead the party campaign even though much of the strategy and behind the scenes power play and caste equations and the bringing together of caste leaders Hardik Patel, Alpesh Thakore and Jignesh Mevani had all been put in place by master strategist Ahmed Patel. Patel stayed in the background, mindful of the campaign that he was the Congress candidate for chief ministership. This was an attempt to polarise the voter along Hindu-Muslim lines. But, for once, the strategy had come a cropper.



Silently the Congress had worked for months in areas, asking the people not to react to deliberate provocations of the BJP. The workers were asked to lie low and not engage in arguments or fights with either Hindus or BJP workers and they were told not to wear their obvious caps and stand in long queues as has often been seen in pictures of localities going for voting.
Patel had a double agenda: To stop Amit Shah in his tracks and to prove to Rahul that, yes, he was the chief strategist of the Congress. Ashok Gehlot as the General Secretary in-charge of Gujarat was the frontman who acted on Patels bidding.
Sources say that the advice given to Rahul to focus on Hindus, to visit temples and to project himself as a worshipping Hindu came from Jyotiraditya Scindia, the son of Madhavrao Scindia and a close associate of the Congress President. The janeu (sacred thread) wearing Rahul, the Shiv Bhakht Rahul, Pandit Rahul, all paid off with the Congress winning in those constituencies where Rahul visited temples during his election campaign.
IN Karnataka, Rahul is set to follow the same strategy. On his first election campaign visit he will visit the Shangeri Math and on subsequent visits, many other powerful maths would be part of his itinerary. A section of the party believes and is fully convinced that the Congress has to shed its image of a party pandering to the minorities and this perception of minority appeasement has been cashed by the BJP to emerge as a party representing the interest of 80 per cent of the Hindus of the country.
Sources say that the advice given to Rahul to focus on Hindus, to visit temples and to project himself as a worshipping Hindu came from Jyotiraditya Scindia, the son of Madhavrao Scindia and a close associate of the Congress President
Rahul is said to be of the view that the party needs to seriously relook and re-examine this image and take whatever correctives it needs to to dump this image. The Congress as a secular party has been a sacrosanct belief for Congress leaders over the years but with Rahul reopening the chapter on ideology, party leaders say they would want to see how he affects a balancing act without compromising on the partys core and basic ideology.
In States where the Congress is pitted directly against the BJP, it may pay the Congress dividends, but what of big States like UP, Bihar, Tamil Nadu and West Bengal where regional players are in place to take advantage of the minority votes and where the Congress has been reduced to fourth position with most of its votebanks having deserted the party.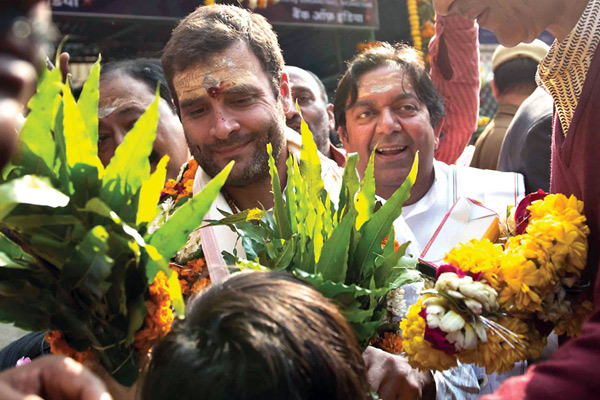 A member of Team Rahul says, What really does he have to lose? In these States the Congress was neither getting the Hindu vote nor the Muslim vote, and in terms of caste politics, most of the crucial castes had deserted the Congress. Yet another says, with just 44 seats in the Lok Sabha and five State governments nationwide, Rahul has nothing to lose and if he does not experiment now, then when can he.
Expectations are at an all-time low as far as the new party president is concerned. So what then is Rahul all about and what brought about a change as far as his interest in politics is concerned?
Sources say that Rahul was all ready to wait his time, not being in a hurry or at all convinced that the party could make a dent in the BJPs onward march. He had confided to some close associates that the Congress would be happy to support Nitish Kumar to be the Prime Minister candidate in the event that a rag-tag coalition did manage to dislodge the BJP. Rahul was in awe of Nitish. At the cost of an old ally like Lalu Yadav, Rahul sided with Nitish and promised him the chief ministership during the Bihar Assembly polls.
A highly placed source disclosed that after Nitishs defection to the NDA and his decision to rekindle his alliance with the saffron party, Rahul was shocked. But it was also a wake-up call for him. It was after that he decided that he would become the Congress President, to be followed up by becoming the UPA chairperson and finally a Prime Minister candidate.
WHILE the Nitish betrayal was a turning point in more ways than one, Rahul also appears to be seriously fascinated by Narendra Modi and has been styling his politics, his agenda, his content and his way of working on the Prime Minister. After all, nothing succeeds like success and what better than a successful role model to carry forward your politics.
First Rahul picked on Prashant Kishore, who had been a part of Modis winning campaign team in 2014. Congressmen accuse Kishore of sabotaging the partys UP campaign where he called the shots on everything from candidate selection to party strategy to campaign issues. kishore was then the right hand man of Nitish and this further endeared him to Rahul. Of late, Rahul is said to have taken on another agency which had handled Modis campaign. APCO Worldwide is an independent global public affairs and strategic communications consultancy which is said to be working on Rahuls make over.



Just as Modi had constantly and consistently attacked the Congress for a couple of years before the 2014 Lok Sabha polls, similarly, all Congress spokesmen have been issued strict instructions that they must keep up a relentless attack on Modi and his government and there should be no let up on this. So, day after day, the AICC media chairman Randeep Singh Surjewala and his band of spokesmen attack Modi and company, irrespective of whether it is being carried in the media or not. Rahul has obviously been told that this will erode the image of Modi and pay the party
electoral dividends.
Rahul has also focussed on building the social media platform of the Congress party. In Karnataka and Rajasthan, Surjewala has tweeted, asking people to join them and carry forward the partys issues on social media. Modi had done exactly the same thing with a number of call centres being used to target the Congress as well as build up the leaders image. Rahuls adoption of the soft Hindutva line in Gujarat and now Karnataka is also a follow up of Modis politics
BUT Congress leaders ask one pertinent question: Modi has an Amit Shah to micromanage elections, formulate strategy, look after the nitty gritty of party work, workers, MPs and others. But who is Rahuls Shah? Does he have a nuts and bolts man, a chief strategist? Sonia had an Ahmed Patel who was her biggest trouble shooter, party strategist, and who used to manage the allies and was the focal point on which her presidency revolved for the last 14 years. But so far Rahuls team lacks a credible political face, It consists mainly of foreign-educated men and women who have little or no connect with the grassroots.
Ahmed Patel had a double agenda: To stop Amit Shah in his tracks and to prove to Rahul that, yes, he was the chief strategist of the Congress. Ashok Gehlot as the General Secretary in-charge of Gujarat was the front man who acted on Patels bidding
Among Rahuls teams main members is K Raju, a dalit, former IAS officer who heads the AICC scheduled caste department and who is Rahuls main advisor on dalit issues. He sits in on meetings with Rahul and takes notes which are later given to the leader. He spends a great deal of time at Rahuls Tughlaq Lane residence and holds meetings there with numerous persons in Rahuls own office in his absence, further cementing the impression that he is very close to the party president.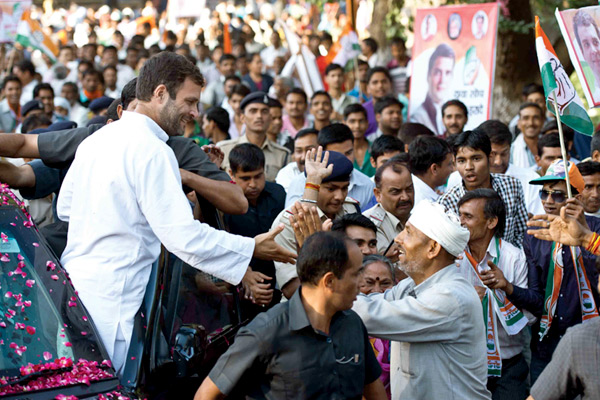 Then there is Rajiv Gowda, a communications specialist picked up by Rahul and brought to Rajya Sabha. He handles Parliament questions and is a part of the strategy and analysis group. Amongst the office staff at Rahuls residence is Kaushal Vidyarthi, who has studied in Oxford, has done his MPhil in development studies, DPhil in social policies and urban planning and looks after appointments as well as being an advisor. His wife, Swati Saxena, is also from the Oxford, is a researcher and writer and a Phd in development studies. She also wields considerable influence on Rahuls views on the social sector and development models. Alankar is also from the Oxford and looks after appointments and the office secretariat. Bjyu is formerly from the SPG and gives feedback from the field. Sachin Rao is from Michigan University, sits in Jawahar Bhawan and is a member of the executive committee on the Youth Congress and the NSUI for transformation, which was one of Rahuls pet projects.
AT the moment, competition is rife on who will become Rahuls Ahmed Patel. The Delhi PCC president Ajay Maken, who has continued in his post despite leading the party to a number of electoral debacles, claims to be close to Rahul and is trying hard to be appointed as his Political Secretary. If not, he would be content with the post of General Secretary in the AICC.
AICC media chairman Surjewala, who is close to Priyanka and Robert Vadra by virtue of also being one of their lawyers, also has aspirations to becoming Rahuls Political Secretary. As is his style, Rahul defers to him on all issues related to the media and if any leader flags a media issue, it has to be routed through Surjewala. He is an MLA and former minister from Haryana.
Sam Pitroda is a confidante of the Gandhi family. He was picked up by Rajiv Gandhi to head the various missions set up during his Prime Ministership. Since then he has been a part of the Delhi durbar. He is credited with organising Rahuls visit to Berkeley University, which in many ways began the process of altering perception about Rahul. He also accompanied Rahul to his recent Bahrain visit and is credited with writing the Gujarat manifesto. He is also heading a group on Coming Challenges in the Political System.
Among others whom Rahul is known to have a good equation with are Milind Deora, Sachin Pilot, Jyotiraditya Scindia, Sushmita Dev, Bhanwar Jitender Singh, Meenakshi Natrajan and a host of others, most of whom are sons and daughters of senior Congress leaders.



But Rahuls real comfort level comes from the Youth Congress and the NSUI, the two organisations he has spent years with. It is significant that in one of his first acts after becoming Congress President he appointed a team for the Meghalaya elections. The former Indian Youth Congress (IYC) General Secretary Yashomati Thakur, an MLA from Maharashtra, has been appointed as the co-ordinator for the elections. The former IYC treasurer, Sushanto, a former MLA from Assam, is the divisional co-ordinator, while the other two are Anil Thomas, also from the NSUI and the Youth Congress, and Netta DSouza, a former IYC Secretary from the Dadar and Nagar Haveli. In the Gujarat and Himachal Pradesh assembly polls, a large number of observers were from the Youth Congress. He appears to be following the dictum of bringing in tried and tested people with whom he has worked and with whom he has a comfort level.
MOST of the AICC secretaries appointed by Rahul when he was the party vice-president have IYC background. And many IYC persons have been drafted for ground level work in Karnataka. They have been told their job is not to recommend PCC presidents or other office bearers but to look after booth management in the State. They have been told to go to the block level and set up booth-wise committees. Training of almost 8 lakh people is currently on, 25 master trainers have been positioned in every block and it is their job to identify voters lists, interact with the voters and ensure that the party is ready at the grassroot to fight elections. They are the equivalent of what the RSS calls its panna prabharis.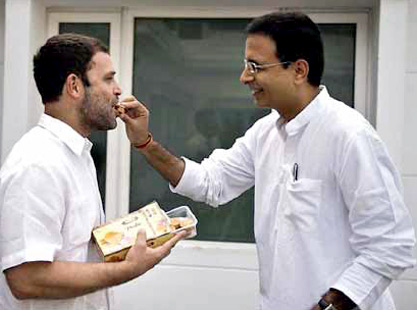 Lack of organisation at the grassroot level has been repeatedly cited as a major lacuna in the Congress. The Karnataka results would indicate whether Rahul has been successful in replicating the model at the block level. Insiders in the party say that over time the IYC and the NSUI would become the AICC of tomorrow. But, as of today, Rahul is trying hard to signal that he will not dump the old guard, that he will work with a judicious mix of the young and the old and that he will seek counsel from the seniors, maybe along the lines of Modi-created Margadarshak Mandal.
Change is a constant. The only question is how fast or how slow Rahul affects that change and whether he has the staying power to anchor the Congress in the difficult days ahead. Time will tell.
POLITICS / congress / renu mittal
VOL. 11 | ISSUE 10 | Jan 2018



[give_form id="12407"]