Whosoever said "rules are for fools," probably had Robert Vadra in mind. That is because seemingly there are two laws in the country— one for the 'Nehru-Gandhi family', and another for all others.
These are not stray incidents; many others have raised their voice but failed to knock Vadra down. Similarly, a number of BJP leaders raised allegations of corruptions against Vadra—which was one of BJP's main elections issue—but suddenly went silent once the election was over.
Even a powerful politician like Amit Shah did a U-turn and clarified that he or his party never said Vadra would be sent to jail. "We never said that Robert Vadra should be jailed. We said that the corrupt should be jailed. We also said that Robert Vadra has indulged in rampant corruption. These two should be seen separately," he said in a TV debate.
Many others have raised their voice but failed to knock Vadra down. Similarly, a number of BJP leaders raised allegations of corruptions against Vadra—which was one of BJP's main elections issue—but suddenly went silent once the election was over
These developments helped the Congress spokesperson Ajay Maken to hit back and claim that these were all baseless election time allegations to put pressure on Priyanka Gandhi Vadra in Raebareli and Amethi. "Someone talks about a big heart. Whose big heart helped Robert Vadra to establish his empire in such a short span with an initial investment of Rs. 1 lakh," he said referring to Priyanka Gandhi's dig that a 56-inch chest was not needed to run the country but a "big heart" and "moral strength".
Surprisingly, apart from such stray instances, even the Congress made no serious attempt to defend Vadra and his money-making 'with an initial investment of Rs. 1 lakh'. Curiously, even in the more than five years since BJP, there has been no concrete development in even one of the many cases against Vadra.
Not surprisingly the Haryana Government swept the Justice Dhingra Commission under the carpet, while the Congress' spokesperson RandeepSurjewala alleged that the sole intent of the report was "to defame, conspire and malign rather than examine the facts fairly. This shows the mal-intent and sinister conspiracy of the government of Haryana, of BJP and even the Commission itself."
How else to explain why the CBI cut a sorry figure before the Delhi High Court on Vadra's so-called 'land deals' and ended up diluting the case as it found no traces of any illegal benefits? Even the Supreme Court of India and the Allahabad High Court found no merit in the accusations against him. Similarly, in response to a PIL before the Delhi High Court, it was clarified that not an inch of government land in Haryana was given to Vadra at throwaway prices.
Today, as the son-in-law of the powerful Gandhi family, Vadra is by all standards a VIP today. He gets security cover, and priority custom clearance. There is no frisking at airports, something which many ministers and dignitaries can't even dream of. He has the freedom to make money with the assurance that the entire Congress party and the government will come to his rescue if any questions are asked. The 'Damad of India' always manages to go scot-free.
Lawyer and current Union Law and Justice Minister Ravi Shankar Prasad released "Damad Shree"—a six-page booklet alleging Vadra's alleged 'under-hand' dealings to swing land deals in Rajasthan and Haryana. Intensifying the attack against the Congress, the BJP also released a 8-minute documentary depicting how Sonia Gandhi and Rahul Gandhi helped Vadra bag the deals using their clout. Addressing a press conference Prasad said, "There was a gross violation of laws relating to land and environment. The influence of the family helped make Vadra big earnings in the deals." Prasad, however, clarified that the BJP was not targeting an individual but the issue of corruption. He described it as a "textbook case of corruption and crony capitalism under state patronage"
BJP leader Uma Bharti vowed to send Vadra to jail if BJP came to the power in the run-up to the 2014 elections
BJP national spokesperson Sambit Patra went on record to say at a press conference that Vadra will be sent to jail for helping a defence dealer to bag contracts during the UPA's rule.
The PMO rejected an RTI filed by Lucknow-based activist Nutan Thakur seeking details about irregular land dealings by Vadra, on the plea that this was a "private affair" and hence "confidential"
Rajiv Sharma, IPS, investigating a money laundering case on behalf of Enforcement Directorate against Vadra for purchasing a London-based property at 12, Bryanston Square, worth 1.9 million pounds under the Prevention of Money Laundering Act was replaced with Mahesh Gupta, IRS, and sent back to his cadre on the plea that he is due for promotion
AAP's Arvind Kejriwal too is now maintaining a 'stoic' silence over the issue
Even big guns of television like Arnab Goswami and Rahul Kanwal are keeping quite. Why?
His is a rags-to-riches story. There is nothing exceptional about him or the family but still, as they say, when dust turns into gold people aren't allowed to touch it. This applies to Vadra, the son of Rajinder Vadra a migrant from Sialkot, Pakistan, turned brass exporter and his Scottish wife Maureen who taught at a playschool in Delhi.
A small-time businessman from Moradabad, Vadra was just one of many till he married Priyanka 12 years ago in 1997. Vadra in his 20s was a not-so-successful businessman and his brass business was not doing too well.
There was an unhappy family life to start with. Vadra's father was not in favor of his marriage to Priyanka. Vadra issued a public notice in 2001, stating that his father and elder brother Richard were "duping" people by promising them lucrative jobs.
A socialite and fitness freak Vadra is known to frequent expensive night clubs to flaunt his designer clothes and network with the right people. This is how he met Priyanka in the first place.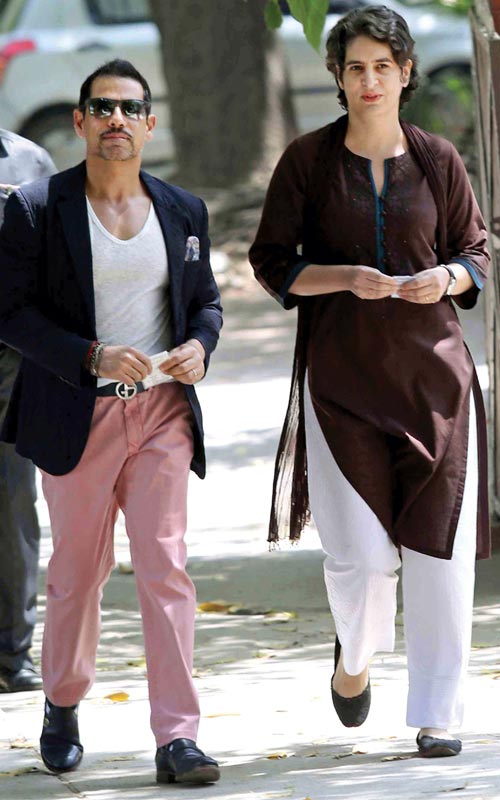 Vadra's father threatened to file a defamation suit against him. Subsequently, in January 2002, Robert placed an ad in newspapers, declaring that he had nothing to do with his father and brother and that any effort to gain favour by them should be disregarded. Accordingly, the Congress party directed "one and all"—the CMs, PCC bosses and CLP leaders—that Vadra had severed ties with his father and brother and thus "no favour sought by them should be entertained."
Within a few years of the marriage, Vadra's sister, Michelle, died in a car accident in 2001; his elder brother, Richard, committed suicide in Moradabad in 2003 and his father was found dead in Room Number 6 of a guesthouse in Yusuf Sarai in 2009.
Vadra started Artex, a handicraft business, the same year he married Priyanka in 1997 and within 3-4 years the small-time "brassware dealer" overnight become a billionaire selling precious antiques to Richie Rich's in foreign lands. Soon he diversified into real estate, hospitality and charter aircraft. In quick succession between November 2007 and June 2008 Vadra floated Sky Light Hospitality—a partner in Hilton Garden Inn in Saket a business district in South Delhi, Sky Light Realty, North India IT Parks, Real Earth Estates and Blue Breeze Trading (air chartering with 4 aircrafts) with a collective paid-up capital of Rs. 5–25 lakh. He also floated another six companies. Apart from these, he owned 20 per cent stake in Unitech, which was in the eye of the storm in the high profile 2G spectrum scam. His mother Maureen was a director in all his companies. But 3-4 years down the line he closed down the six companies on the plea that they weren't doing any business hence needed to be wound up.
Surprisingly, despite no business activity, his assets kept swelling. Son-in-Law of Sonia Gandhi and husband of the uncrowned princess of India, Vadra continued to lead a lavish lifestyle and amassing disproportionate wealth beyond his known sources of income. As per data available in the public domain, his net worth soared up to Rs. 1,409 crore. India Against Corruption (IAC) had alleged that Vadra's net wealth grew from Rs. 50 lakh to over Rs. 300 crore in three years while the balance sheets of five companies managed by Vadra and his mother showed "total share capital of Rs. 50 lakh".
Prashant Bhushan alleged that Vadra went on a property buying spree—purchasing some 31 properties mostly in and around New Delhi. "Any other common man in his position would have been under the Income Tax scanner or behind bars," says a Noida-based lawyer.
Vadra started Artex, a handicraft business, the same year he married Priyanka in 1997 and within 3-4 years the small-time "brassware dealer" overnight become a billionaire selling precious antiques
If Arvind Kejriwal is to be believed Vadra was introduced to Kushal Pal Singh the owner of real estate giant DLF Ltd who gave him a flying start in real estate and hospitality. According to Kejriwal, Singh not only motivated him but also allegedly gave him an interest-free loan of Rs. 65 crore in exchange for political favours. Kejriwal has demanded a probe into the business dealings between Vadra and DLF. IAS officer Ashok Khemka cancelled a Rs. 58-crore deal between DLF and Vadra.
The modus-operandi adopted was quite simple. Vadra would receive an interest-free unsecured loan from India's largest real estate conglomerate DLF Limited, which was used to buy properties grossly undervalued from the DLF. Some such generous loans to Vadra companies, without collateral, include:
Sky Light Hospitality was granted Rs. 25 crore as unsecured loan on March 2009, by DLF Ltd. As of March 2010, the balance payable was only Rs. 10 crore
Sky Light Hospitality, similarly, loaned money to Blue Breeze Tradaing Pvt Ltd, North India IT Parks Pvt. Ltd, Real Earth Estates Pvt. Ltd and Sky Light Realty Pvt. Ltd.
How and why a company which already owed thousands of crores to banks and financial institutions was given unsecured interest-free loans is something that is a puzzle that CBI or ED can solve.