ELECTION to the 15th Tamil Nadu Legislative Assembly is in its final leg. Nominations are over and the campaign has peaked. Voting will take place on May 16 and counting will be on May 19. There are over 5.79 crore voters in the electoral rolls and 65,616 polling stations in the State. By May 22, the new government should be in place.
The question is whose government would this be? The misfortune of India's democracy is that the vast majority of voters do not understand this most basic of all questions. They consider the Government a 'supreme entity' comprising of people of great power and authority, little realising that it is they who put them there by exercising their basic right to vote. Even nearly seven decades after Independence, people at large have not understood that in a democracy 'Government is of the people, by the people and for the people', what Abraham Lincoln said 150 years ago and what is inscribed in the Preamble of the Constitution of India "We, The People".
India's and, therefore, Tamil Nadu's governance structure has two kinds of leadership—political and administrative. While the latter, comprising of All India Services and State Civil Services, have well-defined rules and norms, the former, comprising politicians, have none. Anyone with money/muscle power can get a ticket and become an MLA and minister by openly bribing and inducing voters by adopting dubious means. These 'leaders' then go their own way and all that citizens can do is to either wail or petition the high-ups with hardly any response.
The best way is to stop this at the threshold. The bottom-end solution would prevent corrupt and criminal elements from contesting elections and, if they manage to get tickets and enter the fray, defeat them. This is possible only if the electoral contest takes place with a level-playing field and voting is done with ethics, and not cash, as the principal consideration.
It is here that electoral integrity comes in. Integrity is described as "uncompromising adherence to moral and ethical principles; soundness of moral character; honesty". If there is one area where this is almost totally absent in India, it is in the electoral process through which political leaders are elected to govern the country/State. Ethics has near totally eroded from the voting process and this has prevented honest, committed and competent people from entering the electoral contest. The result is an acute leadership crisis, diminishing of democracy and decay of democratic governance. Things have come to such a pass that there is a disturbingly growing practice of voters demanding/accepting bribes from candidates, saying that they are entitled to a share of 'loot money' during election time. Integrity is being driven out of the election process, which is the life-blood of democracy.
During the 2011 Assembly election in Tamil Nadu, the Election Commission of India (EC) responded to this challenge by putting together a formidable expenditure monitoring and enforcement mechanism (EMEM). This mechanism comprised of general observers (IAS); police observers (IPS); expenditure observers (IRS); assistant expenditure observers (ITOs); video surveillance teams; video viewing team; accounting teams; expenditure monitoring control room and call centre; media certification and monitoring committee; expenditure monitoring cell; as well as mobile and static surveillance teams. Working closely with civil society, EMEM functioned effectively and seized `62 crore of unaccounted money, which had some impact on elections.
This time also, since the announcement of elections on March 4, the EC has been on high alert and had pressed into service 702 mobile and 712 static surveillance teams resulting in the seizure of around `47 crore in unaccounted cash till April 25. Of the amount, a whopping `11.32 crore was seized on April 22 alone, the day the notification for elections was issued. But, according to activists, this is not even the tip of the iceberg since massive quantum of money has already been moved and hoarded at various places indicating clear failure of intelligence agencies, income tax department and Enforcement Directorate. This money is being distributed to voters in instalments by political parties and candidates by exploiting the loopholes of EMEM. In the event, there is an all-pervading culture of corruption and bribery dominating Tamil Nadu's electoral scene.
This is what provoked former Chief Election Commissioner (CEC) of India, N Gopalaswami, to say at an election awareness event: "Tamil Nadu is the only State in the country where they (politicians) have made voters corrupt. It has come to a situation where voters now bargain with parties as to how much (money) they will get to vote for a particular party." (The Hindu, April 4, 2016). This sentiment was echoed by the incumbent CEC Nasim Zaidi, when he said money power is rampant in Tamil Nadu elections.
What is the EC doing about it? Much more of the same EMEM, if we look at the huge mobilisation by EC from the date nomination commenced. This includes one IAS, IPS and IRS observer for two Assembly constituencies and, in some cases, for one constituency. The question is, whether this massive machinery would bring about electoral integrity and prevent political parties from indulging in blatant corrupt practices? Particularly so, when these parties and the candidates they field are backed by vested interests loaded with wads of black money! Answer would be no, since these worthies have found innovative ways of moving and delivering cash with the active connivance of government officials who are their 'partners in corruption'.
Total inaction by successive governments in acting upon EC's recommendations for electoral reforms has rendered the Commission as helpless as the citizens. EC is contented with issuing showcause notices, which no political party takes seriously
CONCERNED citizens in Tamil Nadu are helplessly watching as hundreds of crores of black money are being thrown around by various political parties and candidates in the election campaign. Obviously, the money has been gathered during the last several months by indulging in corrupt practices and threats and coercion.
Total inaction by successive governments in acting upon EC's recommendations for electoral reforms has rendered the Commission as helpless as the citizens. EC is contented with issuing showcause notices, which no political party takes seriously. It transfers officials after the damage has been done. The showcause notice would be forgotten both by the EC and political parties immediately after the election and the politicians will have the last laugh.
DOES this mean that the EC is helpless and the vulgar money power cannot be countered and a level-playing field created? Certainly not, if the Commission takes the psychological weapon in its hands instead of entirely relying on physical measures. Let us see how. Article 324 (1) of the Constitution of India vests with the Election Commission "the superintendence, direction and control of the preparation of the electoral rolls for, and the conduct of, all elections to Parliament and to the Legislature of every State…" The Supreme Court, in a catena of cases, has held that fair and free elections is a basic feature of the Constitution and has ruled that EC can exercise plenary powers in areas where there is neither legislation, nor prohibition under any legislation. This is clear from Mohinder Singh Gill vs Chief Election Commissioner (1978. 2 SCR-272): "When Parliament or any State Legislature made valid law relating to, or in connection with elections, the Commission, shall act in conformity with, not in violation of, such provisions;, but where such law is silent, Article 324 is a reservoir of power to act for the avowed purpose of not divorced from, pushing forward a free and fair election with expedition…"
Instead of resorting to a wild goose chase, this important asset should concentrate on collecting and compiling credible evidence of mass bribery 'that would affect election results' and provide the same to the EC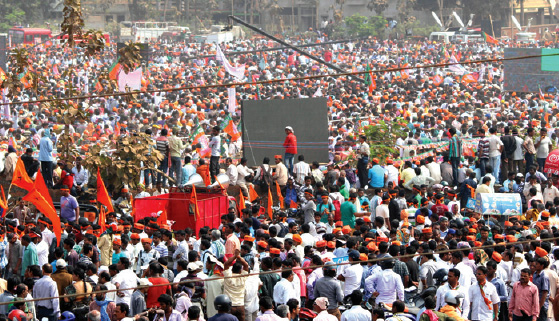 All corrupt practices listed under Section 123 of the Representation of People's Act, 1951, seriously impair free and fair election, which is EC's mandate. These include, "any gift, offer or promise by a candidate or his agent or by any other person with the consent of a candidate or his election agent of any gratification, to any person whomsoever, with the object, directly or indirectly, of inducing a person to stand or not to stand as, or to withdraw or not to withdraw from being a candidate at an election, or an elector to vote or refrain from voting at an election." There are many other forms of bribery described in this section. All these are being indulged in as a matter of course by candidates fielded by political parties.
Section 58A of the Representation of People's Act specifically empowers the EC to postpone/countermand election in any constituency where 'booth capturing' takes place because of which the 'result of the election is likely to be affected'. Since rampant and proven pre-poll bribery and corrupt practices would also have the same effect, it can be safely presumed that this Section, read with Section 123, confers plenary powers on the EC to invoke this strong psychological weapon to make the elections free and fair.
Election observers are appointed by the EC under Article 324(6) of the Constitution and Section 20B of the Representation of the People Act. These observers, who are senior officials of All India and Central Services, act as the 'eyes and ears' of the Commission during the election and provide direct inputs from the field. Instead of resorting to a wild goose chase, this important asset should concentrate on collecting and compiling credible evidence of mass bribery 'that would affect election results' and provide the same to the EC.
Acting on this information, EC should wield the 'brahmastra' of countermanding election in constituencies where there is convincing evidence of rampant and mass bribery. Otherwise, democracy in Tamil Nadu, which is in serious peril, would become 'walking dead' and that could affect the very credibility of the Election Commission!
The writer is a former Army and IAS officer. Email: deva1940@gmail.com