TODAY it's almost impossible to access any news outlet online or traditional, without having at least one story about electric vehicles, cars, buses or two-wheelers staring in the face, making one think that petroleum-fueled vehicles are relics of history, except that there are hardly any electric ones on the road. Currently costing at least double than similar conventional IC engine ones, electric vehicles are hyped as a pollution-free alternative, which is somewhat ironic considering that they would have to be charged with electricity (82 per cent in case of India) produced by sulfurous smoke-belching coal-based thermal power plants. The recent diesel generator ban in NCR recommended by EPCA has been enforced with the same reason; except that no steps have been taken to ensure that the Discoms first provide a 24-hours uninterrupted power supply.
A marriage made for roadsides
During last couple of weeks, the internet and the press in India were abuzz with a video posted online by a twitter user highlighting the connection between the two: electric vehicles and diesel generators. It showed a new electric bus with the markings of Pune Mahanagar Parivahan Mahamandal Limited (PMPML), Maharashtra, being charged by a trailer-mounted diesel generator. To be fair, the bus was standing at some undisclosed suburban location; had no registration number plate and the video could have been shot while it was en-route to Pune from its factory in Hyderabad. The most common question most people had: "What's the point of having a so-called zero pollution vehicle when it needs to be charged by a diesel guzzling generator?"
Concurrently, across the country, in Assam, the State government-owned Assam State Transport Corporation (ASTC) announced that their trial fleet of 15 electric buses would finally start plying in Guwahati from the October 30. The TATA Starbus-Electric Busses were acquired under the Central Government's Ministry of Heavy Industry's Rs. 440 crore FAME (Faster Adoption and Manufacturing of Electric vehicles) scheme, availing a 60 per cent Central government subsidy. These are among the same buses Tata Motors won a bid to supply, 40 each to Kolkata, Jaipur, Indore and Lucknow and 15 to Jammu and Guwahati in March 2018. However, in April 2019, they also got pulled up by the government and were threatened to be blacklisted from participating in FAME-II for non-performance and delayed delivery.
Inaugurated in Guwahati, mid-July this year during the Ambubashi Mela at the Kamakhya temple, they stood unused for over three months collecting dust at the corporation's Guwahati Roopnagar yard due to no charging facilities and a lack of EV policy in the state, that didn't allow them to get registered with the transport department. On October 30, two of the buses stood gleaming and garlanded at the WRI India and ASTC-organised "Northeast Electricity Mobility Conclave" at Guwahati's Radisson Blue alongwith a few e-scooters and e-rickshaws.
As per the latest re-schedule, they would be flagged off on the November 4 by the state CM and start commercially running from the November 5, just in time for the inauguration of the 'Grand Brahmaputra Pushkar Mela!' The Mela is yet another river-religion themed event organised by the Assam Tourism Development Corporation ambitiously touted as the second largest river festival in India, but severely criticised by all and sundry as wastage of resources and eyewash for the abysmal all-round failure of the state government. By the way, the first river festival, the 'Namami Brahmaputra', was organised in spring 2017. It was drenched by a thunderstorm immediately after its inauguration and overnight the rising waters of the Brahmaputra inundated the whole venue.
SO far, except for Himachal State Transport's Manali-Rohtang Pass route ferrying 25 tourists at a time, all the other state transport e-bus projects have been stumbling involving a combination of the high cost of acquisition, lack of charging stations, high operational costs and maintenance expenditures. So when Union Minister of Road Transport and Highways Nitin Gadkari recently declared that "in the coming two years, all buses will be converted to electric," it is not likely to come true by a very wide margin.
Cars that go nowhere
As of October 2019, the Union government's e-vehicle procurement programme too seems to have run out of steam. The Energy Efficiency Services Ltd (EESL), the PSU assigned to purchase and run the e-vehicles, had originally tendered to procure 10,000 sedans, but now plans to get only 3,000 units before March 2020, allegedly due to lack of demand. More so as government officials allocated the EVs prefer not to use them due to their limited range that gets reduced even further when using the AC and in congested traffic.
Except for Himachal State Transport's Manali-Rohtang Pass route ferrying 25 tourists at a time, all the other state transport e-bus projects have been stumbling involving a combination of the high cost of acquisition, lack of charging stations, high operational costs and maintenance expenditures
Unlike iconic electric cars like Tesla or the Volt, both the Tata Motors' Tigor EV and Mahindra's e-Verito started as normal IC engine cars whose drive train and fuel tanks were transplanted with an underpowered electric motor and an under-rated battery pack. Seen standing in the parking areas below government buildings like the STC Head Office in Delhi, permanently connected to charging stations, their drivers bemoan having to use them and enthusiastically narrate how some saheb or madam got stranded due to the battery getting depleted and had to catch an Ola or Uber cab or an auto rickshaw to reach their destination. Best of all, how portable petrol gensets were used to provide a minimal charge to enable the cars to crawl to one of the very few charging stations in the city. This once again highlights the dependence of e-vehicles on mobile gensets: Truly a marriage made for roadsides!
Mahindra first got their EV technology by acquiring a majority share in Reva Electric Car company from Bangalore-based Maini Motors and used it as a basis for e2O and the E-Verito; the erstwhile Renault Logan. Though Tata recently unveiled its new Ziptron Electric car technology to be introduced in their new Nexon EV model, most of the complaints about extremely short-range, sudden charge depletion and other problems of the EESL-acquired cars are aimed squarely at their Tigor EV.
Interestingly, gauging by the latest reports, the only EV that found favour among the government servants is the Hyundai Kona with a post-subsidy price tag of almost Rs. 24 lakh. Both the Power and New and Renewable Energy Minister Raj Kumar Singh, and NTPC chairman and MD, Gurdeep Singh, are using the Kona. Various top officials of NITI Aayog too have expressed their desire in having such a vehicle. Incidentally, the government's policy think-tank has set a deadline for phasing out petroleum fuel two-wheelers and three-wheelers by 2023 and 2025. Not to be outdone, Chandigarh too drafted an Electric Vehicle Policy, where only EVs would be registered after 2030 in the union territory.
GOVERNMENT proclamations and draft policies aside, things have not been rosy for EVs in the private sector either. The Indian ride-hailing company Ola's $8-million trial programme of using Mahindra e2O Electric cars in Nagpur virtually fell flat on the face within nine months as their drivers, unhappy with the 3-4 hours wait times at charging stations and high operating expenses, went back to driving diesel cars.
Welcome to the darkness
If mobile generators have been providing a spark of life to stranded EVs and e-buses whenever their battery runs flat, its diesel avatar has been sounded the death knell in the National Capital Region (NCR) region by the government's all-powerful Supreme Court created green watchdog. Last year, Bhure Lal, the Chairman of the Environment Pollution (Prevention) and Control Authority (EPCA), advocated a ban on all private vehicles in Delhi to curb pollution. In 2019, they recommended and the National Green Tribunal enforced a complete ban on diesel generators in the entire NCR region. The only exemption granted is to essential services like the Metro and hospitals.
OUTWARDLY it is a great initiative as diesel generator (DG) emission norms set by the Central Pollution Control Board are comparable to Bharat Stage 2000 norms for heavy diesel vehicles 20 years back, whereas in most European countries they are at par with automotive standards. However, there is one serious caveat: electricity supplied by the Power Distribution Companies (Discoms) in the NCR region costs between Rs. 4.5-9 per kilowatt/hour depending on usage, but a unit generated by DGs cost between Rs. 13-17, subjected to its size, age and prevailing fuel prices. Thus, nobody in the right mind would use a DG for generating electricity in a connected urban area unless compelled to do so by constant power cuts or an inability to get the desired load. That's exactly the scenario in the NCR.
All of Delhi's satellite cities suffer from daily power outages stretching for several hours at a time and the same applies to the capital's industrial outskirts as well. So no industry, business complex or shopping mall can run without having a captive generator for backup power. An analysis in 2018 conducted by the public policy consultancy firm Chase India found the installed capacity of DGs was 25.53 lakh KVA in NCR cities—Gurugram (20.91 lakh KVA), Faridabad (92,601 KVA), Noida (3.67 lakh KVA) Ghaziabad (62,080 KVA).
Business as usual
Instead of first targeting the Discoms for poor power supply and the CPCB for its lax rules and non-existent monitoring systems, EPCA chose to penalise the generator owners and hapless electricity consumers. If implemented in entirety, the ban would first affect DG manufacturing, selling, servicing and renting sector and then their huge user base comprising the whole spectrum of electricity consumers. Although banks, corporates and IT companies may afford the additional investment of upgrading and increasing the battery storage capacity of their industrial UPS systems, it would still only take care of the basic lighting, electronics and computers for a short time. What about other electrical equipment like elevators, water pumps, ventilation and air conditioning?
Considering that Discoms aren't likely to get their act together anytime soon and the National Green Tribunal hasn't budged from its ruling in the name of 'Right to Breath', the current DG owners and users shall have no recourse but be forced to procure new natural gas or LPG-burning units or convert their existing generators to run on these gas fuels.
The public-private gas cartel would of course love to get another load of captive clientele handed to them on a platter by the government agencies, just like in the case of the Fo-Petcoke Ban. However, their PNG pipeline network doesn't cover the entire region and the infra-structure for supplying CNG in a distributed mode via gas cascades and daughter stations doesn't exist. Meanwhile, running generators on petrol or LPG would drive the per-unit electricity costs through the roof. Rooftop solar farms are also incapable of replacing the DG output and many organisations or buildings just don't have the necessary space or the funds to set up such units.
The solution is milky white
Incidentally, a genuine solution to the generator exhaust pollution has been around for ages except that nobody in India, neither the government nor private bodies, ever bothered to listen, let alone implement. It is widely used in various countries from Japan to Malaysia, Phil-ippines and Indonesia all the way across Africa and South America, and it doesn't require new engines, modifications of the existing units or setting up of a new fuel distribution network. It is Emulsified Diesel, a stable milky white to a translucent blend of diesel with traces of surfactants containing 10-30 per cent water, whose exhaust smoke produces 30-40 per cent less NOx, CO and PM.
Fuel emulsification is an age-old technology that has existed for years but failed to catch on due to various factors starting from reluctance to accept concepts such as mixing oil and water. Secondly, because people focused more on the enthusiastically promised but rarely delivered improvement in fuel economy rather than on its ecological aspects. The former being highly subjective, the later absolutely indisputable and supported by studies from universities and environmental agencies all around the world.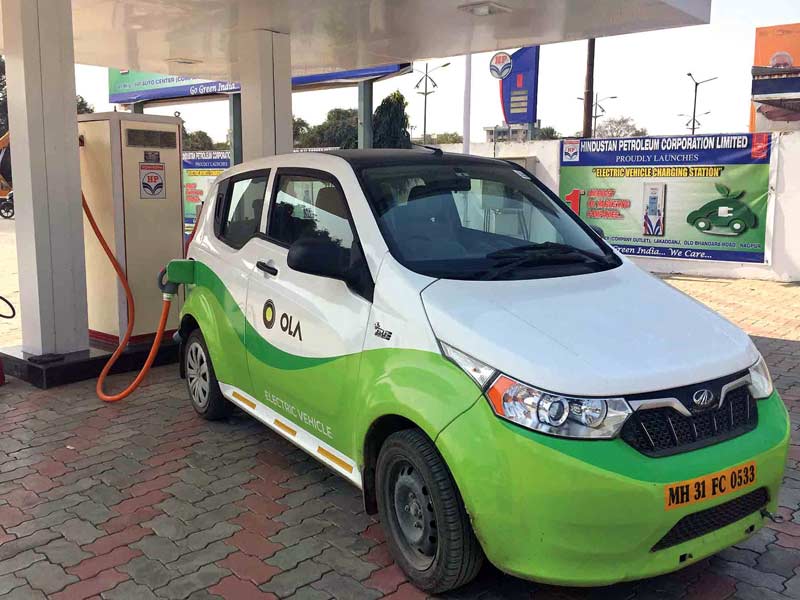 All it would take to implement this solution in the NCR is to first convert the ban on DGs into a ban on using conventional diesel in Gensets, allowing only the use of emulsified diesel. Secondly, one large or several smaller fuel emulsification plants have to be set up in the region. This can be done either by an oil company or by smaller private players having tie-ups with oil majors as contractual conversion agent for producing emulsified diesel fuel under strict quality control supervision, using an arrangement similar to those used by manufacturers of bitumen-emulsion.
The Indian ride-hailing company Ola's $8-million trial programme of using Mahindra e2O Electric cars in Nagpur virtually fell flat on the face within nine months as their drivers, unhappy with the 3-4 hours wait times at charging stations and high operating expenses, went back to driving diesel cars
A blend of emulsified diesel optimised for low emissions and problem-free running in generators should have 12-15 per cent water, so its retail price can easily be 5-7 per cent lower than normal diesel. This alone would be enticing enough for most consumers. Next, restrict the sales of conventional diesel in canisters to 2-5 litres, which is enough for a stranded car or truck to reach the fuel station. Lastly, force the concerned State Pollution Control Boards to carry out a registration campaign to ensure every generator in their region has a registration number with a license to operate and so that it gets PUC certificates at 3-6 monthly intervals no different from diesel vehicles.
SO, till the time a true electrical paradise dawns upon Indian cities and roads, let's just accept the fact that we are stuck with coal and petroleum as our main source of energy. Instead of making populist, impossible to implement proclamations, drafting over-ambitious EV policies and effecting senseless bans, the government may as well start a one-step-at-a-time process of cleaning up its act as well as the air. Making emulsified diesel compulsory for generators instead of outright banning them is going to be one of the easiest ways for achieving a guaran-teed level of reduction in atmospheric pollutants. This would apply for generators rescuing stranded EVs as well!