INDIA finally has a National Civil Aviation Policy (NCAP)—a good 25 years after private airlines were allowed to fly in Indian skies; a good 63 years after Air India and Indian Airlines came into inception as government airlines through nationalisation; and, a good 84 years after JRD Tata heralded the birth of Indian civil aviation by operating the maiden Karachi-Mumbai flight via Ahmedabad.
Initial euphoria of eventually having the NCAP apart, one cannot but wonder why the policy was in the works for almost three decades. What is in the policy that should have taken the country so long? After all the basic features enshrined in it are predictable—affordable travel, enhanced air connectivity, develop-ment of airports, impetus to cargo business, MRO, etc.
For one who has been associated with the industry for almost three decades, it is not difficult to surmise that a combination of factors—absence of vision, lack of capability and low priority accorded to the industry as in the socialist era it was deemed as elitist—can be listed as some of the causes for the delay. This, of course, if one discounts the fact of deliberate omission in to-do list to enable policymakers revel in ad hoc decision-making for grant of licenses, formulating policies like the infamous 5/20 rule to benefit a particular airline or doling out seats to foreign carriers with or without consideration. Whatever be the rationale to justify the delay, the irony is that India has lost out in a sector which was given a head start by JRD Tata. India is now deemed only as a growing market for exploitation by foreign airlines and not for its standing amongst global mega carriers or aviation expertise.
While the current incumbents in the Ministry of Civil Aviation (MoCA), including the ministers, can justifiably be proud of giving the country the NCAP, they ought to consider formulation of policy as the beginning of the process for giving Indian aviation a sense of direction rather than a culmination of a "prolonged effort". Since MoCA has been witness to frequent changes in recent years at the Secretary level and bureau-crats serving the ministry have never demonstrated knowledge or understanding of the sector, it will only be prudent for the ministry to constitute a think-tank to translate the vision spelt out in NCAP. A mistaken belief that setting parameters will ensure success and that their responsibility has ended with the announcement of the policy is fraught with danger.
Learning from the past
Old timers need to recapitulate for the benefit of the current policymakers the scenario the country witnessed when Indian skies were opened to private airlines in 1990s. Airlines folded up as promptly as they had mushroomed because entrants lacked adequate knowledge of the sector and the ministry had evolved no procedures to check financial robustness or business plans of the over-enthusiastic 'entrepreneurs' who ventured into the hitherto unexplored field.
One can foresee a similar repetition of history in the mad race that may set in once the parameters for regional connectivity, which is a key element of NCAP, are spelt out. Collapse of even a couple of new regional carriers in initial stages will not only spell doom for the incumbent players, but deter others from venturing into it. Hence, there's the need for caution and hand-holding by the government.
The irony is that India has lost out in a sector which was given a head start by JRD Tata. It is now deemed only as a growing market for exploitation by foreign airlines and not for its standing amongst global mega carriers or aviation expertise
Regional connectivity
THE basic guidelines in NCAP relating to regional connectivity—State governments meeting cost of airport services, security, fire arrangements, offering concessions in applicable VAT on Air Turbine Fuel (ATF)—are worthy of being appreciated. However, for ensuring success, one needs to dwell more on it by finding answers to some basic questions. Why would a State government incur expenditure on providing these services? Will the index-linked capped fare of Rs. 2,500 for a less-than-60 minute flight help the prospective operator recover operational costs?
Policy Objectives
THE policy in its vision statement states that it will "create an eco-system to make flying affordable for the masses and to enable 30 crore domestic ticketing by 2022 and 50 crore by 2027; and international ticketing to increase to 20 crore by 2027". Further, in its objective, the policy states:
Establish an integrated eco-system which will lead to significant growth of civil aviation sector, which, in turn, would promote tourism, increase employment and lead to a balanced regional growth.
Ensure safety, security and sustainability of aviation sector through the use of technology and effective monitoring.
Enhance regional connectivity through fiscal support and infrastructure development.
Enhance ease of doing business through deregulation, simplified procedures and e-governance.
Promote the entire aviation sector chain in a harmonised manner covering cargo, MRO, general aviation, aerospace manufacturing and skill development.
The all-encompassing NCAP covers all facets of the industry—regional connectivity; safety; air transport operations; route dispersal guidelines; 5/20 requirement for international operations; bilateral traffic rights; code-share agreements; fiscal support; airports developed by State governments; private sector or in PPP mode; air navigation services; Maintenance, Repair & Overhaul (MRO); ground handling, etc.
One is tempted to take a positive stance because the potential to expand air connectivity to cover tier II and III cities does exist. The success is also critical if the target of 300 million domestic tickets by 2022, from the present 80 million tickets, is to be achieved. The States, rather than being left to decide on their own volition (many probably lack the foresight), ought to be told of the gains that will accrue to the region through development of hospitality industry, movement of local produce, affordable means of travel, etc., once a particular region of the State is linked with air connectivity. Only if the State administrators are made to see the larger gains manifesting for them over a long term will they feel the urge to encourage regional connectivity.
Capped fare of Rs. 2,500
Likewise, existing airlines or budding entrepreneurs wishing to enter the regional connectivity business may have to be convinced of profitable business, which it will be, provided the regional connectivity operations is structured professionally. A review of current one-hour flights and fares will show that on many sectors, the fares are generally below or around Rs. 2,500. The economies of scale (since on existing sectors a larger aircraft is used whereas smaller aircraft will be used for regional connectivity) can be offset with saving that will accrue due to there being no airport and landing charges, no passenger handling fee besides only 1 per cent VAT on ATF for regional connectivity as against 20-30 per cent for other sectors. Simply put, regional connectivity has everything going for it as it prepares to take off, with or without the need for Viability Gap Funding, a provision for which has been made in NCAP should the operational costs exceed the revenues fixed at the capped fare of Rs. 2,500 per passenger.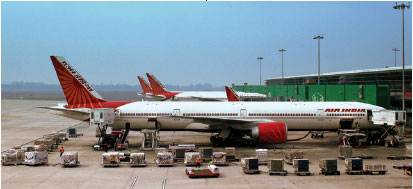 THE government, considering the significance of regional connectivity for overall development, can in fact go a step further—facilitate purchase/ leasing of aircraft at favourable terms. Since regional players are expected to have small fleets, they may not get the best deal from aircraft manufacturers. As collectively the demand for small aircraft can be 200-300 aircraft in the near future, why not club the requirement and get the best deal not only in terms of price but also maintenance from the manufacturers? One only has to look at how Emirates, Etihad and Qatar airlines had clubbed their demand for new aircraft in 2013 and managed to get a good bargain from both Boeing and Airbus while ordering aircraft worth $200 billion.
Reversing the trend
The other aspect of NCAP that merits attention is the Maintenance, Repair & Overhaul (MRO). In the absence of MROs in India, all private airlines have been sending their aircraft for maintenance abroad—Dubai, Singa-pore, Sri Lanka, etc. NCAP, while finally recognising the importance of MRO, not only accords infrastructure status to the sector but also provides incentives that will lead to reduction in maintenance costs. The impetus being given may soon lead to a reversal in trend. Instead of Indian carriers sending their aircraft abroad for maintenance, our MROs may begin undertaking maintenance of aircraft of foreign carriers. It is a field that has hitherto remained unexplored.
Only if the State administrators are made to see the larger gains manifesting for them over a long term will they feel the urge to encourage regional connectivity
Both, the regional connectivity and MRO, have enormous potential to generate employment opportunities for the country's youth. With the kind of gains that one can foresee in the aviation sector through this one omnibus policy—even if it fails to pass the test on all thresholds—one is tempted to ask the basic question: Why did it take the country so long to formulate a policy? In the lost years, the politicians took numerous ad hoc decisions to benefit a particular airline, or a country, thus not only harming India's long-term interests but also giving foreign airlines a stranglehold on most routes against which our own carriers will now have to compete to serve our own market.
Better late than never!
The writer is former Executive Director, Air India, and author of 'The Descent of Air India'