For the first time any State in the country celebrated its 50th anniversary in such a grand manner like Haryana did on November 1 to mark its Swarna Jayanti Utsav. The event was held at Tau Devi Lal Stadium, Gurugram, in the presence of Prime Minister Narendra Modi. Lavishly praising Haryana Chief Minister Manohar Lal's efforts in undertaking several initiatives undertaken by him for the development of the State, Modi gave a pat on his back saying Haryana has the potential to work as a 'growth engine' to accelerate the pace of development of the country.
The year-long Swarna Jayanti celebration began in a dazzling style with pomp and grandeur. The songs, dance and musical programmes, which were part of the cultural extravaganza, set the ball rolling for the year-long celebrations of 'Swarnim' Haryana. Modi praised Manohar Lal's leadership in the 'Beti Bachao, Beti Padhao' programme, which has resulted in the improvement in the sex ratio.
Lauding the Manohar Lal Government for its efforts in the direction of making the state Open Defecation Free (ODF), the PM said, "Today, the CM has declared seven districts (rural)—Sirsa, Panchkula, Panipat, Faridabad, Fatehabad, Yamunanagar and Gurugram—ODF. Entire Haryana should be declared ODF in the Swarna Jayanti year," he said. The PM also honoured four DCs and three ADCs of these districts in recognition of their performance. These included DC Faridabad, Chandershekhar; DC Yamunanagar, SS Phulia; DC Fatehabad, NK Solanki; DC Gurgaon, TL Satyaprakash; ADC Panchkula, Hema Sharma; ADC Sirsa, Ajay Singh Tomar; and, ADC Panipat, Rajiv Mehta.
Prime Minister Narendra Modi praised Manohar Lal's leadership in the 'Beti Bachao, Beti Padhao' programme, which has resulted in the improvement in the sex ratio Modi also launched the Kerosene Free Haryana scheme in 8 districts, saying that Haryana would become a completely kerosene-free State by the end of March, 2017. He also launched automation of the
FAIR Price Shops (FPS), which forms part of the IT solution. It involves provisioning of Point of Sale (POS) device at every fair price shop with connectivity to ensure Aadhaar-based biometric identification of the beneficiaries and online transactions of foodgrains and other commodities. He also honoured Deepa Malik, Silver Medalist of Paralympics, with cash reward of Rs 4 crore on this occasion. Abhay Chautala, of the Indian national Lok Dal (INLD), was also present at the occasion.
The Prime Minister said Haryana is an agrarian State, but Haryanvis have also proved their mettle in trade and industry. Not only this, the State has significantly contributed to the defence forces as every tenth soldier hails from Haryana.
Earlier on October 26, the BJP government completed two years of its reign in the State. With the mission, 'Haryana Ek, Haryanvi Ek', the Manohar Lal-led BJP government chalked out a number of year-long programmes, keeping in mind the welfare of youth, women, aged, children, employees, dalits and weaker sections of society.
The Chief Minister announced that Haryana government would observe 2017 as 'Garib Kalyan Varsh' (year of welfare of the poor) and emphasis would be laid on generating maximum employment opportunities for the youth during the golden jubilee year of the State. The year would also be dedicated to Pandit Deendayal Upadhyaya. According to the Chief Minister, it's an occasion to lead the State to new pinnacles of growth and success.
MANOHAR Lal made about 2,000 announcements during these two years, out of which 1,200 announcements have either been completed or work on them is in progress. The work on remaining 800 announcements is also in progress and would be completed during next year, according to the Chief Minister. The State also plans to launch 50 innovative programmes for the welfare of the people.
According to Chief Minister Manohar Lal, there will be 50 golden targets set by the State during the Swarna Jayanti Utsav and 50-Point programme will be chalked out, which will become the blueprint for future development of Haryana
Fifty Swarna Jayanti Parks would be set up in urban areas of Haryana during the one-year celebration of of Swarna Jayanti Utsav. The parks would have all modern facilities, including an open gymnasium and specified area for yoga. A sum of `74 crore has been earmarked to set up these parks.
Depicting the glorious history and heritage, rich art and culture and remarkable growth, progress and development of Haryana, commemorative structures have been set up at 28 entry points to the State. A magnificent commemorative structure was also constructed at Delhi-Gurgaon Highway at the entry point of Haryana.
A year-long State-level exhibition has been planned to be held at Pragati Maidan, New Delhi, to showcase Haryana's achievements. Haryana's achievements as an agraraian as well as an industrial State will be on display. The Manohar Lal government has decided to celebrate the annual Gita Jayanti Utsav in Kurukshetra at an international level this year, from December 6 to 10. A comprehensive facelift will be given to the sacred Brahamsarovar and other places of religious significance in the area.
National level exhibitions and international level book fair associated with various stages of life of Lord Krishna will be organised at Kurukshetra for which promiment organisations from Mathura and Vrindavan, Ujjain and Dwarka will be invited. An international-level Book Fair (Gita related) will also be organised on this occasion.
DURING the year, the Haryana government has proposed to conduct a 'Haryana Utsav' on the lines of 'Bharat Utsav' with an exhibition on history and heritage of Haryana at India Gate Lawns in New Delhi. Handicraft and handloom, folk art and culture, food and cuisine and industrial development will be showcased during the event. An annual competition of 'Youth Assembly' of recognised educational institutions in the State will be held next year for strengthening the roots of democracy.
With the mission of creating harmony and brotherhood, Swarna Jayanti Vikas Yatra will be held, which will continue for 50 days to screen selected Haryanvi films in villages.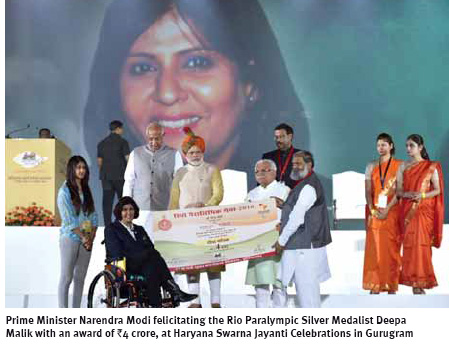 A national-level Yoga Championship will also be organised. Haryana Swarnim Afforestation drive will be undertaken during the Swarna Jayanti Utsav year. Haryana Police will organise a number of events during the year and Swarna Jayanti commemorative medals will be given to 50 distinguished police officials of the State.
Seven day Swarna Jayanti Swaang Festival will also be held during the year at Jind, Rewari, Jhajjar, Rohtak, Sonepat, Kaithal and Panchkula. One Swanag festival will be held in each of the remaining districts. National Ragni Competition and Ragni Festival will also be organised in all districts apart from a National Ragni competition. Swarna Jayanti dance festival, Krishi Mela, literary festival, mobile rail exhibition, Haryana Film Festival will also be held.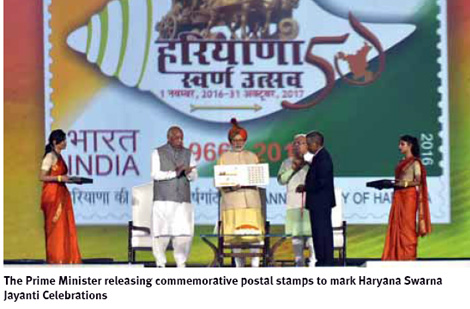 A national conference during 'Housing For All Expo' will be organised at Laser Valley, Gurgaon. According to sources in the Haryana government, a minimum of 50 villages will be developed as 'Smart Villages'. President Pranab Mukherjee has adopted 5 villages of Haryana to develop them into 'Smart Villages'. During September, October, 'Haryana Swarna Khel Mahakumbh' will be held. With focus on youth, a National Youth Festival will be held from January 12 to 17 to mark the National Youth Week. This will provide opportunity to enable young Indians from all over the country to connect with the ancient land of Vedas. Next year will also be an occasion for the Non-Resident Haryanvis (NRH) to re-connect with the State and the 'Haryana Pravasi Divas' will be held on January 10 at Gurgaon. A special cell to redress grievances of NRHs will also be formed.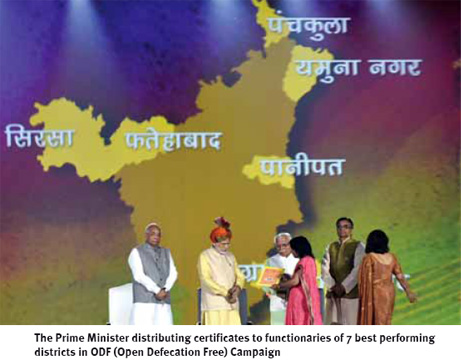 As part of the Swarna Jayanti Utsav, Haryana Industial Trade Fair will be organized, showcasing industrial progress of the State. The year 2017 will be marked by a series of sector-specific trade fairs to cover various clusters like engineering, textiles, handicrafts, jewellery, consusmer goods, etc. Haryana IT show will be organised in May. Gurgaon has emerged as a major IT destination offering all kinds of IT services.
WITH a view to promote horticulture in the State, the State government has decided to declare 340 villages as 'horticultural villages' during the year. Horticulture centres will also be established in each district, according to Agriculture and Farmers' Welfare Minister, OP Dhankar. Haryana Vidhan Sabha has invited all current and former (288) MLAs and MPs of Haryana to participate in the Swarna Jayanti Samaroh to be organised at Indradhanush Auditorium, Panchkula, on November 3, 2016.
He said that Haryana Government has, on the occasion of Swarna Jayanti Samaroh, also convened a special Session of Haryana Vidhan Sabha on November 4, 2016.
According to Chief Minister Manohar Lal, there will be 50 golden targets set by the State during the Swarna Jayanti Utsav and 50-Point programme will be chalked out, which will become the blueprint for future development of Haryana. "Our vision is corruption free, transparent governance and developed and happening Haryana," said the Chief Minister.