ADDITIONAL Secretary in the Union Coal Ministry AK Dubey proudly remembers an incident involving his friend and Kerala cadre colleague KM Abraham, now posted as Secretary (Finance) in the Kerala Government. The incident took place when the two served in a central ministry.
The duo were once in a meeting with their minister. The latter wanted Abraham's consent for a decision which could have had a negative impact on the government exchequer. According to Dubey, Abraham, a mechanical engineer and a martial arts black belt, as usual, put his foot down. Moreover, when the minister, also from Kerala, reminded Abraham of their common religious roots, the latter shot back, "Leave God in the church."
The incident is an example of how some civil servants in the country exhibit guts in standing up to their political masters when the latter wish to use national resources to push their personal and political agenda.
Abraham, a 1982-batch IAS officer, was honoured at the gfiles Governance Awards 2014 with the Excellent Contribution Award in a glittering function held in December at the Civil Services Officers' Institute, New Delhi, for investigating fraudulent collection of thousands of crores of rupees by the Sahara group from small investors.
Former Delhi Police Commissioner and prominent internal security expert Ved Marwah received the Lifetime Achievement Award from the Minister of State for External Affairs, General VK Singh, for setting highest standards of leadership in governance. Marwah, a Padma Shri and former Director-General of the National Security Guard (NSG), felt the Lifetime Achievement Award would sustain him for some more time.
The minister, who also holds independent charge of Statistics and Programme Implementation, gave the Exceptional Contribution Award to the civil servants, including Abraham. They were Amitabh Kumar, IRS; Dr Shahid Iqbal Chaudhary, IAS; Dr Shrikar Pardeshi, IAS; KN Kumar, IAS; Balvinder Kumar, IAS; Pratibha Singh, IFS; and Rinkesh Roy, IRTS.
The bureaucrats received awards for building bridges on rivers, schools on mountains, razing illegal constructions, designing the interface for tax payees and the income tax department, conserving wildlife and environment, facilitating e-registration of property and promoting cultivation of fish. This points towards the stellar role played by civil servants in implementation of good governance in the country.
The awards ceremony, third in as many years, coincided with gfiles' seventh anniversary. The awardees were finalised by an independent group comprising former Cabinet Secretary Prabhat Kumar, former Chief Secretary of Haryana Vishnu Bhagwan, former Power Secretary Anil Razdan and former Special Secretary (Internal Security) MB Kaushal and bear enormous credibility.
Gen. Singh saluted the awardees for what he called the 'good' they had brought out. He was sure good governance would transform the country by ridding it of corruption and delay in decision-making. Singh asked the civil servants to expedite implementation of decisions taken by the ministers. "Once something is decided, they must implement it," he said.
Prabhat Kumar, former Governor of Jharkhand, was of the view that the awards would work as a stimulus for other bureaucrats and encourage them to raise the bar of their performance. To buttress his point, he cited the example of how the Nanda Devi Bio-diversity Reserve was cleaned by a civil servant and how an SDM (Sub Divisional Magistrate) built a road in very difficult terrain in the Northeast.
gfiles has been at the forefront of highlighting governance issues for over 84 editions. It has constantly endeavoured to scrutinise governance. The monthly magazine has exposed time and again how governments at the Centre and in different States have benefitted private interests through their decisions. The publication broke the story of the MCX-NSEL scam of Jignesh Shah and did not rest till the scamster was booked. It exposed how the Haryana Government, headed by the then Chief Minister, Bhupinder Singh Hooda, allowed private persons and builders to mint billions of rupees by taking advantage of the government's change of land use (CLU) rules.
When Prime Minister Narendra Modi talks of 'maximum governance, minimum government' and emphasises accountable governance for development by observing former Prime Minister Atal Behari Vajpayee's birthday (December 25) as Good Governance Day, it is a strong vindication of gfiles' long-standing position.
THE PM has introduced several measures to bolster governance. He replaced Arvind Mayaram with Rajiv Mehrishi as Secretary in the Economic Affairs department of the Finance Ministry. Since Mehrishi was behind the introduction of a slew of market reforms in Rajasthan, his posting is considered a major step in the process of pushing the reforms agenda. Modi has assured protection to bureaucrats for their bonafide decisions. Since taking over, he has effected over170 transfers of Joint Secretary-level and above officers.
No wonder, world leaders from US President Barack Obama to Australian Prime Minister Tony Abbott to British Prime Minister David Cameron are hailing his leadership. Obama feels Modi has made efforts to shake up 'bureaucratic inertia'.
"The Australian Government has runs on the board when it comes to free trade. And I know PM Modi too has runs on the board when it comes to getting India to actually respond to making the Indian bureaucracy work for people," Abbott said after meeting Modi in November.
Back home, Prabhat Kumar claims this is the first time that a Prime Minister has exhorted civil servants to furnish their innovative ideas.
Ved Marwah IPS (Retd)
For setting highest standards of leadership and governance in internal security issues, leaving a lasting imprint on positions held in government
PADMA Shri and former IPS officer Ved Marwah is known as one of the most outstanding policemen the country has ever had. With a deep understanding of internal security issues and the problems of terrorism and extremism, he has the distinction of serving in various capacities during his career span of 36 years. He has held some of the most responsible positions, including those of Governor of Manipur and Jharkhand with additional charge of Mizoram and Bihar; Adviser to the Governments of Jammu and Kashmir and Bihar; Convener, Internal Security, of the First National Security Council Advisory Board; Special Secretary, Internal Security, Union Ministry of Home Affairs; Director General, National Security Guard; Commissioner of Police, Delhi; Joint Secretary, National Police Commission; First Secretary, High Commission of India, London; and Deputy Commissioner of Police, Kolkata. A recipient of the Police Medal for Gallantry, he writes and comments extensively on security issues in the media and has authored some weighty books that include India in Turmoil–J&K, Left Extremism and Northeast, and Uncivil Wars–Pathology of Terrorism in India. His recent contribution on Counterinsurgency in Punjab has been published by the University of Indiana, US, and Autonomy in Jammu and Kashmir by Kreddah, Amsterdam.
A postgraduate from St Stephen's College, University of Delhi, and a diploma-holder in Public Administration from the University of Manchester, UK, Marwah till recently was Chairman, Task Force, National Security and Criminal Justice System, Centre-State Commission, Ministry of Home Affairs. He is currently an honorary Professor at the Centre for Policy Research, a Distinguished Fellow at the Institute of Peace and Conflict Studies, and President of the Centre for Public Affairs, New Delhi.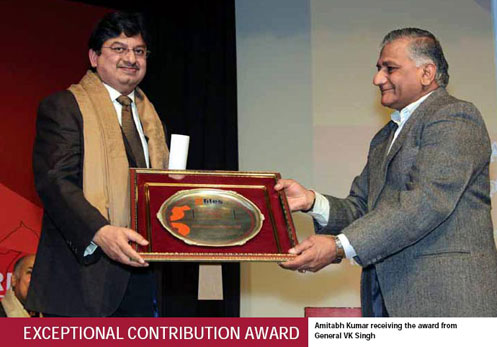 Amitabh Kumar IRS
For changing the orientation of tax administration from enforcement to taxpayer service and for introducing several innovative schemes in the field of tax administration
A 1987-batch officer of the Indian Revenue Service, Amitabh Kumar did an MBA from Southern Cross University, Australia, Advance Management from Maxwell School of Public Policy, US, and Leadership & Change Management from Wharton Business School, US, besides being an alumnus of the University of Delhi. He received three commendation certificates from MoS Finance (the most by any IRS officer) on the occasion of 150 years of the Income Tax Department in 2011-12. Besides, his contribution to public service has been recognised almost every year since 2007 by CBDT.
He is credited with having launched a Tax Return Preparer Scheme (TRPS) that involved online training to unemployed graduates to enable them to prepare tax and TDS returns (at a very nominal cost) for those who could not do it themselves. The scheme has so far provided employment to nearly 10,000 graduates and helped more than 50 lakh taxpayers in filing returns. The scheme found reference as one of the nine most innovative schemes in Asia in the book BYOB, published by the Department of Administrative Reforms, Government of India.
His scheme of Aayakar Sewa Kendra, to act as a single window interface between taxpayers and the Income Tax Department, identified 18 services provided by the field formation of the department, giving definite timelines for delivery of these services. He also introduced the concept of Tax Payers Lounge to showcase all taxpayer services such as PAN application, e-filing, e-payment, viewing of refund status online, viewing of taxpayer status online, TRPS and so on, under one roof. The Tax Payers Lounge has been awarded for four consecutive years by the ITPO for presentation, use and popularity.
Amitabh Kumar is posted as Director, Income-Tax (HRD), CBDT in the rank of Joint Secretary to the Government of India.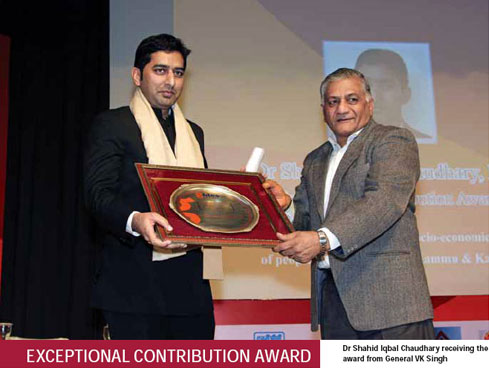 Dr Shahid Iqbal Chaudhary IAS
For ensuring security of life and socio-economic betterment of people in remote areas in Jammu & Kashmir
A 2009-batch IAS officer of the Jammu & Kashmir cadre, Dr Shahid Iqbal Chaudhary has done a remarkable job in the fields of education and elections in the remote and militancy-affected hilly areas of Reasi district in J&K.
He has been instrumental in constructing 70-foot bridges and 85-odd schools in inaccessible areas where many cases of deaths were reported due to drowning while crossing channels and rivulets. Attendance in these schools also remained poor in cloudy weather as parents did not send children to schools, fearing immediate flooding of small rivulets with huge catchment areas.
His work has been a great confidence-booster for the poor and tribals. Within one year, the number of deaths reduced to near-zero from an average of 50 per year. An epitome of people's participation and functioning of democratic government, the work has helped improve accessibility for other government services besides being instrumental in tackling terrorism. Implemented in a very cost-effective manner, it has generated more than three lakh man (woman) days of work for inhabitants of these remote areas, providing livelihoods besides creating vital assets for the community.
He has also taken up the construction of 527 school projects which were abandoned since 2006 in a record time of one year through community participation and convergence of schemes. He has also been credited with having carried out a mammoth exercise over eight months for creating electoral awareness, enrolment and participation–resulting in increase in voter turnout to 81 per cent from the previous 43 per cent. The women's turnout increased from 34 per cent to 79 per cent, apart from 100 per cent facilitated participation by differently abled, aged and infirm voters.
Dr Chaudhary is now posted as District Collector, Kathua.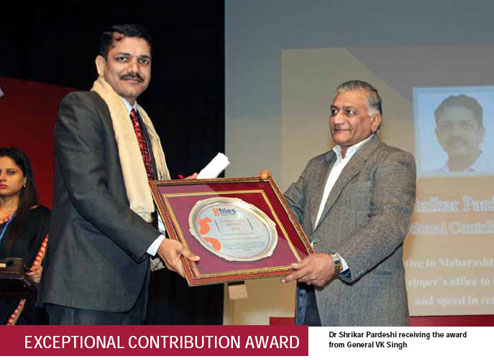 Dr Shrikar Pardeshi IAS
For his unique initiative in Maharashtra that launched e-registration of properties from the developer's office to bring convenience, transparency and speed to realty deals
A 2001-batch IAS officer of the Maharashtra cadre, Dr Shrikar Pardeshi secured the 10th and 1st positions in the UPSC exam in India and Maharashtra, respectively.
An MBBS and MD in Preventive and Social Medicine from BJ Government Medical College, Pune, Dr Pardeshi has been presented with many national and State awards. He is the recipient of the National Award from the Prime Minister for work done in the field of water conservation through the National Rural Employment Guarantee Scheme in Nanded and the National Award by the Computer Society of India for e-governance in Nanded.
As Inspector-General of Registration and Controller of Stamps (IGR), Pune, he took the unique initiative in association with MCHI-CREDAI, an apex body of developers, to launch e-registration of properties—making Maharashtra the first State to offer e-registration of property from the developer's office. The online registration brings convenience, transparency and speed to realty deals as users do not have to go to the registration offices.
His other significant contributions include the water conservation campaign in Yavatmal, Akola and Nanded districts, the Copymukta Abhiyan to stop cheating in SSC and HSC exams in Nanded (an experiment that was adopted all over the State), the Pat Padtalni Abhiyan to detect and remove bogus enrolment of students in aided private schools, leading to saving of more than `2,000 crore for the State government, action against illegal constructions and the launch of SARATHI–an innovative and modern information helpline for citizens of Pimpri Chinchwad.
Dr Pardeshi is currently posted as Inspector-General of Registration & Controller of Stamps, Government of Maharashtra.
KN Kumar IAS
For successfully implementing his vision to move the state of Meghalaya 'from dependence to self-sufficiency' in production of fresh fish, leading to a major impact on livelihoods and the State GDP
A 1987-batch IAS officer of the Assam-Meghalaya cadre, KN Kumar is known for his exceptional work in the field of fisheries in Meghalaya besides significantly contributing to agriculture, rural development and skill development.
The Thousand Ponds Scheme to construct a thousand fish ponds in seven districts of Meghalaya, launched by him in 2005, added 500 hectares of water area for inland fisheries. As Deputy Commissioner, his drive to construct fish ponds in Ri Bhoi district of Meghalaya through the Employment Assurance Scheme between 1995 and 1997, and the ambitious Meghalaya State Aquaculture Mission to create one lakh fish ponds of 1,000 square metres size, encapsulated the vision to move the state 'from dependence to self-sufficiency'. Now, the State imports 25,000 tonnes of fresh fish from Andhra Pradesh. So far 5,681 fish ponds have been constructed and entered the production cycle, leading to a major impact on livelihoods and the State GDP.
His other notable work includes launching of the Rashtriya Krishi Vikas Yojana as Joint Secretary, Ministry of Agriculture, and the Clean & Green Scheme in Meghalaya to promote clean and green villages. His initiative for training the entire Rural Development and Fisheries Department officials and staff on ethics led to tangible improvement in governance. He is also credited with having turned Meghalaya into one of the leading producers of strawberry, anthuriums and roses in the Northeast. His Placement-Linked Skill Development Scheme in Meghalaya became the precursor of a massive grant-cum-loan assistance of $120 million by the Asian Development Bank, Manila for 'Supporting Human Development in Meghalaya'.
KN Kumar is at present Principal Secretary, Fisheries & Rural Development, and Chief Executive Officer, Meghalaya State Skills Development Society.
Balvinder Kumar IAS
For steering the Noida Authority through the land acquisition crisis that was at its peak due to agitations and legal cases lodged by farmers, plunging many development and housing projects into uncertainty
A 1981-batch IAS officer of the Uttar Pradesh cadre, Balvinder Kumar has worked in various positions of responsibility, including Additional Secretary, Ministry of Agriculture, Joint Secretary, Ministry of Fertilisers, Chairman and Chief Executive Officer, Noida Authority, Vice-Chairman, Lucknow Development Authority, Managing Director, UPSIDC, Principal Secretary in the Departments of Social Welfare, Women & Child Development, Taxation, Food & Civil Supplies, and Revenue in Uttar Pradesh.
Balvinder Kumar, who served two stints as chairman-cum-CEO of the Noida Authority, was sent to Noida in July 2011 by the Mayawati-led BSP regime when the land acquisition crisis was at its peak, and agitations and legal cases lodged by farmers had plunged many development and housing projects into uncertainty. An astute administrator with tact and an understanding of ground realities, he managed to placate the farmers and negotiate a solution. He has also been credited with having considerably improved the public interface of DDA by introducing computerisation and bringing transparency in the system.
Suspended or transferred several times for not toeing the politicians' line, he channelled time and energy into painting and writing. An avid painter and a transcendental meditation expert, he has done over 100 abstract artworks which found their way to the Lalit Kala Akademi in Delhi and Lucknow. His book, Man's Spiritual Journey, touches upon aspects like the human mind's in-built tendency towards negativity, the relevance of God in new-age spiritualism and the conflict of self with the inner self.
Balvinder Kumar is at present posted as Vice-Chairman of the Delhi Development Authority.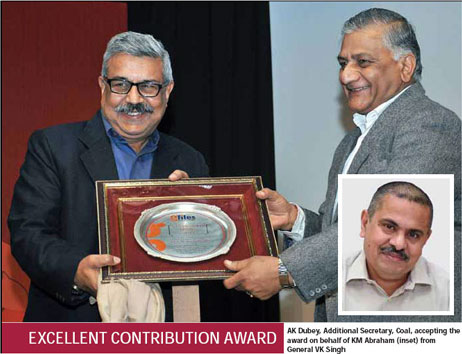 Dr KM Abraham IAS
For protecting the interests of millions of investors and helping retrieve thousands of crores of rupees while working as Whole Time Member at SEBI, thereby saving the financial markets from an impending scam
A 1982-batch IAS officer of the Kerala cadre, Dr KM Abraham is credited with having investigated irregularities in the way the Sahara group had raised thousands of crores of rupees in capital and passing an order in 2011, asking the Sahara group companies to refund investors' money and holding (among others) Subrata Roy liable. His meticulous and unimpeachable investigation into the Sahara companies was so thorough that neither the Securities Appellate Tribunal nor the Supreme Court could find fault and challenge its authenticity. Despite pressure from the powerful to go easy on several cases, including those of the Sahara companies, his report on the money raised from the public by the Sahara group in utter disregard of the prevailing regulations became the ultimate basis for the Supreme Court to order the arrest of the Sahara supremo.
An MTech from IIT, Kanpur and a Phd from the University of Michigan, US, Dr Abraham is also a Chartered Financial Analyst and Licenced International Financial Analyst from the US. He has over 34 years' experience in various positions in public sector management and academic assignments with specialisation in the financial sector, public finance, higher education, social sector and governance. A man of multidimensional expertise with a track record of significant academic achievements and analytical approach, he has demonstrated his leadership and motivational skills in successfully managing various large organisations, projects and programmes–often under challenging environments.
Dr Abraham is at present the Secretary, Finance, Government of Kerala, with additional charge of the Social Justice and Higher Education.
Pratibha Singh IFS
For her remarkable efforts in conservation of wildlife and environment, thus contributing significantly towards achieving the national biodiversity target
A 1994-batch IFS officer and an alumnus of the University of Delhi, Pratibha Singh is the first officer ever in India to resign from the Indian Foreign Service and join the Indian Forest Service, placing on record her love for wildlife and the environment. A postgraduate in public policy and management from IIM, Bengaluru, she has to her credit yet another master's degree from Carnegie Mellon University, US, in Public Management, specialising in Energy, Environment and Sustainability. She is a Leed Green Associate from the US Green Building Council and has expertise in working in zoos, both in India and abroad.
Her contribution is specifically laudable in the areas of forest conservation, afforestation, increasing green cover outside forest areas, forest and wildlife protection, man-animal conflict, and biodiversity conservation. Her efforts in establishment of the Pilibhit Tiger Reserve, the lion safari in Etawah, the declaration of eco sensitive zones, and upgradation of facilities in Kanpur and Lucknow zoos have been widely acclaimed.
For the National Biodiversity Target 2020, she has made special efforts in Uttar Pradesh by taking steps such as preparing a People's Biodiversity Register and forming Biodiversity Management Committees for nine villages. She drew up the State Biodiversity Rules and is continuously engaged in preparing baseline data for biodiversity in the State. Several new species have been recorded for the first time. She has made commendable efforts to involve the youth in biodiversity awareness programmes and has been instrumental in taking biodiversity conservation to schools through State-level contests. She has also planned State wide plantation of more than four crore saplings over the 2014-15 monsoons.
She is at present Principal Secretary, Forests, UP Government, and is also working as a Conservator of Forests on the UP State Biodiversity Board.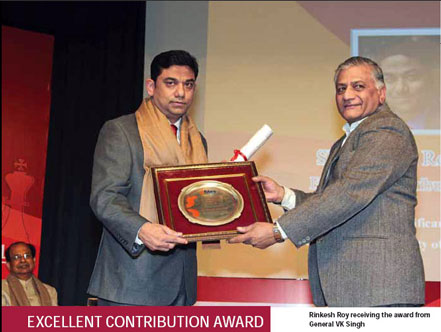 Rinkesh Roy IRTS
For his excellent contribution in significantly increasing the efficiency and freight-loading capacity of Indian Railways
A 1992-batch officer of the Indian Railway Traffic Services, Rinkesh Roy secured first rank with a distinction in BA Hons (Economics) from Utkal University. An alumnus of Harvard University and National University of Singapore, he did his master's in Public Management (majoring in Economics) and was awarded the Lee Kuan Yew fellowship in 2013. Having worked in varied capacities, he gained rich experience in the interface and working of iron-ore mines, steel plants, collieries, power plants and port operations, and has developed expertise in railway operations and strategic planning for Indian Railways.
He was instrumental in proposing and implementing policies that overcame capacity constraints by increasing the standard train lengths by one wagon, and decentralising of powers from the Railway Board to the Zonal Railway level for coal-loading, resulting in shift of coal traffic from road to rail. He was a key member of the team set up by the Government of India to handle the coal crisis of 2011 brought about by strikes in the Singareni Coal Fields and the Telangana agitations.
He introduced long-haul trains (combining two trains and running them as one) and was also associated with the designing of path breaking 25-tonne axle load wagons. As Director, Traffic Transportation, Ministry of Railways (2007-2012), he was responsible for freight movement on a pan-India basis, managing a fleet of 4,000 locomotives and 3,400 freight trains which were deployed over a 64,000-km network. Responsibilities included monitoring freight operations over the entire network on a 24×7 basis, doing course corrections, improving asset utilisation and, most important, meeting the demand for freight in the country.
Rinkesh Roy is currently Chief Freight Traffic Manager on the East Coast Railways that has now become the highest freight-loading railway of Indian Railways.