Slipped on the mattress of Muscular contraction into the sunny flight of diesel and love.
Heavyness of the spine along timid shoulder blades, YM cared tiff the end and we yelled.
Bread and butter on tyres dhandti chilled to the parting smile. We said chalo no one said hello; Raja puked rest dozed Tehri submerged.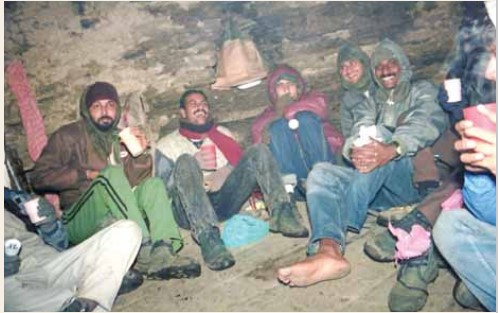 Weeping doors of Deserted hearts Called Bhagirithi to The abolition Of ashes for a Tehri Into oblivion
Meandering to the Curves of forest serene With rock Dark and pitch green, Pebbles were Scant Pindar kissed Alaknanda Sacrosanct, Karanprayag was twilight.
ABV called nature, Khalsa had meat We were told. Venkat met diarrhea Twelve times flush Every time fresh.
Heavens parted, The bridge Crashed. Loherjung pass was Steep Tough climb for a nice sleep. Far was Wan We all said we can.
Pargaien, Pant, Ashu The advanced Gang Climbed all high for a Song. All phaatu for Pattu Dinesh Bakra to eat He dreamt tiff the Finish.
Subbu bag did not fit Hit feet, Bedni should be a Feat Hearts were spirited In heat.
Trees disappeared In hope heights were all but One slope. Bold were mountains at top With a forest beard.
Punk was no doubt A quack Prescription too was Fake, Altitude is not heater but Anil Rai Salvaged mineral water.
Tents dripped hell We woke to the rocks, Baaz flew above Rocks climbed tiff Grass ended.
Ganesh lived Fifteen thousand, boulders And I rubbed shoulders. Jashi phani flew Roopkund Birthday was Samir Sky revelled though It could hear. Peaks painted snow There is Roopkund

We know, Baloch puked but bold Deserts were Never cold.
Water froze when we Rose, Go beyond Roopkund Is Joragali Or heavens for a Fall. Ecstacy and fear Roopkundis Did it tall.
Bhushan echoed in Frozen lake I shivered into future Basking sun is snow flake.
We hummed down the frozen beauty Twenty eight kilometers And eight thousand feet down, YM's boys glittered and No frown, Subrata was the hero For his one leg was zero.
Gauchar was Verandah Bus top another Altitude Before schedule into Academy
Roopkundis were on Enthu-gamy.
Thin air in the valleys Head-ache in The heights, Madhusudhana Reddy Yerasani
In cold and high Made it all sunny.