THE intention and attention to skilling India is welcome. However, the 'Skill India' initiative that Prime Minister Narendra Modi rolled out on July 15 with a Rs. 5,040-crore budget is old wine in a new bottle. The new strategies to impart skill training to youth are but a revamp of the old approaches; equally ambitious and, well, elusive in the face of existing anomalies.
Scaling down the Congress government's goal of skilling 500 million youth by 2022, the BJP has revised the target to 402 million people. "We have strategically opened a war against poverty, and we must win this fight," declared Prime Minister Modi during the 'Skill India' launch as he laid emphasis on youth skills' training to make children from poor and middle class families "stand on their feet".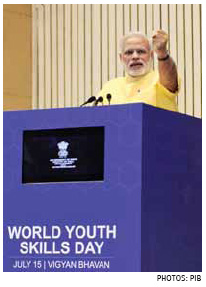 As per a Labour Ministry survey report of 2012-13, there is an estimated unemployment rate of 13.3 per cent for the age group 15-29. In rural areas, the unemployment for graduates and above was estimated to be 36.6 per cent whereas in urban areas it stood at 26.5 per cent, revealed the survey report titled, "Youth employment- unemployment scenario, 2012-13."
A productive skilled workforce is indispensable for economic growth and for attracting foreign direct investment. It is also a prerequisite for the success of Modi's 'Make in India' mission. However, only 7 per cent of the population above the age of 15 years receives vocational training.
It was only in the Eleventh Five-Year Plan (2007-2012) that policymakers paid attention to the potential of vocational training (see box). Indian Training Institutes (ITIs), an early crusader in training, established in 1950, under the craftsman training scheme initiated by the Directorate General of Employment and Training (DGE&T), Ministry of Labour, started with 50 ITIs and awaited meaningful intervention as the number of youth entering the job market swelled. The Eleventh Five-Year Plan established that 12.8 million people were joining the workforce each year whereas the annual training capacity was less than half of that. The UPA government at the time set the target of skilling not only the new entrants, i.e. 12.8 million in the organised sector, but also 433 million people who worked in the unorganised sector, raising the target to train 500 million people by 2022.

For the purpose, a public-private partnership enterprise, the National Skill Development Council (NSDC), was formed in 2009 under the UPA's National Policy on Skill Development in which NSDC was mandated to skill 150 of the 500 million people by 2022. The NSDC was tasked with managing two flagship initiatives, 'STAR' (Standard Training and Reward) and 'Udaan'. An autonomous body, the National Skill Development Agency (NSDA) was formed in 2013 to coordinate between the government and the private sector skill initiatives whereas NDFC was established to provide funds to the schemes.
But targets have been set and missed. As against the intention of skilling 8.5 million people in 2012-13, just about 1.4 million were trained by over 17 ministries and NSDC. In 2014-15, 21 departments and ministries trained only 7.6 million people as against the target of 10.5 million people. The Ministry of Housing and Urban Poverty Alleviation managed just 7.37 per cent of its target and home affairs 7.83 per cent.
One of the reasons for missing the targets has been flawed implementation and management, discouraging youth's interest in getting trained. For instance, under the STAR scheme (managed by NSDA), only 24 per cent of the 75 per cent of total candidates who responded to the scheme received certificates. Successful trainees, instead of receiving certificates in two days as stipulated, waited more than 20 days to receive the certificate and the reward money. The scheme scored poorly on equity and inclusivity too.
Unskilled youth is a cause of national worry. It is estimated that by 2017, the labour force will increase to 502.4 million for the 15 and above age group. But only 9 million or 2 per cent of Indian workers are formally skilled.
In comparison, the US, UK and Germany score a far higher 52 per cent, 68 per cent and 75 per cent formally trained workforce, respectively. Among Asian nations, Japan scores 80 per cent and South Korea has 96 per cent formally trained manpower.
Raising the bar of 'Skill India'
MODI'S freshly launched 'National Skills Mission' is gearing toward its set target and has subsumed the NSDC, NSDA and NDFC under the new 'Skill Development and Entrepreneurship Ministry'. Modi's thrust to 'Skill India' is centred in his dream of 'Make in India' campaign which aims to boost the Indian manufacturing sector and make the domestic workforce globally competitive. But weak fundamentals such as poor existing literacy rate, healthcare facilities, sub-standard quality of vocational education and training make the target unattainable. Skill policies alone can't address the skilling target of even half the new 502.4 million youth.
For starters, training schools themselves need an overhaul. A survey done by the Ministry of Labour in 2011 stated that about 30 per cent of the pass-outs from ITIs failed to get a job in 2009.
ITIs at present number over 10,750 (2,275 in government and 8,475 in the private sector) with a total seating capacity of merely 15.22 lakh.
Other challenges on the ground include shortage of trained teachers in training institutes. There is a need of almost 75,000 trainers "considering 20:1 student/faculty ratio," states the KPMG-FICCI Skilling India Report. Students face the challenge of poor infrastructure. They are forced to migrate to those ITI centres where teachers are available. Trainers at skill institutes are mostly adhoc or on contract. "Teachers were also engaged in other activities," states the Ministry of Labour 2011 report. Girls were unrepresented in ITIs and only 36 per cent of vocational training institutes had hostel facility.
THE vocational training suffers from an outdated curriculum and equipment because of which industries are not interested in hiring students. The Rs. 750 crore special industry initiative, Udaan, launched in 2011-12 to train 40,000 graduates and postgraduates of Jammu and Kashmir over a period of 5 years, saw selection of 13,137 candidates but job offers to only 4,432 in Jammu. Similarly in Kashmir, out of 54,000 selected candidates only 17,000 were trained and only 5,000 got placements. Candidates dropped mid-way as the courses were not as per their qualification or desire but as per the need of the companies. The salary was low and meagre earnings of Rs. 15,000 to Rs. 20,000 per month outside Jammu and Kashmir restricted their occupational mobility.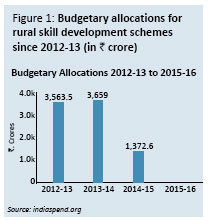 In order to provide the required match between the industry's requirement and candidates' capabilities, the Sector Skills Council (SSCs) were set up under the mandate of the NSDC that brought all key stakeholders, i.e. industry, workforce and
academia, together.
However, most training schemes are still unable to impart updated skills. The results are joblessness among trained candidates and/or low salaries. And companies' disregard of worker rights. Companies reach out to hire manpower from the unorganised sector that comes cheap.
Although skill development is supposed to be a shared responsibility of the government as well as the industry (as per the draft national policy on skill development) but companies pay no heed to their share of responsibility. The apprentice system can't claim success in India. In contrast, in Japan, a great majority of vocational training is provided by industry itself which is a responsibility to which industry is strongly committed. Traditionally, Japanese companies have hired candidates directly from university or upper secondary school with little or no previous industrial experience or training but have trained, skilled and re-skilled them, investing in an employee for a lifetime. This trend is hardly visible in India.
There are also other problems that discourage students from taking to vocational training. In Pune, for instance, about 400 students willing to enrol in ITI were victims of an administrative lag, unable to file online applications due to poor website maintenance.
'Skill India' rests on the vision of the Twelfth Five Year Plan (2012-17) that envisages reaping the demographic dividend through skill-building, hence it is imperative that harmonisation between micro (at implementation level) and macro (at policy level and industry level) and vice versa take place.
Around 20 ministries and departments of the central govern-ment are implementing 73 skill development schemes for youth. It is expected that the revamped initiatives of 'Skill India' such as Pradhan Mantri Kaushal Vikas Yojana (PMKVY), National Skill Development Mission and Entrepreneurship 2015 and the Skill Loan scheme will function in the framework of the Twelfth Five-Year Plan to translate the Plan's spirit into action. Or is there discrepancy creeping between the vision and the action already?
Vision versus action
Though the current government plans to enhance the employability of rural youth under the Deendayal Upadhyay Gramin Kaushal Yojana, (earlier known as the Aajeevika skills or National Rural Livelihood Mission under the Ministry of Rural Development), the budgetary allocation aimed towards rural skill development schemes unveils a different story. The much needed supply of funds is declining. The allocation has declined by 30 per cent from Rs. 3,563 crore in 2012-13 to Rs. 1,077 crore in 2015-16 (see Figure 1).
Adequate funding is necessary for the success of the schemes. Vocational training is costly with operating costs estimated to be more than twice in comparison to non-laboratory academic subjects.
A case in point is Germany, whose spend on vocational education and training is large. Companies actively share the cost. German businesses spend €23 billion per year on vocational training. The gross cost of a trainee per year for the company is €15,300. There are an approximate 3,36,000 vocational training instructors only in the field of industry, trade and services in Germany and nearly 5 lakh companies provide training.
In order to respond to the needs of the labour market and continue with gainful employment, basic academic skills are mandatory. But instead of invigorating the education sector and bringing more children to schools, the Modi government has initiated education cuts
Much like German companies' involvement, India's Draft National Policy for Skill Development and Entrepreneurship 2015 sought industry's cooperation too, in sharing the costs. "The industry should earmark at least 2 per cent of its payroll bill (including for contract labour) for skill development initiatives in their respective sector," said the draft policy. "These funds can be channelised for skill development activities either through the respective SSCs or through the National Skill Development Fund," the draft policy urged. The draft also highlighted that public funds—central government, state government and grant-based schemes—are finite and would require alternative sources of funds from all stakeholders including private enterprises and the direct beneficiary, the individual.
The budgetary allocation to skill development for 2012-13 to NSDC was Rs. 10 billion which was later raised to Rs. 25 billion. Though the present administration has allocated around Rs. 5,040 crore for skill development across ministries in Budget 2015, industry experts feel spending is less.
Earlier, the World Bank funded 400 ITIs whereas the government gave a Rs. 2.5 crore interest free loan to each vocational college for upgradation of training infrastructure. But there is need for more financial assistance even as budgetary allocation is declining under Modi's leadership.
The result is a setback for the individual beneficiary. Other institutional frameworks are also not enabling, lured by short-term gains. For instance, it is getting difficult for students to obtain education loans. Education loan disbursement—that falls under priority sector lending and includes lending to vocational courses up to Rs. 10 lakh—dropped by 60 per cent between 2009-10 and 2014-15. Though banks are urged to lend loans up to Rs. 4 lakh without seeking collateral, the RBI's request goes unheeded by most banks, cutting the chances of the poor and middle class getting educated and trained.
AT the implementation level, financial irregularities further the setback. The Rs. 1,000 crore Standard Training Assessment Reward (STAR) scheme aimed to encourage skill development with cash rewards to train one million youth in 2013-14, recorded that successful trainees who were stipulated to get Rs. 7,500 as minimum reward money received only Rs. 5,000. Several candidates didn't receive the reward despite having bank accounts.
The PMKVY scheme toes the line of the STAR scheme and hence calls for a robust monitoring mechanism.
It is appalling to note that a staggering 93 per cent of the workforce in India is still employed in the unorganised sector (see Box 'Framework for 'Skill India' implementation') which doesn't provide a secure minimum wage, annual leave job security, and training facilities usually extended to employees in the organised sector. Transferring labour from the unorganised sector—a high proportion of which is semi or illiterate—and formally skilling them—requires a basic level of formal education. Due to years of policy apathy in education, the literacy today stands at 74.4 per cent with a gender difference of 16.6 per cent even as 'competitive' China has a literacy rate of 95.1 per cent with a gender difference of 4.8 per cent. The negligence toward education continues under Modi's governance.
Education in skilling
GOOD-QUALITY basic education is an essential prerequisite to skill development without which it is impossible to develop core capabilities and core technical skills in a candidate. In order to respond to the needs of the labour market and continue with gainful employment, basic academic skills are mandatory. It expands labour market opportunities for a candidate besides empowering him/her to be ready for innovation and development (see Box C).

But instead of invigorating the education sector and bringing more children to schools, the Modi government has initiated education cuts. In this year's budget, the education spend was reduced from Rs. 82,771 crore (Budget 2014-15) to Rs. 69,074 crore (Budget 2015-16) (see Table 1). The Sarva Shiksha Abhiyan saw a cut of 22.14 per cent and the secondary education, Rashtriya Madhyamik Shiksha Abhiyan, witnessed a reduction of 28.7 per cent.
Out of 20.41 crore children in the age group of 6-13 years, an estimated 60.64 lakh children are out of school. This accounts for 2.97 per cent of the total children in the said age group across all states and UTs in India. The out-of-school number includes never enrolled children (44.5 per cent or 2.70 lakh), enrolled but never attended (18.53 per cent or 11.24 lakh) and drop-outs (36.97 per cent or 22.42 lakh).
An education system that can't provide for access, quality and equity is ill-equipped to 'map the manpower requirements of India and the world', as is envisaged in the 'Skill India' initiative.
The 2015 Budget even slashed the mid-day meal funding to 16.41 per cent on which urban and rural poor children are dependent. 'Skill India' targets households from middle and poor families so that they can climb out of poverty. But reverse is also true; the National Sample Survey 2014 cites 'poverty/economic reason' to be the prime cause of being out of school (23.76 per cent); children remain out of school for reasons such as supplementing household income, and helping in domestic chores, among other reasons. The Survey stated that as many as 58 per cent of all out-of-school children came from families where the household head was illiterate.
Evidence suggests that children who lack financial support receive inequitable schooling. Due to lack of finances, they feel compelled to take less time-consuming and cheaper vocational education as opposed to time-consuming and expensive school and higher education. Poor children who might be academically bright end up falling in this vicious cycle of poverty-poor schooling-vocational training. Poverty and illiteracy need to be tackled first before the offer of skilling. The Kendriya Vidyalayas and residential Navodaya Vidyalayas are in demand but short in number.
Attention should be paid to enhancing vocational education (as opposed to training) in secondary schools. A relevant curriculum can help students attain pre-vocational training and occupational skills besides arresting drop-out rates.
Skilling youngsters of strife-torn areas requires a totally different approach.Research conducted by Save the Children states that these children have difficulty in comprehending and learning and need constant psycho-social support to reach their full potential
Quality education enhances skills training but the quality in most public (and private) schools remains questionable. The Annual Status of Education Report (ASER), 2014, states that only an average 48.1 per cent of Class V children across India can read a Class II-level text. India is ranked 73rd among 74 participating economies in PISA (Programme for International Student Assessment) rankings. The PISA test assesses knowledge in maths and science and real world problem-solving skills in 15-year-olds. Though the PISA test is in preparation of a knowledge economy, 2009-10 saw India's first and last participation in PISA rankings.
Lessons can be drawn from successful countries such as South Korea which has a 96 per cent formally trained workforce. South Korea reached universal primary education in the 1960s (and nearly universal secondary schooling by the late 1990s) and tied its education and training policies to the formation of economic policies (see Figure 2). In contrast, a strong percentage of youth in India is illiterate and marginalised and comes from strife-torn regions.
Outside the fence of 'Skill India'
NAXAL insurgency is a reality that India has lived with for over four decades. Nine states in the country are affected by Naxal insurgency which witnesses a high percentage of impoverished and unemployed youth. The Naxal hotbed of Jharkhand, for instance, has a literacy rate of 67.63 per cent. Years of education-neglect has kept 280,167 children out of school in Jharkhand. Retention of children in schools in areas such as Simdega, Gumla, Khunti and Giridih (which witnesses intense Naxal activities) is "low and alarming", according to a government report. The Scheduled Tribes children dropout rates at 15 per cent remains a "cause of concern".
For long, school-age youngsters living in Naxal regions have been denied their basic rights of education and protection. The current Right to Education (RTE) Act provisions are inept in strife-torn regions. Where compliance is a possiblity, departures happen. Students receive textbooks when half the academic year is over. Lack of funds has led schools to discontinue mid-day meals resulting in higher dropout levels. Malnutrition is rampant in several tribal/Naxal regions: the nutritional deficit leads to slow academic learning which translates to poor manpower quality for skilling.
However, healthcare budgets are declining. While the election promise was to increase healthcare funding to 3 per cent of the GDP, allocation has been reduced in 2015-16 and spending on public health will be reduced by 8 per cent while funds for the National Health Mission have been reduced by 20 per cent (see Table 2).
The lack of education, nutrition and basic health are real traps of poverty and real threats to Modi's 'Skill India' mission.
Skilling youngsters of strife-torn areas requires a totally different approach. The youth living in violent atmosphere suffers from trauma. A research conducted by Save the Children stated in its report ('Caught in Crossfire: Children and education in regions affected by civil strife') that children have difficulty in comprehending and learning and need constant psycho-social support to reach their full potential.
Needless to say, the design and curriculum, training and counselling warrants contextualising keeping in view the barriers and challenges the youth face in these regions. These ground realities have to be factored in for Skill India to work effectively in these regions.
If Skill India's thrust is on investment and labour competitiveness, then innovation and inclusivity are important. Future generations also have to be prepared for jobs that don't exist today but will surface in the coming years. The question, therefore, is how equipped Skill India is to meet the present and future challenges
Skilling initiatives have been undertaken in conflict regions such as 'Gram Tarang' in Naxal regions of Odisha and AP and project 'Roshini', among others. 'Roshini' was launched in 2013 to train and place in three years 50,000 rural poor youth from 27 Naxal/Maoist-affected districts in nine states. However, the outcome of the schemes calls for an evaluative study to assess their effectiveness. It is important to record what functional, socio-economic and security dividends are being produced.
Under the surrender-cum-rehabilitation policy, vocational skills are imparted with the idea of providing gainful employment. The guidelines for surrender-cum-rehabilitation policy for Naxalites states "the solution should aim at providing gainful employment and entrepreneurial opportunities…" However, the ground reality is that surrendered cadres are used for counter-insurgency.
Framework for 'Skill India' implementation
UNDER the Congress leadership, the implementation of skill development programmes was rated as sub-standard. This found resonance in rising indifference among youth in joining the skills programmes. Besides, the ministries have also been caught in a row over the framework of vocational education. The standoff between the labour and the Human Resource Development (HRD) ministries is wellknown. But it seems that 'acche din' have come calling for the skills sector under Modi's leadership. On July 2, 2015, the Union Cabinet, chaired by Modi, approved the introduction of 'Common Norms' across all skill development schemes to bring uniformity and standardisation among the schemes.
The Draft National Policy for Skill Development and Entrepreneurship had promised that within three months, it will notify 'Common Norms' for rationalisation of skill development programmes that will include "standards for inputs/output, funding/cost norms, third party certification and assessment cost". It also promised flexibility to meet the requirements of different parts of the country owing to different socio-economic groups. The timeframe was met. The proposal of the 'Common Norms' aims to streamline the 70-odd Skill Development Programmes (SDPs) being implemented by 21 ministries / departments. It targets aligning the skill development courses with the National Skills Qualification Framework (NSQF) in order to attain broad input standards and outcomes.
The government defines outcome thus: "in terms of placement achieved in wage and self-employment, both for fresh trainees as well as existing workers who have undergone Recognition of Prior Learning. This move is expected to do away with the multiplicity of norms on eligibility, duration of training and cost of training, among others that had created a diffusive effect of the programmes."
The proposal will lead to formation of 'Common Norms Committee' under the Chairmanship of Secretary, Ministry of Skill Development and Entrepreneurship, along with eight other representatives from relevant Central ministries/departments, state governments, NSDA and NSDC and other stakeholders. The Committee will be empowered to revise/amend the common norms, schedules of the notification, training costs and funding norms for skill development programmes.
So far, the government seems to follow its mandate of improving the existing ills in the sector. It has already been declared by Minister of State (Independent Charge) for Skill Development and Entrepreneurship Rajiv Pratap Rudy that, by next year (December 27, 2016), all government-funded training and educational institutions will have to define eligibility criteria for admission to various courses in terms of NSQF levels. He said government funding would not be available for any training, educational programme or course which is not NSQF-compliant.
On the cost front, the 'Common Norms' states support for components like mobilisation of candidates, trainers' training, placement expenses, post-placement tracking/monitoring and infrastructure costs. In addition to the approval of the 'Common Norms' proposal, a body of National Skill Development Mission has also been approved to provide "institutional framework at Centre and States for implementation of skilling activities". The Mission aims to ensure implementation, coordination and convergence of skilling activities across central ministries/departments and state governments. The framework is welcome but whether the Committee and the Mission will be able to fill the efficiency gap at the implementation and other levels is yet to be seen.
In 2012, NSDC tied up with corporates to train youths from Naxal-affected states in computer and mobile phone repairing, motor mechanics, catering, carpentry, nursing assistance, among others. However, pushing training down the throats of youth for which they have no inherent skill or interest, required qualification or economic stimulation, would be a waste of resources. The marketability of the courses for meaningful employability is desirable. The aspect of their re-skilling must be considered in the fast-paced technological era.
Other challenges
It is desirable to end the perception that vocational training is a dead end, a last resort for school dropouts. The stigma attached to 'vocational studies being good only for school dropouts' should be tackled with complimentary campaigns.
IT is hoped that the revamped initiatives will lead to more students joining vocational education and training. According to the World Bank, only 829,377 pupils were enrolled in technical/vocational programmes in India for the year 2008. By contrast, some 18.9 million pupils in China were enrolled in such programmes for the same year. It is expected that the current administration will improve the "poor quality of its training institutions" to increase enrolment. The system of vocational training in India needs to be expanded and overhauled.
More importantly, training policies need to be linked with other broad policies. The trillion dollar economy, Republic of Korea's/South Korea's success, for instance, has been its "linking of skills development with broader strategies aimed at stimulating the economy."
Internal cohesion and synergy among ministries and departments is required for effective implementation of the schemes and for standardisation of procedures and outcomes across 31 Sector Skill Councils.
Lack of coordination and synergy have resulted in confusion and duplication of work where ministries have ended up bickering instead of seeking solutions. The government acknowledges that "there are gaps in the capacity and quality of training infrastructure as well as outputs, insufficient focus on workforce aspirations, lack of certification and common standards and a pointed lack of focus on the unorganised sector".
In order to reap the demographic dividend through skill-building, as envisioned in the Twelfth Five-Year Plan (FYP), and on which the 'Skill India' initiative rests, anomalies of inclusivity and basic education must be addressed urgently otherwise targets will remain elusive.
Urmila Rao is a freelance journalist and an independent researcher.