AFTER coming to power in May 2014 with the country's biggest election mandate in 30 years, Prime Minister Narendra Damodardas Modi unveiled his 'Make in India' campaign to boost manufacturing to 25 per cent of gross domestic product by 2022, up from 18 per cent in 2014-15. The cornerstone of the policy has been attracting companies to set up factories in India for manufacturing.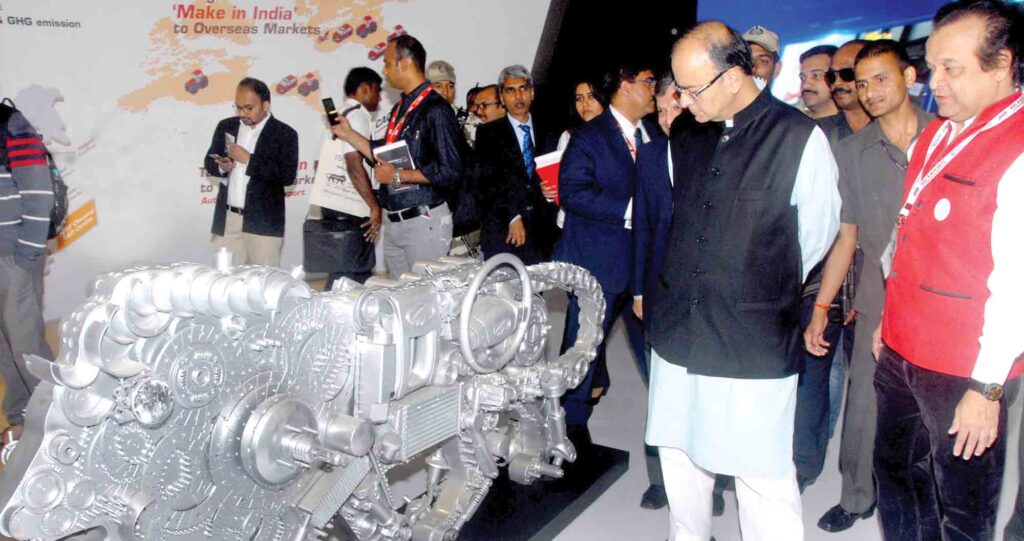 But the progress in the defence sector's Make in India programme has been slow and tenuous. No decision has yet been taken on the new defence procurement policy despite an expert committee having submitted a comprehensive report five months ago. Consider this: The report of an official panel to select private sector players, who may be accorded 'strategic partner' status for major military manufacturing projects, has been put on hold.
Why? Because various stakeholders, including government departments and services, at a meeting held in March under Defence Secretary G Mohan Kumar, objected to the Atre Committee's recommendation on the ground that the process may lead to monopolisation and so needs more deliberation and consultation. The Atre Committee is said to have picked up five select areas for the Make in India programme in defence.
SP Model
While the meeting agreed to the larger concept of a strategic partnership (SP) model to identify and encourage private sector players to manufacture hardware, the details of the report—including the suggestion that only one company be selected for a particular segment like warship production or submarine construction—couldn't muster the support of one and all.
Also, perceptions differed on the Atre Committee's recommendation regarding freeing defence manufacturing from the Competition Act, 2002. The Navy has reportedly pitched for selection of more than one private company per segment. The Air Force is said to have favoured more consultation on the model.
SEVERAL more meetings may be expected in view of the objections raised and it is probable that a clear picture might emerge only after the government processes the defence procurement procedure (DPP) 2015, and takes a final call.
Procurement remains stalled
Procurement of defence hardware, particularly fighter aircraft from foreign vendors, is also stalled for one reason or another. Of course, acquisition of hardware is not an easy process because of complicated global defence trade politics involved in each and every deal. But South Block seems to be breaking even the record of previous Defence Minister AK Antony in deciding issues. Take the case of Rafale's acquisition. Despite the agreement at the highest level between Prime Minister Modi and President Francois Hollande, the purchase agreement is nowhere near being clinched. That's because there is divergence of views between New Delhi and Paris over the price, scope of enforceable guarantees regarding the fighter's delivery, performance and availability. Having done a wide array of deals with the French in the past, much of the concerns of Indian officials are said to be legitimate. But French negotiators are worried that the delay may lead to cancellation of the deal itself. This worry is heightened by the renewed push of Lockheed Martin to sell its F-16 fighter jets as well as of Swedish Saab to sell its Gripen fighter planes.
The progress in the defence sector's Make in India programme has been slow and tenuous. No decision has yet been taken on the new defence procurement policy despite an expert committee having submitted a comprehensive report five months ago
Rafale vs F-16
A senior French official with access to ongoing negotiations between New Delhi and Paris for 36 Rafale fighters, told a business newspaper on condition of anonymity: "If some people in the MoD do not want to allow the Rafale deal to go through, so be it. We are currently building it for Egypt and Qatar, and we could have another customer in Malaysia."
AT the back of this desperate remark is France's irritation at repeated Lockheed offers to set up an assembly line in India to build its F-16 Super Viper. The French official is also quoted as having taunted: "If you don't want the Rafale, go ahead and build the F-16 here. You can build it in India and supply it to Pakistan also."
Reminded that France too was supplying submarines to both India and Pakistan (DCNS is building six Scorpene submarines with Mazagon Dock, after earlier selling Pakistan three advanced Agosta-90B submarines with air independent propulsion), he retorted, "That is different. Pakistan is getting a different submarine from what we are providing to India."
On New Delhi's demands for sovereign guarantees from the French government, or a bank guarantee from Dassault, to cover the possibility of delivery or performance shortfalls, the official declared that the two countries would soon sign an inter-governmental agreement (IGA), which would function as a sovereign guarantee. The French government is standing behind the sale. "Surely, India is not asking for a bank guarantee when it has the word of the French government?" asked the official.
When it was pointed out that the IGA would only outline a supply agreement in broad terms, without detailed binding clauses and penalties, the official responded that the IGA was a strategic agreement between Paris and New Delhi, and that "a phrase here or a sentence there would make no difference."
Even as France tries to sweeten the Rafale deal, the scaling down of India's order for this jet from 126 to a measly 36 has opened up a distinct possibility for entry of Lockheed and Saab to get a slice of orders from the IAF
"In 1917, when the US abandoned its isolationism and sent a division of troops to France to fight in World War I, it was not because there was some document with a clause that required them to fight. It was because of a common strategic aim. New Delhi and Paris must have a common strategic aim on the Rafale," the business daily quoted the French source as having remarked.
Light at the end of the tunnel
The $700 million deal with BAE for M777 guns might be the first Make in India defence programme
by MK SHUKLA
THE only successful defence Make in India story may be the likely conclusion of the long-pending $700 million deal to purchase 145 M777 155mm 39 calibre towed guns. gfiles has learnt that negotiations between Indian and US governments are in the final stage and the contract may be signed by the middle of 2016. Following the formalities, it was cleared in May 2015, having been scuttled for three-four years.
The quality of the gun and the arrangements made for indigenising its several critical components have encouraged the MoD to think in terms of placing another multi-million dollar order with BAE Systems for purchasing an additional 500 of these guns, according to sources.
About 40 Indian defence companies stand to gain with the M777 offset programme, focussed on localised defence production, which will be worth 30 per cent of the agreed value of the contract. BAE Systems is said to have been preparing a wide-ranging offset package. "We have an ongoing conversation with Indian companies," said a BAE spokesperson, adding: "As part of the offset programme, we have included a range of suppliers."
Stating that the company was asked to submit an offset plan "which has references to who BAE will partner with", the company said it is working on bringing several Indian partners on board to support its anticipated contract for the M777 artillery guns.
Among the big domestic names that BAE Systems negotiated with are L&T, Punj Lloyd, Ordnance Factory Board, Tata Power, Kalyani Group, Mahindra Group and others before picking up Mahindra as a strategic partner for the deal. It is also said to be focusing on State-owned defence public sector undertakings and medium, small, and micro enterprises in the defence arena for producing original equipment for the guns.
BAE Systems has publicly promised to transfer technology to Indian partners and help them in capability building and improving technical skills, along with integration. Sources indicate that the proposed deal is expected to enable BAE Systems to make a long-term investment in India, apart from its $200-million offset investment. The company has also promised to shift some of its existing units from Hattiesburg, Mississippi, US, to India and use them for meeting its global orders.
The tie-up with Mahindra and other Indian partners is set to help the company develop an Indian supply chain that could be used for the British multinational's air, land and sea programmes. The Mahindra deal will also begin the process of indigenous manufacture of modern artillery in India. "The Indian Army has a huge requirement for modern land systems, both weapons and vehicles, and we are well positioned to help India fulfil that," John Brosnan, Managing Director (South-East Asia and India), BAE Systems, recently stated in an interview.
Joe Senftle, VP and General Manager, Weapon Systems, BAE Systems Inc, noted in a statement in February: "The facility is a fundamental part of the M777 production line… We will continue to support the two governments to progress to contract agreement, so that we may begin the process of Make in India for M777."
Armed forces under stress
Even as France tries to sweeten the Rafale deal, the scaling down of India's order for this jet from 126 to a measly 36 has opened up a distinct possibility for entry of Lockheed and Saab to get a slice of orders from the IAF. That's because the Modi administration, carrying as it does the burden of past indifference in procurement of defence hardware, is in dire need of modernising India's air force, half of whose fleet of 650 planes are said to be more than four decades old. Some of the planes are nicknamed 'flying coffins'. Since the PM has promised to turn India from the world's biggest weapons importer into a global hub for defence manufacturing, his negotiators are equally under pressure. But they are losing precious time in leveraging India's procurement power to turn India into a global hub of production centre for modern armaments. Of course, they don't have much experience in this new leveraging business and hence they are consuming time. One has to recognise that such long-drawn-out processes may not only impact defence preparedness which is already under heavy stress, but may also jeopardise the plan to increase defence exports over 20 times to $3-4 billion in a decade from the current level of about $150 million. India's arms exports are a fraction of the $64 billion in worldwide defence trade, while its imports exceeded $5 billion in FY15.
Viper slithers its way
Immediately after it became clear last year that India might not buy as many as 126 Rafales, Lockheed started approaching authorities in New Delhi for a chance to participate in the IAF's fleet modernisation programme. Its Chairman, President and Chief Executive Officer, Marillyn Hewson, personally made the offer to PM Modi in September last year. She was again scheduled to meet the PM in March but the meeting was called off at the last moment for political reasons. According to Phil Shaw, CEO of Lockheed's Indian unit, the US and Indian governments are negotiating the deal.
"The US-Indian relationship has been developing and could benefit Lockheed," Jon Grevatt, Asia-Pacific defence-industry analyst for IHS Jane's, told Bloomberg. But, he added, "I don't see it happening immediately. This is still in very early stages."
India picked up Paris-based Dassault Aviation SA in 2012 to build 126 warplanes at an estimated cost of about $11 billion—at that time the world's biggest fighter-jet deal and one in which Lockheed lost out. As talks stalled over price and quality guarantees, Modi flew to France last April and sought to directly buy 36 fighter jets from the French government in a bid to speed things up.
BUT in the corridors of the MoD, the more you move things, the more things remain the same. In negotiations with Indian officials, Lockheed has been trying to figure out IAF requirements so that it could make an offer. Randall Howard, head of F-16 business development at Lockheed, said in a February 2016 interview that the company was 'anxious' to know the IAF's needs in terms of both number of planes and their technical requirements. "Until a requirement is made clear in either a tender or request for proposals, there seems to be a lobbying process going on," IHS Jane's Grevatt said.
Shaw said Lockheed is in talks with Indian companies, including its existing Indian partner, the Tata Group, to find a potential partner for the fighter-jet programme if it wins the contract.
However, the big question is whether Lockheed would transfer F-16 technology—know-how and know-why—or it would simply set up an assembly line. According to industry sources, so far no foreign defence vendor, except Saab, has offered to share the full range of its defence technology with India. In an interview to Bloomberg, L&T's Group Executive chairman, AM Naik, said, "All the technology tie-ups are now programme-oriented. Though we have increased FDI limit to 49 per cent in defence offset, I have not seen anybody wanting to come. Even if tomorrow you raise the FDI limit to more than 50 per cent and make a huge investment, they (foreign firms) will use Indian engineers as they are using them now in outsourcing centres—as a low-cost engineering centre. They do it already. They have their own captive centre with several thousand people who are working in Bengaluru, Hyderabad and different parts of India. And they source them. But they do not pass on the technology to them."
Swedes step in
Saab AB seems to be the only exception to the rule. Its India chairman, Jan Widerstrom, during the Make in India week in Mumbai in February, publicly stated the Swedish company was 'keen' to manufacture its Gripen fighter aircraft in India. To meet the requirements to set up operations for the next-generation fighter, the company is looking at 100 per cent technology transfer to India, and investment help from Indian partners, he added.
Replying to a question, he said, "We are offering complete aerospace capability, not just manufacturing capability. We are willing to do a copy-and-paste Sweden factory here in India for the Gripen. We are looking at setting up a complete ecosystem here, which will provide 100 per cent benefit to India for the next 100 years."
While bidding for the MMRCA programme that resulted in the selection of Rafale, Saab had offered 60 per cent technology transfer. So, he was asked how much he offered this time. His reply was, "We are planning to put up an entire facility here, right from research and development, to production to final testing. We are setting up everything here, so basically everything will be located in India, so it would be 100 per cent transfer." With typical Nordic forthrightness, he clarified, "For us, it is a matter of time, for if we are to supply our product here, we need to be here. We need to be local. It is not such a big thing, though, for we are setting up a full aerospace capability. It is a natural part of what we do, and we are successful."
New bonhomie
Saab's move has the support of the government in Stockholm. gfiles has learnt that Swedish Prime Minister Stefan Lofven spoke to PM Modi during his visit to participate in the Make in India week in February; and the two PMs are said to have promised each other to work on the issue.
HOWEVER, to set up Gripen's entire ecosystem would require huge investments. Saab representatives are said to be already scouting for these and putting forward proposals for not one or two but several joint ventures to produce a variety of original equipment domestically in India. "We are looking at a cluster with a number of different partners and are also looking to develop tier-1, tier-2 and tier-3 suppliers," Widerstrom said.
For security reasons, he was unwilling to disclose where he would set up the Gripen factory. However, he indicated that they were looking at a number of places in Karnataka, Maharashtra, Andhra Pradesh, Telangana and Gujarat… "wherever we can get the best place. Due to security reasons and the fact that we are manufacturing military aircraft, we have to listen to our customer, the Indian Air Force. It is a sensitive, secretive product that we are building, and we would not mind taking the help of the IAF in identifying the best place".
Where to draw the line
The 'Make in India' initiative is bold, but it still does not answer how much technology Indian firms can absorb
by K SUBRAMANIAN
US Defence Secretary Ashton Carter will be meeting his Indian counterpart, Defence Minister Manohar Parrikar, in April in Goa. India wants the US to clearly spell out the technologies that its companies can share with India if they want a share of the multi-billion dollar pie of the 'Make in India' initiate in the defence sector. Recently, a US delegation made a presentation to the Ministry of Defence (MoD) on setting up a manufacturing line of F-16 and F-18 fighters in India.
On its part, the US wants India to sign what it calls the foundational agreements – LSA (Logistic Supply Agreement) that will on reciprocal basis allow US warships and fighters to use Indian facilities, the CISMOA (Communication Interoperability and Security Memorandum Agreement) and BECA (Basic Exchange and Cooperation Agreement). The previous government had resisted signing. India's neutrality and relationship with countries like Russia, it had reasoned, would be affected. The NDA government, however, appears to be ready for a rethink.
On the broader canvas, what do these developments mean? Under the Modi government's initiative of 'Make in India', the country is looking out for technology and to turn India into a manufacturing hub for high-end defence systems. For the US, which has shifted its focus from the Gulf to Asia, the Indian Ocean Region, and specifically India, are critical for the rebalance. So far, the picture looks symbiotic and perfect. But the devil, as always, lies in the detail. For instance, how much technology can Indian firms absorb? The Off-Set policy—a crude version of 'Make in India'—did stipulate that foreign vendors must source a certain amount from Indian manufacturers. In short, it forced foreign manufacturing giants to share some technology with an Indian entity and manufacture it on Indian soil. The policy didn't work. Indian manufacturing couldn't absorb the technology and also there was reluctance to share critical technology. In all, thousands of crores worth of Off-Set is still pending.
Taking this into account, the Modi government has tried to walk a different route. The private sector was asked to acquire the technology from the foreign vendor and produce in India. One of the many reasons why the multi-billion dollar purchase of 126 fighters from France fell through was because Hindustan Aeronautic Ltd (HAL) needed more manhours to produce the Rafale fighters than the French counterpart, pushing per unit cost through the roof.
The 'Make in India' initiative is bold, genuine and fresh, but it still does not answer how much Indian industry can absorb. However, one must accept that a beginning has been made. In this regard, forcing the Indian Air Force and HAL to sort out problems of the Light Combat Aircraft (LCA)—the first indigenously produced fighter—and induct it into the Indian Air Force is a step in the right direction. Powerful lobbies had, till recently, ensured that the Indian fighter stays out of favour.
The new Defence Procurement Policy (DPP) needs a mention here. Breaking from the past, it gives preference to the private sector and most importantly, gives a lot of weightage to equipment designed and developed in India as against just manufactured in India.
Two things are required now to make this a success, initiative from the private sector and openness from the government to inform the entrepreneur about future requirements. The latter is critical, because unless the government sheds the veil of unnecessary secrecy on its requirements, the private sector will have no clue to what to design and develop.
Moving back to the old question: Should India 'cozy-up' with the US to achieve its 'national interest' and, more importantly, will the US help in that direction? The reality has changed. Pakistan can no longer cater to all US interests and the US wants to focus on China, rather than Russia. India needs to ask, how much of its long-term strategic goals or national interest is fulfilled if the veil of neutrality is lifted. After all, the technology to build a nuclear submarine or a BrahMos didn't come from the US. And, finally, why should India be part of the US plan to counter China? India gains more by increasing trade with China. Shadow boxing with the Dragon on behalf of the US may lead to encouraging sound bites in Washington but will that serve India's interests?
While the Make in India programme for fighter aircraft may take longer to materialise because of the total lack of facilities and huge investments involved, it might already be working in so far as the Navy is concerned. According to L&T's Naik, "If you look at shipyards, where a lot of investment is required, it is all done. I think India has more than necessary capability and capacity in the Navy and its manufacturing. So, what you need is technology, programme-by-programme. And when the government really comes out with a policy of Make in India, what you do is you tie up with the best firms in the world you want in that programme. You take an example of the six submarines, the tenders of which are likely to be floated sometime before June. What is happening now is the qualification is going on once again. And, I would say, we will be selected in any case in terms of qualified companies. Maybe others too will get selected, but we will be selected. Similarly, there are three or four foreign companies which are showing a great deal of interest and they are willing to tie up with Indian companies. And, therefore, two or three different companies will tie up with two or three different shipyards if there is competitive bidding. So where is technology? Technology is coming with the programme. There is no point of having technology if there is no spend on it, or there is no programme for it."
Industry is hopeful
Despite the delay in the formulation of the DPP 2016, there is a sense of relief in industry over the transparency of decision-making in the Modi administration. Industry representatives believe that the DPP 2015 is undergoing fine-tuning to ensure that the final policy document is fair for everyone. They point out that some of these MII programmes are taking a little longer and there are ways to shorten the period. For example, the gun contract was approved nine months ago and is still taking a year before it can be finalised in the contract. Procurement policies and procedures have to be such that it can get done within three months after the gun or any military equipment is accepted.
According to industry sources, so far no foreign defence vendor, except Saab, has offered to share the full range of its defence technology with India. Saab AB's India chairman, Jan Widerstrom, has publicly stated the Swedish company was 'keen' to manufacture its Gripen fighter aircraft in India
WHERE there is a great deal of pain in the private sector is the foreign exchange variation, which has been there for some years. Industry has been tasking with the government on this. If one imports any defence equipment, one pays 100 per cent in foreign exchange. So, one pays at the rate at which the equipment will be finally shipped. The moment it is given to the Indian private sector and if one has 50 per cent import of raw materials and other components, something not made in India initially, it is paid in rupees. So, two years from now, when the component comes, if the rupee is at 67 or 68 to a dollar instead of 65 when the agreement was signed, the company has to pay an extra `3 (for the exchange rate variation). This is a big difference. If it is the other way round, industry representatives say, they won't mind and reduce the price. Industry is generally satisfied with the MoD's promise to look into this exchange rate variation issue.
Clearly, the policy ecosystem has to be defogged. This involves exorcising the ghost of Antony lurking in every nook and corner of the MoD and discouraging officers from doing anything on critical matters of defence production and preparedness. The grand plan of Make in India in defence may not speed up unless Defence Minister Manohar Parrikar and the PM don't push for simplifying arcane rules and regulations born out of excessive fear and consequent distrust. They have to exhibit a sense of urgency in pushing the Make in India programme for the defence sector.