UNION Railways Minister Suresh Prabhu says governance is like 'intel' (informal for intelligence), not so visible yet most important for any government, department and organisation. Prabhu would know. He is in the Cabinet of Prime Minister Narendra Modi who defines good governance as "putting people at the centre of development process" and never tires of stressing pro-people and pro-active governance. Besides, the minister has a mandate to make Indian Railways an engine of the Indian growth story through good governance.
The Union Minister for Mines and Steel, Narendra Singh Tomar, credits the coal auction, which helped the Modi government rustle up Rs. 4 lakh crore, for establishment of a transparent system. He also attributes the large number of disbursals under MUDRA (Micro Units Development and Refinance Agency Bank) to good governance by bankers and bureaucrats.
Tomar feels there is a need to recognise and acknowledge excellence of administrators, a task gfiles has been doing for many years now. The monthly has been reporting the success stories of civil servants, scientists and engineers from across the length and breadth of the country.
On November 28, the publication once again awarded 11 bureaucrats in a glittering ceremony in Delhi attended by, besides Prabhu and Tomar, Haryana Finance Minister Capt Abhimanyu, High Commissioners of half a dozen countries, eminent politicians, civil servants and editors of newspapers.
Right from Jammu & Kashmir to Tamil Nadu, from nuclear science to radio regulatory service to renewable energy to policing to animal husbandry and to finance, the recipients of gfiles Governance Awards 2015—picked by an independent jury comprising former Cabinet Secretary Prabhat Kumar, former Power Secretary Anil Razdan, former Chief Secretary of Haryana Vishnu Bhagwan and former Secretary (Internal Security) MB Kaushal—represented a wide spectrum of services the governance impacts on a daily basis.
On top of the excellence pyramid was Anil Kakodkar, India's numero uno nuclear scientist whose contribution to the country's nuclear energy programme is unparallelled. Dr Kakodkar, who currently chairs the National Institute of Science Education & Research (NISER), an organisation under the Department of Atomic Energy (DAE), was honoured with the Lifetime Achievement Award.
S Vijayakumar, IAS (Secretary, Animal Husbandry Department, Tamil Nadu) received the Exceptional Contribution Award for facilitating employment of persons with disabilities under the Mahatma Gandhi National Rural Employment Guarantee Scheme (MNREGS). Shalini Rajneesh, IAS (Principal Secretary, Backward Classes Welfare Department, Karnataka), got the Exceptional Contribution Award for women's empowerment.
Jigmet Takpa, IFS (Director, Ladakh Renewable Energy Depart-ment Agency, Jammu & Kashmir), was bestowed with the Exceptional Contribution Award for biodiversity conservation. RS Nayak, Executive Engineer (Civil), Belgaum Corporation in Karnataka, collected the Exceptional Contribution Award for fighting water scarcity while Ajay Singhal, Engineer-in-Charge, International Satellite Monitoring Earth Station, Jalna (Maharashtra), bagged the Exceptional Contribution Award for ensuring violation-free usage of satellite spectrum.
PK Deshmukh, IAS (Secretary, Department of Water Conservation, Maharashtra), got the Excellent Contribution Award for using e-governance for crop pest surveillance. Rakesh Kumar Gupta, Principal Secretary, IAS (Department of Forests & Environment, Jammu & Kashmir), received the Excellent Contribution Award for IT-enabling the civil services examination in the Union Public Service Commission, while Amulya Patnaik, IPS (Special Commissioner of Police, Vigilance, Delhi Police), got the Excellent Contribution Award for initiating a support programme for victims of traumatic crimes. Meeran Chadha Borwankar, IPS (Director General, Legal & Technical, Maharashtra Police), and Anshul Mishra, an IAS officer in the Union Ministry of Finance, received Excellent Contribution Awards for tackling the underworld in Mumbai and cracking down on illegal mining, respectively.
RAZDAN, as member of the jury, said in his address that the objective of the awards was to acknowledge and encourage officers of varying seniority and recognise creation of new systems and ideas in diverse sectors and diverse regions. "The acid test is that your work should touch the lives of people," he claimed, adding that the awardees were chosen without any recommendation from any quarter.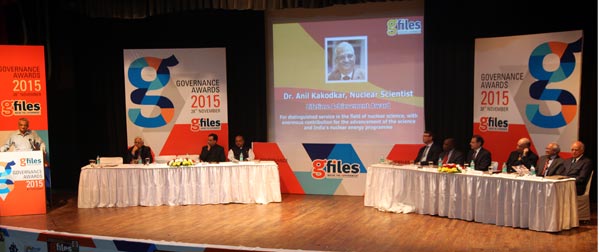 In his thanksgiving address, Dr Kakodkar said that nuclear energy could be the answer to the burgeoning demand and supply gap in the country, a fact touched upon by gfiles editor Anil Tyagi, who hosted the over three-hour-long programme. Dr Kakodkar was sure that layers and maze of rules inscribed in a statute can make it possible for administrators to do everything within the framework of law. Tomar said it was a privilege for him to know that Kakodkar was born in Barwani district in Madhya Pradesh, his home state.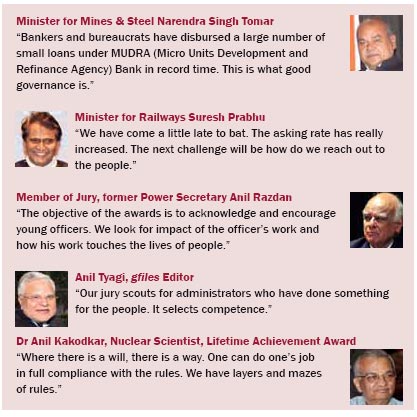 HARYANA Finance Minister Capt Abhimanyu said that governance was an onerous task because it was all-pervasive and all encompassing. He lauded the gfiles Governance Awards for appreciating the work of administrators.
S Vijayakumar divulged how it was a mammoth task to open the MNREGS to disabled, blind and mentally disabled in 31 rural districts (12,564 panchayats) of Tamil Nadu. He said over Rs. 200 crore had been dispersed to them since 2011 through banks. The Karnataka-cadre IAS officer, Shalini Rajneesh, who was the youngest in her 1989 batch, launched SAKALA to guarantee in-time delivery of 478 government services to citizens in Belgaum, a district bordering Karnataka and Maharashtra.
Takpa, who has been posted in Ladakh for 19 years, thanked gfiles for projecting the work of government servants like him. His initiatives on biodiversity have led to rapid growth in population of snow leopards, the Asiatic ibex, wild yak and bar-headed geese in the region.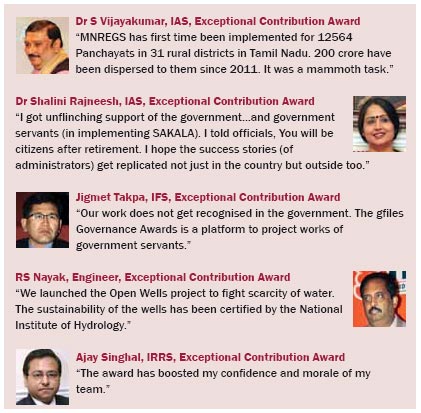 Nayak, an engineer, revived around 74 small and big open wells in Belgaum, a Tier II city, in 1995 to overcome water scarcity. The wells still meet most of the city's demand for water. Ajay Singhal, an Indian Radio Regulatory Service (IRRS) officer, who stopped unauthorised and illegal usage of satellite spectrum, said the award boosted his confidence and morale of his team.
Deshmukh, a 1995-batch Maha-rashtra cadre IAS officer, who holds an MSc degree in Agronomy, said he worked on pest surveillance after he met a woman who had taken a loan of Rs. 25,000 from a moneylender. "I could not answer why I could not protect her crop," he recollected. This guilt became a stepping stone for pest surveillance through e-governance.
Mishra, a 2004-batch Tamil Nadu-cadre IAS officer, was happy that he could save around Rs. 10,000 crore by cracking down on the granite mafia in Madurai (Tamil Nadu) during his tenure there as District Collector. Mishra ordered filing of 50 FIRs against illegal granite miners, who were entrenched in three villages of the district. Nearly 100 people were arrested.
Amulya Patnaik, a 1985-batch AGMUT-cadre IPS officer, set up Pratidhi (hope in Sanskrit), a collaborative programme in East Delhi in 1995, to provide holistic assistance—counselling, medical assistance, legal aid, subsistence allowance, vocational training—to victims of traumatic crimes.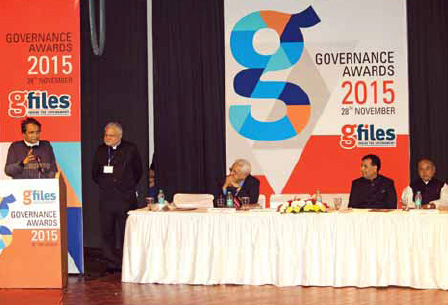 Rakesh Kumar Gupta, 1986-batch IAS officer, felt the biggest challenge for an administrator was to encourage and assure his team that they would not be punished in case their experiment failed.
Borwankar, who did her post-graduation in English Literature from Jalandhar before being allotted the Maharashtra cadre in the IPS, credited her team and Maharashtra's men and women for her campaign against underworld terror. She also credited her parents and sister Anita Kapur's (Chairperson, CBDT) education and 'Beti Bachao, Beti Padhao' (save and educate girl child) slogan in the 1970s.
THIS was the fourth consecutive awards ceremony organised by gfiles, which began publishing in 2007. In 2014, the publication had honoured former Delhi Police Commissioner Ved Marwah with the Lifetime Achievement Award. A year before that, former Indian Engineering Service officer E Sreedharan, nicknamed 'Metro Man' for the successful completion and operation of the Delhi Metro, had received the honour.
The monthly was the brainchild of former India Today Executive Editor Inderjit Badhwar, senior journalist Anil Tyagi and well-known financial expert GS Sood. Over the years, the publication has not only added to its content but also exposed some of the worst financial and land scams and has become the most credible source of information on the Indian bureaucracy.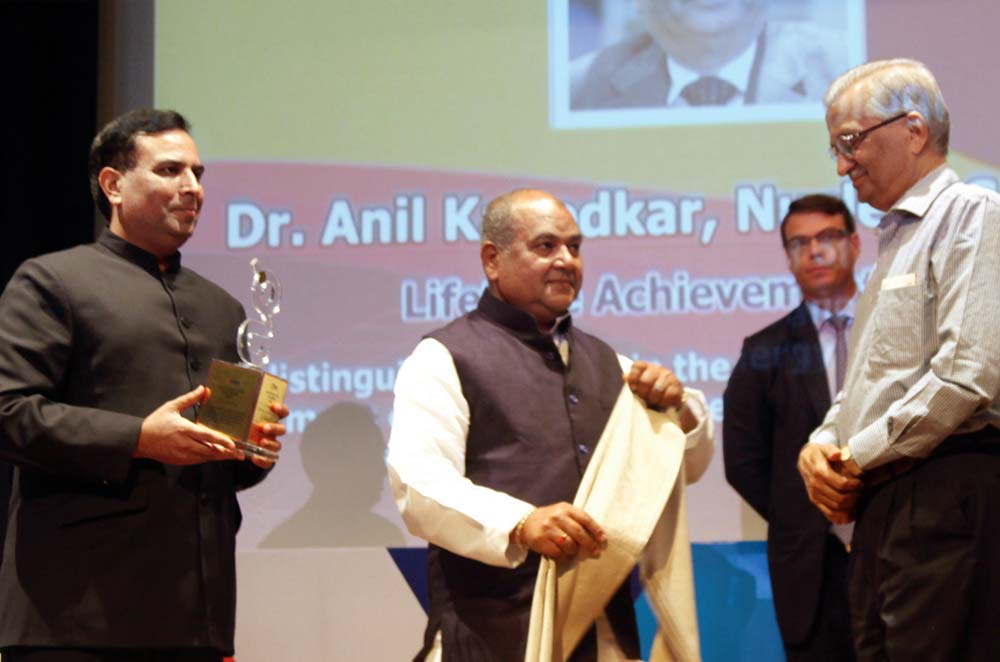 LIFETIME ACHIEVEMENT AWARD
Dr Anil Kakodkar, Nuclear Scientist
For distinguished service in the field of nuclear science, with massive contribution for the advancement of the science and India's nuclear energy programme
BORN on November 11, 1943, in Barwani village of Madhya Pradesh, Dr Anil Kakodkar joined the Bhabha Atomic Research Centre (BARC) in 1964 and became its Director in 1996. He was the Chairman, Atomic Energy Commission, and Secretary to the Government of India, Department of Atomic Energy, during 2000-09. He was DAE Homi Bhabha Chair Professor at BARC during 2010-15.
In BARC's reactor engineering division he played a key role in design and construction of the Dhruva reactor, an original high-tech project. He was in the core team of architects with plutonium as the driver fuel. The unique reactor system, with simplified but safe technology, will generate two-thirds of electricity from thorium. His efforts have made India a country with advanced nuclear technology.
Dr Kakodkar has been a recipient of the Padma Shri (1998), Padma Bhushan (1999), and the Padma Vibhushan (2009), besides other highly acclaimed awards in recognition of his immense contributions. He also holds key positions in various important organisations and institutions of repute such as the Atomic Energy Commission, ONGC Energy Centre Trust, IIT Bombay and so on. Currently, he holds the INAE Satish Dhawan Chair of Engineering Eminence at BARC. At present, Dr Kakodkar is the Chairman, Board of Directors, NISER, Bhubaneswar.
EXCEPTIONAL CONTRIBUTION AWARD
Ajay Singhal IRRS
For successfully overseeing the initiative on spec-trum monitoring and licence administration, ensuring violation-free usage of satellite spectrum in India
AN officer of the Indian Radio Regulatory Service, Ajay Singhal has been cred­ited with successfully overseeing the mission to provide an effective mechanism for monitoring the spectrum allocated to various service providers of satellite-based ser­vices provided by the WPC wing of the Ministry of Communication and IT, Government of India. Spectrum is a limited natural resource of the country with every citizen having a right to its legal and optimum utilisation. While spectrum allocation to service providers is governed through li­cences issued under the Indian Telegraphy Act, 1885 and Indian Wireless Telegraphy Act, 1933, its effective administration depends on resolving major problems, such as lack of effective mechanism to prevent unauthorised usage of satellite spectrum, non-availability of technical infra­structure for checking allocation to various service providers, lack of operational abil­ity to continuously monitor and verify spectrum services and non-availability of software database for monitoring outcomes.
To overcome these problems, the ISMES launched the Orbit Spectrum initiative headed by Ajay Singhal. He developed low-cost technical infrastructure, introducing the Mission Orbit Spectrum and coordinating with the WPC wing of the Ministry. This successfully heralded the revival of the Earth Station, endowing it with effective infrastructure, including enhanced operation capability and database creation for monitoring and verifying the spectrum licence administration, and effectively identifying and eliminating violations.
Singhal's initiative has been widely reviewed and appreciated by the government. In recognition of his outstanding contribution in the field of satellite spectrum monitoring and management, the Ministry of Communication and IT presented him a Certificate of Appreciation.
At present, he is the Engineer-in-Charge, International Satellite Monitoring Earth Station, Jalna, Government of Maharashtra.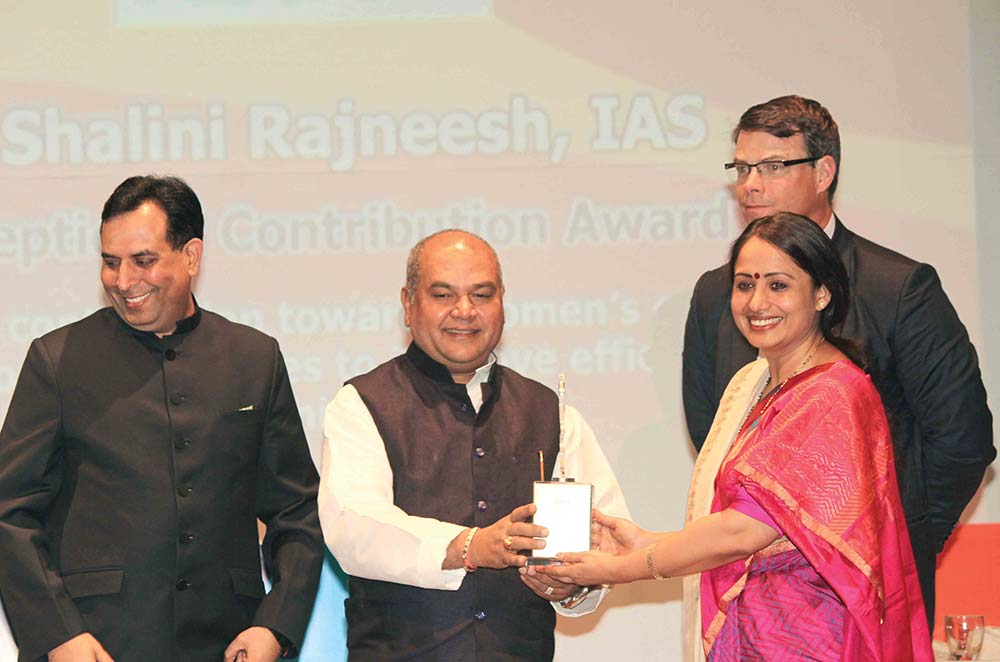 EXCEPTIONAL CONTRIBUTION AWARD
Dr Shalini Rajneesh IAS
For outstanding contribution towards women's empowerment and developing measures to improve public administration efficiency
DR Shalini Rajneesh is a women's topper and youngest member of the 1989 batch of the IAS. As Principal Secretary, Department of Personnel and Administrative Reforms, Government of Karnataka, she was instrumental in implementing Karnataka's Guarantee of Services to the Citizens Act, 2011, popularly known as SAKALA. The Act ensures time-bound delivery to citizens of 478 services covering 47 departments. In just two years, since April 2012, 60 million citizens successfully availed of time-bound services that earned SAKALA the Prime Minister's Award, Google Innovation Award, National e-Governance Award for Outstanding Performance in Citizen Centric Service Delivery, QCI-DL Shah Quality National Award and CAPAM Award.
During her stint as Deputy Commissioner, Belgaum district, the first historic legislative session was held outside the state capital. Her contribution through a book on inclusive growth for upliftment of the backward regions of Karnataka bore fruit in the form of an amendment to the Constitution vide Article 371 J, giving special status to the Hyderabad-Karnataka region. As Secretary, Panchayati Raj, she saw Karnataka win the 2nd Best Panchayati Raj National Award. She also served as Secretary, Women and Child Development, and her contributions earned nationwide appreciation and recognition. In 2013, Karnataka State Women's university made her a 'Doctor of Literature'.
Besides Karnataka, she has worked in many capacities in the central government, including in the ministries of finance, civil aviation, shipping, agriculture and road transport.
She has written 10 books in English and Kannada covering subjects like management, personality development, women's empowerment and so on. At present Dr Rajneesh is the Principal Secretary, Backward Classes Welfare Department, Government of Karnataka.
EXCEPTIONAL CONTRIBUTION AWARD
Dr S Vijayakumar IAS
For successful contributions towards empowering persons with disabilities through participative inclusion in the Mahatma Gandhi National Rural Employment Guarantee Scheme (MNREGS)
DR S Vijayakumar, an IAS officer of the 1993 batch of the Tamil Nadu cadre, has a distinguished record with enviable acumen in public administration. He is known for proficiency in giving shape and structure to government schemes and policies such that they are optimised in accomplishment of their objectives. As the Commissioner, Rural Development and Panchayati Raj, Dr Vijayakumar was instrumental in conceptualising and initiating efforts to include Persons with Disabilities (PwDs) under the MNREGS. While the MNREGS guidelines indicated providing equal and suitable opportunity for employment of PwDs, its implementation suffered due to factors such as lack of clarity, barriers in attitude, availability of suitable work and services, and so on.
Taking cognisance of the problem and with the conviction that the empowerment of any socially disadvantaged group has to be a cyclic and sustainable process, Dr Vijayakumar, engaging the key stakeholders, initiated a multi-agency approach, leading to the development of the Tamil Nadu Government's Guidelines for PwDs in MNREGS. The project achieved remarkable success with 1.49 lakh PwDs, constituting 80 per cent of all PwDs and forming nearly 3 per cent of the total workforce under MNREGS, working regularly and achieving social and financial inclusion. This work has been evaluated by known research institutions. In recognition of his contribution, the Rural Development Ministry, Government of India, has fully adopted the TN guidelines, while the Ministry of Health and Family Welfare has circulated the initiative to all chief secretaries across the country. His achievements also earned the formal appreciation of the National Advisory Council (NAC).
Dr Vijayakumar is at present posted as the Secretary, Animal Husbandry & Dairy Development Department, Government of Tamil Nadu.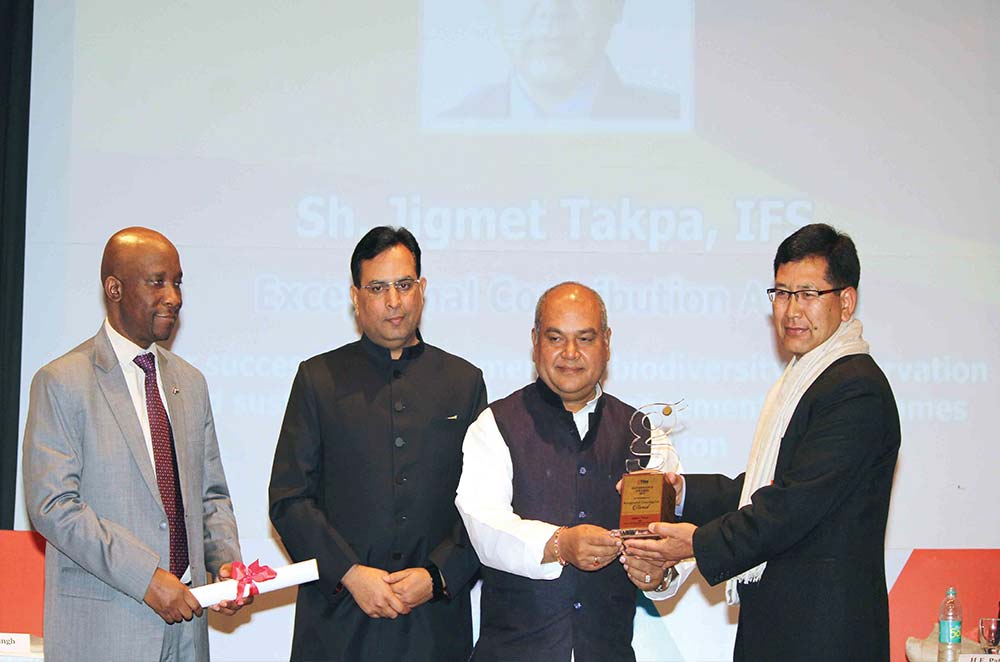 EXCEPTIONAL CONTRIBUTION AWARD
Jigmet Takpa IFS
For successfully implementing biodiversity conservation and sustainable livelihood improvement programmes in the Ladakh region
JIGMET Takpa pioneered biodiversity conservation, rural development and renewable energy in Ladakh and established a benchmark in the Himalaya. An officer of the Indian Forest Service (IFS) from Ladakh, his achievements are testament to his dedication. Takpa's initiatives to address the development and conservation challenges facing Ladakh's fragile ecosystem include establishing flagship projects in identifying, devising and adapting suitable technologies for efficiently managing the natural resources of the high-altitude Himalayan regions. He conceptualised the livelihood improvement programmes for the Ladakh region and adopted a landscape-level approach to biodiversity conservation. His efforts resulted in a rapid growth in the populations of key flagship species such as the snow leopard, bar-headed goose, black-necked crane, wild yaks, Asiatic ibex and the Tibetan antelope.
He is credited with the success of Project Snow Leopard that turned Ladakh into the snow leopard capital of the world. The Ladakh Ecotourism Project has directly benefitted the community. The Ladakh Renewable Energy Initiative vastly alleviated the longstanding problem of energy shortage in the region and reduced the tremendous expenditure of the Government of India in sustaining the energy sector. Access to electricity in Leh and Kargil districts has brought alternative livelihood options and has improved the efficiency of PHCs and defence establishments.
Takpa has been conferred various prestigious awards—the Environmental Hero Award, the State Award for Meritorious Public Service, J&K, the Indira Priyadarshini Vriksha Mitra Award, the Renewtech Award for Best Nodal Agency, and the Gyalwang Drukpa Award. He also figures in the Book of Guinness World Records for the most trees planted simultaneously (2011). Takpa is at present the Director, Ladakh Renewable Energy Development Agency, Government of Jammu & Kashmir.
EXCEPTIONAL CONTRIBUTION AWARD
RS Nayak Engineer
For outstanding contributions in developing and improving civic amenities, serving to provide an exemplary model on sustainable ground water utilisation for the nation as a whole
IN 1995, Belgaum city in Karnataka was faced with severe scarcity of water, with delayed rainfall, and with its main reservoir, the Rakaskop, running dry, the city had to find alternative sources of water and quickly. As Belgaum raced against time to solve the emergent crisis, RS Nayak, city engineer, took the lead and initiated the Open Wells project. The Open Wells programme was literally an invigoration of the city's history, taking cognisance of how the landscape used to be dotted with open wells prior to the advent of piped water supply. The ingenious project, under the able stewardship of Nayak, took the form of a participative local initiative with long-term orientation.
His initiative and persuasiveness in involving the local community, social organisations like Rotary Clubs, Lions Clubs, NGOs, private entrepreneurs and donors rejuvenated several high-yielding open wells which supplied potable water to around one-third of the city's population. The project was not only successful in that it helped Belgaum tide over the crisis, it also served to augment existing infrastructure. The National Institute of Hydrology has certified the sustainability of these wells for at least the next 50 years. An effective low-cost programme, the key ingredients of the Open Wells project was promoting and harnessing neighbourhood innovation and tapping into local resources.
For his visionary leadership, Nayak was conferred prestigious awards such as the National Urban Award by the Ministry of Urban Development, Government of India, the Outstanding Award at the Bangalore World Water Summit, and the Sarvaottam Award by the Government of Karnataka, among others. He has also been widely appreciated by the press both at the state and national level and has gained repute across the country.
At present he is the Executive Engineer (Civil), Corporation of the City of Belgaum, Karnataka.
EXCELLENT CONTRIBUTION AWARD
Amulya Patnaik IPS
For successfully improving crime investigation and initiating a support programme for victims of traumatic crimes
AN IPS AGMUT-cadre officer of the 1985 batch, Amulya Patnaik is a renowned personality in the field of law and order. His dedication and impeccable leadership brought vast improvement in crime investigation, leading to noteworthy detections such as the Bombay blast accused, the parcel bomb case, the sensational Sarita Vihar kidnapping of a schoolboy by armed gangsters which was solved in a record 12 hours, the dreaded Asghar gang of dacoits and so on.
He was at the forefront of the police action to quell riots in an anti-Dunkel mammoth rally. He received a grave injury during the anti-Dunkel rally in 1994 in which the mob turned violent. In 1995, Patnaik took the initiative to launch Pratidhi, a Delhi Police programme to extend counselling and other assistance to victims of traumatic crimes. It is working successfully to this day. During his stint as IG, SPG, he is credited with the planning and managing of the security of the lone train journey undertaken by a Prime Minister in 2003.
Patnaik handled Central, East and South Districts of Delhi Police wherein his focus on preventive planning and police-community partnership led to a drastic fall in heinous crimes. His innovative steps, like launching of the Anti-Obscene Calls Cell and Anti-Stalking Cell, not only prevented crimes against women in Delhi but became a precursor of several such initiatives.
As Joint CP, he had the rare distinction of heading both the Crime Branch and the Southern Range. He also served as SSP, Law & Order, Puducherry, and DGP in the sensitive North-Eastern state of Mizoram. Besides other recognitions for his illustrious contributions, he is also a recipient of the President's Police Medal for distinguished service and the Police Medal for Meritorious Service.
At present, Patnaik is the Special Commissioner of Police, Vigilance, Delhi Police.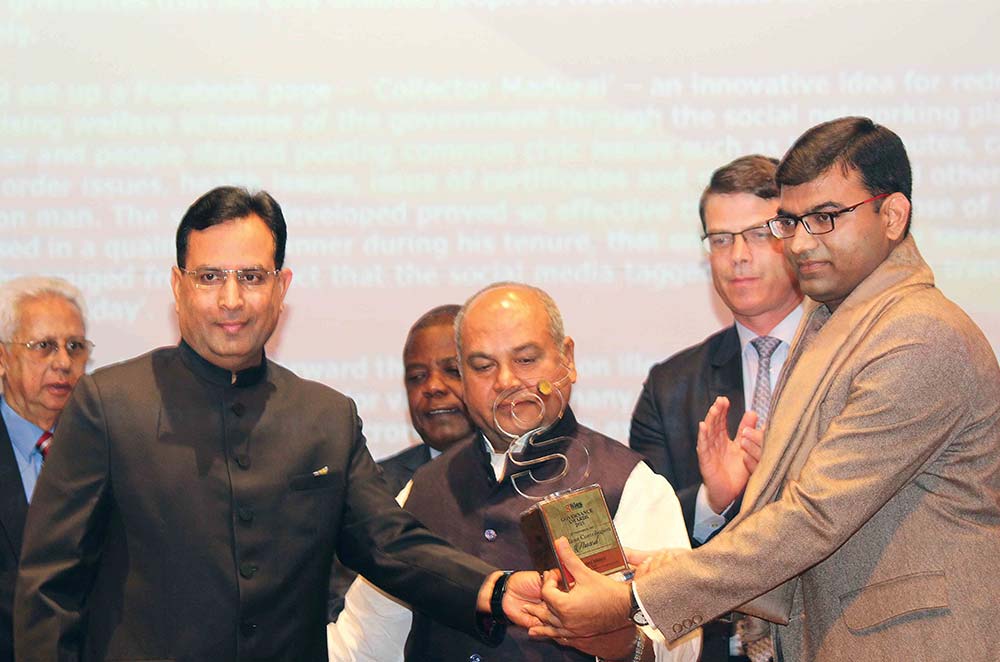 EXCELLENT CONTRIBUTION AWARD
Anshul Mishra IAS
For setting up an effective, innovative, multi-mode grievance redressal mechanism and cracking down on illegal mining, saving the state losses worth several thousand crore rupees
A Tamil Nadu-cadre IAS officer of the 2004 batch, Anshul Mishra is a postgraduate in Political Science from JNU. He ensured fairness and transparency in administration by establishing an Information Centre/Complaint Cell at the Collectorate as Collector of Madurai in 2012. The online complaint registration system ensured speedy and qualitative disposal of grievances, enabling people to track the status and also reduced repeat grievances considerably.
He also set up a Facebook page— 'Collector Madurai'—an innovative idea for redressing grievances and publicising the government's welfare schemes through the social network. It soon became popular and people started posting common civic issues that affect the common man. The system proved so effective that it could dispose of around 80 per cent of the issues raised in a qualitative manner during his tenure, that ended in 2013. The impact he had could be gauged from the fact that the social media tagged the day he was transferred from the district as 'Black Friday'.
As Collector, Madurai, Mishra also carried forward the crackdown on illegal granite quarrying initiated by his predecessor, U Sagayam, who pointed at major violations by many granite quarries in the district. The loss, initially estimated to be more than Rs. 16,000 crore to the state exchequer, was claimed to be worth around Rs. 1 lakh crore by many activists. Several influential persons, including political heavyweights, were booked for grave violations and illegal mining of granite and sand under the crackdown initiated by Mishra. He is also credited for the fair and transparent recruitment of Anganwadi workers and noon meal organisers, and facilitating differently abled persons to get state-sponsored benefits. Mishra is at present PS to the Minister of State for Finance, Government of India.
EXCELLENT CONTRIBUTION AWARD
PK Deshmukh IAS
For contributing towards agricultural development and e-governance for crop pest surveillance
AN Indian Administrative Service (IAS) officer of the 1995 batch of the Maharashtra cadre, PK Deshmukh has served the government in various capacities. He has been involved in a number of successful government initiatives for rural development and improvement of agricultural productivity. As CEO of the Zilla Parishad, Kohlapur, Maharashtra, he was credited with implementation of the Rajashri
Shahu Sarvangin Shikshan Karyakram programme for quality improvement in primary education, and the Ideal Village programme in Lodhavade village, Satara district. It earned him the Prime Minister's Award for Excellence in Public Administration on Civil Services Day on April 21, 2008. He was instrumental in the successful implementation of the Maharashtra Crop Pest Surveillance and Advisory Project, and also played a role in the CROPSAP Programme, a multi-stakeholder ICT-based initiative launched to synergise central and state institutes working in the field of agriculture and horticulture research, setting the platform for online real-time advisories to farmers for productivity improvement and crop protection. The project, covering more than 100 lakh hectares, also earned him the Prime Minister's Award for Excellence in Public Administration. He was responsible for the implementation of the innovative scheme of 'Close user Group' with BSNL, covering more than 7.5 lakh farmers.
Deshmukh has also received other prestigious awards, including the National Award Gold Medal for e-governance for the Crop Pest Surveillance and Advisory Project, the Best Performance Award 2008-09 for Pulses in the Central Western region in National Food Security, the Krishi Karman Award 2010-11 for the highest production of pulses, and the Shining World Leadership Award by the Supreme Master Ching High International Association for Organic Farming and Group Farming.
At present, he is posted as the Secretary, Department of Water Conservation, and EGS, Government of Maharashtra.
EXCELLENT CONTRIBUTION AWARD
Rakesh Kumar Gupta IAS
For implementing path-breaking reforms in the UPSC examinations by IT-enabling of the entire examination process and implementing reforms in the Civil Services examinations
A 1986-batch IAS officer of the Jammu & Kashmir cadre, Rakesh Kumar Gupta has had a distinguished career. He served as Chief Vigilance Officer, National Consumer Cooperative Corporation (Government of J&K) and Principal Secretary to the Governor (Government of J&K), among other positions. As CEO and J&K State Election Commissioner, he handled the challenging job of conducting elections in the state in a peaceful manner and computerised the electoral rolls in urdu, using unicode software.
As Commissioner of Science and Information Technology, Government of J&K, he formulated the IT policy for the state. He was instrumental in setting up Community Information Centres in backward areas to increase information technology penetration in rural areas and bridge the digital divide in J&K. As Special Secretary, Social Welfare, Gupta is credited with setting up the council for rehabilitation of victims of militancy. As Power Secretary, he initiated power sector reforms, drafted the regulatory Commission Act and gave a big boost to non-conventional energy sources.
Gupta graduated with distinction from the Indian Institute of Technology, Delhi in civil engineer-ing. Additionally, he has an MBA degree from IGNOU and an MA in governance and development from the University of Sussex, UK. As Additional Secretary and Controller of Examinations, UPSC, he is credited with IT-enabling of the entire examination process in the UPSC, initiating and implementing reforms in the civil services examinations and introduction of ethics papers in the Civil Services (Main) examination.
In recognition of his contributions, he was conferred the Chief Minister's Gold Medal for Honesty, Integrity, and Meritorious Public Service by the Government of J&K.
At present, Gupta is the Principal Secretary, Department of Forests & Environment, Government of Jammu & Kashmir.
EXCELLENT CONTRIBUTION AWARD
Meeran Chadha Borwankar IPS
For playing an instrumental role in tackling the Mumbai underworld and unearthing some of the most infamous scandals in the history of Maharashtra Police
A 1981-batch IPS officer, Meeran Chadha Borwankar is the second woman IPS officer of Maharashtra, the first woman IPS officer to lead the Mumbai Crime Branch, the first woman Superintendent of Police (Aurangabad and Satara districts) and Commissioner of Police (Pune) in Maharashtra. Born in Gurdaspur, Punjab, she did her postgraduation from DAV College, Jalandhar. Later, she also studied Policy Analysis in Law Enforcement at the University of Minnesota, USA.
Known as a woman super-cop, Borwankar has played a huge role in the extradition of Abu Salem, Monica Bedi, Tariq Parveen and Sharmila Sitaram Naik alias Sharmila Shanbhag. She was awarded the President's Medal for distinguished service in 2006, apart from the police medal in 1997 and the Director General's insignia for meritorious service in 1996 and a Hubert Humphrey Fellowship (2001-2).
Amongst other posts, she has served as DCP, Ports (Mumbai Port Trust), DCP, Zone 4 (a key posting in Mumbai), DSP, Aurangabad and Satara. She also handled important assignments with the Crime Branch, Mumbai, Economic Offences Wing of the Central Bureau of Investigation (CBI), Mumbai, and was DIG of the Anti-Corruption Bureau of the CBI in New Delhi. Borwankar shot to fame when she supervised investigation of the infamous Jalgaon sex scandal in 1994 after which she came to be known as an expert in investigating such scandals.
She is remembered for putting a number of Mumbai mafia members behind bars, including Dawood Ibrahim and Chhota Rajan gang members as Mumbai's first woman Joint Commissioner of Police (Crime), the job she took when the Mumbai police's reputation was in tatters. She is at present Director General, Legal and Technical, Maharashtra Police.