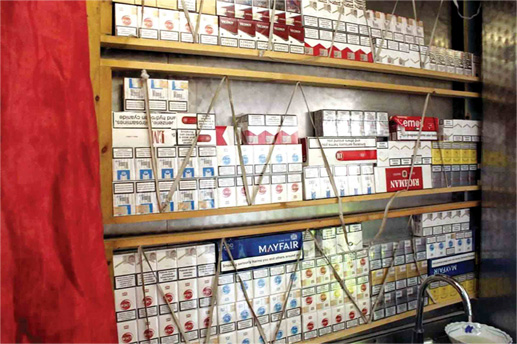 Illicit cigarette smuggling has over the years created a multitude of problems for India. It negatively impacts financial health resulting from tax arbitrage; it has also led to a sharp rise in anti-social activities as elements actively indulging in illicit cigarette trade are using the proceeds to fund their terror operations. In addition, it has resulted in the loss and export of jobs which are directly proportional to the spread of the illicit cigarette market and finally, it has a serious impact on domestic tobacco farmers causing tremendous distress and anguish.
Cigarette smuggling and counterfeiting has been a serious point of concern for both the government and industry as the penetration of illicit cigarettes has seen a constant rise over the years. There has been a decline in sale of legal cigarettes between 2011-2017. It is a matter of fact that the legal sale of cigarettes in India by volume fell from 110 billion stick units in 2011-12 to 81 billion stick units in 2016-17 and recent studies indicate that this is expected to fall further by 2020. The illicit cigarette sticks sold in the country as per Euromonitor is approxi-mately 24.8 billion.
ON June 27, 2018, the conditions for the entry into force of the first legally binding instrument adopted under the WHO Framework Convention on Tobacco Control (WHO FCTC) were met, paving the way to eliminate illicit trade of tobacco products.
The Protocol was developed in response to the growing international illicit trade in tobacco products, which poses major health, economic and security concerns around the world. It is estimated that one in every 10 cigarettes and tobacco products consumed globally is illicit.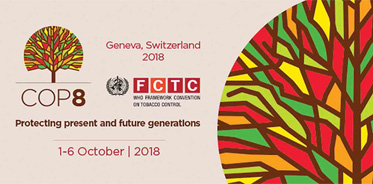 This achievement is a milestone in the history of tobacco control, as the Protocol contains a full range of measures to combat illicit trade distributed in three categories: preventing illicit trade, promoting law enforcement and providing the legal basis for international cooperation.
Moreover, it aims to secure the supply chain of tobacco products, through licensing, due diligence and record keeping, and requires the establishment of a global tracking and tracing regime that will allow Governments to effectively follow up tobacco products from the point of production to the first point of sale. In order for it to be effective, the Protocol provides for intensive international cooperation including on information sharing, technical and law enforcement, cooperation, mutual legal and administrative assistance, and extradition.
The fulfilment of the legal requirements for its entry into force in 90 days, will allow the Parties to hold the First session of the Meeting of the Parties to the Protocol (MOP1) in Geneva, Switzerland, from October 8-10, 2018 following the Eighth Conference of the Parties (COP8) of the WHO FCTC.
Source: WHO
The Directorate of Revenue Intelligence (DRI), based on seizures, has estimated the market of illicit cigarettes to have grown by Rs. 5,775 crore, making the illicit trade market for cigarettes in India worth Rs. 25,000 crore.
Illegal cigarettes that comprise of international smuggled and locally manufactured tax-evaded cigarettes account for one-fourth of the cigarette industry in India. The tax burden on legal cigarettes has increased by a massive 202 per cent since 2011-12 as a result of successive increase in taxation. Today, India is the fourth largest market in the world in terms of illicit cigarette sales.
We need to be clear about the ground realities in India insofar as cigarettes in particular and tobacco in general are concerned. India is one of the few countries in the world that has a strong domestic tobacco industry. This industry provides livelihood to 46 million or 4.57 crore people. Many vested interests are pushing a policy which is flooding the Indian market with foreign cigarette brands that exhibit total disregard for the safety and well-being of our citizens. This is one reason why there is abundant availability of cheap illicit cigarettes from neighbouring countries, resulting in increased demand for smuggled/illicit cigarettes.
India faces a unique situation wherein illicit cigarettes are not getting smuggled out of the country but there is a deluge of illicit cigarettes coming into the country. For the record, most Indian cigarette brands already have a unique number thereby enabling them to be both tracked and traced. In my view, the following can help us achieve better results:
Setting up fast track courts to dispose of matters relating to illicit cigarette trade.
Stringent penalties that should act as a deterrent and smugglers should be fearful of the consequences.
There is also an urgent need to reduce the tax arbitrage on cigarettes: the massive price difference between illicit cigarettes and legal ones not only makes illicit trade extremely lucrative but it also damages the morale of the legal manufacturer. In addition, the state loses on revenue and employment which ends up being exported to other countries.
It is important to understand that since Indian cigarettes have no market overseas and India is a victim of a deluge of smuggled cigarettes in the country, illicit protocol/track and trace on this product must first be implemented in all those countries from where the Indian markets are flooded resulting in monumental losses to the farmers, consumers, legal manufacturers and the exchequer. It is only after this that India should think about implementing this protocol on the domestic industry.
The Directorate of Revenue Intelligence, based on seizures, has estimated the market of illicit cigarettes to have grown by Rs. 5,775 crore, making the illicit market for cigarettes in India worth Rs. 25,000 crore
In addition from the experience of the WHO Framework Convention on Tobacco Control (FCTC) protocol implementation, one can see that there is no uniform implementation of the protocol. This creates an uneven regulatory
environment which unscrupulous players exploit to push products from the less regulated countries to those which are excessively regulated.
Finally, it is important to understand that there is no single sure shot way to tackle illicit trade in cigarettes; it is the culmination of a wide ranging set of strategies that will defeat this multi-faceted evil. A holistic approach, therefore, is the need of the hour to address the menace of illicit trade in cigarettes.
Anil Rajput, Sr Vice President, ITC Ltd views expressed are personal
[give_form id="12407"]