RIGHT from recruitment of employees to their promotions, transfers and revocation of suspensions to allocation of tenders for works in different residential and industrial sectors of the Noida, Greater Noida and Yamuna Expressway Authorities, politicians, particularly those belonging to the party ruling in Lucknow, have a definite say. Political parties seem to follow the principle 'corrupt and let corrupt', reportedly filling their coffers from the commission collected from tender allocations and allowing government officials, right from junior engineers to senior managers to their higher-ups, to collect bribes.
Political parties allegedly collect six per cent in advance from every tender approved by the Authorities. The money—always in cash—is often collected at a certain point through a particular official, who reroutes it to the political masters. Authority officials, on the other hand, reportedly take 15 per cent from the contractors for every tender approved. There are also reports that these figures took a jump during the time of former Chief Project Engineer for Noida, Greater Noida and Yamuna Expressway, Yadav Singh, now under investigation. Reportedly, the 21 per cent commission (15+6) in 2007 jumped to 30 per cent during Singh's reign in the Authorities.
A consequence of the shady nexus is that even peons and drivers commute to office in luxury cars. In the case of drivers, the situation is both hilarious and ironical. They arrive in office in their SUVs and luxury cars, pull them over in the parking next to the gate, and then drive the old Ambassadors of their officers.
A fallout of the politician-babu nexus is that the contractors use sub-standard material in construction of flats, villas and shopping complexes, robbing the buyers of what is their rightful entitlement
Each time a political party gets into power, its first priority is to fill up the Authorities with either relatives of its bosses, or put their men in sections like property where the flow of bribes is more. The other fallout of the nexus is that the contractors use sub-standard material in construction of flats, villas and shopping complexes, robbing the buyers of their rightful entitlement. The contractors use more sand than needed and cheat in specifications prescribed for thickness of roof, iron rods, stone and marble. The result is that the flats, houses and shopping complexes built by them start looking worn-out and dilapidated within a few years of construction.
THIS has been the practice in the three Authorities for several decades. There are umpteen examples of how political patronage has helped greedy officers collect commissions from farmers, builders, contractors and people in general. The contractors and builders, in turn, cheat the common man who buys flats, houses and shops built under the tutelage of the Authorities.
Once in a while, a Neera Yadav (former CEO of Noida Authority and former Chief Secretary in Uttar Pradesh) or a IAS's Rajiv Kumar gets convicted for being part of a land allotment scam or allotting plots on the sly to politicians and industrialists. Once in a while, a Yadav Singh is found in possession of cash running into crores of rupees and investment in around a dozen-and-a-half builder projects. And, once in a while, Nitin Rathi, an assistant in the sports department, is suspended for making millions by selling fake plots to people. But it does not take long for the dust to settle and the bribery routine to resume.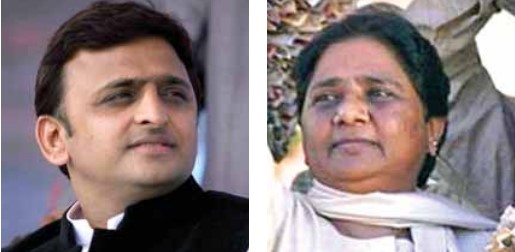 It happened in the case of Singh, considered close to the Bahujan Samaj Party (BSP) government, who faced heat from the State investigating agencies in March 2012 after the Samajwadi Party swept into power. He was placed under suspension. An FIR under the Prevention of Corruption Act and the Gangster and Anti-Social Activities (Prevention) Act was filed against him and a red corner notice was issued. Even a five-star hotel in Noida, where he was believed to have a stake, was sealed. But 20 months later, everything was forgotten. His suspension was revoked and he was given charge of all three Authorities.
THE Noida Authority is by far the largest among the three Authorities. It has slashed the limit of e-tendering from Rs. 2 crore to Rs. 10 lakh in the wake of Singh's case to bring about transparency in the system. The authority has also appointed Akhilesh Singh, Additional Chief Executive Officer and its media interface, as vigilance officer.
Relatives rule the roost in Authorities
Yadav Singh's son, Sunny, is a manager in the Greater Noida Authority.
Ravindra Singh Tongar's brother, Avnesh, and nephew, Manendra Panwar, are Authorities' employees.
Samajwadi Party leader and former minister in Akhilesh Yadav's government, Narendra Bhati's brother, Kailash Bhati, is a Senior
Manager in the Noida Authority.
Samajwadi Party leader and District Panchayat Chairman Gautam Buddh Nagar, Ravindra Bhati's brother, Yogendra Bhati, is also employed in one of the Authorities.
Local BJP leader Bijendra Bhati's son, Ajab Singh Bhati, works for the Greater Noida Authority.
Mayawati's nephew, Vinod, is a peon in the Greater Noida Authorit
Another official, Ravinder Singh Tongar, then General Manager (Property) in the Greater Noida Authority, who was considered close to Mayawati's brother, Anand Kumar, was raided by the Income Tax Department and placed under suspension two years back after the regime changed in Lucknow. Later, he was reinstated and allowed to quietly demit the Authority office.
A Noida Authority spokesman attributed Singh's reinstatement in November 2013 to a District Court order. "The court accepted CB-CID report and reinstated him," he claimed. The question is why, on what grounds and on whose orders the CB-CID gave a clean chit to Singh. The spokesman said the Authority was waiting for a detailed income tax report to initiate further action against Singh.
Singh is believed to have told the income tax sleuths that the cash recovered from the SUV belonged to a builder. The SUV was also registered in the name of the same builder.
Another interesting feature of the nexus is that every political party worth its name reportedly gets to share the pie in recruitments. So, you have kin of Bahujan Samaj Party, Samajwadi Party and Bharatiya Janata Party leaders serving in the three Authorities together.
Mayawati's brother, Anand Kumar, rose to become an alleged billionaire from a lowly position in the Noida Authority. Officials in the Greater Noida Authority, who worked with Kumar, recollect how he joined as a carpenter in 1997 and lived in government quarters but rose to become a coloniser and hospitality baron within years. He resigned from the Noida Authority after Mayawati returned to power in 2007.
The BJP's Lok Sabha MP, Kirit Somaiya, dug out details of the various companies floated by Kumar and made a complaint to the Ministry of Corporate Affairs. The ministry asked the Registrar of Companies, Kanpur, where Kumar's companies were registered, to submit a detailed report. One newspaper report had put the number of his companies at 49. The ministry found prima facie violations, but nothing is heard of the case now.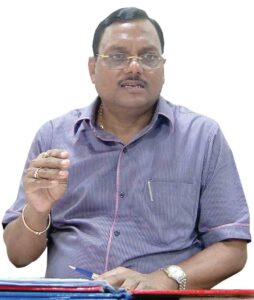 A majority of the contractors who build, develop, lay sewer lines and water pipelines, raise boundaries, instal gates and do horticultural work, are either relatives of leaders or workers of the ruling political party. Ramanand Nagar (name changed), a BSP office-bearer and builder, who has built flats in Gautama Buddh University and houses in some sectors of Greater Noida, enjoyed better times when his party was in power. His company is now out of favour with the SP dispensation; so much so that an officer in the Greater Noida Authority wrote on his file that he should not be paid for the construction of flats in the university till the flats were occupied.
NAGAR and other contractors, who were aligned with the BSP, had to pay an alleged extra 6 per cent to the Samajwadi Party (SP) after the Akhilesh Yadav government was formed in the State. The payment ensured that they faced no inquiries. There were many contractors who switched loyalty to the SP. There are some new contractors who are either related to the SP leadership or work under its patronage.
Each time a political party gets into power, its first priority is to fill up the Authorities with either relatives of its bosses, or put its men in sections like property where the flow of bribes is more
In normal circumstances, Authority officers should be dictating terms to the contractors. But since the contractors owe allegiance to the SP regime, the former are in no position to do so. More often than not, the contractors leave their work unfinished and still get their payments. There are officers highly placed in the three Authorities who play the eyes and ears of the ruling families.
Rama Raman, current Chairman and CEO of all the three Authorities, was unavailable for comment despite repeated attempts. A 1987-batch Uttar Pradesh cadre officer, he was given additional charge of the Noida Authority in January 2013 after Sanjeev Saran was sacked by the Akhilesh Yadav Government.
The Noida Authority spokesman said that he had never received a complaint about corruption in his one-and-a-half years' tenure. Surprisingly, he said this immediately after a villager recounted to him a case where a commission of Rs. 25 lakh was allegedly extorted by an Authority officer from a farmer whose land had been acquired by the Authority.
Former Samajwadi Party minister Narendra Bhati denied the allegation that his party took cuts from the contracts approved by the Authorities. Bhati alleged that this was a practice in the Mayawati government's time and that his party's government had put a stop to it by introducing online application of every tender above Rs. 10 lakh.
Bhati, who is considered close to Mulayam Singh Yadav, said some touts might be collecting money in the name of his party. "Kitne hi dalal hain jo government ke naam pe paise khate hain. Authorities ke aaspas dalal hi dalal hain (There are so many touts who take bribes in the name of the government. Authorities are surrounded by touts)," Bhati, who unsuccessfully contested the last parliamentary election from the Gautam Buddh Nagar seat, observed. He alleged that during the Mayawati government's time, a cut of 5 to 7 per cent was fixed for the BSP in every tender. When asked why the Akhilesh Yadav government was not getting it probed, he retorted by asking how many inquiries the government could order.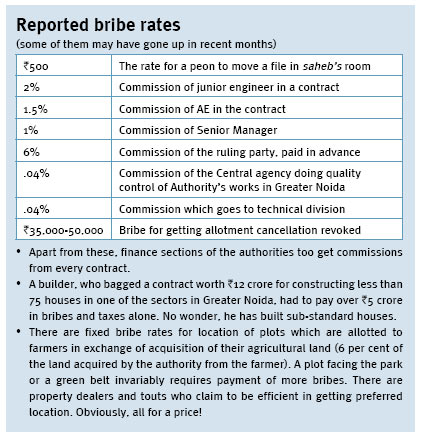 Bhati alleged that Singh's diary, having 549 names, would disclose the misdeeds of the Mayawati regime. He was on the defensive when asked about the reinstatement of Singh in November 2013: "Kitna bhi bada chor ho. Evidence zaroori hai (Howsoever corrupt a person is, you need evidence to prosecute him). CB-CID did not find evidence against him."
Bhati claimed his brother, Kailash Bhati, a Senior Manager in the Noida Authority, was an MBA and recruited on merit. He said Kailash was not handling a lucrative post. He also remarked that, unlike government officials, politicians were unable to hide their ill-gotten wealth.
BSP leader Satish Chandra Mishra was unavailable for comment. BSP MP in the Rajya Sabha Ambeth Rajan said he had no knowledge of the subject and, therefore, was not in a position to react to the allegations.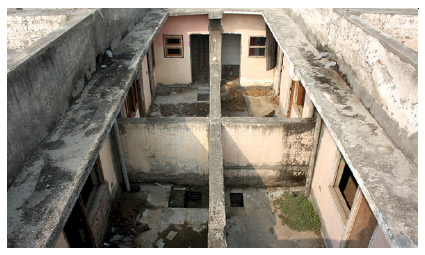 The BJP, whose Uttar Pradesh leaders have met Authorities' Chairman Raman twice in recent weeks regarding Singh's case, plan to intensify their stir against the bribe culture in the Authorities. UP BJP Chief Laxmikant Bajpai told gfiles that he would take the agitation to every district of the State. He alleged the ruling political parties filled up the Authorities with their men. When told that a BJP leader, who was a Revenue Minister in the Mayawati government, had three of his relatives working in the Noida and Greater Noida Authorities, Bajpai disowned the leader. "He is a defector, a Rajput (one who always aligns with raj (government)," he said.