MAHESH Neelkanth Buch, a diminutive Gujarati bureaucrat from the Madhya Pradesh cadre, stood much taller than even the tallest of the Indian Administrative Service (IAS) officers throughout his distinguished service and even afterwards.
In his passing away at 82 on June 6, not only the once-robust steel frame of the country but sectors like environment, urban planning and public administration also lost a lot. He was indeed a rare breed among this powerful tribe! But he seldom used his 'power' for the wrong reason. He was respected, feared, contested, criticised but also loved a lot by people in MP.
Buch belonged to the 1957 batch of the IAS. He never confined himself to issues pertaining to Madhya Pradesh alone. During service he always thought and fought for the betterment of his state and post-retirement he always aired his concerns over divergent issues such as India's foreign policy, Naxalism, environment degradation, the Narmada issue, tribals' forest rights Act, corruption in the bureaucracy, constitutional amendments, Kashmir and so on. AK Pandya, his batchmate said: "Buch's brain overworked for close to 35 years. Post-retirement, he would never rest but keep working…give dictations to his steno on various issues for close to three-four hours daily."
Buch is perhaps the only person, who, as an experienced administrator, wrote the largest number of letters on burning topics to the then Prime Minister, Dr Manmohan Singh, suggesting changes in policy or thinking of the government on a range of subjects. He was considered the modern creator of a well-laid out Bhopal, among the most green and clean capitals of India.
He was the father of the Town and Country Planning Act, that laid down the basic principles of urban planning, a relatively new subject in India then
Arguably, he was an officer with extraordinary zeal for the welfare of society and good governance. He was a fountainhead of enthusiasm and ideas. Madhya Pradesh was just one year old as a state when he joined the elite service. A chip of the old block (his father was an ICS officer), Buch did a lot to shape the destiny of the Central Indian region. His stints as district collector in Ujjain and then at Betul are still remembered by officers, politicians and people there. He was the father of the Town and Country Planning Act, that laid down the basic principles of urban planning, a relatively new subject in India then. But he was never seen as a highhanded, arrogant bureaucrat.
As vice chairman of the Delhi Development Authority (DDA) , during the Janata Party Government under Morarji Desai, he helped many citizens get their rightful possession of houses or shops. DDA was always known to be a den of corruption, but not during his stint.
He was always tough on corrupt politicians, goondas and work-shirking officials. There are a number of stories about his willingness to take on the powerful with a degree of courage and boldness to do justice to the society at large. He served under Govind Narayan Singh, S C Shukla, PC Sethi and Arjun Singh–all mighty CMs, before taking voluntary retirement in 1984 to fight a Lok Sabha election from Betul as an Independent. Unfortunately, he lost narrowly in the Indira Gandhi sympathy wave that blew across India, to Aslam Sher Khan, the hockey player. Although Shukla had a liking for him, he could not get along well with most of his political bosses due to his transparent behaviour and honest, pro-poor approach. Buch was a rule-bound bureaucrat who earned many public accolades throughout his chequered career. He was awarded Padma Bhushan in 2011.
What an independent-minded bureaucrat has to face, he too had to face but he did it with aplomb. He had no special liking for Arjun Singh and later his protege, Digvijaya Singh, but both respected him a lot. The day he died, Digvijaya left family wedding functions to visit his house at 11 pm to be with Mrs Nirmala Buch, a former chief secretary in the Sunderlal Patwa-led BJP government.
Incidentally, it was against Digvijaya's administration, during the mid-90s, that Buch wrote a series of critical articles in the Hindustan Times on the poor scenario in education, urban governance, agriculture, water problems and social sectors.
Buch wrote books on urban planning and then an autobiography, besides numerous articles in newspapers, after retirement.
In the '80s he was the Secretary of the National Urbanisation Commission, with architect Charles Correa as its Chairman. They drafted India's urban policy with farsighted vision, when present-day urbanisation problems were unheard-of.
Buch had command over many subjects and was considered the doyen of urban planning and environment.
What was most important and rare about the person was that he continued to remain active and concerned about the public good. When the Modi government decided to amend five environment laws in one go and formed the TSR Subramanian Committee, last year, Buch wrote a stinking letter to the committee against tinkering with the laws to suit the new government's agenda. He was never anti-development but cutting of trees and damaging environment always pained him.
Ramdas: A life of service remembered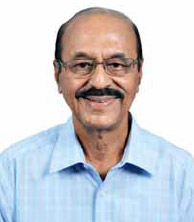 CN Ramdas, a top bureaucrat from Chennai and a former Secretary to the Government of India, Ministry of Surface Transport, passed away on June 15 at his home in Chennai. He served most of his career in Tamil Nadu and held various key portfolios such as Information, Education, Revenue and Municipal Administration, among others, before moving to the Central government. He had the distinction of serving under seven Chief Ministers in Tamil Nadu.
As Secretary of Surface Transport in New Delhi, he was part of the team that ushered economic reforms in India. He restarted the National Highways Authority of India and spearheaded the Golden Quadrilateral highways project across India. He also sanctioned the Encore Port project in Tamil Nadu, making the state the only one with three major ports in India. He also secured loans from the World Bank and the Asian Development Bank for key road projects, including the scenic East Coast Road in Chennai. Over his years in service, he was responsible for the rehabilitation of Sri Lankan refugees, disaster management, introducing sodium vapour lamps in Chennai as a model for the rest of the country in the early 1980s, and won awards for revamping various industry sectors in Tamil Nadu and even the prestigious President's award for productivity.
Ramdas was a 1960-batch IAS officer which had others like former Finance Minister, Yashwant Sinha, former Chief Vigilance Commissioner N Vittal and former Chairman of the IRDA, N Rangachary.
Ramdas dedicated his life to helping people with yeoman service within the Rotary Club of Madras, mentoring junior officers, helping companies with projects valuable to the country, and providing support for charitable causes. His house always hosted people in need of his help and network of contacts.
A dedicated father whose two sons have done him proud as engineers from the prestigious Guindy Engineering College, national-level rifle shooters and award-winning businessmen, Ramdas was ably supported through all his endeavours by his wife, Nirmala. He will always be remembered for his quick wit, prolific puns, encyclopeadic knowledge and a large heart for helping those in need.
The writer is National Political Editor, Dainik Bhaskar Group, and divides his time between Delhi and Bhopal.