THE meaning of governance, according to the Oxford Dictionary, is the action or manner of governing a State, organisation, etc. But the ten-letter word takes hundreds of connotations when gfiles, the undisputed leader in the print and digital segment of the media catering to governance and bureaucracy, decides to cull out the best performers from among the civil servants across the country and honour them.
It becomes the means to reach the poorest of the poor using science, information technology and whatever other tools available. It turns into a channel to accomplish the pending projects at the earliest, earn revenue from the completed ones and plan new projects for the future. It becomes the time value of different commodities which are a bare minimum for the common man and time value of money set aside for a project. It becomes the method of chalking out priorities on how to serve the hoi polloi. To borrow one of Prime Minister Narendra Modi's favourite phrases, it becomes 'minimum government, maximum governance'.
It is no more the term, most misunderstood, abused and slandered. It manifests into a phrase which stands for appreciation of the unsung and recognition for the anonymous. It becomes a motivation for the tens of thousands of civil servants to work harder, innovate new methods, approaches and tools to reach what Mahatma Gandhi called 'poorest and weakest man you have seen'.
This is what happened when gfiles—the largest publication in its domain reaching the entire spectrum of the central and state governments including ministers, governors and members of Parliament, central and state civil services, public sector undertakings, judiciary, diplomatic arena, banks, financial institutions and enjoying 21 lakh hits on internet—decided to award 11 best civil servants of the country in Civil Services Officers' Institute in New Delhi on November 26 this year.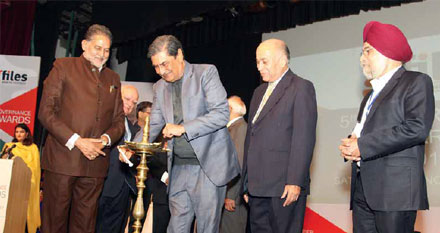 THEY were chosen through a year-long process by a jury whose members boast of unimpeachable service records and unquestionable integrity. How else do you describe Prabhat Kumar, former Jharkhand governor and Cabinet Secretary, Anil Razdan, former Power Secretary, Vishnu Bhagwan, Former Chief Secretary, Haryana and MB Kaushal, Former Secretary (Internal Security) and Delhi Police Commissioner.
Like in the past, this time too bureaucrats were felicitated with Lifetime Achievement Award, four Exceptional Contribution Awards and half-a-dozen Excellent Contribution Awards
This was the fifth annual governance awards ceremony the magazine organised in as many years. Like in the past, this time around too the publication honoured and acknowledged the bureaucrats with Lifetime Achievement Award, four Exceptional Contribution Awards and half-a-dozen Excellent Contribution Awards.
Dr Raghunath Anant Mashelkar

President Global Research Alliance
There must be an emphasis on making high technology work for the poor. I look at India not as 1.25 billion mouths but 1.25 billion minds.
Sanjay Kumar


IFS (Deputy Inspector General,
National Tiger Conservation Authority)
I entered into forest service because I thought there will be no political interference in it. I was wrong. But if you are fair and truthful in dealings nobody will get after you. We have to talk on those paths where we will fall and reassemble, we are those lamps which burn to give light to others.
K Balamurugan IFS,

Regional Passport Office, Chennai
When I used to work in the ICAR in Ranchi as a horticulture scientist, my entire objective was how much of the benefit (of agricultural advancements and growth) goes to tribal fields.
Vikas Arya

IRSME (Director, Ministry of Family Welfare)
I love my job. My boss and mentor (Ashwani) Lohani greatly encouraged me in restoring 120-year-old locomotive facility in Rewari. I have brought ten locomotives back to their prime. With this award, I have got appreciation.
Mandeep Singh Randhawa

IPS (Deputy Commissioner of Police, Central District, Delhi Police)
The main objective of e-saathi is to serve people. Our work was recognised by Limca Book of Records. The gfiles award will be a great motivation.
Saurabh Kumar


IRS (Managing Director, Energy Efficiency Services Limited (EESL), Ministry of Power
We have presented a new way of doing things (distribution of LEDs). This is service model. India is leading the global LED market. (But) this is only the beginning.
Sutirtha Bhattacharya

IAS (CMD, Coal India Limited)
I was once power secretary (Principal Secretary (Energy), Government of Andhra Pradesh). I remember how we would run for coal. I have appointed State and ministry officials to liaison with us.
RS Julania

IAS (Additional Chief Secretary, Panchayat and Rural Development Department, Madhya Pradesh)
Governance till now was an outstanding CR (confidential report). Now it is time value of water, time value of money and about completing pending projects and getting revenue from the com pleted projects.
N Prasanth IAS

(District Collector & District Magistrate, Kozhikode, Kerala):
Nobody goes hungry in our place. People are given food coupons and can eat in any restaurant. You can check compassionatekozhikode.in. I am very happy our entire team has been recognised.
Amit Lodha


IPS (DIG, BSF, Jaisalmer)
We named our police-public partnership Sambhav in Nalanda. We behaved as if public was our consumer. It has now become a revolution. Now it is going on in many districts of Bihar.
                          Chaudhary Birender Singh
Union Minister for Steel


Governance should rest with political authority and administrative part should rest with bureaucracy. There is a need to narrow down the gap between what the politicians dream of and what the civil servants deliver to the people.
Ram Bilas Sharma

Education & Tourism Minister, Haryana
People often abuse IAS, IPS and other officers. It is wrong. I have worked with many honest and competent officers. It is commendable that gfiles acknowledges the good work done by them.
MC Gupta


Former Chief Secretary, Haryana Government
Civil services is one of the factors that has kept India together. gfiles is a special type of journal. It gives huge respect to civil services.
Anil Razdan


Former Power Secretary, member of Jury
We in the jury do not look at personalities. We look at work. We cull out the awardees from the vast amount of data. It has been the experience of the jury that the awards make an impact.
Prabhat Kumar


Former Jharkhand Governor and Cabinet Secretary and Chairman of the Jury
It is an occasion to celebrate our awardees, and hear their stories… The process of selecting awardees is an objective process…there is no shortage of extraordinary achievements. Now there is a torrent of such cases.
The Lifetime Achievement Award went to Dr Raghunath Anant Mashelkar, the pioneer of 'Gandhian Engineering', who transformed Council of Scientific & Industrial Research (CSIR), the world's largest chain of laboratories, into one of the biggest achievers of the 20th century and who has used 'bottom-up' chemical engineering to benefit the common Indian.
A recipient of Padma Vibhushan, 37 honorary doctorates and several other awards, Mashelkar felt 'honoured, privileged and humbled' after receiving the Lifetime Achievement Award
Mashelkar, who calls himself a 'dangerous optimist', got the Award for his magnanimous contributions in innovation, science and society. Union Minister of Steel, Birender Singh, Haryana's Education & Tourism Minister, Ram Bilas Sharma, and the jury members bestowed the honour on Mashelkar. He received a memento, a commendation certificate and was also presented a shawl.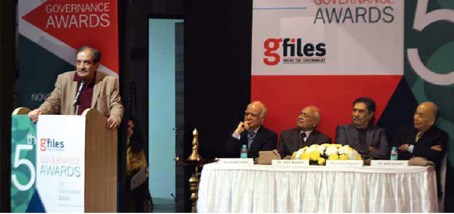 A recipient of Padma Vibhushan, 37 honorary doctorates and several other awards, Mashelkar felt 'honoured, privileged and humbled' after receiving the Lifetime Achievement Award. The engineer, who lost his father at the age of six and migrated to Mumbai from his village with his 'illiterate' mother in his childhood, attributed his achievements to his school principal Bhave, who taught him how to harness his energies and focus on his goals. The principal, he recalled, demonstrated the power of convex lens and inspired him to develop convex lens leadership.
In his thanksgiving address, Mashelkar claimed there was no limit to human endeavours and achievements. He emphasised on using 'affordable excellence' and 'high technology' to work for the poor. The engineer, who is often put in the league of former President APJ Abdul Kalam due to his infectious positive thinking, preferred to look at the country's 1.25 billion population as '1.25 billion minds' and not as '1.25 billion mouths'.
Saurabh Kumar, Managing Director, Energy Efficiency Services Limited (EESL), Ministry of Power, received Exceptional Contribution Award for promoting LED (light-emitting diode, the two-lead semiconductor light source), which has appeared as a panacea for cutting down energy consumption and charges in the country. Kumar said the award gave him and his team a 'lot of encouragement'.
SANJAY Kumar, Deputy Inspector General, National Tiger Conservation Authority, Ministry of Environment, Forest and Climate Change, got the Exceptional Contribution Award for clearing encroachments from Dudhwa Tiger Reserve in Uttar Pradesh. Kumar believes if a civil servant is fair and truthful in his dealings, nobody would harass him.
K Balamurugan, Regional Passport Office, Chennai, collected the Exceptional Contribution Award for setting up a social audit cell to take the benefits of horticulture advancements to the tribals in Jharkhand. Balamurugan recollected he was the first person in his village to have obtained graduation. OP Singh, Director General, Central Industrial Security Force (CISF), on the other hand, got the same award for successfully leading disaster relief operations during the deluge in Jammu & Kashmir, Nepal and Chennai last year.
Sutirtha Bhattacharya, Chairman & Managing Director, Coal India Limited, RS Julania, Additional Chief Secretary, Panchayat & Rural Development Department, Madhya Pradesh and N Prasanth, District Collector & District Magistrate, Kozhikode, Kerala, were conferred Excellent Contribution Awards.
So were Amit Lodha, Deputy Inspector General, Border Security Force, Jaisalmer (North), Mandeep Singh Randhawa, Deputy Commissioner of Police, Central District, Delhi Police and Vikas Arya, an officer of Indian Railway Service of Mechanical Engineers.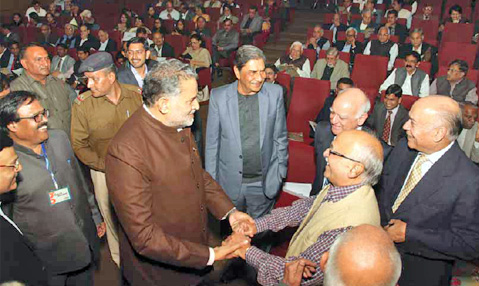 Arya, presently a Director in Ministry of Family Welfare, has worked on preservation of 10 steam locomotives which were abandoned after the introduction of the diesel engines. He said he loved working on the 'black beauties'. Randhawa created an app, e-saathi, to reduce the gap between the local police and the general public. Lodha, a Bihar cadre IPS, on the other hand, launched a project called Sambhav on police-public partnership during his first posting in Nalanda, a district in Bihar. He says the police under him treated the public as their 'consumers'.
N Prasanth has launched Operation Sulaimani in Kozhikode, the district on the Malabar Coast of Kerala, to ensure that nobody in his district goes to bed empty stomach. He was happy that gfiles recognised his team for doing the project.
JULANIA has made micro irrigation easy in Madhya Pradesh by taking water from eight lakhs to 32 lakh farmers. He said this was first time he decided to accept an award. "When I got to know that Dr Mashelkar is going to get Lifetime Achievement Award and former Cabinet Secretary (Prabhat Kumar) and former power secretary (Anil Razdan) are part of the jury, I said yes to the award". Julania said his biggest motivation was when he saw people converting their kutcha houses in concrete ones.
Bhattacharya has been responsible for ending the coal shortage in the country. The Coal India Limited MD said he appointed State and central ministries representatives in the CIL to liaison with them on supply of coal. He said his past stint in the Power Ministry helped him understand the need of coal for power generation.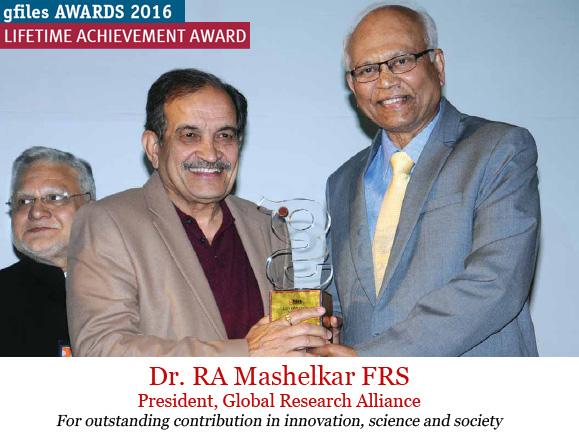 THE life and work of Dr. Raghunath Anant Mashelkar is an inspiration to all. A chemical engineer with PhD, he is only the third Indian engineer to have been elected as Fellow of Royal Society (FRS) London in the twentieth century, besides membership to many other renowned international bodies.
Dr. Mashelkar transformed the CSIR into a user focused, performance driven accountable organisation. He spearheaded successful challenges to the US patent on the use of turmeric for wound healing and the patent on Basmati rice. These landmark cases set up new paradigms in the protection of India's traditional knowledge base and initiated a change in the International Patent Classification System to give traditional knowledge its rightful place. He was a member of the Scientific Advisory Council to the Prime Minister and Scientific Advisory Committee to the Cabinet set up by successive governments.
Named among 50 path-breakers in post-independent India by Business India magazine, Dr. Mashelkar has been awarded honorary doctorate by 37 leading universities. Of the more than 50 awards that he has won, the notable include the JRD Tata Corporate Leadership Award, Business Week (USA) 'Stars of Asia', HRD Excellence Award and 15 Lifetime Achievement Awards. He was bestowed the Padmashri in 1991, Padmabhushan in 2000 and Padma Vibhushan in 2014.
Dr. Mashelkar currently is the President of Global Research Alliance – a network of publicly funded R&D institutes from Asia-Pacific, Europe and the US with over 60,000 scientists. Besides being on the board of leading corporates, Dr. Mashelkar is Chairman of India's National Innovation Foundation, and that of the High Powered Technology Expert Committee on Drinking Water and Sanitation in the Swachh Bharat Abhiyan.
A 1983-batch IPS officer of the Uttar Pradesh cadre, Shri Om Prakash Singh holds a Masters Degree in Political Science, MBA in Disaster Management and M. Phil from Madras University. As ADG and Addl. DG, Airport Sector, he spearheaded a series of innovative security measures to beef up the security apparatus of 59 airports, which includes 'highly sensitive' and 'sensitive', across the country. Keeping up the high-profile image of CISF, he strived to inculcate professionalism in functional calibre, etiquette and courtesy in the behaviour of the force.
As chief of the National Disaster Response Force (NDRF), Shri Singh led the rescue and relief operations during the unprecedented floods in J&K, providing much-needed succour to the distressed and marooned.
NDRF was the first foreign agency to reach Nepal during massive earthquake in 2015 and carried out Humanitarian Assistance and Disaster Relief operations under his able and inspirational command. During the Chennai floods in 2015, NDRF under his dynamic leadership and meticulous supervision, saved several precious lives and evacuated over 22,450 persons from the affected areas. IIT Delhi inspired by Shri Singh's leadership attributes came out with an elaborate case study, titled "Leading from the front: Awareness, Engagement and Intervention for Community Empowerment".
Shri Singh's selfless and outstanding service has won him many honours including the Indian Police Medal for Gallantry, Indian Police Medal for Meritorious Service, Police Special Duty Medal, Disaster Response Medal and President's Police Medal for Distinguished Services.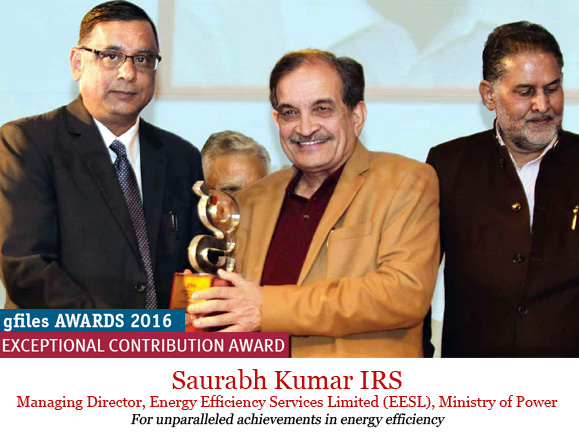 A 1992-batch Indian Revenue Service officer, Shri Saurabh Kumar has made significant contributions in the energy efficiency sector. As Managing Director of EESL, he implemented the world's largest non-subsidy based LED lighting programme resulting in the distribution of over 17 crore LED bulbs in 17 states/ UTs benefitting more than 4 crore households. The price of LEDs has reduced by over 83 per cent in the last 2 years due to transparent procurement practices.
Under his stewardship, EESL also implemented the Street Light Programme where more than 14 lakh street lights have been replaced by LED street lights at no capital cost to municipal bodies. The entire investment is done by EESL and is being paid back by savings over a seven-year period. Over 140 municipal bodies have benefitted from this programme. Using IT to enhance transparency of operations and real time monitoring, EESL has been able to reduce peak demand of about 3500 MW.
Shri Kumar is also credited with achieving unprecedented growth of EESL over the last 2 years with the company witnessing its turnover increase from Rs 26 crore in 2013-14 to Rs 710 crore in 2015-16, earning a profit after tax of Rs 35 crore. With the 2016-17 Q1 turnover already at Rs 370 crore, this year's target is Rs 2,000 crore with the company planning to enter international markets.
He is also been credited for operationalisation of tax assessment of political parties for the first time in 1996-98 under the guidance and supervision of the Supreme Court during his stint in the Income Tax Department and was a part of the team that initiated the restructuring of the Department in 1999-2000.
An electrical engineer from IIT Kanpur, he has a Masters Degree in Public Policy from the National Graduate Institute of Policy Studies, Tokyo (Japan).
AN Indian Forest Service (IFS) officer of the 1996 batch, Uttar Pradesh cadre, Shri Sanjay Kumar has an exceptional record of dedication achieving remarkable successes under challenging circumstances. He has been at the forefront of environment protection and conservation efforts in the country.
As Divisional Forest Officer at Obra, Sonebhadra District, Uttar Pradesh, Shri Kumar was responsible for successfully ending illegal sand mining which had previously continued unabated with notoriety. At Sohelwa Wildlife Division in Balrampur and Shrawasti Districts infamous for rampant illicit forest felling and abuse of vulnerable farmers, he made untiring efforts to boost the morale of forest officers and tightened the noose on nefarious activities.
Famous for his immaculate attention to detail, Shri Kumar is credited with favourable legal judgments for the department and foiling several attempts to misrepresent forest land as non-forest by vested interests and land mafia, thereby furthering environmental safeguards and protecting the livelihood of multitude of villagers. At the Dudhwa Tiger Reserve, he successfully carried out hassle-free eviction of encroachment.
On the wildlife front, Shri Kumar has accomplished numerous successful operations including seizure of illegal wildlife trafficking and busting of poaching and smuggling syndicates. He revived the 'Extension & technology demonstration for in vitro clonal multiplication of Bamboo and Sheesham', which paved the way for establishing the scientific credentials of the UP Forest Department in the field of production of edible bamboo using tissue culture technique.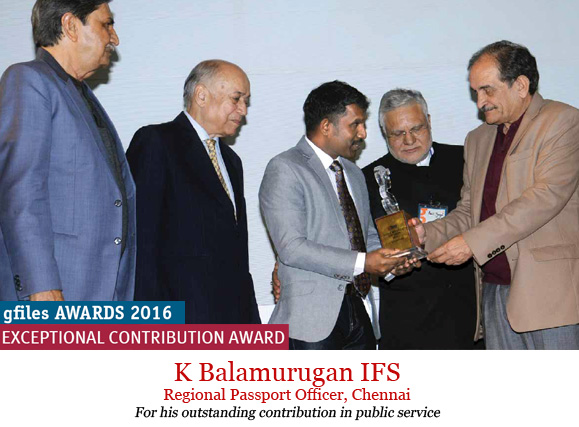 AN officer of the 2002 batch of the Indian Forest Service (IFS), West Bengal cadre, Shri K Balamurugan adopted his native village, Siruvathur situated in an isolated region in Tamil Nadu, to help 2,500 families of the village get clean drinking water, free rice bags, street lights and other basic amenities. The residents were living a very harsh life, leading to mass migrations. Villagers needed to take a circuitous 15-kilometer course around the Keedalam River to get to another village called Panikamkuppam. They got huge relief when he got a causeway built between the two hamlets. Balamurugan wants to ensure that no one from his village has to migrate in the future and is also working hard to restore and renovate the government high school.
A post graduate in Forest Management from the Indira Gandhi National Forest Academy, Dehradun, Ministry of Environment & Forest, Government of India, Shri Balamurugan has been a meritorious scholar winning several scholarships, including National Merit Scholarship for 1st rank in graduation from the Government of Tamil Nadu, Junior Research Fellowship from National Council of Agricultural Research, and Global Leader's Ch evening Scholarship Award by Foreign & Commonwealth Office, of the Government of UK.
In recognition of his remarkable contribution, Shri Balamurugan received several national and state awards including Passport Puraskar in 2015 and 2013, respectively, for improving passport services in Chennai and for rolling out the first Passport Office in Trichy as an e-governance project. He was also bestowed with Recognized Trainer in e-Governance Award in 2016. After having served as forest conservator since his induction into the service, he served as Regional Passport Officer, Trichy during 2010-14 on a central deputation. He is currently pursuing MA in Governance and Public Policy at University of Sheffield, UK.
A 1985-batch IAS officer of the Telangana cadre, Shri Sutirtha Bhattacharya did his graduation from Presidency College, Kolkata. His varied experience in different sectors of governance and unfaltering dedication has endowed vital impetus to public sector enterprises. A strong advocate of clean energy, he is credited for ushering in heightened social and environmental consciousness in the outlook of industry.
Shri Bhattacharya has been Managing Director of Nizam Sugar Factories, Commissioner of Industries, and Secretary in-charge of Irrigation Department, among other posts. As CMD, TRANSCO he was chairman of the Andhra Pradesh Coordination Committee and oversaw review all AP Discoms. As Principal Secretary (Energy) and Chairman, APGENCO, he vastly improved the quality of power supply. As Principal Secretary (Infrastructure & Investment), he successfully executed port, airport, natural gas and public private partnership projects. Prior to this, he was CMD of the Telangana-based Singareni Collieries Company Limited.
Shri Bhattacharya is currently the Chairman & Managing Director of Coal India Limited. He has initiated the shift to Clean Coal technology to reduce environmental impact while concurrently seeking to double coal production to meet the energy needs of our growing economy. For this, he aligned critical components of the system such as acquisition, green clearance, evacuation, transport, technology upgrade and ICT integration unveiling the roadmap and strategies for achieving 1 Billion Tonnes in coal production by 2019-2020. He was instrumental in the creation of the Coal Projects Monitoring Group (CPMG) that monitors project related issues with various ministries and state authorities. The CMPG has made remarkable contributions towards enhancing project efficiency.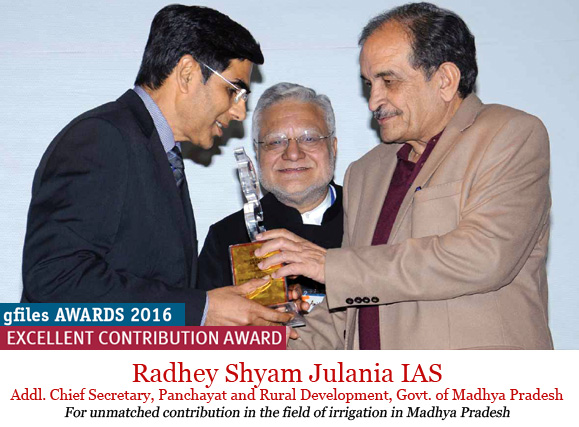 A 1985-batch IAS officer of the Madhya Pradesh cadre, Shri Radhey Shyam Julania is credited with having increased the land under irrigation in the state from 7.5 lakh hectares to 28 lakh hectares in just 6 years, and bridged the capacity and utilisation gap leading to increase in irrigation by 12.5 lakh hectares besides creating new capacity addition of 8 lakh hectares. He prioritised projects which were near completion so that the benefits of investments start flowing. His commitment and dedication led to the completion of more than 1,500 minor, 25 medium and five major projects in the state.
Shri Julania could achieve such a feat by putting transparent systems in place for identification of new projects, assessing pre­feasibility of projects, merit based sanction of new projects, and developing a model contract agreement with e-­tendering and time bound award of contracts with efficient HRM system through assignments, transfers, rewards and punishment. Shri Julania countered all hurdles, court cases and opposition from strong lobby groups due to his sheer forthright approach and a no- nonsense work culture.
Systems were put in place for SMS based monitoring, weekly video conference leading to timely resolution of problems and monitoring of construction related issues. Budget management, fortnightly reviews and timely payment to contractors, for land acquisition and rehabilitation ensured completion of projects without cost overruns and led to substantial saving. His efforts resulted in the per hectare micro irrigation cost going down to about 1/3rd from about Rs 4.50 lakh to Rs 1.50 lakh and the per hectare irrigation cost of greenfield projects in MP becoming the lowest in the country.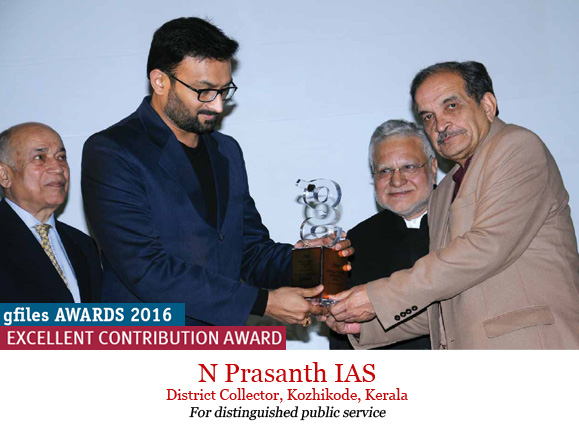 A 2007-batch IAS officer of the Kerala cadre, Shri N Prasanth is an ambassador of innovative public service approach. He has been a remarkable model of statesmanship in various administrative domains and has made vital contributions towards good governance.
Conscientious, technology-savvy and outgoing in nature, Shri Prasanth is well-known for the value he attaches to proximity with the people at large, a virtue which has been well received by citizens of the country making him a popular figure on social media. He advocates and successfully executes the active use of interactive digital media for governance.
A champion of collaborative action, he involved the society as stakeholders of welfare administration developing transparent and effective systems of service dispensation. As head of the District Administration in Kozhikode District of Kerala, he conceived and instituted the Compassionate Kozhikode Initiative to bring about a qualitative difference by securing shelter, health and financial inclusion to the marginalised sections of society. As part of the programme, Shri Prasanth also introduced "Operation Sulaimani"- a joint effort of the District Administration and Kerala Hotel and Restaurants Association to provide 'food with dignity' to the most vulnerable sections of society. Operation Sulaimani which draws inspiration from the Malayalam movie Ustad Hotel ensures that no one in the district goes hungry and in effect anchors the right to food.
His exceptional work and contributions has received extensive acclaim. He has been the recipient of the Social Empowerment Award of the Digital Empowerment Foundation and Compassionate Kozhikode has been highlighted as one of the 50 inspirational projects from around the world and the only one highlighted from India in the Internationale Tourismus-Bourse (ITB) Berlin.
A 1998-batch IPS officer of the Bihar cadre, Shri Amit Lodha has achieved tremendous successes under challenging circumstances, bearing illustrious testimony of his dedication and commitment to the service of the nation. As a young IPS officer in 2001 when Nalanda was infested with crime and extremism and was shrouded in unemployment, poverty and communal tension with general public antipathy towards the police, his unflinching determination to transform the social environment of the district improved the state of affairs immensely due to the initiation of a series of coordinated community policing programmes.
He launched SAMBHAV- an organization under the aegis of the Nalanda district police to tap the power of the youth towards community development. The organization successfully engaged the youth in tackling important social issues such as drug and tobacco abuse, illiteracy, dowry, public sanitation, and carried out entrepreneurship and skill enhancement activities, cultural, literary and sports programmes to provide healthy and gainful avenues to the people. The initiative gained massive response and public support. The achievements of this initiative were widely appreciated. Besides getting special mention in the official journal of the Bihar Police, it was highlighted in the Bureau of Police Research and Development of India in its National Interaction Programme for Juvenile Justice and as model of community policing by senior police officers of India, US and the UK.
Shri Lodha played an instrumental role in a number of successful police operations, including the arrest of dreaded gangsters, neutralizing and controlling naxalite activities and rescue of kidnap victims. He significantly revamped intelligence networks in trouble-torn regions and engineered seamless integration of information technology in the system, vastly enhancing efficiency and effectiveness of the force.
A N 2006-batch IPS officer of the AGMUT cadre, Shri Mandeep Singh Randhawa has a covetable record in the domain of law and order. His diligent efforts, exceptional leadership and professionalism transformed the Delhi Police into a people driven tech-savvy force.
As Deputy Commissioner of Police at South East District, Delhi, he implemented smart policing reforms integrating IT-enabled functions and mobile based application (e-saathi) to enable a people-friendly, citizen-police interface. This initiative has been credited for significant minimisation of the public trust deficit and enhancing police morale. Embedded with geo-fencing functions, the web and mobile applications of smart policing also provides information and procedural guidance to users.
Aimed at equitable distribution of police service, Shri Randhawa introduced the New Division System redistributing divisions, stations and booths to ensure visible presence and timely response for the convenience of residents. Pushing for wholesome modernisation, manual information filing and record keeping were replaced with the e-beat book – a software application for digital record keeping. He also initiated the installation of GPS systems in government vehicles and carried out CCTV installations at strategic locations to improve service quality. Police stations were given the due fillip for gentle and friendly ambience. Recog-nising the role of police in youth development, he launched Police Entertainment Team (PET) in localities to interact with the youth and has made commendable contributions towards woman safety. His undiluted thrust on preventive planning, beat-in-focus policing, and police-community partnership has led to a drastic fall in heinous crimes.
Shri Randhawa has been instrumental in cracking several high-profile cases including heist, murder and organ racket cases, and holds two Limca Book of Records.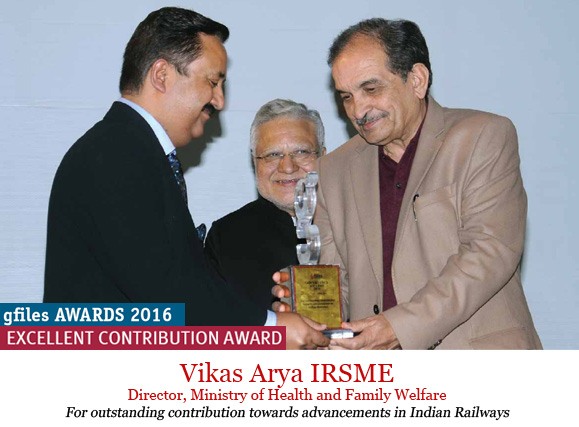 A 1992-batch officer of the Indian Railway Service of Mechanical Engineers (IRSME), Shri Vikas Arya is a visionary leader and outstanding team worker. He has made notable contributions towards the progress of railways and health and the family planning programme.
Taking charge of train operations in Delhi division in 2010, when it was reeling under recurring accidents attributed to human errors, he successfully implemented bold and unique initiatives to ensure accident free and safe train operations concomitantly achieving three consecutive years of zero accidents attributed to crew failure. Previously, his efforts on rolling stock maintenance led to a significant rise in productivity within two years, with no additional inputs.
With keen interest in railway heritage conservation, he resurrected several Vintage Steam Locomotives lying non-functional in various parts of the country and revived a 120 year old Steam Locomotive Maintenance facility at Rewari in Haryana to its pristine glory. Shri Arya is widely known for his works furthering the preservation of a unique human heritage — the steam locomotive — and has been closely associated with the Indian Steam Railways Society.
As Director, Ministry of Health and Family Welfare, he is credited with a complete turnaround in the procurement process to ensure timely availability of drugs, medicines, vaccines and equipment for various national programmes run by the Ministry. He successfully introduced changes in the system of vaccine procurement for the Universal Immunization Programme (UIP) and played a critical role in revamping social marketing progammes on family planning.
The continued dedication of Shri Arya has gained wide recognition and appreciation, earning him numerous awards.