THERE was a consensus among central ministers with previous experiences in civil services, and former and serving civil servants that the mainstream media and society does not highlight the good work done in the field of administration and governance. Prabhat Kumar, former Cabinet Secretary and the first Governor, Jharkhand, felt that "good work is boring" and, therefore, "not highlighted". General Vijay Kumar Singh, Minister of State for External Affairs, thought that "many who do tremendous work go unrecognised". Alphons Joseph Kannanthanam, a former IAS of Kerala cadre and now Minister of State for Electronics and Information Technology, Culture and Tourism, said that "many civil servants were doing amazing jobs".
Such views were expressed at the Sixth gfiles Governance Awards, 2018, which are annually given to civil servants from the various services and across the country stellar and outstanding works. To highlight the difficulties and challenges faced by the civil servants, General Singh narrated an anecdote from West Point, a military training academy in the US. "A sergeant was training the officer cadets. H gave them a problem—put a tank over the Commandant's house in 30 minutes. The cadets thought a lot and said that they couldn't find a solution. The sergeant then provided the answer—call your sergeant, ask him to do the work, and then go to sleep. This is what happens to civil servants, they are given a job, and they have to think how to get it done. The government wants results."
But there is still great fun, excitement, and adventure in getting work done. Alphons, who quit the civil services when he was 52, said that he didn't do it because he was dissatisfied. "If I am given several rebirths, I will still join the services, and then quit too. It is the best job, and offers the greatest opportunities. I am proud of the civil services. This country goes on because of the amazing civil servants. They represent the voices of the voiceless. And life in the services is great fun and provides an exciting life. As Commissioner, DDA, my wife and kids were beaten up, and two guns were pointed at me. When I won an award as Collector, the idea came from an illiterate 80-year-old lady."
Of the nine awardees this year, there were several who had used technology to benefit the society and masses in different ways… Of course, the awardees included the brave and the never-say-die civil servants
On serious notes, Kumar highlighted the fact that world-over the issues of ethics of governance were being seriously researched, even by global institutions like the World Bank and OECD. "The Department of Personnel and Training has started to train civil servants in this area. The Ministry of Railways has decided to train it 1.3 million employees in such ethics," he added. Setting standards of ethics in public service is crucial for governance. AK Seth, former Cabinet Secretary, said that the criterion for the selection of governance awards, either by the government or private agencies, have changed over the years. "Such shift is the reflection of the changes in society, whether they were brought about by the use of technology or social modes, or whether the priorities had changed," he explained.
Of the ten awardees this year, there were several who had used technology to benefit the society and masses in different ways. DR Mehta, who received the Lifetime Achievement Award, set up an NGO to provide artificial limbs and other aids to more than 1.5 million people in 27 countries. As the head of the Kanpur Electric Supply Company, Ritu Maheshwari introduced smart meters to reduce tampering and huge power thefts in the city. Ramesh Krishnamurthi single-handedly ensured electronic filing and centralised processing of income tax returns. And Kundan Kumar used mobile and smart TVs for animated and interactive video lectures in schools in Maoist-hit areas.
Of course, the awardees included the brave and the never-say-die civil servants. Roopa Divakar Moudgil took on AIADMK chief, Sasikala, and worked for prison reforms in Karnataka. U Sagayam fought against the granite mining mafia, which looted `16,000 crore in areas around Madurai. Ramesh Kumar Pandey fought against poachers for protection of wildlife, including the national animal, tiger. And Harsh Poddar educated the youth in the crime and terror-infested Malegaon.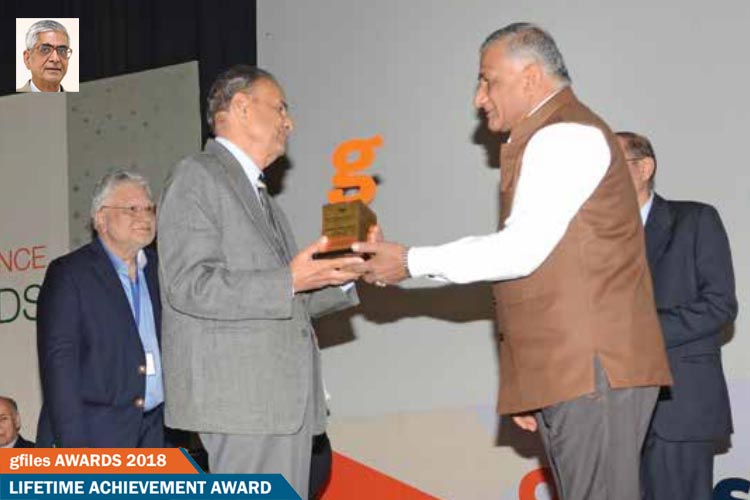 DR Mehta, Chairman
Poly Medicure Ltd and JMC Projects India Ltd
For revolutionising healthcare for the physically-challenged people
I consider it a privilege that I have been honoured with the GFILES Governance Award 2018. I wish to thank the Jury.
A 1961-batch IAS from Rajasthan cadre, DR Mehta held crucial posts such as Chairman, SEBI, Deputy Governor of the Reserve Bank of India, and Director General of Foreign Trade.
In 1975, he set up the Bhagwan Mahaveer Viklang Sayata Samiti, which has since rehabilitated more than 1.5 million polio patients and physically-challenged individuals in 27 countries, including India.
The Viklang Sayata Samiti provides free artificial limbs / callipers and other aids. He also runs a centre for leprosy patients.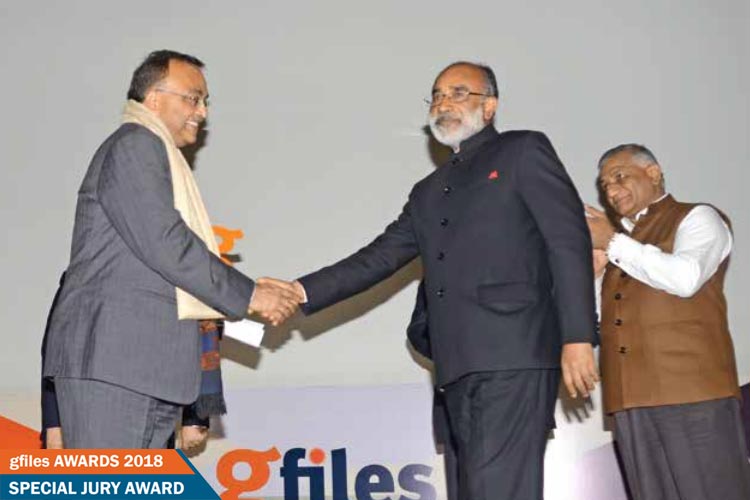 Amarjit Sinha Secretary
Ministry of Rural Development & Ministry of Panchayati Raj
For outstanding contribution in education, health, and rural development
"Thirty five years ago, like many young men and women, we had to make difficult choices. I had the Rhodes Scholarship to go to Oxford or and become an academician. Or I could join the civil services then, or never again. I wanted to be in public service to do something that engaged me with the poorest of the poor. That little call of making basic services reach the poor helped make the decision."
A 1988-batch IAS of the Bihar cadre, Amarjit Sinha is currently Secretary, Ministry of Rural Development, and Ministry of Panchayati Raj. He is the brain behind the designs of the Sarva Shiksha Abhiyan for universal education, and National Rural Health Mission to provide healthcare to all the citizens. Sinha energised three million elected representatives and 55 million women self-groups to participate and become accountable in leading government welfare schemes such as rural employment, rural housing, rural roads, and rural skilling.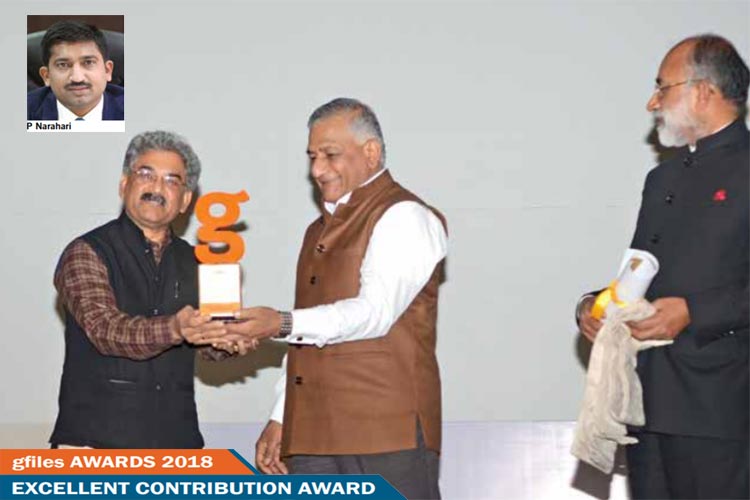 P Narahari Commissioner
Public Relations and Aviation, Madhya Pradesh
For unique socio-economic development initiatives
I am overwhelmed to receive this prestigious Award. As a Civil Servant work done in the field has always been to bring Public, Public Representatives and Govt machinery on a single platform. Any recognition for my work is a vindication of the above set of people. Thank you Gfiles once again for the motivation.
A mechanical engineer, post-graduate in economics, he is a 2001-batch of the Madhya Pradesh cadre. He is currently Commissioner, Public Relations and Aviation, Madhya Pradesh. In Singrauli, Narhari ensured peaceful and smooth land acquisition, along with effective resettlement and rehabilitation, for a major power project, which was replicated elsewhere. In 2006, the then Finance Minister, P Chidambaram, acknowledged his contribution to urban planning in his Budget speech. He developed a detailed project report for Indore. He has also worked for girl child empowerment under the Ladli Laxmi Yojna.
Roopa Diwakar Moudgil Inspector-General
Police Bangalore, Karnataka
For outstanding police service with courage
"This was my duty despite the odds and risks. I don't consider a transfer as a punishment. It is part of the occupational hazards faced by a public servant. I also have a defamation case against me. We have to boldly face them."
A 2000-batch IPS officer of the Karnataka cadre, Roopa Divakar Moudgil was the first to become an IPS official in the state. As DIG (Prisons), Karnataka, she became famous for a report that exposed corruption in the prison system in Bengaluru. She red-flagged irregularities and special treatment given to AIADMK chief, VK Sasikala, who was a close confidante of the late Jayalalithaa. The report stated that Sasikala got five cells for her private use, including a 150-foot corridor, and a special room to meet visitors that was not under CCTV coverage. The report added that `2 crore was paid to prison officials, including the DGP (Prisons). She was duly transferred.
Ubagarampillai Sagayam Vice Chairman
Science City
For fearless battle against the mining mafia
"In 27 years of service, I was transferred 26 times. Once, I was transferred within 48 hours. But I got wider opportunities to work, and this is what I said at my interview to join the IAS. When I inspected the complaint against the mining operations, and reported a loss of `16,000 crore, I knew the consequences."
In 2012, Ubagarampillai Sagayam investigated cases of illegal granite mining around Madurai, which costs Tamil Nadu of a loss of thousands of crores of rupees, and accused several officials of being in collusion with the miners.
Four days later, this 2001-batch IAS of the Tamil Nadu cadre was transferred, but his report leaked to the media. This led to several arrests in early 2013.
The next year, Sagayam was appointed as the Special Officer-cum-Legal Commissioner by the Madras High Court to investigate all the mining operations in the state.
He is currently Vice Chairman, Science City.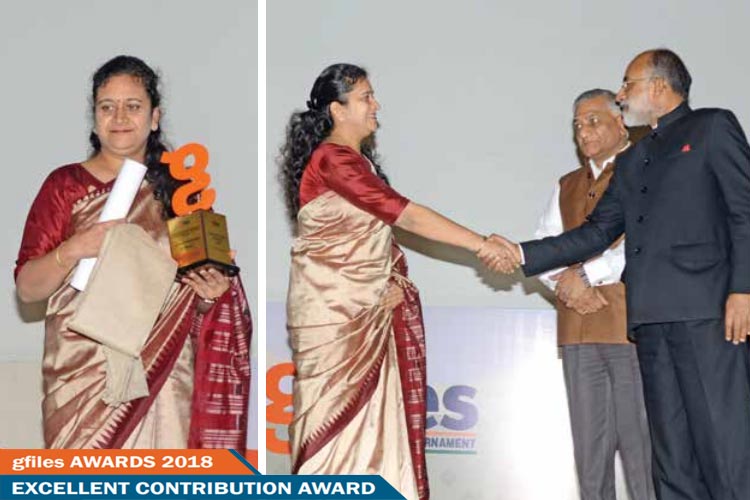 Ritu Maheshwari District Magistrate
Ghaziabad, Uttar Pradesh
For a much-needed transformation of power supply companies
In Kanpur, power theft was a huge problem, and people used katiya to steal power. We conducted raids in early mornings, around 5 am, when the katiya was there. We went to sensitive areas, and monitored the raids from end-to-end. Today, there is almost 24-hour electricity in urban areas.
In 2011, Ritu Maheshwari was appointed as the MD of Kanpur Electric Supply Company, which was on the brink of liquidation, had uncollected dues of `2,000 crore, was saddled with debt, and couldn't buy power from the grid. In addition,
its distribution losses were a high 30 per cent.
Maheshwari launched a drive against power theft, lowered tampering, and forced consumers to pay. She used technology to introduce smart meters, and used analytics to track un-monitored consumption, tampering, and heavy load unbalances. At present, this 2003-batch IAS of the Uttar Pradesh cadre is DM, Ghaziabad.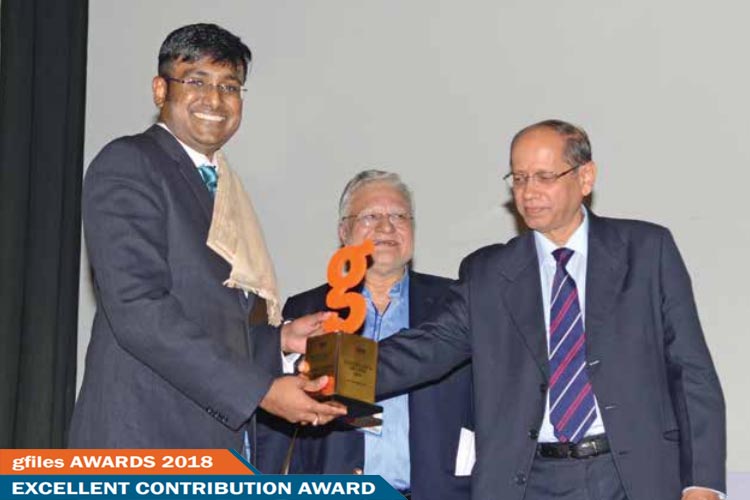 Harssh Poddar Deputy Commissioner of Police,
Nagpur
For community-based policing in crime prevention
I am the youngest of the awardees. Despite being economically-developed, Maharashtra has the
second largest rate of juvenile crime. We introduced a de-radicalisation programme which made the youth to self-realise ideas by positing issues and asking them to come up with solutions
A 2013-batch IPS of the Maharashtra cadre, his work was in Malegaon, which has a long history of violent strife, bomb blasts, and communal disturbances.
He designed and implemented a community-based model in schools and colleges to foster greater interaction between the youth and police, as well as provide a platform for solutions to emerge from the masses. The efforts have spawned 42,000 youth leaders, who fight against juvenile crime and terror in Malegaon in the past three years. The model was replicated by the police in other districts.
Ramesh Kumar Pandey Chief Conservator
Forests & Field Director, Dudhwa Tiger Reserve.
For contribution in wildlife protection and bio-diversity conservation
I dedicate this award to our unsung heroes and warriors, the forest guards and watchers, who work tirelessly in remote areas without sometimes getting proper clothes. I am happy to say that today you don't read news about the vanishing tiger, the national animal. But you do read that the tigers are coming out of the jungles and dying for some reasons.
A 1996-batch IFS (Forest Service) of the Uttar Pradesh cadre, Ramesh Kumar Pandey launched a drive for wildlife protection, especially tigers. He led the battles against poachers in several sanctuaries. As DFO of Pilibhit district, his work in tiger conservation was a stepping stone in the creation of Pilibhit Tiger Reserve. He played a stellar role in combating organised wildlife crime and implementing multilateral environment agreements. As Conservator of Forests, Agra, he cracked the whip on the interstate mining mafia and seized nearly 1,100 vehicles. He is currently Chief Conservator, Forests, and Field Director, Dudhwa Tiger Reserve.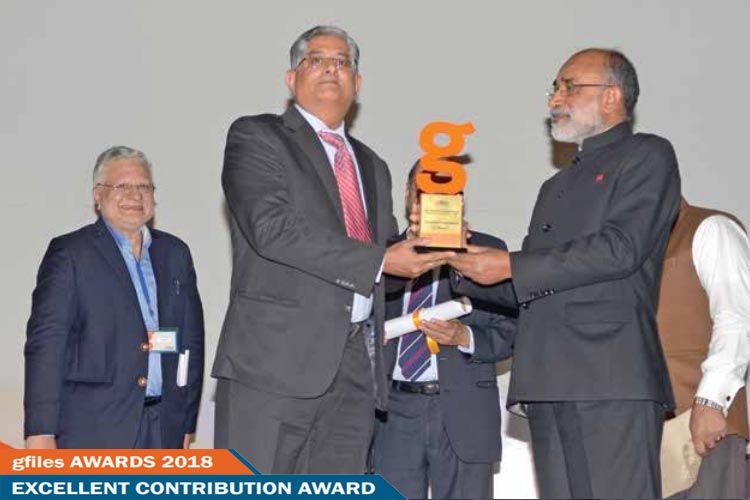 Ramesh Krishnamurthi Commissioner,
Income Tax (Systems), New Delhi
For revolutionising the e-filings of IT returns
Unlike many of the other awardees, I did not have many transfers, many struggles. I had the fortune of having a long and stable tenure which enabled me to pursue my dream of ensuring electronic filing of income tax from conceptualisation to implementation stages.
An engineer (IIT) and MBA (IIM), this 1992-batch IRS worked in private sector before joining the government. As Commissioner, Income Tax (Systems), New Delhi, Ramesh Krishnamurthi initiates all policy and technical matters related the centralised processing of income tax returns (ITRs), and electronic filing of ITRs. He designed, implemented, and managed the Centralised Processing Centre in Bengaluru for processing returns and ensuring timely payment of IT refunds. He did the same with the electronic filing of ITRs.