Young civil servants are increasingly turning to conceptual and technological innovations to tackle some of India's chronic problems and deliver services to the common people. This refreshing change in making governance accessible to the most affected people in some of the poorest and backward regions of the country was strongly underscored at the 7th gfiles Governance Awards that was hosted by the gfiles Foundation on December 12, 2019, at the Civil Services Officers' Institute.
The most notable aspect of this year's nominations by the four-member jury comprising former Cabinet Secretary Prabhat Kumar, former Chief Secretary of Haryana, Vishnu Bhagwan, former Power Secretary Anil Razdan and former Secretary (Internal Security) MB Kaushal was that many of the innovations pioneered by the young civil servants are being replicated in other parts of the country by the central government and various state governments.
Chief Guest for this year's award ceremony, Union Minister for Road Transport, Highways & Shipping and Ministry of Micro, Small and Medium Enterprises, Nitin Gadkari, underscored the importance of a strong political will, national and social commitment and out-of-the-box thinking as the key drivers for development and social change.
"In a country like India, there is no dearth of resources or technology. To bring development, one needs to think out-of-the-box, have a genuine commitment to usher in social change and work honestly for the people," said Gadkari. He also emphasised the need to build human relationship to bridge the gap between different layers of India's gigantic administrative machinery for efficient delivery of services to the people and rapid development.
Some of the work done by this year's awardees in their respective fields notably stood out for ushering in rapid social change. "The highlight of this year's award was that many of the awardees recommended by the jury were for technological innovation that they adopted to deliver services to the most affected people. It shows that much can be achieved if civil servants are willing to think and work in an unconventional manner," said Anil Tyagi, Editor-in-Chief, gfiles magazine.
Umakant Umarao, IAS (Secretary, Panchayat & Rural Development Department, Government of Madhya Pradesh), who was honoured with the Exceptional Contribution award for path-breaking work in water conservation and harvesting in the drought-prone Dewas district of Madhya Pradesh when he was posted there at the District Collector.
Using traditional water-retaining bodies like ponds and soak pits, he turned vast swaths of land from water deficient to water surplus at a fraction of cost. He helped the local community to construct 16,000 ponds in the district that helped to increase the acreage of arable land from 18,000 hectares to 3 lakh hectares. Now, the Dewas model of water conservation is being replicated in the drought-prone areas of Maharashtra and other states.
Similarly, Siddharth Kaushal, Superintendent of Police of Prakasam district in Andhra Pradesh, helped in developing a multimedia platform called Spandana that connected all police officers, police station and the public for real time sharing of video, audio and data in the entire district that is spread of 18,000 sq. km. The beauty of the platform is that it was developed at an ultra-low cost using off-the-shelf hardware and open source software.
The Bureau of Police Research & Development has identified it as one of the projects for further study to evaluate the feasibility of replicating it other parts of India. "It's true that polices is quite low on the priority list when it come to financial allocation. That made us think out-of-the-box to for developing this platform using low-cost hardware and open-source software that is easily deployable. This platform allows anyone to just walk into any of the police stations in the district and connect with the SP," Kaushal told gfiles.
This year, Prof (Dr) SK Sarin, founder and director of the Institute of Liver and Biliary Sciences was honoured with the Lifetime Achievement award for his pioneering work in treating liver diseases. He has more than 600 publications to his credit, edited 13 books on liver diseases and contributed 87 chapters in various medical text books. He has helped develop 19 major guidelines, including six major Asian-Pacific Treatment Guidelines, for liver diseases, new treatment protocols for variceal bleeding, liver regeneration, Hepatitis B and acute-on-chronic liver failure.
Parameswaran Iyer, Secretary, Department of Drinking Water and Sanitation, Ministry of Jal Shakti received the Special Jury award. He played a key role in heading the Swachch Bharat programme that succeeded in making India an Open Defecation Free country.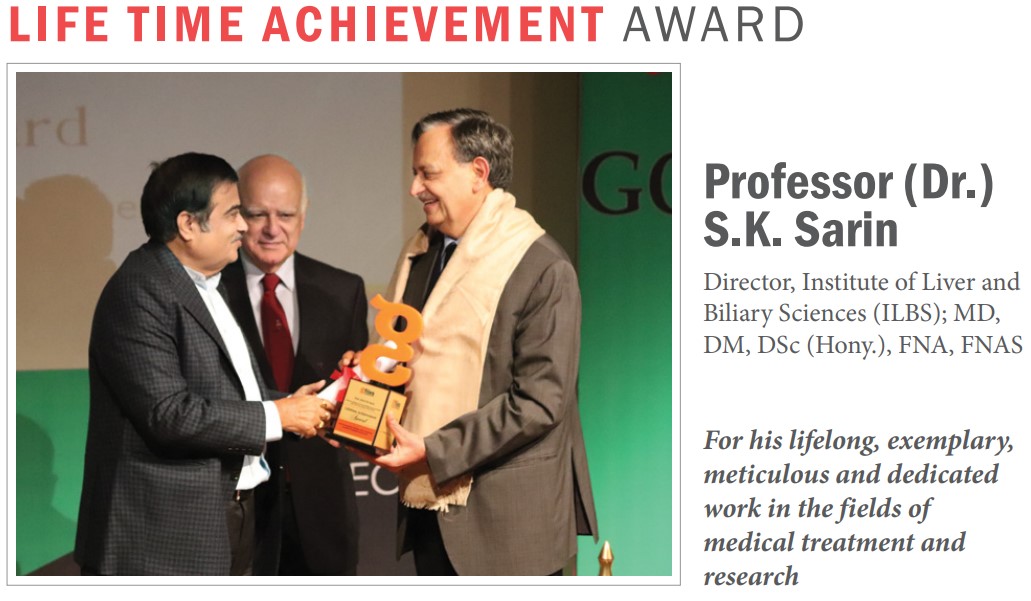 Padma Bhushan Prof Shiv Kumar Sarin is Senior Professor, Hepatology and Director in the Institute of Liver and Biliary Sciences (ILBS), New Delhi. He was instrumental in setting up the Institute of Liver and Biliary Sciences under the auspices of the Government of Delhi. He is also Director, WHO Collaborative Centre on Chronic Liver diseases and Viral Hepatitis at ILBS. He serves as Adjunct Faculty, Molecular Medicine at JNU. He has more than 600 publications to his credit, has edited 13 books on liver diseases and contributed 87 chapters in various medical text books. He has helped develop 19 major guidelines, including six major Asian Pacific Treatment Guidelines in liver diseases, new treatment protocols for liver diseases especially variceal bleeding, liver regeneration, hepatitis B and acute-on-chronic liver failure. Prof Sarin has shown leadership roles as the President of the Indian Society of Gastroenterology, Indian Association for the Study of the Liver, Asian Pacific Association of Liver (APASL), and Chairman Steering Committee of the APASL. He also served as Secretary General, Asian Pacific Digestive Week Federation (APDWF).He has been awarded the prestigious Henry L Bockus Medal-2017 by World Gastroenterology Organisation as also Ralph Kohn Memorial Lecture at the Institute of Hepatology, London, Prof. Telferd Reynold Memorial Oration at the University of Southern California. He is also a recipient of Shanti Swarup Bhatnagar Award, The World Academy of Medical Sciences (TWAS) International Prize, EASL International Recognition Award, Om Prakash Bhasin Award, Dhanvantri Medical Award, Ranbaxy Medical Sciences Award, and the 'Best Teacher' Award, besides being a founding Editor of Hepatology International. He developed with other Board of Governors the 'Vision 2015' document for medical education in India during his tenure as Chairman of Medical Council of India.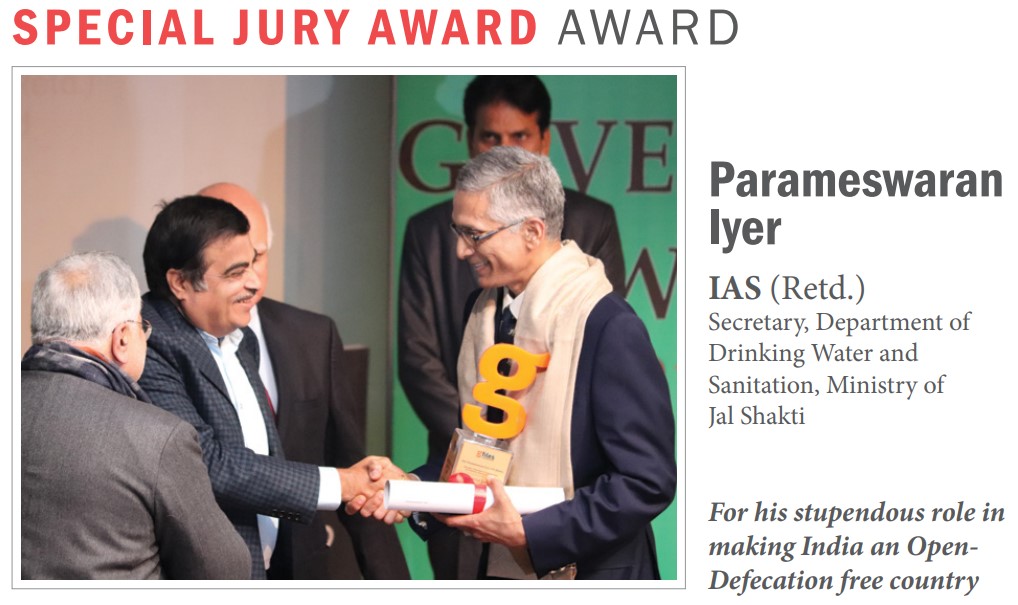 A 1981-batch IAS officer of Uttar Pradesh cadre, Parameswaran Iyer is the torchbearer in India's fight to make itself an open defecation free country. He is an illustrious bureaucrat who has played a pathbreaking role in his tenure at Department of Drinking Water and Sanitation.He is globally accredited for his eight year-long innings in United Nations World Food Programme (1998-2006) where he had worked as a senior water and sanitation specialist. During his stint at the World Bank he also worked in Vietnam, China, Egypt and Lebanon and also implemented the 'Swajal Program' amongst other initiatives in the sector.
He changed the age-old habits of millions of people. It was through his efforts of making this programme a Jan Andalon that more than 100 million toilets have been constructed in rural areas, and the national rural sanitation coverage which was 38.7 per cent in October 2014 has increased to 100 per cent in October 2019, thus making India a role model for those nations who aspire to be ODF.
According to WHO estimates this mission has averted more than 300,000 deaths (diarrhoea and protein-energy malnutrition) between 2014 and October 2019 and in an ODF village in India each family saves up to Rs 50,000 per year on account of avoided medical costs. Also UNICEF's assessment of SBM on fecal contamination of water, soil and food found that ODF villages are 11.25 times less likely to have their groundwater sources contaminated.
After achieving the Mahatama Gandhi's long unfulfilled dream of making India an ODF country, he now aims to reach the target of providing drinkable piped water to every house of the country.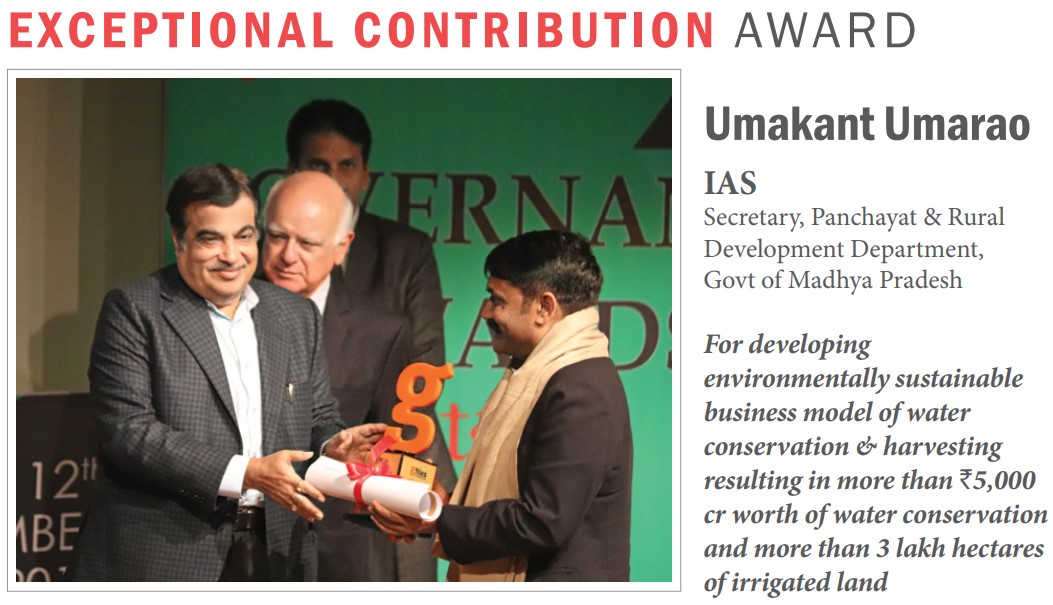 A 1996-batch IAS officer of Madhya Pradesh cadre, Umakant Umarao is BTech in civil engineering from IIT Roorkee and has also studied Economics. He had a number of focus areas planned in education and health when he joined as District Collector of Dewas. But he soon realised that a much larger problem looming over the region was lack of water due to deficient rains. Dewas was perhaps the first district in India where water was brought in a train much before Latur. His challenge was to find an economically viable and sustainable solution to Dewas' water woes. His efforts resulted in construction of 16,000 ponds with over 1,000 farmers earning more than Rs 25 lakh a year. Also, Dewas has not only seen a speedy rise in its groundwater level but has witnessed a 20-fold increase in irrigated land—from a mere 18,000 hectares to more than 3 lakh hectares.Dewas model has since been adopted by farmers in districts like Vidisha, Ratlam, Mandsaur, Ujjain and Raisen in MP, Bundelkhand in UP, and Marathwada, Latur and Chandrapur in Maharashtra. MP government adopted the Dewas model in 2008 under the name 'Balram Talab Yojana' to create mass impact. The model was selected by United Nations as one of the top three water management practices globally. Umarao's other initiatives, such as Janani Express to reduce IMR and MMR, have also been successfully adopted by MP government supported by UNICEF and Melinda Gates Foundation. He is also credited for significantly improving the overall educational quality of government schools in tribal areas and reviving Narmada biologically to ensure sustainable flow.
A 1987-Batch IRAS officer, Ruby Ahluwalia is a skilled bureaucrat and an experienced financial advisor with a history of working in the transportation, trucking and railroad industry. Her skill also encompasses budgeting, business planning, operations management, management and healthcare. Being a survivor of Triple Negative (Stage 3) Breast Cancer, she founded 'Sanjeevani……..A life beyond Cancer', a non-profit organisation that works with underprivileged cancer patients in India and is spread in 13 cities working with almost 2 lakh patients.
'Sanjeevani', a public trust, is a special purpose organisation set up for prevention and eradication of cancer and also providing care, counselling and rehabilitation to persons fighting cancer. Sanjeevani's mission is to provide holistic support to persons affected by cancer by creating excellently managed and run super specialty cancer facilities.
A research scholar of the Giri Institute of Developmental studies, she pursued the dual MBA-CFA degree with specialisation in financial markets. She served as DGM Finance Konkan Railways, Head of IT Western Railways, Head of Finance Mumbai and Pune Division and Principal Financial Advisor to Western Railways. She is entrusted with the task of monitoring the earnings of Western Railways and to suggest ways and means to enhance these earnings. She also heads the Information Technology Centre of Western Railways and controls the cash management system here, apart from doing various traffic costing studies of Western Railway Services.
Honoured with the 'Pride of Uttarakhand' title by the Chief Minister of Uttarakhand recently, she's heading towards her dream of creating everyones's life, a life beyond cancer, by expanding the organisation's presence beyond the present cities of Mumbai, Nagpur, Wardha, Ahmedabad, Bikaner, Jaipur, Kolkatta and Puducherry.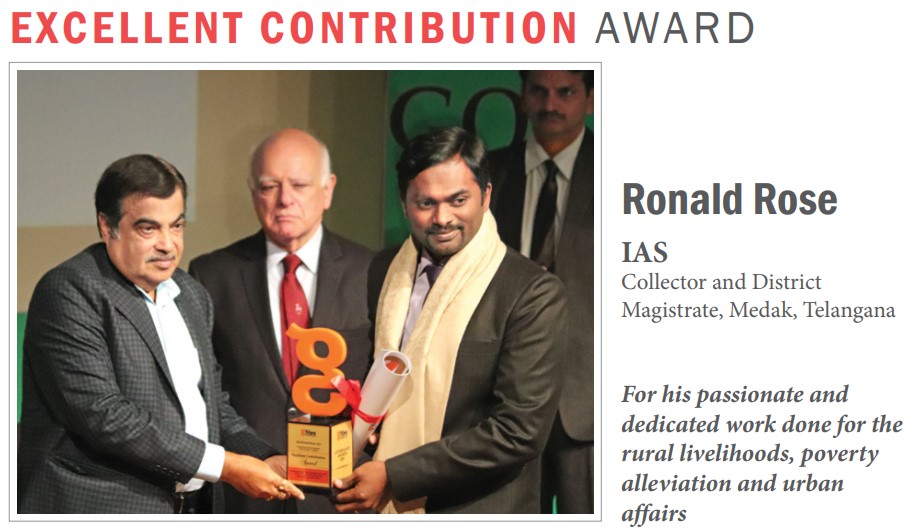 A 2006-Batch IAS officer of Telangana cadre, Ronald Rose is an outstanding civil servant. As a rural welfare crusader, he has led numerous innovative initiatives in his district. He rose to the high rank of Collector and District Magistrate from a commercial clerk in Indian Railways due to his sheer hard work and perseverance. Through his 13 years of service , he has attained specialisation in the field of rural marketing, horticulture and related activities, rural livelihoods policy making, IT services for rural service delivery, urban affairs, city planning, solid waste management, rural sanitation, primary health care, primary and secondary education, traffic and transportation management.His active and innovative turnaround of Mehboobnagar District is now well known where villages were rapidly made open-defecation free, farmers turned to organic methods and dried-up bore wells were rejuvenated by digging soak pits in all the houses. In Narayanakhed, one of the most remote and backward areas of the state, he ensured the completion of a project that brought drinking water to parched villages. The project diverted water from a canal to the village through reverse pumping, quenching the thirst of about 50,000 people in the constituency. He created a record by successfully building 336 toilets in 48 hours, ensuring that every household in the village had an individual sanitary latrine. His sensitive approach towards differently-abled community by providing livelihood and employment is well commended by policy makers.
His people-centric approach and rigorous programmes are in tandem with his ambitious goal of ensuring holistic and inclusive development of all the villages in the district. It is due to innovative and pro-active officers like him that a positive change in Indian governance is finally rolling in.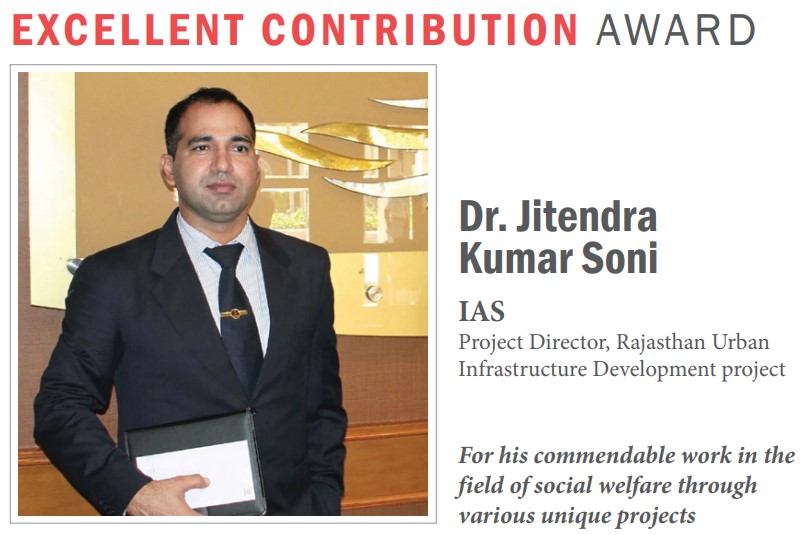 A 2010-batch IAS officer of Rajasthan cadre, Dr Jitendra Kumar Soni is an acclaimed civil servant who has initiated many unique projects during his tenure. A PhD in Political Science, Dr Soni has a keen inclination towards writing, sports, photography, painting, cycling and travelling. He has also authored various books and translated a few books in different languages. He is well known in his state as the man who made 1.5 lakh barefoot children wear slippers in the last five years. This initiative has been recognised duly by the Rajasthan Chief Minister who initiated steps to implement it in the entire state. He has shown a passionate and warm heart towards the people he serves.
He is popular for incorporating technology-enabled programs in day-to-day administrative functioning which are in line with the digital India initiative of the central government. He also initiated several e-governance projects during his tenure as District Collector Jalore, including the poll day 'sms' monitoring system, the biometric attendance system in government schools and Sampark—a Whatsapp-based grievances collection and redressal system.
He has recently been awarded with Kalam Innovation in Governance Award (KIGA 2019) for his initiative. During the 10th World Education Summit, New Delhi, he also received 'World Education Award' certificate (for E-Gyankender initiative) given by VS Radhakrishnan, Minister of State for Education. He has also received Uttam Jeevan Raksha Padak for disaster management during floods in Jalore from the Chief Minister on August 15, 2016, that was declared by the President of India on August 14, 2016.
He believes in empowering women, senior citizens, children or differently-abled persons with facilities that would benefit them in life.
A 2012-batch IAS officer of Bihar cadre, Kundan Kumar is an engineering graduate. He has been proactively working towards providing quality school education in India by leveraging technology with a focus on ensuring continuous monitoring and accountability in the system.
Unnayan Banka, a project devised by Kumar, the District Magistrate of Banka, in collaboration with an education start-up Eckovation is fostering an environment across senior secondary government schools in the district that encourages active student and teacher participation, while building conceptual understanding through animated and interactive video lectures. The district uses mobile phones and smart TVs to deliver quality education to students even in remote areas. Under the Unnayan initiative, students are learning general English, reasoning and aptitude skills along with technical skills like designing websites, programming skills and android app development.
His initiative has led to attendance in schools increasing from 17 per cent to 53 per cent and average marks increasing from 26 per cent to 77 per cent. 'Mera Mobile Mera Vidyalaya' is being used by more than 10,000 learners, educators/ experts and parents across India. The Special Employability Bridge Programme is designed to facilitate placements. For the first time in the district, 1,000 students (most belonging to the underprivileged category) received placement offers from companies like Tata Consultancy Services, Suzuki, etc., based on their reasoning and aptitude, opening the doors of the private sector for these students. A district where the literacy rate is 58.17 per cent, nearly a shocking 12 per cent below the national average of 70.04 per cent, has seen massive turnaround. The programme is now been replicated in entire Bihar by the Chief Minister, covering around 28 lakh students.
Kumar has been conferred the Prime Minister's Award for Excellence in Public Administration in 2018 and International Innovation Award 2018 at the biennial Commonwealth CAPAM Conference.
A 2014-batch IAS officer of AGMUT cadre, Shashanka Ala is BTech in electrical engineering from IIT, Madras. Lawngtlai, where she joined as Deputy Commissioner, is remotest, most backward and disaster-prone district of Mizoram. It takes minimum 10 hrs to reach from Aizawl (296 kms) due to bad roads and landslides. Most fruits and vegetables that come on trucks from Silchar in Assam, 180 km north of Aizawl, take two days to arrive and become unfit to consume. Consequently, the district is home to the highest percentage of stunted (35.3 per cent), severely wasted (5.9 per cent) and underweight (21.3 per cent) children under the age of five in Mizoram.
Working on the idea of growing native varieties of local fruits and vegetables in schools and anganwadis, she designed a unique solution called 'Kan Sikul, Kan Huan' ('My School, My Farm') to address malnutrition in her district. Under this, every school and anganwadi is to have a small kitchen and nutrition garden in its premises. These schools and anganwadis source their fruit/ vegetable seeds and compost from the district administration. They can now cook their mid-day meals using the food they have grown instead of waiting for a truck from Silchar or Aizawl. It also worked to introduce children to participate in the process of growing healthy food, recognise environmental stewardship and dignity of labour.
The first phase covers 213 schools and anganwadis. Phase 2 will cover 500 schools and anganwadis and phase 3 will emphasise on natural livestock and poultry. By March 2020, every school, anganwadi and childcare institution in Lawngtlai will become self-sufficient in local varieties of fruits and vegetables. None other than the Vice President of India, Vankaiah Naidu, said that the model should be emulated by district administrations across the country.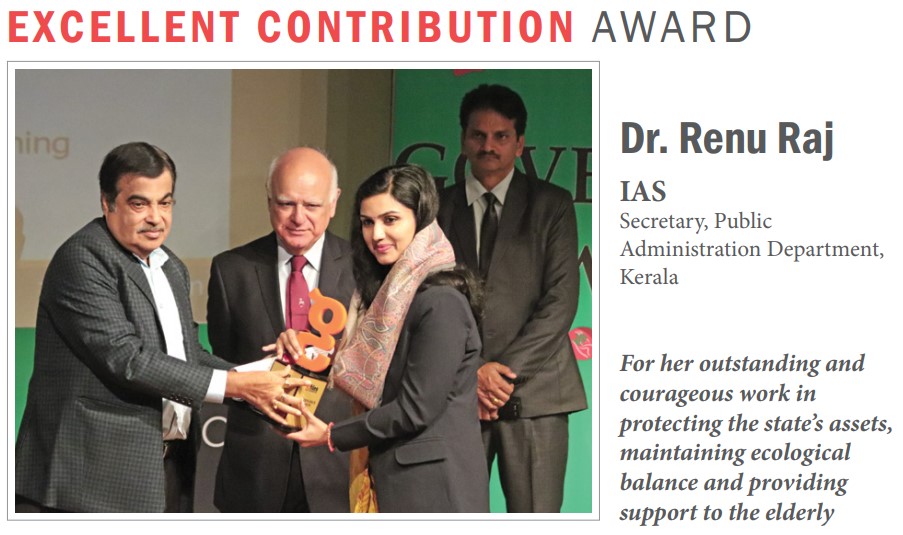 A 2015-batch IAS officer of Kerala cadre, Dr Renu Raj is a young and dynamic bureaucrat. A doctor by qualification, she cleared the UPSC exam with All India rank 2. Only in her fourth year of service, she has made headlines as a courageous, bold and an upright officer. She took on the mining mafia in her district of Devikulam by its horns. The first woman officer in her area, she stood tall even after receiving many threats from the ranks of powerful and wealthy for reopening the illegal quarries that had been shut down by her.
During her tenure she acted against 80 illegal constructions and cancelled 20 acres of land which was a part of Neelakurinji Sanctuary in Munnar, owned by a sitting MP. Her no-nonsense attitude is evident by her approach in dealing with the situation where old people were being abandoned by their children. When she received the information that an unlicensed old age home in Thrissur was extorting money from the elderly, she took an immediate and quick action against them. She created group conciliation officers who volunteered to mediate between broken families, convincing children to take their parents home.
Heading forward, she has twin objectives of tackling illegal encroachments and the social issues of the tea-plantation workers. She intends to bust the illegal encroachments which will then be reclaimed by the government to be given to the marginalised communities who need it the most. With will and exuberance she is carrying herself as the embodiment of New India.
A 1995-batch IPS officer of the AGMUT cadre, Devesh Chandra Srivastva is one of Delhi Police's best investigators known for his excellent administrative, law and order, as well as communication skills. As Deputy Commissioner of Police of North-East, North and Central Districts, he had an excellent tenure when he handled with courage, insight, planning and initiative a number of law and order situations arising out of political agitation, student unrest and 'communal disturbances' apart from supervising and guiding the investigation of many sensational cases. During his tenure as DCP (Crimes against Women) in Delhi, he efficiently handled crimes against women by creating awareness and women's empowerment through self-defence training.
During his tenure as Executive Director/Chief (Security) in ONGC on deputation, he took initiative to involve the community in safeguarding ONGC assets across the country and also enhancing security and fire safety by giving new technological solutions.
In his present assignment as the Joint Commissioner of Police of the extremely sensitive Southern Range of Delhi Police, he has progressively implemented skills, tools and methodologies to give a new dimension to several existing community policing initiatives, while also spearheading some radical new interventions which have brought a paradigm change in citizens' perception of the police as a critical service provider.
Under his mentorship, Public Facilitation Desk Officers have been deployed at the entrance of every police station for courteous and compassionate handling of public grievances. He is also the 'Nodal Officer' of 'YUVA'—a community Police Initiative of Delhi Police with the objective of engaging and steering street children/Youth towards the mainstream of society and providing them opportunities to realise their potential through skill development training.
A 2004-batch IPS officer of Rajasthan cadre, Vikas Kumar is a BTech in Civil Engineering from IIT Kanpur and served for short stints in Indian Railways Service of Engineers (IRSE) and Indian Revenue Services (IRS) before joining IPS. His remarkable contribution in maintaining law and order, crime control and innovative protocols and his crusade against notorious hard core criminals earned him the names like 'Singham' and 'Cobra Man' in the police force and amongst masses. He successfully countered and neutralised the menace of several dreaded dacoits, including Jagan Gurjar, and arrested dacoit queen Komesh Gurjar.
His notable contributions include restoration of peace during the fiercest phase of Gurjar-Meena agitation on reservation in Sawai Madhopur district. He was conferred upon the Commendation Disc and Certificate by Narcotics Control Bureau of India for making record seizure in Chittorgarh district. By making more than 100 arrests in just one go, he uprooted illegal mining in eastern Rajasthan (Bharatpur and Alwar) and brought the Alwar district—infamous for illegal mining, communal violence, highway robberies, illicit arms trade and industrial unrest—to normalcy by reorganising the police force with various new protocols, planned raids and effective monitoring.
His professional, upright and tech savvy approach to handle troubled situations made him the people's hero. But he faced 15 transfers in a span of eight years, including five transfers in one year, for his uprightness. Most of his postings have been preceded by major upheavals in the concerned districts leaving no other option for the government but to put him on the job. His exemplary works have fetched him numerous awards, medals and commendations from various government agencies and other organisations, including the President of India Award for Proficiency in Police Science.
A 2012-batch IPS officer of UP cadre, Ashish Tiwari, has an exceptionally brilliant academic record; he has a BTech and MTech in computer science from IIT Kharagpur. He held positions of ASP Jhansi, SP Rural Varanasi, SP Mirzapur, SSP Etah, SP Jaunpur, etc., and has work experience as an analyst at investment banks Lehman Brothers and Nomura and Assistant Commissioner Income-tax (IRS). Believing in technology, innovations and entrepreneurial government with people centric approach, he innovated the concept of SMART (Simple and Sensitive, Moral and Modern, Accountable, Reliable and Responsive, Trained and Technical) policing for which he has received several awards and extensive media attention.
'Smart e-Police' solves the internal and external problems of police organisation like terrorism, corruption, traffic jams, missing children, human trafficking, suicides amongst policemen, delay in justice, corruption, crime, verification, slow police reforms, quality service delivery, women and senior citizen safety, etc., by fusion of old processes and latest technology following an ecosystem approach under 'One nation-One app' concept for police department and citizens. The beat system-based technology solution reduces discretion and corruption and increases transparency and accountability. The project has been operational in seven districts of Agra zone, Gorakhpur, Varanasi, Allahabad, Ambedkar Nagar, Mirzapur, Sonbhadra, Jaunpur, Ayodhya and eight GRP districts in incremental manner. Tiwari also constituted 'green group' of rural women to fight problems of drugs, alcohol, gambling, and domestic violence.
He is the recipient of several awards and accolades notable being FICCI's smart police officer award, 2018 (given to only one SP across India in overall category), SKOCH order of merit award, 2019, DGP commendation disc, 2018, etc. Currently serving as SSP Ayodhya, he was instrumental in maintaining peace in the wake of the Supreme Court verdict on Ram Temple.
A 2012-batch IPS officer of Andhra Pradesh cadre, Siddharth Kaushal is an alumnus of St Stephen's College, New Delhi, and is a PGDM from IIM, Indore. He had a brief stint in private corporate sector as Business Development Manager and worked in Indian Railway Traffic Service. After joining IPS, he worked as ASP, Parvatipuram, OSD Narsipatnam and Railway SP at Guntakal. Bodybuilder by hobby, he is also a member of special investigation team that the AP government established to investigate a case alleging a conspiracy by YSRCP and Telangana police to steal the data of TDP workers and deletion of their votes from electoral rolls.
He worked to set up a live multimedia link (video conferencing) system that connects all police stations and police officers on one platform, allowing on-demand sharing of audio, video and all other forms of data between terminals located across the district, especially in areas with variable quality of internet coverage at an ultra low cost. This is aimed at achieving citizen service delivery (Grievance Redressal) and Government Process Reengineering to conduct processes like 'Performance Review' and 'Capacity Building and Training' in a digital format, saving considerable amount of time, money and energy.
The project 'Spandan' implemented in district Prakasam—the tenth largest district in the country measuring 18,000 sq km—improved administrative efficiency and access to justice for citizens at just 2 per cent of the standard cost for such a system. The system saved 2,880 man-hours of time, 48,000 km of vehicle mileage and 5,300 litres of fuel every month that would have been required in physical communication besides saving the exhaustion of road travel.