SCHOLARs believe that the name 'Haryana' came from the words Hari (sanskrit Harit, 'green') and Aranya (forest). At its formation in 1966, Haryana was meant to be so with early-day governments under chief Ministers Bansi Lal and Devi Lal laying strong foundations for a Green state with their emphasis on agriculture, forestry and irrigation. Having joined the cadre around that time, I have seen and participated in the process in the arid districts of Hissar and Bhiwani adjoining the deserts of Rajasthan.
In recent years, Haryana's political/bureaucratic architecture is geared to transform the once Green state into a Grey state with obsessive pursuit of land-lust as the overarching policy. This is evident from the way IAs officers of the state are being dealt with. While Ashok Khemka, who boldly stood against the marauding land lobby, is being ruthlessly hounded, his predecessors in the post of Director General, consolidation of Land Holdings—Anil Kumar and SC Goyal—are being fiercely protected despite their being indicted by the Punjab and Haryana High court for passing several illegal orders favouring the land mafia which have been Gurgaon is standing testimony to how urbanisation should not be gone about in India described by the court as fraud!
In line with this architecture, the Haryana chief Minister has adopted a zamindari style of functioning! While banishing those who obstruct his real estate agenda, he rewards his loyalists with fortunes and coveted postings. His most loyal aide in meticulously pursuing the agenda for eight long years was recently appointed to the prestigious constitutional position of Member UPSC, thereby ravaging the virginity of this hallowed institution! Just prior to the appointment, this officer had managed to scuttle a 'performance audit' by the CAG of the fraud indulged in by the land mafia.
In the state government, it is the real estate bureaucrats who occupy key positions in the chief Minister's charmed circle. They include the Principal secretary to the CM who has already spent seven years as Director and Principal secretary, Department of Town & country Planning (DTCP). Another one is following suit, with more than three years as DTCP. As against this, dissenter Khemka, who had earlier seen 40 transfers in 20 years of his career, was allowed just 80 days in the job from where he had blown the whistle. After being repeatedly humiliated and tormented, he is now being chargesheeted for misconduct in cancelling the mutation of a fraudulent land deal between Robert Vadra and DLF in Gurgaon in October 2012, thereby 'damaging their reputation'!
It is obvious that the Haryana leadership has been assiduously building a kleptocratic network, comprising of politicians, brokers and bureaucrats, to usher in a real estate-oriented administration. In his report, submitted to the Haryana Government on May 23, 2013, Khemka named seven senior IAS officers, who have been either indulging in or covering up corrupt land deals, as the bureaucratic part of this network. On September 6, TV channel Headlines Today telecast an exposé of the political/broker component of this network, naming eight MLAs and their cronies who were charging Rs. 1 crore per acre for recommending change of land use. Earlier, on February 4, a detailed investigative story published in The Hindu named chief Minister Bhupinder Singh Hooda as the patriarch of this network!
The modus operandi has been simple. The chief Minister kept to himself the portfolios of DTCP—the licensing arm of the Haryana Urban Development Authority (HUDA), the government's real estate developer —and the Haryana state Industrial Development corporation (HSIDC), the industrial promotion entity. This gave him complete control over all land deals in the state. Under the Land Acquisition Act, HUDA and HSIDC have powers to acquire land under sections 4 and 6 through the issuance of notifications, while land use change and award of licence are under DTCP.
Builders who are unable to coerce the farmers to sell their land turn to the government for official assistance. Section 4 is invoked with the notification that the government requires those specific parcels of land for 'public purpose'. At this stage, builders enter into agreements to sell/collaborate with landowners/farmers, offering them a modest premium over the government's prevailing compensation rate. If landowners/farmers resist, section 6 is imposed, declaring the state's intention to acquire the land. This forces even resisting landowners to enter into agreements. Between the imposition of sections 4 and 6, builders apply for change of land use and licences to DTCP in collaboration with farmers/landowners. Once the land is released from acquisition, its value skyrockets and there is a kill!
It is obvious the Haryana leadership has been assiduously building a kleptocratic network, comprising politicians, brokers and bureaucrats, to usher in a real estateoriented administration.
THE epicentre of the real estate kleptocracy is Gurgaon, not long ago a sleepy village on the outskirts of Delhi, now hailed as the 'Millennium city'. According to Khemka, DTCP issued various types of colony licences for 21,366 acres from 2005 to 2012. He points out that if the market premium for a colony licence is assumed to be as low as Rs. 1 crore per acre, the land licensing scam in the past eight years is worth roughly Rs. 20,000 crore. At the premium of Rs. 15.78 crore per acre that Vadra earned, this figure would jump to Rs. 3.5 lakh crore!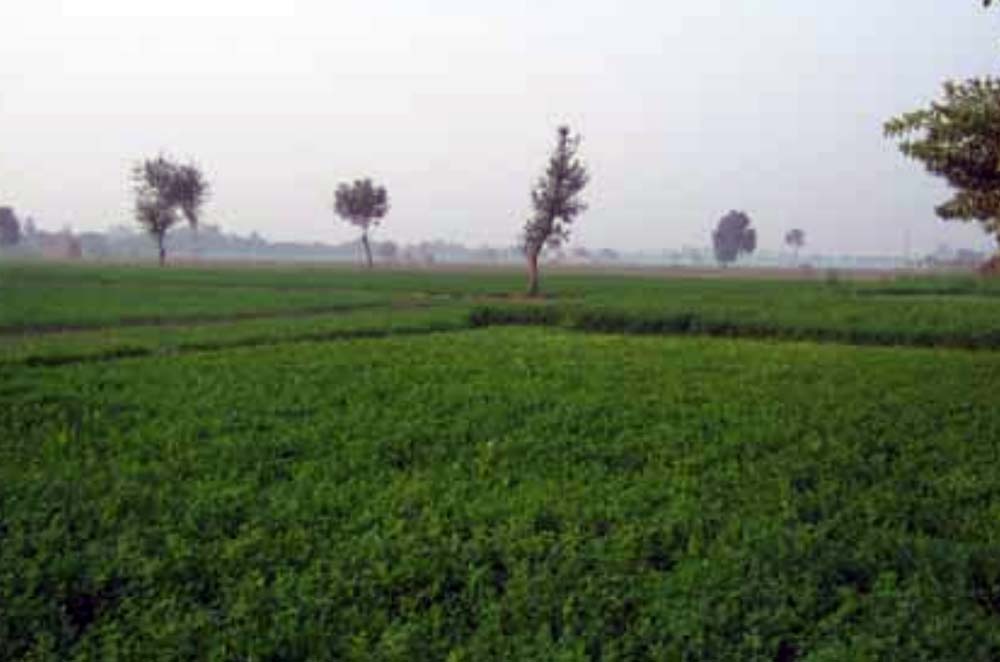 It has been separately reported that in a span of six years, the Haryana chief Minister had made a staggering 54,000 acres of land available for residential, commercial and industrial use through the notification of three successive masterplans for Gurgaon. customisation of land development and crucial changes in land use have played an important role in the land to-gold stories of many real estate companies. This would be loot of humongous proportion, dwarfing all other scams that have so far surfaced.
The Gurgaon story started sometime in the early 1980s when KP singh, chairman of DLF, was tom-tomming possession of 3,000 acres of agricultural land at Gurgaon bought dirt-cheap, to build a highrise, high-intensity 'world-class' city, whereas Gurgaon hardly had the carrying capacity to withstand lowdensity, low-rise development.
I was then Haryana's Director, DTCP-cum-chief Administrator, HUDA, having just moved in from the post of MD, HSIDC. At that time, we had no intention whatsoever of allowing private players since HUDA was capable of managing the low-intensity, low-rise development of Gurgaon. Things took a dramatic turn after the then chief Minister, Bhajan Lal, defected en masse to Indira Gandhi's fold on her return to power in early 1980. One of Indira Gandhi's conditions was to put the state Government machinery at the disposal of DLF to make Gurgaon a 'world-class city'!
To facilitate this, I was eased out of the job with the kind of sophistication only Bhajan Lal was capable of. One fine morning, he politely told me that DTCP was too small a department for my capabilities and that I should handle the 'bigger' and 'problematic' transport department, which was then a three-in-one job as commissioner, state Transport Authority, and chief of Haryana Roadways. My protests did not work and I was packed off.
It has been reported that, in a span of six years, the Haryana Chief Minister made a staggering 54,000 acres of land available for residential, commercial and industrial use through the notification of three successive masterplans for Gurgaon.
SOON, thereafter, in 1981, the first licence was given to DLF and 'DLF city' came up. In 1985, DLF started plotted development in the 3,000 acres. Other realtors joined in and there was no stopping Gurgaon from 'developing' into a 'monster city'—in the process, destroying every vestige of town planning, urbanism, environment and sustainability. Not one prudent town planning norm has been adhered to. In short, Gurgaon is standing testimony as to how urbanisation should not be done in India. The sole consideration was vulgar real estate/property 'development' with the purpose of raking in billions. More than any other state in India, special Economic Zones (SEZ) have been a massive scandal in Haryana. Real estate giants and multinational firms, which bought hundreds of acres of land to set up SEZs, were given a bonanza by way of de-notification of the land and permission to use it for other purposes.
As a result, nearly two dozen projects—many of them in the lucrative urban markets of Gurgaon and Faridabad—are being converted into residential and commercial properties. Haryana had over the years notified 35 SEZs and acquired 1,452 acres of land from farmers, much of it in Gurgaon and Faridabad. Of these, only six have so far been set up. The rest are being de-notified and will be allowed change of land use, enabling the real estate mafia to mint millions.
But the one to take the cake is Reliance Industries Limited (RIL). Planned on around 12,500 acres, RIL's Gurgaon SEZ failed primarily on account of farmers' refusal to part with their land. The company was able to procure 2,584 acres of land— 1,200 acres from farmers and 1,384 acres allotted by HSIDC. With the RIL failing to acquire requisite land, HSIDC revoked the allotment.
SEZ having failed, the company is now developing a money-spinning Integrated Township Project on this 1,200 acres of prime land. Earlier, Reliance was given permission to develop a 25,000-acre SEZ in Gurgaon and Jhajjar districts. Quite a real estate rampage by one of the small-sized states of the Indian Union!
That is not all. Now chinese companies are being offered thousands of acres of land for purchase. China Development Bank representatives recently visited a sprawling 6,000acre site in Gohana, which is on offer. They were also shown a 3,664-acre site in Kharkoda, around 50 km from New Delhi. In a bid to court Chinese investment, Haryana officials have visited Beijing and shanghai and presented the state's real estate 'expertise' as the unique selling point! With their deep pockets, the Chinese could gobble up vast quantum of land at prime prices, another windfall for the realtors!
THE real estate boom will sustain only if massive MNC/commercial/residential/industrial complexes, malls and theme parks get built all over. The key to this is copious supply of water and electricity. While water is diverted from irrigation use, power plants are being set up on fragile canal banks. Typical is the 2800 MW-capacity Gorakhpur Nuclear Power Plant on the Fatehabad Branch of the Bhakra canal system. For this plant, the Haryana government has allotted 320 cusecs of water that would deprive over 140,000 acres of irrigation in this semi-arid region. Agriculture will perish and radiation/pollution will cause serious damage to crops, drinking water and wildlife (deer/blackbuck) in hundreds of downstream villages. This is a clear case of extractive policy to destroy farming and promote real estate business.
For this project, 1,600 acres of prime farming land have been acquired by virtually bribing landowners with compensation ranging from Rs. 12 lakh to Rs. 32 lakh per acre. The central Government is fully involved in this racket. The Nuclear Power Corporation of India is the owner of the project, the Ministry of Environment and Forest has given clearance without even looking into the water issues and the Planning commission has granted its approval. What is worse, the Prime Minister is to lay the foundation stone of this project being opposed by almost every villager downstream!
Haryana is inexorably morphing from a green to grey state only to promote a black economy! The damage will be permanent. Will posterity forgive us?
The writer is a former Army and IAS officer. Email: deva1940@gmail.com