THE third UN Conference on Housing and Sustainable Urban Development (UN-Habitat III) convened at Quito, Ecuador, from October 17 to 20, 2016. The aim of this conference was to promote a new model of urban development, integrating sustainability, equity, welfare and shared prosperity. Out of this conference emerged a 'New Urban Agenda' that calls for environmentally sustainable and resilient urban development to withstand the unprecedented threats from unsustainable consumption and production patterns, loss of biodiversity, pressure on ecosystems, pollution, natural and man-made disasters and climate change.
The 'transformative commitments' of the New Urban Agenda is to facilitate the sustainable management of natural resources in cities and human settlements in a manner that protects and improves the urban ecosystem and environmental services, while fostering sustainable economic development and peoples' well-being and quality of life through environmentally sound urban and territorial planning, infrastructure and basic services.
The agenda gives particular consideration to urban deltas, coastal areas and other environmentally sensitive areas, highlighting their importance as ecosystems' providers of significant resources for transport, food security, economic prosperity, ecosystem services and resilience, and integrating appropriate measures to factor them into sustainable urban and territorial planning and development. It also commits to preserve and promote the ecological and social function of land, including coastal areas which support cities and human settlements, and foster ecosystem-based solutions, to ensure sustainable consumption and production patterns so that the ecosystem's regenerative capacity is not exceeded. The agenda also commits to promote sustainable land use, combining urban extensions with adequate densities and compactness preventing and containing urban sprawl, as well as preventing unnecessary land use change and the loss of productive land and fragile and important ecosystems.
Despite the looming tectonic shift towards the urban habitat, India does not have an urban concept, philosophy or political process. Since urbanisation concerns people, their lives and livelihood, it should have a distinct character, culture, ethos and inclusiveness
India has entered the urban age. In a country of over 1.25 billion people, more than 400 million are urban dwellers and this number is growing fast. 'India Habitat III National Report 2016', prepared by the Government of India, presents an assessment of the country's urban sector and its contemporary and emerging challenges and opportunities, and gives a brief account of urban initiatives and a vision for the future. With its cities / towns contributing 60 per cent of the gross domestic product, India now recognises the role and importance of urbanisation in the process of its socio-economic transformation. But, the present predatory and realty oriented process of urbanisation in India runs counter to the 'transformative commitments' of UN-Habitat III. The corporate-sponsored and technology-driven 'Smart City Mission' (SCM) is making it worse.
While so, country's civil society mobilised itself and drafted 'India's urban agenda' to be presented at Quito in the form of 'Delhi Declaration' that reflected nation's concerns on key themes relating to urban policies and action plans, which will shape India's urban future by choice. These include recognising rural reality in an urbanising world; creating employment opportunities; transforming urban informal sector; promotinginclusive and equitable development; fostering urban sustainability; and, revisiting urban planning and governance. The Delhi Declaration makes no mention of SCM and emphasises that sustainable and livable cities should not be based on technological solutions alone.
Urbanisation is basically the movement of population from rural to urban areas and the resulting increasing proportion of a population that resides in urban places. It is a two-way process because it involves not only movement from village to cities and change from agricultural occupation to business, trade, service and profession, but also change in the migrant's attitudes, beliefs, values and behaviour patterns. Facilities like education, healthcare, employment avenues, civic facilities and social welfare are reasons attracting people to urban areas.
DESPITE the looming tectonic shift towards the urban habitat, India does not have an urban concept, philosophy or political process. Since urbanisation concerns people, their lives and livelihood, it should have a distinct character, culture, ethos and inclusiveness. But, unfortunately, in India it has become commercial commodification producing and selling built units (square foot) to purchasers who can afford to pay. This is the hallmark of today's technology/globalisation-driven urbanisation which is exclusive and invasive, keeping majority of citizens away from the 'development-stream' and allocating scarce economic and ecological resources to the select few.
What we need is inclusive 'urbanism', wherein the rural and urban ecosystems would converge and complement each other. Informal sector, that contributes over 80 per cent of urban employment, which is now in the periphery of urban planning, should be mainstreamed. Urbanism would leverage urban facilities and advantages to the full and practice inclusive and shared development. This "community-based urbanism" should guide the development and governance of India's cities and towns.
Given the nature-based agrarian character of the country, urbanisation should be in consonance, not in conflict, with agriculture. Integrating farming into urban design is an urgent imperative so that the predatory practice of destroying farms and forests to build cement and concrete structures is put an end to. An alternative approach to environmental, economic and social sustainability is to conceive, design and promote natural cities to counter "invasive urbanisation" that destroys nature and its right of way and storage—rivers, floodplains, waterways, lakes, reservoirs, wetlands, marshes etc—leading to floods and inundation that we saw in our metropolise / megapolises like Mumbai, Delhi-Gurgaon, Chennai and Bangalore.
Doing so will be in conformity with the development 'idea of India', propounded by the Founding Fathers of the Republic which is sui generis, a society unlike any other, in a class of its own that would not follow the western pattern of mega industrialisation, urbanisation and individuation. India's economic growth would be need-based, human-scaled and balanced while conserving nature and livelihoods.
In the last 50 years or so, "world-class" standard-of-living by less than a billion people has consumed one-third of the living planet's evolutionary resource of the rivers, aquifers, original forests. If India's 1.25 billion people strive to live by the same standards, how long will the country's resources last? We have to replace the conspicuous consumption "world-class" standard-of-living mindset that will bring us to a nasty end with the "quality-of-life" metaphor, which is low on consumption but integrates living natural resource in an essential way in to the city scheme of living.
FURTHERMORE, fuelled by two powerful human-induced forces unleashed by 'development' and degradation of environment, effects of urbanisation and climate change are converging in dangerous ways with unprecedented negative impacts on nature and livability in cities and towns. This needs to be halted. These imperatives form the basis for the 'Natural City' initiative. Such cities will provide environmentally sustainable and good quality of life to people belonging to all strata of society.
In the Indian context, concept of 'Natural City' has evolved as a counter to Amaravati (the proposed capital city of Andhra Pradesh in Guntur District), where an 'ultra-mega-world-class-city' to house 3.5 million people is being rushed through by destroying around hundred thousand acres of prime farm and forest land. This site is in and around the floodplains of Krishna river, arguably among the most fertile farming land in the world. These villages, numbering around 30, have a vibrant rural economy of `1,000 crore per year, with complete linkages from farm to market wherein large sections of land owners, sharecroppers, tenant farmers and agricultural workers participate. These lands have a rich diversity of more than 120 crops a year and remain fallow just for about a fortnight. More than 100,000 working persons are earning secure livelihood from this economy that will be ruined now.
This action of destroying nature and livelihood to build an unnatural city is in gross violation of the Andhra Pradesh Reorganisation Act, 2014, enacted by Parliament and the recommendations of the Expert Committee appointed by the Central government to suggest a suitable site for the city. The Terms of Reference given to this Committee included "least possible dislocation to existing agriculture systems, preservation of local ecology and promoting environmentally sustainable growth." Committee specifically wrote that no major urban development should take place in the Vijayawada-Guntur–Tenali-Mangalagiri region, stating "Districts of Krishna, Guntur and West Godavari comprises some of the best agricultural lands in the country and is often referred as the food bowl of India."
Amaravati, coming up in this very region, is not a capital-city project, but "a piece of real estate by robbing people's natural resource capital" as succinctly put by Medha Patkar. She went on to say that it "will collapse on its own." Amaravati, in its present form, is an act of terror against nature and ecology. Yet, the National Green Tribunal (NGT), country's environmental regulator and watchdog, has allowed this to go on despite multiple pleas against it. Even after the receipt of voluminous documents and arguments proving the 'ravage', NGT has not bothered to visit the site. They sit in splendid isolation within the ornate chambers of the royal Faridkot House at Delhi while destruction of farms and floodplains is going apace! This is serious dereliction of duty on the part of NGT, constituted under the Environmental Protection Act, 1986, undermining its very raison d'être and credibility.
'Natural City' that integrates farming into the urban design can effectively respond to the massive food security and climate change challenges that rapid urbanisation throws up. It provides a new template to build self-organised, non-invasive habitats that "conserve and use" their living natural resources and are self sufficient in water, food and milk. Further, its alternate green-square and built-square design (see graph) considerably lowers the ambient and in-house temperature and sharply reduces energy consumption and pollution resulting in better health index. By populating them with farmers, milkmen, food processors, gardeners and other green entrepreneurs, such cities become diverse and inclusive. Time and distance of commuting are cut to less than half and so is the transportation cost. Unbroken bicycle connectivity throughout the city can be provided by routes that run diagonally along green, shaded squares and avoid built-up areas with ease. In the event, cost of living and consumption levels would be much lower than conventional cities.
What we need is inclusive 'urbanism', wherein the rural and urban ecosystems would converge and complement each other. Informal sector, that contributes over 80 per cent of urban employment, which is now in the periphery of urban planning, should be mainstreamed
Urban India is likely to move up to 500 million people by 2030 and then, go on and on. Such expansion would affect almost every State. Under this immense weight, 'Invasive Cities' will collapse. 'Natural City' is a truly original idea for making cities self sustaining and livable and is in total consonance with the 'transformative commitments' of Habitat III, as against Amaravati, which is totally in conflict.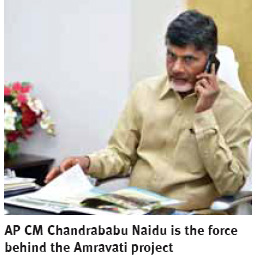 IT should be India's Innovative Urban Agenda that could radically alter the country's urbanisation process and provide answer to climate change and food security challenges. What is more, such cities could bridge the deepening rural-urban divide that is threatening the unity and integrity of the country. This is the new sustainable, livable and democratic urban future of India by choice.
Andhra Pradesh Chief Minister Chandrababu Naidu refers to Amaravati as "peoples' capital". Destroying a vibrant rural economy to ape Singapore pattern of ultra-mega urbanisation cannot make it a people's city, let alone the capital of AP which is among the top agrarian States in the country. In a decade or so, at best, few concrete structures and skyscrapers may come up and Amaravati would join the myriad of ghost cities that dot the world. This will not do any pride to AP or Naidu. For that, they should adopt the sui generis model of Natural City and blaze a trail for the country to follow. Only then Amaravati will truly be a "peoples' capital."
The writer is a former Army and IAS officer. He is also former Administrator, Chandigarh Capital Project . Email: deva1940@gmail.com