AS the dust settled, the fringe became the centre in Uttar Pradesh. Away from the duelling father and son, cleansed from the parties obsessed with cornering Muslim vote, the most populous State offered the saffron brigade a new laboratory. Quick to utilise it, BJP has welcomed the opportunity by installing Yogi Adityanath in Lucknow. The fringe is now given a chance to shape up as the next 'Modi'!
The same liberal media that is now all praise for Narendra Modi, cried hoarse the moment it heard a saffron-clad controversial priest was to become the Chief Minister of UP. They failed to understand the new narrative being scripted by Modi, his Man Friday Amit Shah, and the RSS. It's simple: Keep a symbol of the political Hindu at the centrestage, create an environment where no one will have the courage to challenge the dominance of political Hindu, and then focus on development without discrimination while cultivating a pro-poor bias. Who symbolises it better than Modi or Adityanath?
Adityanath believes (or should we say believed?) if the Muslims kill one Hindu, a 100 Muslims should be killed in retribution. Adityanath believes Mother Teresa was part of the conspiracy to Christianise India. And, the same Adityanath has one Yasin Ansari as an accountant and construction supervisor of Gorakhpur Math. A number of shops in the Gorakhnath temple precinct are run by the Muslims who, in time of dire need, get help from the head priest of the Shiva temple. This head priest performs puja and does meditation during Durga Navratri, but breaks off if he hears of a train accident. So, isn't the message loud and clear? "If they kill one Hindu,' then there will be mayhem. If 'they' don't, they will live in peace and have fair chance of prosperity. What we have here is a Hindu-dominated 'sovereign, socialist, secular, democratic, republic'.
Call it whatever you want-communal, Hindutwavadi, Golwalkarian-this is the new narrative. And the people of UP have endorsed it. Adityanath was the most sought after leader in the campaign after Modi and Shah in UP. He is the most popular face of BJP in the State. He cried in Parliament after being imprisoned by Mulayam Singh Yadav for about a fortnight. Now he laughs the proverbial last laugh. Still a Member of Parliament (probably will remain so till Presidential election is over), the Yogi will soon end his career as MP after 19 years, and that too at the age of 44. Gorakhpur nurtured him so long, and has now gifted him to the whole of the UP. In no time, he established his writ. The deputy chief ministers-there are two of them-have none of the two important portfolios, Home or Finance. A Yogi-raj has started following the footprint of Gujarat's Modi, and with the blessings of Namo.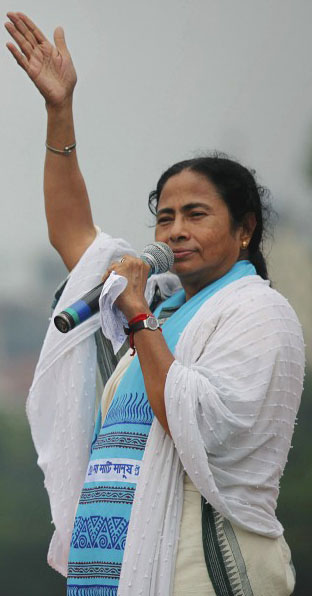 This narrative people have chosen over the clichés. A father and son fighting for the throne of a family-based political party with support base largely confined to a single caste: does it sound an interesting political plank in 2017? Akhilesh Yadav knew, it did not. So, to outwit Mayawati and corner the largest pie of Muslim votes which he thought was key to overturning Modi's rath, he joined hand with Rahul Gandhi. For months before that, the vice-president of the Congress party was campaigning against Akhilesh and his misrule. In the election, the disappearing khats from Gandhi's khatsabha turned into disappearing votes from the alliance. Meanwhile, Mayawati too raced for the Muslim vote. She fielded Muslim candidates proportionately much larger than their population. She got a chunk of Muslim vote along with her traditional Jatav vote, but lost some other dalit communities. Akhilesh too managed a large chunk of Muslim votes plus the Yadavs, but lost other Backwards. All these votes went to BJP, for it said it cared for the Hindus. Yogi Adityanath said it most loudly.
Politics, like nature, hates to nurture a vacuum. The situation now is like that of 1991, when after Rajiv Gandhi's assassination regional satraps came up to vie for the throne in Delhi
THE liberals are shocked. But what did they expect? The secular parties have, among their favourites, one Yaqub Qureshi, who announced Rs 51 crore award for the head of the Danish cartoonist who had drawn a cartoon of Prophet Mohammad. He never faced any inconvenience in 'secular' UP for such criminal intent. He was a BSP candidate from Meerut South on a BSP ticket. People made the BJP candidate, Somendra Tomar, victorious. He polled 44,000 more votes than the Islamist. Did the voters have any choice? Now in Yogi-raj, this Qureshi has been hit. His abattoir was sealed within a few days of Yogi's ascendance.
Modi, or his 'Man Friday' Shah, knows well that in 2019 all the discarded forces, Mayawati-Akhilesh-Rahul may come together. At the moment, their vote share stands at 51 per cent, while BJP's (plus small allies like Apna Dal, SBSP and NSHD) at 43. They need to take away five to six percentage points from the opposition to have a smooth sailing in UP. With the caste cauldron near full for BJP with large chunks of upper castes plus non-Yadav OBCs and non-Jatav dalits, for further consolidation both Kamandal and Mandal has to be used. Subramanian Swami has succeeded to put Ram Mandir on track through court-mediated dialogue or hearing. The pot is boiling without creating communal tension. The raw Hindutva of mandir wohi banayenge is being replaced, and accepted, by majoritarian nationalism. This narrative can ensure, BJP-RSS top brass is hopeful, even 50 per cent vote for BJP plus in UP in 2019.

Elsewhere in the country, this narrative is being established from Manipur to Maharashtra, and from Haryana-Uttarakhand to Karnataka. Before UP, there was Maharashtra civic polls and Odisha rural polls where BJP recorded impressive gains. Even before that, last year, there were assembly polls in Bengal, Kerala, Tamil Nadu, Puducherry and Assam. Divergent score sheets adorned the wall in different States, though BJP improved upon its previous position in almost all the States. Before that, there was Delhi and Bihar that BJP lost. But, all through, the constant remained the same: after its debacle in 2014 Lok Sabha election, the Congress is going down and down. It lost Haryana, Maharashtra, Jharkhand, Jammu and Kashmir, and Assam to BJP, Delhi to AAP, and Kerala to the Left. As for Bihar or UP, the party is on life support provided by others. Before 2019, there will be elections in some more states: Gujarat and Himachal Pradesh towards the end of this year; Karnataka, Meghalaya, Tripura and Nagaland early next year; and, Madhya Pradesh, Chhattisgarh, Rajasthan and Meghalaya in the last quarter of next year. As of now, the Congress is likely to lose Himachal and Karnataka and not likely to wrest any major State from the BJP.
Call it whatever you want—communal, Hindutwavadi, Golwalkarian—this is the new narrative. And the people of UP have endorsed it. Adityanath was the most sought after leader in the campaign after Modi and Shah in UP. He is the most popular face of BJP in the State
IF that happens, BJP will be facing the next Lok Sabha with two-third of Indians living in NDA-ruled States. With Modi's clout growing, a natural tendency of the voter will be to tag along Modi's party.
All this indicate one hard fact: the theme song of Indian political reality has already changed. A neither here nor there Congress plus Left centrism, carrying along with it the appeasement card, is fast fading away. A new brand of transparent, inclusive economic progress woven neatly with prejudiced, majoritarian nationalism is filling up the void. It is still somewhat nebulous and will take a few more years to solidify. It has started combining Mandal with Kamandal by being differently inclusive as juxtaposed with the inclusiveness of the Congress. Arun Jaitley was candid in TV interviews after the UP verdict: "We gave tickets to those communities who vote for us." Cry as loud as you can, this is a winning recipe and BJP-RSS will not deviate from it. They will contain the Hindu Taliban, but not deviate from their political path unless the Muslims start voting for them.
Mamata's advantages and disadvantages
Advantages
● Roots firmly entrenched

Mamata Banerjee has her roots firmly entrenched in the soil of Bengal. Unlike other regional parties, she does not require any help to retain power in Bengal and is more or less sure to romp home with 30+ seats (out of 42) during the next Lok Sabha polls. At the moment, political arithmetic of Bengal too is working in her favour: BJP is improving its vote share (from 4 per cent in 2011 to 10 per cent in 2016 assembly election), and the Left is sliding down (from 41 to 24), giving Mamata the advantage of a low opposition unity index. Unless some magical change occurs, Trinamool Congress is to have a smooth sailing for quite some years, till the BJP comes up with 30 per cent vote to challenge it in a three-cornered contest. While TMC has about 40 per cent, the Congress has 10 per cent vote, and Mamata can count on that too.
● Ready to take on BJP
If BJP targets TMC in Bengal in a big way, as indicated by the party President Amit Shah in a post-UP poll interview, Mamata too is ready to go for an all-out counterattack. In an interview with a Bengali channel, she said she would like to take on Narendra Modi by touring other States and campaigning for other regional parties. This is sort of a renewal of her idea of a Federal Front consisting of different regional parties. At the moment, it seems, she is counting on Laloo Prasad, AkhileshYadav and Arvind Kejriwal as partners.
● Bengal performing well
Bengal has performed well under the TMC regime and its economy is growing despite of the fact that big industries are not coming. Bengal government's pro-poor schemes like Kanyashree are a hit, and its performance in MGNREGA is impressive. Mamata, unlike the Left, has no team to propagate this success to the people outside Bengal. If she can arrange for it and flash her success in national media, she too can have the image of a doer.
● Indomitable and ambitious
Mamata's greatest asset is her fighting spirit. Against all odds she continues to fight. She fought with the Left for 13 years with her regional party and finally trounced her opponent. No other leader has been so successful after leaving the Congress, except for VP Singh. She has national ambition too, and that may propel her to go after the BJP which has occupied central space of Indian polity for now.
Disadvantages
● Corruption charges engulf the party
Alleged involvement of different leaders of TMC, including MPs and State ministers, in ponzi scams like Sharda and Rose Valley not only dented the image of the party, it has created uncertainty about the future of a section of its leadership. Its parliamentary party leader, Sudip Banerjee, is in jail. Now, after Narada cash-on-camera investigation transferred to the CBI by the Calcutta High Court, a fresh batch of leaders, including important MPs and ministers, have come under its purview. This may further dent the party's second-rung leadership and its image.
● Adventurist by nature
Mamata has no record of consistency in aligning with political forces at the national level. She has worked with Congress and BJP alternatively. Even now her future course for managing a national role is amorphous. Her appeal to make a Federal Front as a solid political entity has not succeeded either.
● No national network
Her part does not have a national network like the BJP, Congress or the Left. And, the Left will not try to catapult her like it did in case of HD Devegowda or IK Gujral. A regional party without a prop at the national level has a lot of handicap.
● Conventional politics
AAP brought in a wave of unconventional politics and succeeded to win Delhi and make inroads in Punjab. Modi too converted himself into an unconventional politician and picked up suitable issues including demonetisation. Mamata, being conventional politician, can count BJP's failures, but cannot invent issues that can give her special status.
The verdict of Uttar Pradesh is one of the many milestones in the process of such solidification that is being built through the dream of achche din, surgical strike and demonetisation. It is spreading even to the North-East where BJP now rules Assam, Arunachal Pradesh, and Manipur. Contrary to what the media portrayed, Congress (a party solely dependent on Meitei vote) had no chance in Manipur once they fell short of majority. BJP has cobbled up excellent combinations in Meghalaya and Nagaland too. From AB Vajpayee to Modi, in just a decade, the party has transformed itself from a moderate, easy-going claimant to a skilful, aggressive winner. The PM is setting the agenda, be it demonetisation or the 'raincoat' jibe at Manmohan Singh or kabrstan-shamshan debate, and Congress and its allies (from Akhilesh, Laloo Prasad to the Left) are just reacting, each time losing further ground. Usually, after a government completes half of its term, it happens the other way: the opposition launches one after another attack, and the government defends. Not so under Modi.
Rahul Gandhi appears a hapless lad in the face of Modi's onslaught. "Rahul is still not mature, his age does not allow him to be mature," said Sheila Dikshit. No one says this about Shah, who was considered a mature politician even six years ago. For the record, Rahul is 46 and Shah 52. And so, 2019 will be knocking the door before Rahul matures. The situation is fraught with danger. Without a strong, intelligent opposition, the government can get away with murder, isn't it? For example, demonetisation. Immediate goals of demonetisation have not been fulfilled yet. How much black money has been unearthed? Without any figures available from the Reserve Bank, it is speculated only about Rs 50,000 crore did not return to the banks. That is a meagre 3 per cent of the total volume of banned notes. We have to wait to know how much comes through the new voluntary disclosure scheme announced after demonetisation. The process of amassing unaccounted money, now in new 2,000 rupee notes, has not been dented significantly. Fake notes are being spewed even from the ATMs. Terrorists are attacking Indian army in Kashmir at will, and 'organised' crowd is still helping them. But, changing the narrative, the PM has gone far beyond the immediate now. For sure, there is a strong possibility that once being threatened, Indian society will hereafter become more tax compliant. The government will enjoy the boon of higher revenue earnings and, apart from boosting infrastructure or irrigation, will channelise a sizable part of it to serve the poor. A sure-success recipe for 2019, it seems.
As it appears, as of today, 2019 is a foregone conclusion. Rahul is knocked out of the ring. Veterans like SM Krishna, a Vokkaliga leader of Karnataka (the BJP hadn't one), are switching over to the saffron bandwagon. The proverbial doom's day is gobbling down the Congress. So, the question is, will Modi have a walkover in 2019, or will there emerge a new challenger?
Politics, like nature, hates to nurture a vacuum. The situation now is like that of 1991, when after Rajiv Gandhi's assassination regional satraps came up to vie for the throne in Delhi: Narsimha Rao from the Deccan, Sharad Pawar from the Maratha land, and Arjun Singh from Madhya Bharat. The only difference is that back then the fight was limited within the Congress and now it has been thrown open to the entire opposition. However the choice is limited now. Pawar and Mulayam are too old, down and out. Laloo Prasad is reduced to a marginal force. Navin Patnaik is not interested. Mayawati's graph is fast declining. The Left no more enjoys the larger than life image like in the past, and, of course, cannot flaunt any popular face like Jyoti Basu. After Jayalalitha, no one from Tamil Nadu has any national stature. Arvind Kejriwal definitely nurtures a very high ambition, but getting even 20 MPs is still difficult for him. Akhilesh is out for next five years. So there are only two faces in the fray: Nitish Kumar and Mamata Banerjee.
Nitish is obviously the most prominent and acceptable face from the opposition. He somewhat foresaw the future and tried to unite all Janata factions to acquire some anti-Modi momentum a year ago. Such a new Janata Dal could emerge the single-largest party after the BJP and the Congress (or, who knows, even get more numbers than Congress). His next effort would have then been forming a coalition of regional parties. But his efforts failed. Mulayam Singh and Laloo Prasad, obsessed to hold on to their family empires, were not interested. And then, the prudent politician that he is, Nitish realised the political appeal of demonetisation. He refused to join the bandwagon of foolhardy opposition to demonetisation. Now he stands a suspect in the opposition camp that neither understands the new narrative, nor wants to appreciate someone who believes in playing the role of a constructive opposition. The media, too, speculates on his future course, restricting his chance to emerge as the leader of anti-BJP forces.
Modi, or his 'Man Friday' Shah, knows well that in 2019 all the discarded forces, Mayawati-Akhilesh-Rahul may come together. At the moment, their vote share stands at 51 per cent, while BJP's (plus small allies like Apna Dal, SBSP and NSHD) at 43. They need to take away five to six percentage points from the opposition to have a smooth sailing in UP
Nitish still has time to bounce back. But, he is hemmed in by his partner RJD in the State, both by its tantrums and its proneness to create anarchy. If he withdraws from the race, the only regional leader who can still have 30 plus MPs, and is capable of gathering entire opposition, is Mamata Banerjee. But can she turn into a real challenger? Or, better to ask, can she prove herself to be an acceptable leader of all the like-minded parties (like Jyoti Basu in 1996 and 1999)? More importantly, can she match Modi's new narrative? Can she match Modi's symbolism apparent from the latter's choosing Varanasi as his Lok Sabha constituency, or demanding 'if there is electricity in Ramzan it should also be there on Diwali'?
MAMATA Banerjee is a conventional politician, but can adapt to something in no time. Here's an example.
On November 8 itself, within a couple of hours of the Prime Minister's announcement of notebandi, she turned to twitter to condemn it. There was no ambiguity in her stance as she demanded a rollback. All others vacillated. Except for Arvind Kejriwal, no one joined her in demanding a rollback. But after a week or so, Rahul started echoing every word of Bengal's didi. Manmohan Singh dubbed it'organised loot'. The joint press conference in Delhi she held with Rahul turned out to be her show. Others too (Akhilesh, Kejriwal, Laloo Prasad and so on) came up to lend her a launching pad. For the entire November and first half of December, she hogged limelight by doing what she does the best: Playing the role of a ruthless opposition. Back in Bengal, her party alleged a conspiracy to kill her was hatched by the authorities that made her plane, 'low on fuel', to hover in the sky over Kolkata airport! A few days later, she spent a whole night (December 2-3) at Nabanna, the new State secretariat at Howrah, to foil a 'coup attempt' against her by the Indian Army!
But, her initial blitz invited the wrath of the central government in the form of renewed vigour of the CBI to pin down Trinamool Congress leaders allegedly involved in the Chit Fund scam. First Tapas Pal, the actor-turned politician, and then Sudip Bannerjee, the leader of her party in the Lok Sabha, went behind bars. She fought this 'vendetta politics' for a while, even imagined a possible split in the BJP by a faction led by Arun Jaitley and Rajnath Singh, and proclaimed she was ready to support a 'national government' led either by Jaitley or Singh. Thereafter, she realised the PM, was beyond her reach. By mid-February, she gave a clear hint of a truce by proposing that the Congress should take on the central government. "The Congress … should keep their focus on Delhi in the interests of the country, instead of eyeing Bengal," she said at a Calcutta Municipal Corporation event. She even referred to Singh to bail herself out on demonetisation: "I am a layman, not an expert in economics. But even someone like Manmohan Singh has called it 'organised loot."

And then, it became all quiet on the demonetisation front. But, the people of Bengal are not discussing her silence on this count, for she has announced her own big decision in Bengal: a Regulatory Commission to stop the 'loot' of commoner's money by the private players in the health sector, an authority that can be a model for the entire country. In an open meeting (somewhat like Modi's TV speech on demonetisation), she named the captains of private hospitals and hurled charges of overbilling, negligence, deteriorating service against them, and vowed rectification. Immediately, she got kudos from all sections. Like Modi's demonetisation, Mamata's Regulatory Commission has a villain and also throws up a dream of ushering in better days.
HERE'S an interesting anecdote. Bengal provides free treatment to patients and gives all citizens medicine at much cheaper rate than prevailing in the market. The central government has copied a lot from Bengal while forming its new Health Policy (like giving free treatment to the patients).
It shows she too has many qualities that the PM possesses. She too can change the issue at will and still carry the people with her. Like Modi, she can venture into such a dangerous zone where no one else even thinks of going. That is why to some Mamata appears to be a perfect match for Modi. Like the erstwhile Gujarat CM, she is brash and confident, a fighter with the ability to bring down the mighty and never shies away from saying things without leaving any scope for nuances. But unlike Modi, despite such advantages, Mamata does not have a team of advisers well versed in the national scenario. She does not enjoy a network that can showcase her success in Bengal either. Forget about Modi, whose 'success story' in Gujarat catapulted him to the post of the Prime Minister, even the Left could do it, bragging Bengal was the 'best' State in India under Left rule. At one point of time, Chandrababu Naidu too successfully projected his developmental achievements throughout the country and earned the sobriquet 'Chief Executive Officer' of Andhra Pradesh. However, Trinamool Congress, that does not enjoy the benefit of having patronising intellectuals, has failed to portray even the right image of the State outside Bengal.
However, it is compelling for Mamata to wage a war against the BJP for the saffron brigade has enlisted Bengal among their priorities for 2019. And who does not know the might of an injured tigress? However, it is too early to predict whether she will emerge as an all-India challenger in 2019, or be preoccupied with defending her bastion.