THE most significant strategy adopted for implementation of the PMJDY (Pradhanmantri Jan Dhan Yojna) programme in the district was convergence with other government departments and schemes, such as Education, Health, Election, Agriculture, MNREGA, Small Scale Industries, SHGs, and so on.
A detailed survey was undertaken, leveraging and optimising all resources, especially personnel, from these departments. Block-level Bankers Committee (BLBC) meetings of all 22 blocks of the district were organised and the officials concerned were sensitised. More than 1,000 Banking Correspondents (BCs) were appointed by banks at a monthly salary of Rs. 5,000. Banks also paid commission to all BCs for opening of new Basic Savings Bank Deposit (BSBD) accounts. The BCs were provided with a laptop and internet connectivity for online transactions on Core Banking Solution (CBS) platform. All BCs have now been converted into fixed point kiosks.
The banks have also announced a reward for best performance in opening of new accounts and transactions. During the mission period, 40 bank branches were opened in unbanked rural Sub Service Areas (SSA) and urban wards.
Account opening camps were organised at different levels on August 20, 2014. A mega account opening camp was organised by the lead bank on the day of the launch, where all 27 participating banks set up their account opening stalls. Moreover, all bank branches hold camps for opening of accounts on every Saturday, from 8 am to 8 pm. In addition, an extensive monitoring system was developed. Within a short period, 100 per cent financial inclusion was achieved, with at least one account per household having been opened by banks in all 603 rural SSAs and 711 urban wards.
Benefit
Wages under MGNREGA are now being directly deposited in the beneficiaries' account. Bank accounts are also being used for Direct Benefits Transfer of LPG subsidy, widow pensions, old age pensions and scholarships to students under Kanyashree Prakalpa, in which over 207,000 students benefitted. A free-of-cost accident insurance coverage of Rs. l lakh has been extended to all PMJDY account holders, linked with RuPay debit card. Similarly, life insurance coverage of Rs. 30,000 has been given to accounts opened between August 14, 2014, and January 26, 2015.
In August 2015, the district administration distributed compensation against crop damage to flood-affected farmers. Approximately 265,000 farmers got the compensation and about Rs. 108 crore was distributed through PMJDY bank accounts.
Impact
Doorstep banking was provided to all bank account holders in rural and semi-urban areas through Customer Service Points (CSP) operated by Bank Mitras.
Accuracy and efficiency in financial transactions has greatly improved in government-sponsored schemes. As a result, corruption levels have reduced. People living in difficult geographical areas have now been freed from middlemen and local moneylenders and fraudulent chit fund organisations.
Aadhaar card enrolment and seeding of MGNREGA cardholders with Aadhaar improved considerably. Under the Kanyashree scheme too, funds were successfully transferred into bank accounts directly. Similarly, performance of schemes such as Yuvashree and Shiksha Shree improved, thereby providing educational benefits more efficiently and effectively.
There was better coverage of unbanked gram panchayats through new kiosks since demand increased following opening of bank accounts.
***
Atotal of 427,456 bank accounts were opened under the PMJDY. The coverage-allied insurance schemes achieved in the district was also high. Thus, 100,301 households were covered under the Pradhan Mantri Suraksha Bima Yojana (PMSBY) and 4,094 households by the Pradhan Mantri Jeevan jyoti Bima Yojana (PMJJBY).
A total of 223,979 RuPay Cards were distributed since the launch of the PMJDY and 133 financial literacy/awareness camps were held across the district. Special focus was on shadow areas (remote habitations without any bank branches within a radius of 5-10 km) with 360 Bank Mitras operating there. Mothers Groups, Self Help Groups and Panchayati Raj Institute members were roped in with the base bank branches to increase community participation in financial literacy camps.
A Special District Level Implementation Committee, comprising Deputy Commissioner, CEO (Zilla Parishad), Project Director (DRDA) and representatives of NABARD and other banks, coordinated the activities of the banks with that of various line departments to achieve convergence. The District Level Coordination Committee reviews the performance of all the banks on a monthly basis.
The most vulnerable pockets in the district were identified and nine intensive financial awareness camps were conducted in these areas.
Information, Education and Communication (IEC) activities, such as street plays short movies, leaflet and pamphlet distribution as well as house-to-house campaigns, were also organised. Village elders issued certificates for opening bank accounts as a part of simplified KYC. Farmers Clubs were involved to give information on RuPay Kisan Credit card (KCC).
Benefits
The account holders benefitted by money transfers under the Direct Benefit Transfers (DBT) mechanism to their bank accounts, such as PAHAL benefits of cooking gas subsidies, MNREGA payments, and so on.
Existing institutional mechanisms at the village level, such as Mothers Groups under Integrated Child Development Services, Bagan Bazars in tea gardens and Village Health Camps, were utilised for furthering financial inclusion. This substantially increased the reach of benefits to the common citizen.
Rs. 31.45 crore has been issued as overdrafts, a commendable reflection of the banks coming to the aid of the needy. Of these, 50 per cent have been given to small and marginal farmers.
The Health Department issued 82,601 account payee cheques under various Central and State schemes. An amount of Rs. 21,55,200 was credited to the bank accounts of 10,776 beneficiaries under Health Care for the Aged Scheme of the State government 2015-16. A total of 8,447 women beneficiaries received their benefits—amounting to Rs. 8,44,70,000—credited directly into their bank accounts in the financial year under other State government schemes.
Impact
Prior to PMJDY, there were only 279,349 bank accounts in Nagaon. After the Scheme, 427,456 accounts were opened. Earlier, less than 10 per cent of the total population of the district was covered by banking services. Now, the district has 100 per cent coverage and every household has at least one bank account.
A significant reduction in shadow areas has been a major impact of the scheme. Previously unbanked pockets are now covered under banking services through Bank Mitras. Daily transactions though Bank Mitras have also increased substantially, a major chunk of which comprises regular savings of households.
Savings habit has developed amongst various groups of people, including tea garden workers. Now, the weekly salaries of tea garden workers, majority of whom are women, are credited directly into their bank accounts. There has also been a huge increase in number of new small-scale enterprises owing to easy access to bank loans. Several daily wage labourers have now taken up self-­employment. There is a huge thrust on productive activities. As a result, women, including those from minority communities, have become economically empowered.
***
MORE than 220,000 bank accounts were opened under PMJDY. More than 1 lakh RuPay Cards were activated and more than 160,000 account holders deposited a total of Rs. 59 crore in PMJDY accounts. Almost 2 lakh accounts were seeded with Aadhaar under PMJDY. Aadhaar Enabled Payment System (AEPS) is now being used to credit scholarships to students. Aadhaar-enabled B1 metric payment system is used to disburse social security pensions. Aadhaar-based Direct Benefit Transfer for LPG subsidy is also in vogue.
Close to 50 camps were organised for activation and distribution of RuPay Cards. The awareness generation was done through FM radio, print media pamphlets, councilors, road shows and so on.
The State Bank of India and Punjab National Bank appointed Bank Mitras and 25 active Bank Mitras are successfully engaged in Chandigarh. Transactions worth Rs. 30.28 crore were facilitated in the last three months by these Bank Mitras, who used 16 Micro ATMs for extending deposit and withdrawal facilities.
A door-to-door survey was done by Aaganwadi workers to identify left-out beneficiaries. Further, Sampark Centres were leveraged to gain access to beneficiaries and social community leaders, like sarpanchs, were involved in the initiative.
The key convergence mechanisms for implementing PMJDY for BPL families included, collecting BPL family data from the Food and Civil Supplies Department; involving the Labour Department for enrolment under PMJDY for the unorganised sector; involving Anganwadi workers for sensitisation of BPL families; visits by bank employees to all BPL family homes for account opening; linking BPL family accounts to DBT for subsidy transfer; and, enrolling destitute women and widows under PMJDY.
Benefits
The opening of bank accounts has now become much easier. Citizens can now open bank accounts without any proof of residence—only self-declaration is sufficient. They now can also open a zero balance account under PMJDY.
Life insurance cover of Rs. 30,000 is being provided under the scheme and overdraft facilities up to Rs. 5,000 are being given. Mobile banking facilities are also being provided to the citizens.
Beneficiaries of government schemes are getting Direct Benefit Transfer into their accounts. Citizens carrying Aadhaar cards are not required to fill up complex forms anymore for opening an account since it is auto-generated. Distribution of RuPay debit cards to account holders is also free-of-cost under PMJDY, a benefit being welcomed by citizens.
Impact
Those who did not even dream having a bank account earlier, are now operating one and availing concomitant facilities and benefits. Similarly, life insurance and accidental insurance, which were hitherto out of reach for the poor, are now part of the bouquet of benefits in every household, thanks to PMJDY. It is a significant social security to the common man.
Since the accounts under PMJDY are opened for all citizens, DBT scheme are reaching the needy and poor. A total of 2,22,853 accounts were opened in Chandigarh and more than Rs 60 crore deposited in them under the PMJDY.
***
PREPARING for the Swachh Bharat campaign involved four steps. The first was attractive branding of the campaign by calling it Banko Bikano. Then came the task of convincing the public representatives and strengthening the institutional set up. These were followed by training and capacity building of the District Resource Group.
The strategies followed for the campaign stressed on:
Pride ("Moonch Aur Pagdi ka Sawal").
Dignity of women.
Spread of diseases via vectors, like houseflies.
Lower medical expenditure.
Demonstration with the aim to evoke maximum disgust.
Highlighting problems of the old and differently-abled.
Using local language and customs, like, "Tabartoli log lugai, khule mein tu shauch najayi''.
Another major initiative concerned construction of toilets. The people were given freedom of choice regarding the toilet model, depending on household preference. They were informed about the low cost options. Further, the initiative was community-led and a sense of ownership was created by not involving any third party. Community support for the poorest was promoted with the realisation that even if a single household defecates in the open, whole village is affected.
A major part was overcoming the scarcity of water by promoting use of non-potable water and leach pit technology.
Monitoring was done by Ratri Choupals and regular review meeting by the District Collector. Further, continuous follow up was done during early mornings by Nigrani Committees, schoolchildren, Vanar Senas and elected representative of panchayats. 'One officer, one panchayat' principle was followed to monitor the situation on ground. Those who found defecating in the open were penalised.
This was followed by inter-district verification and then by State level and National level teams. In 2015, further verification was done by two National Level Monitoring (NLM) groups of the Government of India.
Incentivising desirable behaviour by gram panchayats was the next step. For this, rewards were instituted under schemes such as Solid & Liquid Waste Management (SLWM), Nirmal Gram Puraskar. Sarpanches of successful gram panchayats were felicitated at public functions attended by all sarpanches. For further motivation, these awards were brought to the attention of the media. Also, Open Defecation Free (ODF) status of all gram panchayats was prominently displayed at the Collectorate.
Further, it was ensured that payment was never an issue. Attempts were made to encourage people to build toilets, irrespective of monetary incentive. The payment made to eligible categories was thus seen as a reward, and not as reimbursement of costs.
Benefits
The biggest benefit of the campaign was providing dignity and comfort to women. Women often pressurised husbands/in-laws to build toilets as then they would not have the compulsion to wait for early morning or late night hours.
This also meant that women were more safe as going out in darkness implies more risk to safety. There is a fear of harassment, molestation and sexual assault. Also, women save time as they do not have to travel to the fields for open defecation.
An obvious spin-off is achieving better health indicators as there is a high correlation between open defecation related diseases, under-nutrition stunted growth and high child mortality rate.
Not only there's a reduced incidence of diarrhea, intestinal worm infection, typhoid, cholera hepatitis and polio, but also of gynecological problems and urinary tract infection in women which had high correlation with high maternal mortality rate. Life also became easier for old and disabled people.
Impact
Along with construction of toilets, awareness was increased about use of soap to ­wash hands, focus on menstrual hygiene, and so on. The impact of the scheme was an increase in confidence of the community. Also, villages, which had separate pockets for separate castes earlier, now stood united.
Natural leaders emerged to lead follow up action in which Anganwadi workers and ASHAs played an important role. A surprise side effect of 'One officer, one panchayat' principle was that schools started to open in time as teachers also joined in the follow up action.
The Open Defecation Free campaign covered 17 lakh people in 290 gram panchayats and its 1,015 villages. On January 26, 2016, Bikaner was recognised as the first Open Defecation Free district in the State of Rajasthan, and the second in India.
In a rapid assessment study by the Government of India verification team, around 97.8 per cent population reported using toilets. This is a huge increase from the 29 per cent coverage reported in the 2011 Census.
***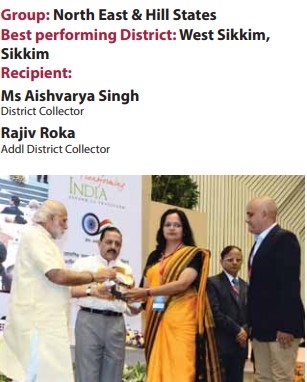 UNDER the Swachh Bharat (Gramin) Mission, baseline survey 2012 targets were reviewed afresh in the district. New targets were arrived at, necessitating construction of 3,118 Individual Household Latrines (IHHLs) and building of sanitary IHHLs in mission mode manner.
Beneficiary-driven implementation approach was adopted, encouraging use of local materials for IHHLs. Community participation in making toilets through contribution of funds in the names of deceased relatives was an innovative approach. Panchayat funds contributed for left out IHHLs and garbage vehicles. The involvement of panchayats at all levels ensured support.
Dedicated 'Swachhta Preraks' were appointed in each gram panchayat to monitor progress under the scheme. IEC (Information, Education and Communication) activities, comprising rallies, cleanliness drives, school events, meetings and so on were organised. As a result, 3,258 IHHLs and 42 Community Sanitary Complexes were constructed. On December 31, 2015, all 55 gram panchayats of district were declared Open Defecation Free through a Special Gram Sabha.
Benefits
Every household now has an IHHL. Health indicators in the district are improving significantly, with attendant benefits of reduced disease burden for the citizen as well as reduced cash outflow for medical expenses.
Impact
Beneficial effect in the area is in the form of menstrual hygiene management with the opening of sanitary napkin production unit. Zero waste management campaigns were started in schools and households and garbage bags were given to all taxis to properly manage waste.
Keeping track of plastic and other disposable waste at entry and exit points of the National Park helped in waste management in the ecosystem and is now a way of life in the district, not limited to toilets alone.
***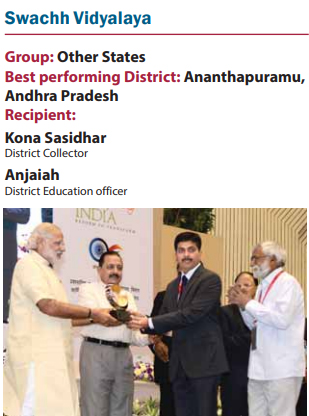 UNDER Swachh Vidyalaya, more than 2,200 modern toilets were constructed for boys and girls with running water facility. More than 660 dilapidated toilets were demolished and then reconstructed. More than 1,000 non-functional toilets we­re repaired and made functional.
Construction of toilets was completed within a record time of three month. A total of 2,774 primary schools, 595 upper primary schools and 608 zilla parishad and municipal high schools were covered under the Swachh Vidyalaya Scheme.
Sanitation volunteers were appointed for cleaning school toilets, twice a day, with a remuneration of Rs. 2,000, Rs. 2,500 and Rs. 4,000 in primary schools, upper primary schools and high schools, respectively.
Benefit
Construction of toilets in the schools brought social awareness in the surrounding areas and the practices of open defecation stopped. People residing near government schools are feeling happy, since the students are not using open place­ for urinating and defecation.
Motivated by the Swatch Vidyalaya success, students are now educating and prevailing upon their parents to construct toilets in their houses to promote the Swachh Bharat Mission.
The district administration has identified 111 villages as ODF and a district-level officer has been appointed as a special officer for every 2-3 ODF villages for speedy completion of individual household toilets in the villages. Simultaneously, school toilets have been constructed under Swachh Vidyalaya in 111 identified ODF villages along with individual household toilets.
Impact
Before the construction of toilets, girl students faced severe problems. They felt shy and insecure to go to open places. Such is not the situation now.
Drop-out rate of girl students has reduced from 15 per cent to 10 per cent and enrollment has increased appreciably. Because of the availability of separate toilets for girls, parents have no hesitation in sending their children to the school even during the menstrual period.
Parents, school management committees and the Self Help Group members are feeling responsible, willingly involving themselves and monitoring the maintenance of Swachh Vidyalaya toilets.
***
ALL schools in Anantnag district have been covered with toilet facility under different schemes. This include separate toilets for girls. The programme was taken up under the supervision of the District Administration. The Village Education Committees (VEC) were actively involved. This inculcated a sense of belongingness among the community members, as a result the target was achieved within the stipulated time.
The District Administration constituted the monitoring/facilitating teams, comprising sub-divisional magistrates and tehsildars to ensure hassle-free and quality construction.
The technical wing was given strict instructions to ensure good quality of construction. Three-tier monitoring mechanism was put in place for this—the District Administration, the Education Department and the zonal level comprising officers of the department. To maintain transparency in such large scale construction activity, cross verification at different levels was undertaken.
All the heads of the schools, where such construction was carried out, were advised to maintain the works register to avoid any deviation in the construction process. The heads of the institutions concerned have been advised to maintain proper records which could be produced before the audit at any point of time.
All the 'work done' claims of these toilets have undergone through social audit. Every precautionary measure was taken to ensure the completion of construction before the given timeline. This was ensured by daily reviews by the heads of the institutions / zonal education officer. All the heads of the institutions have been advised to meet the financial implications out of the school local funds.
Benefits
Awareness-cum-sensitisation among the students has been made a regular feature in schools to ensure the maintenance and cleanliness of toilets. Student Committees were constituted in every school to sensitise, monitor and motivate students. Special cleanliness-oriented programmes are being conducted during the morning assembly, where the students are being educated to use the toilets and never defecate in the open as it leads to spread of diseases.
Impact
Community members started feeling that the school belongs to the entire community and that it needs to get actively involved in ensuring the provision of facilities to their wards. Community members supported the schools in identifying and donating patches of land where it was not feasible for construction in the premises itself. At some places, community members commited to take the responsibility of maintenance of these toilets.
Positive behavioral changes among the students were felt after they imbibed the habits of cleanliness. The students in far-flung areas come from families which usually do not have such facility at their homes, so the provision of such facility became a motivating factor for such students to attend the school.
The initiative had a good impact on the attendance, especially of girl students. Girls, who remained absent due to non-availability of toilets, started attending school regularly.
The implementation was done involving School Management Committees (SMCs), VECs, local Wakf Boards, Panchayati Raj Institutions and NGOs. The Rural Development Department was also roped in to put this facility in place for rented buildings, which would otherwise had remained uncovered.
***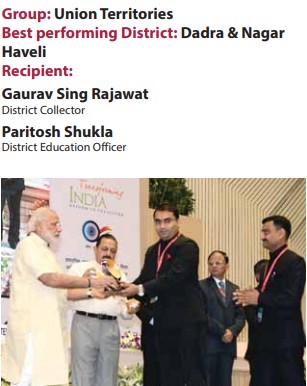 MORE than 50 toilet blocks comprising separate toilets for boys and girl were constructed in 2015 with appropriate signage. Construction and maintenance of toilets was monitored by the PWD wing of the District Panchayat, Dadra & Nagar Haveli. The­y used modern technologies, such as Whatsapp, smart phones, and so on, for regular monitoring. Online tendering process was followed for the award of work for construction and maintenance of toilets. Focused attention was given to making toilets for Children with Special Needs (CWSN).
All the equipment (mops, wipers, brooms, phenyl, buckets) required for cleaning toilets was provided in all schools. Overhead tanks were regularly cleaned and separate taps installed for drinking water. Reverse Osmosis (RO) facility was also provided in all schools. All the students (about 50,000) were appointed as Swachhata Senani in Dadra & Nagar Haveli to work as change agents and spread the message of cleanliness. Local bodies—Education Committees of the District Panchayat and Silvassa Municipal Council—were made key stakeholders for the successful implementation of the campaign.
Rallies were organised on October 2, 2015, by the students on Swachh Bharat Mission. Special days were also allocated every month for cleanliness drives.
Benefits
A sense of confidence amongst parents is generated because of better, clean and hygienic school environment and availability of toilets for students, specially for girls and CWSN.
Habits related to hygiene spread from the children to their families. 'Being Confident' Scheme has resulted in increased use of sanitary napkins and better knowledge of menstrual hygiene amongst the female members of the tribal families of the girl students who were imparted the necessary training. Institutions of Local Bodies— Panchayat and Municipal Council—got strengthened as elected representatives were actively involved in the components of the Swachh Vidyalaya Mission.
Impact
Admission of girls from Class I to Class XII increased by 683 in 2015-16, compared to the previous year because of availability of toilets ensuring privacy and safety. Attendance of girls above 90 per cent was recorded because of proper knowledge of menstrual hygiene and easy accessibility of wash facilities. General health and overall hygiene of students and teachers improved, resulting in higher attendance. Due to close linkages between hygiene and school nutrition, children benefitted with good health and better productivity. Swachh Vidyalaya Mission has generated enthusiasm about cleanliness, health, sanitation and hygiene in schools.
***
WITH agricultural land spread over about 60.16 lakh hectares—agriculture being the primary occupation of a large majority of the citizens here—the district administration has taken major initiatives to improve productivity and reduce input costs for the betterment of farmers. The first step is to collect soil samples under the Soil Health Card Scheme and suggest inputs based on scientifically-generated reports.
The Soil Testing project is being run with concerted efforts of the Department of Agriculture, Department of Horticulture and Krishi Vigyan Kendra (KVK) in the district. While the agriculture and horticulture departments provided adequate human resources for awareness-generation and soil-sample collection, the Krishi Vigyan Kendra gave technical help and training to the Rural Agriculture Extension Officers (RAEOs) and Senior Agriculture Development Officers (SADOs).
The issue of not having proper soil testing facilities locally was addressed by sending the samples to the labs in Ambikapur, Bilaspur and Allahabad. Financial resources from the Additional Central Assistance (ACA) Scheme to the tune of Rs. 30 lakh were also utilised to set up 13 soil testing labs with 24 soil testing kits. This has now ensured that soil testing can be carried out in the district itself, which has further improved the scale and outreach of the programme.
Specialists from the Nagarjuna Fertilizers, Hyderabad, were brought to train the Block Technology Managers (BTMs) and Assistant Technology Managers (ATMs) under the Agricultural Technology Management Agency (ATMA) Scheme, for operating the oil testing kits.
The RAEOs and SADOs have provided guidance to farmers on crops to be grown and inputs to be used based on the Soil Health Card, under technical supervision of the Soil Scientist at KVK and the Block Level Officials. Efforts have also been made to address issues of soil erosion and deforestation by constructing various water and soil conservation structures under MGNREGA scheme.
Organic farming, Non-Pesticide Management (NPM) and System 0f Rice Intensification (SRI) have also been introduced for improving the organic carbon content and reducing nitrogen leaching in the soil.
Benefits
Initial farmer baseline surveys revealed poor match between soil requirements and inputs provided and lack of awareness about the scheme, a major challenge. There was also a mismatch between fertiliser distribution targets set by the State and soil health needs of district and farmers.
Thus, emphasis was laid on providing inputs and services based on Soil Health Card findings for the farmers. A total of 14,000 farmers have been provided with Soil Health Cards and are now using inputs based on scientific reports.
Up to 400 samples can be tested every day as 13 centres with 24 mini-labs are now operational in the district. Efforts have also been made to provide farmers with inputs from multiple schemes, like MGNREGA, so that they get maximum benefits.
Farmers are being motivated to take up organic farming, NPM and SRI-based farming to improve productivity and reduce costs of input for farmers. The farmers provided with Soil Health Cards are aware of the benefits of soil testing and are incorporating suggestions so obtained in their farming methods.
Impact
Based on the problems identified, water and soil conservation works based on Ridge-to-Valley approach under MGNREGA, were taken up through integrated planning. Special afforestation drives, especially in degraded areas, have been taken up. Farm bonding works have also been initiated to check soil erosion. To improve the forest cover, 3,345 plantation works over 3,680 ha with more than 1,215,800 plants have been taken up under MGNREGA. Moreover, farm bonding has been carried out on lands of about 4,612 farmers on 3,230 ha to check soil erosion.
Excessive use of chemical fertilisers has been addressed by introducing organic farming through SHGs. Cultivation of pulses and crop rotation is also being introduced on a large scale in the district. An initiative to promote Farmer Producers' Organisation (FPO) has also been taken up to promote traditional varieties and create better market linkages.
Low nitrogen content issues because of hybrid vaneties have been addressed by promoting local varieties of vegetables and pulses. More than 80 traditional varieties of cereals, pulses and vegetables have been sent for registration under Protection of Plant Varieties (PPV) and Farmers' Rights Authority (FRA). Besides this, a Farmer Producer Organisation for collective cultivation and marketing of scented varieties of rice is formed witn 1,100 farmers. SHGs are being trained and motivated to cultivate traditional varieties of rice, like jeeraphool, and have been provided with mini rice mills for processing and marketing.
***
HUNDRED per cent soil samples of the district have been collected within one year of the launch of the Scheme. The programme was closely monitored through weekly meetings with the field functionaries— Agriculture Development Officers (ADOs), Agriculture Extension Officers (AEOs) and Subject Matter Specialists (SMS)—of the district. They were allocated targets block-wise, for collection of soil samples. Two teams were constituted for each block.
In addition to the six sets of GPS and stainless steel augers allocated by the Directorate of Agriculture, seven additional sets were arranged at district level for speedy collection of soil samples. Also, three camps in each block were organised for sensitisation of farmers. The field functionaries were trained in using GPS in sample collection. The District Soil Testing Laboratory has been strengthened for micro-nutrient analysis as well as for other parameters. A centrifuge, electrical conductivity meter and cathode lamps were procured for the purpose.
The district has taken all measures to ensure timely procurement of all the necessary laboratory chemicals, filter papers, glassware and so on. The extension functionaries of the Department of Agriculture collected composite soil samples after delineating the grids of irrigated and rain-fed areas. They recorded the data of all the farms falling in that grid and dispatched soil samples to the laboratory for analysis, after registering it on the Soil Health Card portal.
Soil Health Cards have been generated and given to farmers using the SHC portal. The local agriculture officer educated them about the soil status of their fields and the nutrient requirement of the crops.
Benefits
Farmers are showing interest regarding balanced and judicious use of plant nutrients, keeping in view the importance of soil health in production of healthy and clean produce, and to reduce the hazardous effect of chemical fertilisers on human health and the environment. Judicious use of fertilisers is improving the production of crops. Also, with reduced expenditure on chemical fertilisers, cost of production of crops is reducing significantly.
Impact
Farmers are now aware of the Soil Testing programme, its importance in agriculture for obtaining status of micro-nutrients, along with major and secondary nutrients. Farmers are also aware of fertility status of their soil, along with soil amendments needed for sustaining its health.
Interactions with farmers on the impact of the Scheme have been quite encouraging. They have shown tremendous interest and enthusiastically adopted the recommendations. Farmers are now concentrating on balanced and judicious use of fertilisers as per the recommendations in the Soil Health Cards. They agree that it increases the productivity and maintains fertility of their soil.
With SHC, the demand for organic sources of plant nutrients like bio-fertilisers, organic manures, vermicompost and neem-coated urea is increasing, in turn, improving the quality of the soil.