THE ELEVENTH Civil Services Day celebrated on April 21, 2017 changed the dynamics of the Prime Minister's Awards for Excellence in Public Administration. Narendra Modi was the force behind making the awards more dynamic, racy, pacy and consequential. The Prime Minister presented a total of 12 awards, which included 10 under the five Priority Programmes and two under Innovation category. These awards were given in three Groups, the first group consisting of the eight North-Eastern States and the three Hill States of Uttarakhand, Himachal Pradesh and Jammu and Kashmir, the second group comprising the seven Union Territories and the remaining 18 States constituting the third group.
The era is gone, where the selection of civil servants for PM's awards was from all services. Modi has changed the prototype. Currently, the awards are given to only those officers who excel in implementing Prime Ministers' priority programmes. In the past eight years, PM Manmohan Singh used to present awards to those selected by the Department of Administrative Reforms and Public Grievances (DAPRG). There is one school of thought which has expressed its reservations on the model of the awards. Senior civil servants who spoke to gfiles said that earlier the award was open to all civil servants. It was in true sense an award for those who used to excel in different areas. It was an award ranging from District Collector to Secretaries of the Government of India. They said that the PM could have created an award for priority programmes without diluting the character of the civil services awards. Now, it has become a district administration award, one civil servant said. A senior civil servant who retired as secretary, explained that approximately out of 5,000 civil servants, there are many who are performing exceptionally in their field, what will happen to those officers, nobody knows. He said, "We have to involve and evolve more ideas for making an award one can be proud off." This debate will continue, but Modi is determined to cajole, excite and motivate the civil services to think out of the box.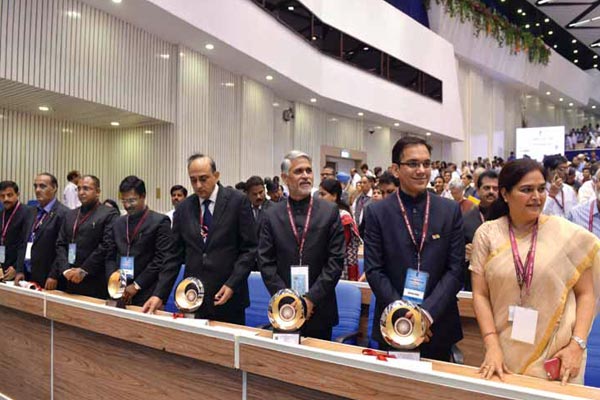 THE Minister of State for Development of North Eastern Region (I/C), Prime Minister's Office, Personnel, Public Grievances & Pensions, Atomic Energy and Space, Dr. Jitendra Singh informed that this year, 599 districts participated in the PM Awards competition, as compared to 74 districts last year. He said that this shows the trend towards competitive federalism and now more and more districts are competing for these awards by improving their performance in various priority programmes. The DAPRG undertook an elaborate exercise and 615 IAS officers of four batches (2013-2016) spent about 2,000 hours and provided their inputs on this platform, he added. The Minister said that this year's theme of CSD is 'Making New India', which is on the lines of the Prime Minister's vision of New India.
Earlier, Cabinet Secretary PK Sinha in his welcome address highlighted the entire process involved in the selection of awardees through different committees. Principal Secretary to the Prime Minister Nripendra Misra, Additional Principal Secretary to the Prime Minister Dr PK Mishra, Secretary, DARPG, C Viswanath, former Cabinet Secretaries were also present on the occasion, in addition to senior officers from the Central and State Governments.
Competition and anonymity is the mantra
PRIME Minister Narendra Modi cautioned civil servants that the use of social media should not lead to a decline in anonymity which has been one of the greatest strengths of civil services, even as social media and mobile governance are being leveraged to connect the people to government schemes. While presenting the PM's Awards on the occasion of the eleventh Civil Services Day, the PM further urged senior officers to ensure that their experiences should not become a burden that stifles innovation of younger officers. Here are 10 things PM Modi said on the occasion:
PM reminded civil servants that the conditions prevailing today are quite different from about two decades ago, and would evolve much further over the next few years.
PM added how the government was earlier the sole provider of goods and services which left a lot of scope for ignoring one's shortcomings. But now, people very often perceive that the private sector offers better services than the government.
With alternatives now available in several areas, the responsibilities of government officers have increased, the PM said. He added that this increase is not in terms of scope of work, but in terms of the challenge.
PM emphasised the importance of competition, which brings about qualitative change.
The sooner the attitude of government changes from regulator to enabler, the faster this challenge of competition will become an opportunity, he added.
The presence of government in a sphere of activity should not become a burden, he said.
PM mentioned the quantum jump in the applications for Civil Service Day awards, from less than 100 last year to over 500 this year, adding that the focus should now be on improving quality, and making excellence a habit.
PM urged senior officers to ensure that experience does not become a burden that stifles the innovation of younger officers.
Anonymity is one of the greatest strengths of the civil services, the PM said. He cautions officers that the use of social media should not lead to a decline in this strength, even as social media and mobile governance are leveraged to connect the people to benefits and government schemes.
In "reform, perform and transform", the Prime Minister says that political will is needed for reform, but the "perform" part of this formulation must come from civil servants.
High performers
Pradhan Mantri Krishi Sinchayee Yojana (PMKSY)
An Agriculture Contingency Plan and a comprehensive District Irrigation Plan (DIP) was developed to ensure convergence of all programmes/activities for water conservation. Detailed year-wise strategic action plan for irrigation of the district was prepared department-wise and funds were earmarked. Micro Irrigation (MI) was given more thrust as it was cost effective and its maintenance was easier. A special purpose vehicle company, Gujarat Green Revolution Ltd, was formed to undertake this MI work on a large scale. To maximise use of existing resources of water, the administration undertook several activities, including creating new water sources and enhancing potential of traditional water bodies. As a result, the irrigation potential increased by 534 ha, with increase in coverage under micro-irrigation by 58,177 ha; 33 new water structures were created; the water table improved by 20 feet; there was an increase in gross agricultural area; increased production of 3,00,000 tonnes. The increased area for fodder has also helped in improved milk production; and there has been a change in cropping pattern, from cereals to groundnut, potato and horticulture crops.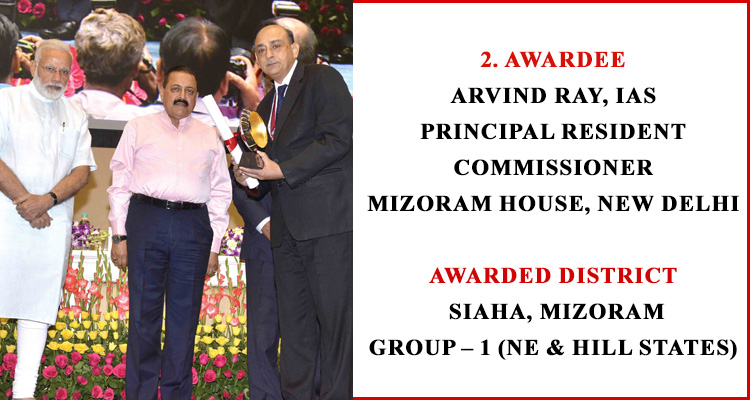 A detailed Irrigation Plan was prepared and included district water profile, water availability, water requirement and strategic action plan for irrigation. The potential horticulture area is 0.86 lakh hectares of the total area of 1.99 lakh hectares in the district. As part of the implementation of PMKSY, the following initiatives have been undertaken: 75 individual water tanks, 2 check dams, 2 water reservoir, a turmeric pack house, strawberry terrace, rainwater harvesting structure were set up; solar water pumping system has been installed, gravitational pipelines were set up and percolation tank was constructed; contour trenching was undertaken; a processing plant for turmeric was created which has drying yard, slicer machine, pulveriser, grinder and packing machine. The results were impressive with the irrigation potential increasing by 7,400 ha, with increase in coverage under micro-irrigation by 28 ha. In addition, 124 water harvesting structures were created in the district; turmeric cultivation and processing at Tisopi has helped in taking turmeric from the field to the retail market; in Siata and Neotala villages, strawberry cultivation is a commercial success; and the pisci culture promoted under the scheme by building fish ponds for beneficiaries has led to adequate fish supply in market.
Deen Dayal Upadhyay Gram Jyoti Yojana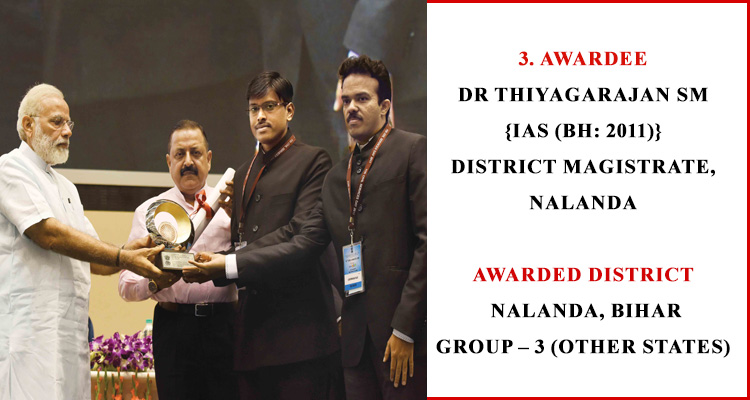 Multiple local level policy interventions were undertaken for effective implementation of DDUGJY and provision of continuous power to villages. A project monitoring application DCNINE was also developed for monitoring progress and quality of the project. A 24×7 district customer care centre has been made operational for redressal of complaints related to breakdowns. Complaints can also be registered through DISCOM's website at www.sbpdcl.co.in. A 24×7 toll free number has also been operationalised to register complaints regarding meter, transformers and other breakdowns. Monthly camps are organised at sub-division level for redressal of meter billing and other disputes. A total of 12 villages and 98,189 sanctioned BPL households were electrified between April 2015 and December 2016. Electricity has been made available for 16-18 hours per day in rural areas and 23-24 hours per day in urban areas. A burnt DT is replaced within a specified time limit of 72 hours in rural areas and 24 hours in urban areas. Electrification has also increased use of agriculture equipment such as water pumping motors, harvesters, etc. resulting in reduced distribution of diesel subsidy. District has witnessed increased inflow of tourists and setting up of new small scale industries such as flour mill, ice factory, welding shops, etc.
Most of the Above Poverty Line (APL) households were already electrified in the district, thus the district administration was focused towards electrification of BPL households. Considering the rainy season lasts for five months in Assam, innovative methods were adopted for speedy implementation. Boats, bullock carts, etc., were used to carry construction materials in flood affected areas. Material was procured during rainy season and construction work was undertaken during dry season. . In order to minimise loss of energy through theft and leakage, insulated Aerial Bunched Conductor (ABC) has been used. The project was monitored by the Assam Power Distribution Company Limited (APDCL) on a day-to-day basis. Both online and offline complaint redressal systems have been made operational for the villagers. Linesmen have been deployed in each village. The district administration used local media, regional newspaper, official calendar, etc., to advertise the programme. Awareness programmes were also organised at Gram Panchayat level. For APL customers, service connection melas were organised by the district administration from time to time. As many as 135 villages were electrified between April 2015 and December 2016. Electricity has been made available for 24 hours a day, during normal season. After warranty period, damaged transformers and faulty meters are replaced by APDCL within seven days. Electrification has given boost to commercial activities by allowing small businesses to operate for long hours.
Pradhan Mantri Fasal Bima Yojana (PMFBY)
The district administration laid emphasis on mass involvement of SC, ST beneficiaries through MG-NREGA work site and Jan Dhan bank accounts. The administration reached out to female members of Self Help Groups (SHGs) to spread awareness to the grassroots level though cluster coordination of Tripura Rural Livelihood Mission (TRLM) Scheme. To raise awareness, a pyramid of officials was established beginning from the Village Level Worker to DM level. As a practice, the village level workers organised regular discussions with farmers to motivate and create awareness for adopting the PMFBY Scheme. District and state portals, mobile vans and print and electronic media were used to generate awareness. Leaflets and brochures in local language were also distributed In addition, Water User Associations (WUA) and Watershed committees (WC) at the Gram Panchayat level were used for mass publicity by the administration. As a result, for Kharif 2016, 182 farmers were insured under the scheme, of which 54 per cent are non-loanee farmers. Total coverage of insured area is 76 ha, out of a total cropped area of 21,257 ha. Similarly, for Rabi 2016, 3964 farmers were insured under the scheme, of which 97 per cent are non-loanee farmers. Total coverage of insured area is 622 ha, out of total cropped area of 18,782 ha.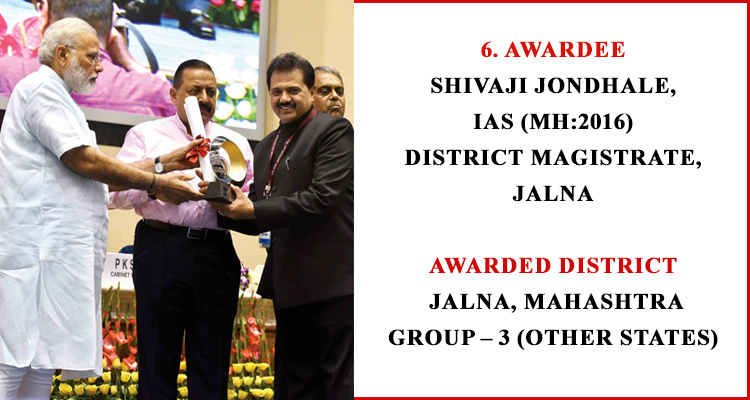 Information on PMFBY was disseminated under different existing schemes and trainings of Government of India and States. Jan Dhan accounts were used for PMFBY. The compensation was disbursed to farmers, under crop insurance, in June 2016. This timely disbursement of compensation was much appreciated by farmers and helped them for procurement of inputs and expenses, for cultivation of crop in Kharif 2016. Trainings and interactive meetings were conducted for all stakeholders like departments, bank officers, farmer leaders and farmers at village, block and district level. In order to ensure greater participation of farmers, non-officials such as MP, Guardian Minister of the district, MLAs, Zila Parishad Members were involved in the training. Crop Cutting Experiments (CCE) app, farmers portal, WhatsApp group of all stakeholders for easy dissemination of information were used. CCE App training was given to all relevant stakeholders For monitoring Google sheets were used to track the disbursement of compensation. Call centre was set up in DM office to address grievances. As a result, for Kharif 2016, 12,29,699 farmers were insured under the scheme, of which 77 per cent were non-loanee farmers. Total coverage of insured area was 5,57,644 Ha, out of a total cropped area of 5,85,706 Ha. For Rabi 2016, 87,988 farmers were insured under the scheme, of which 98 per cent weree non-loanee farmers. Total coverage of insured area was 1,50,000 Ha, out of total cropped area of 2,17,000 Ha.
Standup India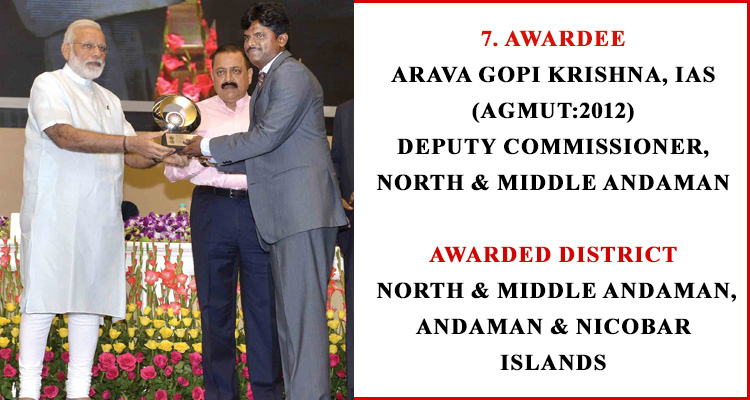 Recognising the challenges faced by SC/ST and women entrepreneurs in setting up enterprises, obtaining loans and other support, the programme endeavours to create an eco-system which facilitates and continues to provide a supportive environment for doing business. Internet penetration and connectivity is poor which prevents online mechanism of submission of applications under the scheme. Banks in the district helped entrepreneurs in filling up of loan applications and in preparing project proposals covering details of product, process, market and viability of the business. Identification of local business needs was done by the bank managers. The administration extensively used mass media such as radio and Doordarshan to promote the scheme. With the help of district office, 20 awareness camps were conducted all over North & Middle Andaman District to motivate unemployed youth to avail financial assistance under the programme for entrepreneurship. Special kiosks were set up in beach festivals and melas. Women entrepreneurs were also engaged through Whatsapp. Credit counselling was provided by bank officials to entrepreneurs to facilitate them in developing credit worthy proposals. Under the programme, 2 bank branches have sanctioned 5 loans to women entrepreneurs. These entrepreneurs have generated further employment opportunities for 12 persons.
Startup India
The Government of Gujarat has been promoting Start Ups by encouraging entrepreneurship and providing support in funding, mentoring and incubation. A special Scheme for Assistance for Start Ups/ Innovation under the Industrial Policy 2015 Government of Gujarat in its efforts to bridge the existing gaps at various stages of Start Up development cycle and to create a conducive Start Up eco-system. A dedicated mobile application and web-portal for Start Ups, i.e. startupgujarat.in, for handholding and end-to-end support in registration, Government schemes, mentorship etc. Funding assistance was provided to startups by leading institutions, i.e. GVFL, Gujarat Angel Investors Network, Ahmedabad Angel Investors, etc. Additionally student innovation fund of Rs. 200 crore has been earmarked. Government of Gujarat has created 'GVFL Start Up Fund' of Rs. 250 crore towards promoting startup ecosystem along with GVFL Ltd. A number of events, including Vibrant Gujarat Start Up Summit, are organided in the state to provide a networking platform to start up stakeholders. As a result, over 45 ventures have been incubated in diverse domains such as health, energy, etc; 31 incubator institutions and 101 Start Up projects have been selected for assistance; 52 innovative projects are being supported and 125 projects have been identified or potential support under the Scheme.
e-National Agriculture Market (e-NAM)
With the objective of putting an end to archetype system of agricultural trading, the district administration with active collaboration of the agriculture marketing department conceptualised implementation of e-NAM through a three-phased reforms action plan in Agriculture Produce Marketing Committee (APMC) Nizamabad. Complete automation of weighing, cleaning and grading systems for better price realisation was done at the Mandi. Assaying Labs were set up within the market yard and grading was done by market authorities on a day-to-day basis. A Direct Purchase Centre (DPC) platform was set up to facilitate trading without a commission agent, and a farmer's help desk was provisioned on DPC platform. Electronic boards displayed market rates of commodities and winners' transaction details. SMS alerts to farmers was developed to ensure transparency. Facility for financing purchasers and providing interest free loans to farmers, for parking their produce in warehouses, was also put in place alongwith bank linkage. As a result, 5 commodities (i.e all the commodities proposed in DPR) are now traded on e-NAM platform; 103 traders have participated; the total value traded on e-NAM platform is Rs. 77 crore; and more than 90 per cent transactions at APMC are cashless.
Solan APMC was selected amongst 22 markets in the first phase to roll out the e-NAM programme on pilot basis. Earlier, lots were assayed manually and online payments were not facilitated. Agriculture is the main occupation of people in the district and has an important role in the economy of the State. The steps included initiatives such as allowing farmers to directly sell their produce to buyers without bringing it to the Mandi, establishment of private markets receiving at par treatment as APMCs, removal of legal barriers for entry of organised and modern capital and investments into agricultural marketing and rationalisation of market fee and commission charges. In order to ensure effective rollout of e-NAM, training programme, for the officers of APMC Solan, was organised under the chairpersonship of Additional Chief Secretary (Agriculture). Farmers are contacted through SMS and WhatsApp and 89 awareness camps were organised. CCTV cameras, display boards, electronic balances, soil testing lab, mobile van, cleaning and sorting facility, and packing facilities were created. Amenities such as Kisan Bhawan, canteen, water, toilets, parking, etc., were also provided in the Mandi. As a result, 3 commodities (50 per cent of the commodities proposed in DPR) are now traded on the e-NAM platform; the APMC has registered 196 traders, 90 commission agents and 3,843 producers under e-NAM; 70 per cent of the registered traders (196) have participated in trade on e-NAM platform; and the total value traded on e-NAM platform is Rs. 4.09 crore.
Awards in Innovation
Prior to this initiative Palnar had no banks/ATMs and there was no internet accessibility. Residents had to travel more than 10 km in order to withdraw money from ATM and about 34 km to Dantewada for opening a bank account. An order was issued by Chief Executive Officer – Zilla Parishad (CEO-ZP), Dantewada for implementation of cashless payment mode for MNREGS and all social security schemes. BSNL was engaged for establishing a Wi-Fi hotspot zone at Palnar. The connectivity was established in December 2016, and the entire shopping area of Palnar was provided with free Internet Service. Ezetaps were installed instead of conventional POS machines and Micro ATMs. Localised audio and video campaigns and Nukkad Nataks were designed for public awareness. A Digital Army was created within the villages using digital band, caps and T-shirts to attract local people. Functional high transaction Common Service Centers (CSC) have been established. Entire panchayat has been given training for using cashless transaction techniques. The initiative has been successful in empowering villagers and in building confidence for digital transactions. Cashless transactions are being made as part of communal marriages, traditional folk dance festivals, inter village sports tournament, etc. As many as 1,062 cashless transactions amounting to Rs. 1.22 lakh have been carried out.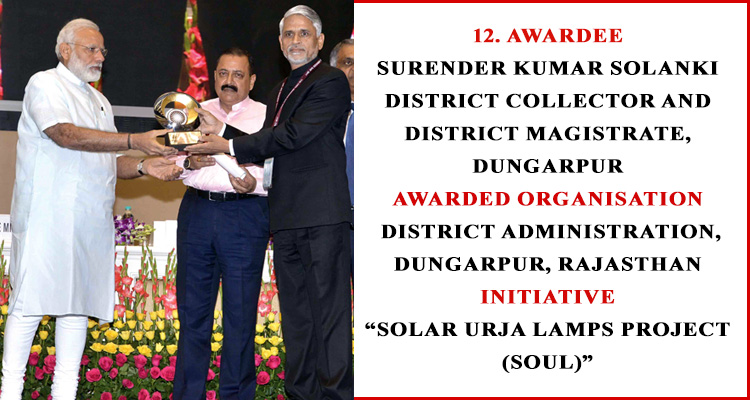 The Solar Lamps Project was initiated under the aegis of IIT Bombay, Rajasthan Grameen Aajeevika Vikas Parishad (RGAVP) and district administration. It focused on development of solar enterprise, for which women Self Help Group (SHG) members were trained and mentored to become solar entrepreneurs. IIT Bombay provided overall technical and management support. RGAVP helped in implementation of initiative through 4 SHG – Cluster Level Federations (CLFs). As many as 150 women participated in a 10-day training for solar lamps assembling, repairing and marketing. The district administration played a crucial role of bringing together all stakeholders and providing handholding support to them. For awareness generation, campaigning was done at both school and household levels. A Solar Module Manufacturing Plant named DURGA ( Dungarpur Renewable Generating Association) is being set up to meet local demands of solar energy. Under the project, 40,000 solar lamps were assembled, sold and maintained, over a period of four months. The entire community has benefited and is using lamps for study, cooking, milking, going to field, social gatherings, etc. In addition, 83 tribal women are now able to earn Rs. 5000-6000 per month; revenue of Rs. 80 lakh was generated with a profit of Rs. 32 lakh. Further, the Ministry of New and Renewable Energy (MNRE), GoI has funded the project to provide solar lamps to 70 lakh students across Bihar, Uttar Pradesh, Assam, Odisha and Jharkhand.