PRIME Minister Narendra Modi has exhorted civil servants to "reform, perform, and transform." Addressing a full-house of officials gathered from the Central, State and Union Territories' governments at Vigyan Bhavan to observe and celebrate the Civil Services' Day on April 21, he argued that if officers reformed and performed, transformation would become visible on its own.
He asked them to continually experiment with new ideas so as to become agents of change—because the country wants changes, because sustained changes alone would compel us to transform our attitude to administration and regulation of different set of policies meant for bringing about transformative changes in the life of 1,250 million people.
He reminded civil servants that they were not workers who worked for wages; they were civil servants engaged in the noble task of public service. In this context, he recalled the words of a college-day friend, who told him during the course of a discussion that he would like to join civil services. Asked why he wanted to do so, he said it would throw open a vast opportunity to serve the people. Told that he could do the same by joining politics, his answer was a loaded one: politics provided temporary opportunities, if at all, to serve the people, while the civil services offered a life-long sustained opportunity to engage with civil society, hear out their problems and grievances, and the power to remedy those problems and grievances.
Prime Minister Narendra Modi reminded civil servants that they were not workers who worked for wages; they were civil servants engaged in the noble task of public service
The Prime Minister said he has been privileged and honoured to lead a team of committed, dedicated and experienced officers. He recalled that when he was Chief Minister of Gujarat, he had nil experience—he didn't have the experience of even running a Panchayat. But officers came forward on their own, helped him in running the administration and taught him a lot in the process. In the last two years, he has undergone the same experience at the central government. In this context, he mentioned the exemplary work done by several committee of secretaries he had set up at the beginning of 2016. No circular was issued, no one was compelled, but each member of these committees burnt midnight oil to think out of the box and prepare documents to ensure success of the government in many difficult areas. He cited a Niti Aayog presentation to state that these groups voluntarily put in 10,000 man hours to complete the tasks set out for them.
Using this exemplary contribution of the administration, Modi said more could be achieved by simple coordination among different departments. Asking officials to avoid and drop what he called a 'silo psyche', he said this has lead to unnecessary litigations among government departments, wastage of time, and interventions by judiciary. Precisely to break this silo mentality he constituted those random groups, without any one heading one group or another. In these groups, officials met and melted into each other; even though being batchmates, they had no time to interact with each other earlier; each of them worked from the 'silo' of his ministry/department, carried away by precedents and previous noting on the file. For the first time, through these informal groups, batchmates came into contact with each other and figured out, as he likened, what the other preferred, a samosa or pakora, and intuitively turned into team-mates from batchmates.
Frequently repeating that he was privileged and proud to be the leader of most talented and experienced officers, the Prime Minister drew their attention to the huge water crisis in the country. He asked them to use this challenge into an opportunity by maximising the fund expenditure under MGNREGA on creation of millions of water-harvesting facilities, dredging up the canal, building of ponds, desilting of reservoirs, and so on, in view of the forecast of good monsoon this year. He added that we should be prepared to store as much water before it rains. This would also insure us against a drought next year in case it hits us, he said.
A day before the PM's address, inaugurating the two-day Civil Services Day function, Minister of Railways, Suresh Prabhu, said the Indian economy has the potential to grow at 8 to 9 per cent, but this required team-work between political leadership and civil servants. Only through team-work could we identify the deliverables and targets and then gear up government machinery at all levels to achieve them.
REFERRING to the growth story of Indian Railways in the recent past, he said that the Railways were able to achieve an all-time high capital expenditure because of team-work and united efforts and dedication. Railways undertook doubling of lines and electrification, all a record performance, he added. He called upon all stakeholders to work for the common objective of national development. He emphasised on the need to devise a system of rewarding and incentivising good performers and, at the same time, inspiring others to perform better through motivation and training. He said that it is necessary to harness this huge human capital of civil servants, but it needs to be constantly updated and upgraded to keep pace with the changing times so as to deliver the best possible results. He said it is important to have a proper system for ensuring effective delivery.
The Union Minister of State (independent charge) for Develop-ment of North Eastern Region (DoNER), MoS PMO, Personnel, Public Grievances & Pensions, Atomic Energy and Space, Dr Jitendra Singh, said that in the last two years the Government has become more citizen-centric towards the goal set by Prime Minister Narendra Modi in delivering his promise of 'Minimum Government, Maximum Governance'. He said the Government has been able to address the public grievances more successfully. Compared to an average of 2 lakh grievances annually received in the previous years, more than 6 lakh grievances were registered last year. And, over 90 per cent of these grievances were redressed, which showed that civil servants were not that apathetic towards the plight of the common man as they were painted.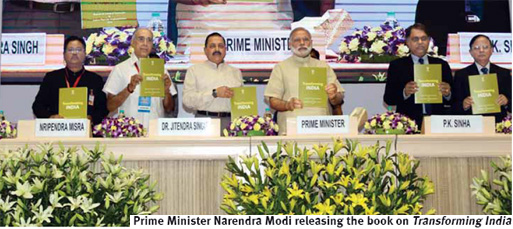 HE said that this year, four more categories have been included in the Prime Minister's Awards for excellence in public administration. These awards pertain to the four priority programmes of the government namely, PMJDY, Swachh Bharat (Grameen), Swachh Vidyalaya and Soil Health Card.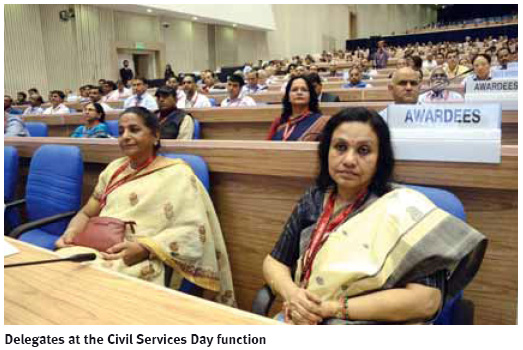 Speaking on the occasion, Secre-tary, Department of Administrative Reforms and Public Grievances (DARPG), Devendra Chaudhry said that the Civil Services Day function spread over two days will include eight sessions being attended by more than 1,200 civil servants from different States.
Chaudhary also said that for the first time a theme has been dedicated to the Civil Services Day this year. The theme reflects the Prime Minister's vision—Transforming India—and 10 districts have been selected out of 677 districts for this year's Prime Minister Awards.
Cabinet Secretary PK Sinha, former Cabinet Secretaries, Secretaries, Chief Secretaries of States and senior officers from various Ministries of Central and State Governments were also present.
The key principles for the successful and sustainable implementation and replication, that emerged from eight panel sessions at Civil Services Day (April 20, 2016) are:
Prioritise and stick to those priorities: Governments at all levels need to prioritise where they want to really improve and stick to those goals—for example, successful districts/ States have identified specific areas of focus like sanitation, financial inclusion, etc.
Create an implementable strategy: Build on starting positions and current capabilities—for example, leveraging agricultural universities and starting Soil Health Card scheme.
Develop detailed plans: Interim milestones and risk mitigation approaches—for example, defining target number of ODF (Open Defecation Free) GPs every month.
Measure and track outcomes: Key lever for timely and goal-oriented progress—for example, Chief Minister of Maharashtra tracking key performance indicators of Aple Sarkar on an ongoing basis.
Leverage technology and data analytics: To help with scaling up and to derive actionable insights to increase effectiveness—for example, cashless economy, JAM (Jan Dhan, Aadhar & Mobile).
Engage the community and increase citizen-centricity: Active involvement of women, children, SHGs and grassroot functionaries have made many campaigns successful—for example, Swachh Bharat (Gramin), PM Jan Dhan Yojana.
Increase private sector participation: For successful vocational programmes and for bolstering agricultural incomes.
Co-operative federalism is a strong catalyst for change: Friendly competition between districts and prizes for those who make the most progress is a catalyst for development—for example, performance by multiple districts of Rajasthan in Swachh Bharat (Gramin).
Center-State collaboration can drive scaling-up and replication: An effective mechanism for identifying and spreading best practices—for example, DARPG providing support to the States replicating the PM awarded initiatives in past (Canal top solar power plant, SAKALA, etc).
Sustain efforts by creating a 'pull factor': For example, linking Swachh Bharat (Gramin) campaign to pride and dignity of women in Bikaner and thus achieving zero 'outdoor defacation'.
ON the occasion, Union Ministers also released the book, Recreating Excellence, which details the replication of the Prime Minister's awarded initiatives last year on the Civil Services Day. Later, Union Ministers and top officials discussed threadbare the government's priority programmes. Union Minister of Minority Affairs, Dr Najma A Heptulla, chaired the panel discussion on 'Preventing Child Marriages, Preventing Female Foeticide, Save the Womb and Malnutrition'; the session on 'Swachh Vidyalaya' was chaired by Human Resource Development Minister Smriti Zubin Irani; Dr Jitendra Singh chaired the session on 'On-Time Delivery of Public Services, the core of any Good Governance Initiative'; the session on 'Swachh Bharat Gramin' was chaired by MoS for Drinking Water & Sanitation, Ram Kripal Yadav; Union Minister of State for Finance, Jayant Sinha, chaired the discussion on the 'Pradhan Mantri Jan Dhan Yojna (PMJDY)'; Minister of State for Information and Broadcasting, Col Rajyavardhan Rathore, chaired the session on 'Vocational Training & Inspiring Youth for Sports'.