NOBODY in Bal Krishna Chaturvedi's family ever had any doubts about him getting into Indian Administrative Service (IAS). The suspense was only about where he would figure in the list of top ten at all-India level. After all, the second eldest son of Jai Krishna Chaturvedi, a Deputy Superintendent of Police (DySP) who served at several places in Uttar Pradesh and later practised in Allahabad High Court as a Senior Public Prosecutor, was considered the brightest among his five siblings—(late) Bhoop, Amiya, Azad and Anil.
In fact, Bal Krishna Chaturvedi, named after Bal Gangadhar Tilak, taught physics in Motilal Nehru Regional Engineering College as an Associate Professor for around three years because he had not yet attained the eligible age to sit in the civil services examination. Among his peers was former Union Cabinet Secretary Prabhat Kumar, in whose place he had joined as Associate Professor (Physics). Among half a dozen of his contemporaries who made it to the civil services was former Planning Commission Member NC Saxena. In 1965, he finally appeared in the exam conducted by the Union Public Service Commission.
But the result greatly disheartened his father. His name figured at number 14 in the all-India list and second in Uttar Pradesh. In those days, All India Radio would announce the names of top 10 candidates. "My father's assessment was I would figure in the top 10. He was crestfallen and disappointed," the former Union Cabinet Secretary, now 72, recalls. His father had frequently interacted with District Magistrates and was greatly impressed by their 'aura'.
On July 2, 1966, Chaturvedi (better known as BK Chaturvedi) joined Lal Bahadur Shastri National Academy of Administration (LBSNAA) as a probationer. A year later, he was sent to Bareilly as an Assistant Magistrate for training in law, revenue collection and other aspects of district administration. The separation of powers between the judiciary and the executive was yet to be completed and his mandate as Assistant Magistrate was to deal with cases of smoking in cinema halls, urinating in public places, etc.
In 1967, he was appointed the Sub-Divisional Magistrate of Baheri, one of the Sub-Divisions in Bareilly. As SDM, his job included conduct of elections in Baheri Assembly constituency in early 1969. Here he made an important decision, which was subsequently upheld by the Election Commission of India.
"In the counting of votes, Shafiq Ahmad Khan of Bharatiya Kranti Dal won against Indian National Congress' Ram Murti by about 200 votes. The latter demanded recounting. I decided against it because there was no reasonable ground available for it. Each counting table had a representative of Ram Murti and they never expressed any dissatisfaction. Murti was upset and challenged the decision. The Election Commission did not order any recount," he reminisces.
After Baheri, Chaturvedi served as SDM of Ranikhet for about a year. Since this was a hilly area and he had no jeep to travel in, he commuted in government buses and on foot. "In the bus, the seat next to the driver would be reserved for the SDM," he remembers. In the sub-division, there were large tracts of forest land which rival village panchayats would claim. He settled such claims by doing measurements of the land in the presence of lawyers of contesting parties, patwaris and others.
His first posting as District Magistrate was in February 1973 in Azamgarh, which in those days also was considered sensitive. When he landed there, a judicial inquiry into a communal riot was on. As he settled down, it was clear that there was a need for greater harmony between communities and increased faith in impartiality of administration. He attended many mushairas (poetic symposiums) as part of a goodwill exercise. In 1975, before national emergency was declared by the then Prime Minister Indira Gandhi, there was another Hindu-Muslim riot at Azamgarh and curfew had to be imposed. Chaturvedi ordered arrest of miscreants of both communities. This was done to send a message to the public that no mischief-maker will be spared and the administration would be fair in dealing with the situation.
DURING the tension, the administration was informed that a group of men from minority community had gathered somewhere with arms and were planning to attack Hindu houses. When he visited the spot along with Senior Superintendent of Police (SSP) Trinath Mishra (he later rose to be Director, Central Bureau of Investigation) they found no arms. The group told them that they feared an attack by a group of Hindus and, hence, had hidden their women at a safe place. This was a big lesson for him. It gave him an idea how scaremongering and rumours worked during communal frenzy. In 1976, the State government gave him 'State Award' considering his outstanding work as DM Azamgarh. Subsequently, he served in different positions in Lucknow.
In 1980, Chaturvedi was sent to Allahabad as DM in the wake of a communal riot there. After a brief stint, he was promoted and he served as the Secretary to Government of UP and worked in several departments. In 1984, months before Prime Minister Indira Gandhi's assassination, he got transferred to the Centre on deputation in the Ministry of Commerce.
In 1975, before national emergency was declared by the then Prime Minister Indira Gandhi, there was another Hindu-Muslim riot at Azamgarh and curfew had to be imposed. Chaturvedi ordered arrest of miscreants of both communities
In 1993, he became the Principal Secretary (Power) in Uttar Pradesh and faced his toughest test after power engineers and officers in the department threatened to go on a strike demanding pay hike. Chaturvedi was told by GP Singh, then chief of State Electricity Board, that the board was running in losses and was in no position to pay more to the engineers. He was also asked by then Chief Minister Mulayam Singh Yadav to control power theft.
Chaturvedi enlisted support of National Thermal Power Corporation (NTPC) and army for protection and operation of sub-stations during the proposed strike. Subsequently, an appeal was issued to the public through newspapers, asking it to be prepared for an emergency. A day before the scheduled strike, Chaturvedi asked the State Electricity Board to prepare suspension letters for errant officers. The board also spread a message that suspended officers may be evicted from government houses with immediate effect. The tough no-nonsense approach ensured that the strike was called off hours before it was to be launched. Chaturvedi attributes the cancellation of the strike to right messaging. "You can send the right message if the cause is right, your team is with you and public interest is paramount," he recollects.
IN October 1994, Chaturvedi was appointed Chairman & Managing Director of the State Trading Corporation (STC). Considering that in those days India frequently imported sugar, wheat and other commodities and the STC had a crucial role in such imports, this was an important assignment. He soon noticed that before actual import of a commodity, the requirement is tom-tomed in the public allowing international exporters to jack up their prices. This resulted in India paying much more than the market price.
He decided to change this. In 1996 the availability of wheat was much lower than the demand. He got the opportunity to try a new idea. "Nothing was announced in public. Only about half-a-dozen of us, including the then Cabinet Secretary TS Subramanian, knew about it. We started negotiations for a small quantity of wheat and went on increasing it in instalments. Negotiations went on till 2 am. The prices at the Chicago Board of Trade, which is considered a benchmark, fell. We got a superb price," he recalls.
Chaturvedi also believed that if an exporter is quoting a price below or above the market price, there must be something fishy. This is what caused `133 crore urea scam in the late 1990s.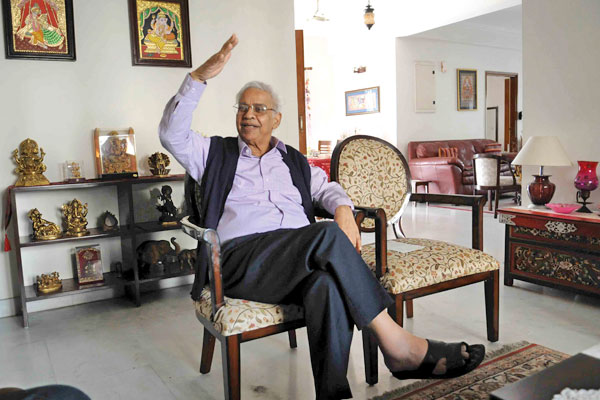 From the STC, Chaturvedi moved on to the Ministry of Finance as Special Secretary and played a crucial role in opening up the insurance sector. Subsequently, he was Secretary in Human Resource Development (HRD) and Petroleum ministries.
During his stint in the latter, Mangalore Refinery and Petrochemicals Limited (MRPL) was incurring big losses and Hindustan Petroleum Corporation Limited and AV Birla Group, which had major shares, wanted to get out of it even at a loss. Chaturvedi says, he was informed that the `9,000-crore asset company was being sold for a song. He discussed this with the then Oil and Natural Gas Corporation (ONGC) chairman, Subir Raha. The ONGC Board decided to buy it after protracted negotiations. Initially, ONGC, an upstream company, had problems about buying a downstream company. In retrospect, it turned out to be a good financial decision. The MRPL, he notes, is one of the most profitable ventures of the ONGC today. Chaturvedi also contributed to dismantling of Administered Pricing Regime in petroleum.
FROM June 12, 2004, to June 12, 2007, Chaturvedi served as the Union Cabinet Secretary, considered the pinnacle posting for any IAS officer. Initially, he was to retire on June 12, 2006, but Manmohan Singh-led United Progressive Alliance government gave him an year's extension making him one of the longest-serving Cabinet Secretary till then.
Chaturvedi was known for building consensus among different ministries. "The Cabinet Secretary must have good equation with Prime Minister's Principal Secretary, National Security Advisor (NSA), IB and RAW chiefs. You must listen to everyone, take a decision and then stick to it," he notes.
Besides being the Cabinet Secretary, Chaturvedi also headed the National Crisis Management Committee and his handling of the Tsunami tragedy (December, 2004) and Jammu and Kashmir earthquake (2005) is quoted as a proof of his efficiency. He served as a member of the Planning Commission for seven years after retirement.
He is a recipient of Padma Bhushan, third highest civilian award of the country. Chaturvedi has a son Nitin and a daughter Ritu. None of the two are in civil services.
As told to Narendra Kaushik