THE Pench Tiger Reserve and its neighbourhood is the original setting of Rudyard Kipling's most famous work, The Jungle Book. The terrain of the park is undulating with mainly gentle slopes criss-crossed by seasonal streams and nullahs. The Pench river, flowing through the centre of the Reserve, is dry by April but a number of water pools, locally known as 'dohs', are found, which serve as waterholes for wild animals.
Its close proximity to Nagpur, just 90 km on NH7, gives it an advantage in terms of logistics and services. The wildlife population, especially that of the tiger, has grown encouragingly.
The undulating topography supports a mosaic of vegetation ranging from moist, sheltered valleys to open, dry deciduous forest. Over 1,200 species of plants have been recorded from the area including several rare and endangered plants as well as plants of ethno-botanical importance. It is dominated by fairly open canopy, mixed forests with considerable shrub cover and open grassy patches.
The area has always been rich in wildlife. The high habitat heterogeneity favours the population of chital and sambar. Pench Tiger Reserve has the highest density of herbivores in India (90.3 animals per sq km). The area is especially famous for large herds of gaur (Indian bison), cheetal, sambar, nilgai, wild dogs and wild pigs. The key predator is the tiger followed by the leopard, the wild dog and the wolf. Other animals include sloth bears, chousingha, chinkara, barking deer, jackals, foxes, palm civets, the small Indian civet, jungle cats, hyenas and porcupines among others.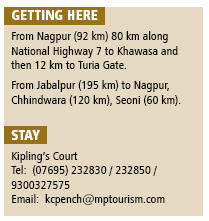 Pench can be described as a bird -watchers' paradise. There are over 285 species of resident and migratory birds including the Malabar pied hornbill, Indian pitta, osprey, grey-headed fishing eagle, white-eyed buzzard and so on. In winter, thousands of migratory waterfowl including Brahminy Ducks, pochards, barheaded geese, coots and so on visit the tanks and the Pench reservoir within the park.
Four species of the now endangered vultures, the white-rumped, longbilled, white scavenger and king vulture, can be seen in good numbers in the Reserve. The other fauna present include 50 species of fishes, 10 amphibians, 30 reptiles, 45 butterflies, 54 moths and numerous other insects.
Situated at a distance of just 18 km from Pench's Turia gate is the tiny, spotless Pachdhar village. Outside practically every home, potters sit at their wheels, shaping glorious art from lumps of clay. Watch them work their fascinating craft, and take a piece of it home. You can even try your hand at the wheel if you desire.
There is also a cluster of villages around the park where you can get a glimpse of the local culture and customs of the Gond tribe.