ORCHHA'S grandeur has been captured in stone, frozen in time; a rich legacy of the ages. On this medieval city, the hand of time has rested lightly and the palaces and temples built by its Bundela rulers in the 16th and 17th centuries retain much of their pristine perfection.
Orchha was founded in the 16th century by the Bundela Rajput chieftain, Rudra Pratap, who chose this stretch of land along the Betwa River for his capital. Of the succeeding rulers, the most notable was Raja Bir Singh Ju Deo who built the exquisite Jehangir Mahal, a tiered palace crowned by graceful chhatris. From here the view of soaring temple spires and cenotaphs is spectacular.
Complementing the noble proportions of their exteriors are interiors which represent the finest flowering of the Bundela School of painting. In the Laxminarayan Temple, vibrant murals encompassing a variety of religious and secular themes bring the walls and ceiling to rich life.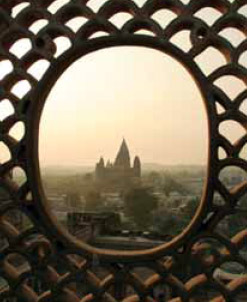 Inside the fort complex to the right of the quadrangle lies the Raja Mahal where the plain exteriors, crowned by chhatris, give way to interiors with exquisite murals, boldly colourful, on a variety of religious themes. Of special interest at Raja Mahal is a new sound and light show on the premises facing the entrance gate. The one-hour show in Hindi and English brings alive the 400-year history of Orchha in a stunning spectacle.
There is also the Rai Praveen Mahal built for the beautiful paramour of Raja Indramani. The palace is a low, two-storied brick structure, designed to match the height of the trees in the surrounding beautifully landscaped gardens of Anand Mahal, with its octagonal flower beds and elaborate water supply system. Skillfully carved niches allow light into the Mahal which has a main hall and smaller chambers.
The main temples are the Ram Raja Temple (the only one in the country where Rama is worshipped as a king), the Chaturbhuj Temple, and the Laxmi Narayana Temple.
Laid out as a formal garden, the Phool Bagh complex testifies to the refined aesthetic qualities of the Bundelas. A central row of fountains culminates in an eight-pillared palace-pavilion. A subterranean structure below was the cool summer retreat of the Orchha kings. An ingenious system of water ventilation connected the underground palace with Chandan Katora, a bowl-like structure from whose fountains droplets of water filtered through to the roof, simulating rainfall.
The iconic Orchha photograph is of the 14 cenotaphs of the Bundela rulers and members of their family standing proudly on the southern, the right, bank of the Betwa River. The chhatris rise on a square platform and the sanctum is also square. The first chhatri has a marble statue of Madhukar Shah and his wife with a painted canopy over them.
Other places worth seeing in Orchha are Diwan Hardaul's Palace, Sunder Mahal, the Shahid Smarak and the shrines of Siddh Baba ka Sthan, Jugal Kishore, Janki Mandir and the Hanuman Mandir.