PERCHED along the Vindhya ranges at an altitude of 2,000 feet, Mandu, with its natural defences, was originally the fort capital of the Parmar rulers of Malwa. Towards the end of the 13th century, it came under the sway of the Sultans of Malwa, the first of whom named it Shadiabad-'city of joy'. And indeed the pervading spirit of Mandu was of gaiety; and its rulers built exquisite palaces like the Jahaz and Hindola Mahals, ornamental canals, baths and pavilions, as graceful and refined as those times of peace and plenty.
Each of Mandu's structures is an architectural gem; some are outstanding like the massive Jami Masjid and Hoshang Shah's tomb, which provided inspiration to the master builders of the Taj Mahal centuries later.
THE JAHAZ MAHAL: This 120-metre-long "ship palace" built between the two artificial lakes, Munj Talao and Kapur Talao, is an elegant two-storeyed palace. Probably, it was built by Sultan Ghiyas-ud-din-Khilji for his large harem. With its open pavilions, balconies overhanging the water and open terrace, Jahaz Mahal is an imaginative recreation in stone of a royal pleasure craft.
HINDOLA MAHAL: An audience hall, also belonging to Ghiyas-ud-din's reign, it derives its name of "swinging palace" from its sloping sidewalls. Superb and innovative techniques are also evident in its ornamental facade, delicate trellis work in sandstone and beautifully moulded columns. Other places of interest in this enclave are Champa Baoli, Dilawar Khan's Mosque, the Nahar Jharokha (tiger balcony), Taveli Mahal, the two large wells called the Ujali (bright) and Andheri (dark) Baolis and Gada Shah's Shop and House, all worth a visit.
HOSHANG SHAH'S TOMB: India's first marble edifice, it is one of the most refined examples of Afghan architecture. Its unique features are the magnificently proportioned dome, marble lattice work of remarkable delicacy and porticoed courts and towers to mark the four corners of the rectangle. Shah Jehan sent four of his great architects to study the design and draw inspiration from the Tomb.
JAMI MASJID: Inspired by the great mosque of Damascus, the Jami Masjid was conceived on a grand scale, with a high plinth and a huge domed porch, the background dominated by similar imposing domes with the intervening space filled up by innumerable domes.
REWA KUND: A reservoir, built by Baz Bahadur with an aqueduct to provide Roopmati's palace with water. The pool is revered as a sacred spot.
BAZ BAHADUR'S PALACE: Built by Baz Bahadur, in the early 16th century, the palace's unique features are its spacious courtyards surrounded by halls and terraces which afford a superb view of the countryside.
ROOPMATI'S PAVILION: The pavilion was originally built as an army observation post. From its hilltop perch, this graceful structure with its two pavilions was a retreat of the lovely queen, from where she could see Baz Bahadur's palace and the Narmada flowing through the Nimar plains far below.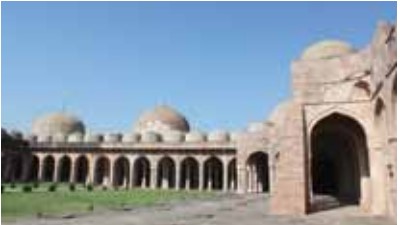 NILKANTH: This sacred Shiva shrine is sited in a magnificent setting, at the very edge of a steep gorge. In its tree-shaded courtyard, a sacred pond is fed by a stream, and pilgrims still gather to worship here.
NILKANTH MAHAL: Belonging to the Mughal era and close to the Nilkanth shrine, this palace was constructed by the Mughal governor, Shah Badgah Khan, for Emperor Akbar's Hindu wife.