MARKET will witness heightened volatility in the short to medium term though the outlook for the long term remains bullish. The effects of Rexit, Brexit and the progress of monsoon that has remained erratic so far and needs to be watched closely besides India's failure to get the membership of NSG may lead to a sharp correction. Britain's exit of EU has further increased global risks and may adversely affect global growth outlook. Even before Brexit, the World Bank had forecasted that world economy will grow at 2.4 per cent in 2016 and at 2.8 per cent in 2017 lower than the earlier forecasts of 2.9 per cent and 3.1 per cent, respectively due to increased risks to growth. India will remain one of the fastest growing major economies ahead of China for next three years though it has lowered growth projections to 7.6 per cent and 7.7 per cent for 2016-17 and 2017-18.
There is limited scope left for further stimulus by central banks in the developed markets with interest rates being at the lowest possible level. The world may witness volatile forex movements with devaluation of pound sterling and China soon taking the lead to devalue its currency. Raghuram Rajan in fact warned of it long back that the world may witness a spate of competitive devaluations and 'beggar-thy-neighbor' policy. Also, China's corporate debt is 145% of Chinese economy and public and household debts are another 40% each. There are real dangers of China not being able to meet it especially when its economy is slowing. The potential losses are estimated at around 7 per cent of GDP and could cost more than US$ 1 trillion.
The rupee may come under severe pressure in the short to medium term since UK and EU account for around 24 per cent of rupee's exchange rate. Brexit may lead to risk aversion in equity markets resulting in outflow of FPI money. The volatility in the rupee may further get accentuated with estimated US$ 20 billion outflows likely to take place during September- November as most of the FCNR deposits raised in 2013 will not be rolled over. Companies having large exposure to UK may get temporary jitters. However, there is a positive side of the story as well. All this make the possibility of a US Fed rate hike almost zero. Also, Brexit coupled with China's slowing growth may lead to commodity prices softening further giving respite to the recently increasing rate of inflation thereby giving some elbow room to RBI to go in for a rate cut sometime in August.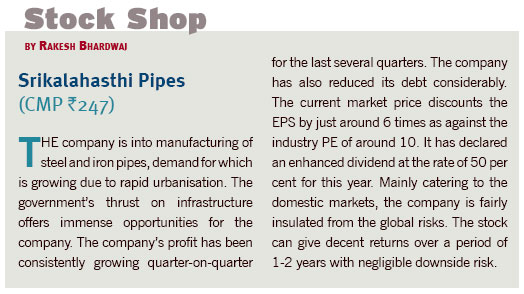 India remains a sweet spot being one of the most sought after destination for investment due to its improving macroeconomic fundamentals. However, current valuations are a bit stretched with the Sensex trading at trailing PE of around 20 and forward PE of around 18. The Nifty is at 2.8 times its book value, the highest among top global bench mark indices. The market could have witnessed sharp correction but for the support of domestic funds. The private capex cycle may take another year or so to set in motion due to surplus capacities with corporate India. Rising food prices is already giving sleepless nights to the ruling dispensation and disbursal under 7th Pay Commission may further fuel inflation.
Investors would, therefore, do well to exercise caution and use only steep corrections to increase exposure to equities. The market may give excellent opportunities to buy even blue chips when its gets beaten down amidst bouts of selling due to heightened global risks.
The author has no exposure in the stock recommended in this column. gfiles does not accept responsibility for investment decisions by readers of this column. Investment-related queries may be sent to editor@gfilesindia.com with Bhardwaj's name in the subject line.