THE market is staring at a fresh set of uncertainties arising from both global and domestic developments. The three major worries on the global front include the possible Fed rate hike, China's desperation to arrest its slowing growth, and increased risk for West Asian economies due to declining oil prices. Back home, the outcome of the Bihar elections will test the popularity of Narendra Modi and his policies.
The US Fed may not hike interest rates in December as expected but the uncertainty surrounding the decision is playing heavily on the market. The market may move up post the hike since it will indicate that the largest economy of the world is doing fine and India may end up a net gainer, given the robustness of its macro fundamentals can not only withstand such an eventuality but are prepared to fetch the best out of it.
Europe, China and Japan continue to follow monetary easing and US policymakers believe that easing in these economies will be enough to balance the contraction effects of higher US interest rates. Post the Fed meeting on October 28, 2015, treasury yields have moved higher and the dollar index is up 1 per cent. If the same continues, it may be enough to shake the world markets.
China's six consecutive rate cuts within this year with the one-year lending rate at a record low of 4.35 per cent shows its desperation to arrest the slide in growth and has raised doubts of yet another yuan shock coming. The Purchasing Managers' Index (PMI) for China indicates that the manufacturing sector continues to contract. The Producers' Price Index falling by 5.9 per cent in September indicates persisting deflationary conditions. Falling commodity prices may be good for India, but is enough to destabilise economies like Russia, Brazil and West Asia.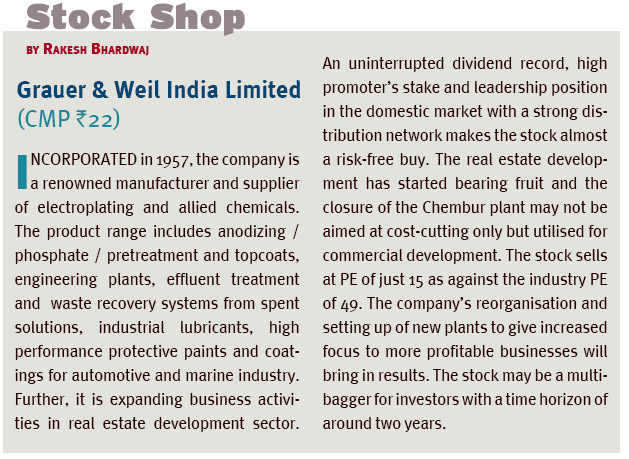 The Indian market, up 3.3 per cent, has underperformed the MSCI index in October that is up by 8.3 per cent. FIIs bought stocks worth Rs. 6,650 crore in October after selling shares worth Rs. 23,000 cr in August and September. But they are wary due to the high valuation of the Indian market that is trading at 37 per cent premium to EM index against the five-year average of 34 per cent. But Domestic Institutional Investors (DIIs) have emerged as major buyers capping the impact of any big sell-off by FIIs. DIIs' stake in BSE 500 companies, propped by increasing flows from retail investors and HNIs, was the highest in the September quarter in the last 25 quarters whereas that of FIIs dropped to the lowest in the last seven quarters.
However, India's high growth rate and relatively better macroeconomic fundamentals that include stabilising inflation, low current account to GDP ratio of 1.2 per cent, improving regulatory environment, increased infrastructure investment and lower government debt ratios have not only continued to justify the premium it commands but have made international rating agency Moody's upgrade its outlook for India. No significant improvement in corporate earnings and stressed balance sheets of some of the leading corporates remain major areas of concern.
Investors may witness increased volatility in the days to come. Any sharp correction should be seen as a buying opportunity since long-term fundamentals remain intact.
The author has no exposure in the stock recommended in this column. gfiles does not accept responsibility for investment decisions by readers of this column. Investment-related queries may be sent to editor@gfilesindia.com with Bhardwaj's name in the subject line.