THE steep correction witnessed by the market has shattered the myth that the Indian market will largely remain unaffected by what happens to the global markets. Despite economic macro-fundamentals remaining solid and, in fact, benefitting from softening commodity prices, no market can remain decoupled from what happens in the world. The other theory many analysts have been putting forward is that the steep correction has mainly been caused by global factors such as the Fed rate hike, the massive slowdown in China coupled with devaluation of the yuan and struggling commodity exporting economies, but the fact remains that local factors are equal culprits. The market has run up way ahead of fundamentals and, at 18 times its trailing 12 months earnings post-correction, is still pricier than most of its emerging market (EM) peers as also many of the developed markets. However, with no discernible change at ground level due to slowing down of the reforms process and the Modi charisma fast losing sheen, corporate earnings too are nothing to write home about and are unlikely to pick up soon.
Consumption has not been picking up and, in fact, has been adversely affected by reduction of subsidies coupled with two consecutive monsoon failures denting rural demand. Government spending too has failed to pick up and with the ongoing fiscal consolidation in the banking system, capex in investment will remain muted for another couple of quarters. Exports have witnessed a slowdown for more than a year month-on-month. The latest numbers of gross value added at current prices show a steep fall in nominal GDP growth. That is likely to impact the sales growth of firms and earnings too.
If BRICs' growth persists at the current weak level, the rest of EMs could slow down significantly. Also, since China contributes about 16 per cent to world GDP, a sharp slowdown of its economy will not only affect global growth but will be particularly harsh for its close trading partners, especially commodity exporters. As per the World Bank, a 1 per cent growth decline in China would lower growth in the rest of Asia by 0.5–1.4 per cent after two years. China is also staring at the problem of servicing its extremely high debt in view of slowing growth.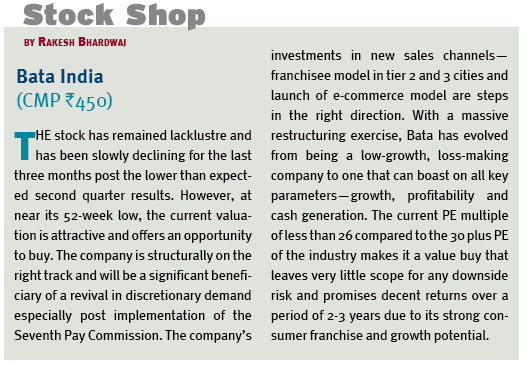 FIIs have sold equities exceeding Rs. 7,100 crore in January alone and the trend is unlikely to reverse soon. Early indicators suggest that even domestic inflows are also slowing. AMFI data suggest that equity funds saw inflows of Rs. 3,644 crore in December—that was about half the average monthly inflows seen during the Jan-Nov period. The lower demand for oil and commodities is adversely affecting the entire West Asian region besides economies like Russia and Brazil. Countries such as Japan and Germany that have large exports to China will also be hit hard. This will adversely impact remittances from such countries to India. The aggregate investment by sovereign funds from oil-exporting countries in Indian equities amount to US$26 billion and they are yet to see any outflows. This may change if oil prices continue to stay depressed.
Investors are advised to keep a long-term perspective and churn their portfolio in favour of large caps since India will be a major beneficiary of the ongoing crisis and a 2-3 years' time horizon for investors could yield decent returns.
The author has no exposure in the stock recommended in this column. gfiles does not accept responsibility for investment decisions by readers of this column. Investment-related queries may be sent to editor@gfilesindia.com with Bhardwaj's name in the subject line.